By

Derek Jeter is no novice when it comes to the All Star Game. Tonight is, in fact, his tenth appearance in the last twelve seasons, and the AL is 9-0 with Jeter on the team. Yesterday, when speaking of the Game and how it is truly about the fans, Jeter slammed baseball's decision to have the outcome of the All Star Game count for anything. "I don't like that," Jeter said. "I just don't think this should determine home field advantage. I've said that year in and year out. I think it adds some excitement and more people pay attention to the game, maybe, but I don't think it's necessarily a situation where players play harder because of it. Even when the game didn't matter, players came and played hard."

Nothing about the All Star Game makes it a good indicator of home field advantage for the World Series. It's a glorified exhibition game put on for the fans, and it should have remained that way. If only Bud Selig would listen to the Yankee Captain. · (84) ·
At 51-37, with the third best record in baseball, leading the Wild Card and just three games back in the AL East, the Yankees had a fine first half. Yet it was a tumultuous three months, wrought with streaks and injuries and strange trends, causing mass panic at times among Yankees fans. Over the extended All-Star Break, we'll go over each position to see what went right, what went wrong, and how things look for the second half. We already looked at the starting pitchers, relievers, and corner infielders, so now it's time to take a look at the catchers.
The expectations
The catching situation in 2008 was a mess once Jorge Posada went down with a major shoulder injury. Jose Molina was terrific defensively but was exposed offensively when playing every day, and a midseason trade for Ivan Rodriguez proved fruitless. As a result of the dismal showing last year, it was hard to expect anything but an upgrade this year. Sure, there were concerns about Jorge Posada's ability to control the running game with this surgically repaired shoulder, but his bat was never in question. With Molina set to return to his usual backup duty, there was cause for optimism coming into this year.
The results
Yankee catchers have put up a .280-.335-.444 batting line, good for the fourth best OPS in the league even with Jorge Posada missing just about four weeks with a hamstring issue. When Jose Molina went down with a similar injury, straight outta Double-A Frankie Cervelli performed better that anyone could have ever expected on both sides of the ball.
Considering the team lost its top two backstops to injury at the same time, it's impressive that the catching in the Bronx still ranks among the best in the league. Let's talk about some of the individual pieces now.
Jorge Posada
If anything, last year's injury reminded all of us just how important Jorge Posada is to the Yankees. He's proven that his shoulder is fully healed by throwing out 20 of 67 potential basestealers, or 29.1%. That percentage is basically the same as the 29.5% gun-down rate Posada posted in his career before the shoulder started giving him trouble last year.
Offensively, Posada is producing at pretty much the same pace as always. While no one was expecting him to repeat his monster .338-.426-.543 season in 2007, Posada has again been an above-average producer behind the plate with a .285-.369-.508 line. As he goes the Yankees go.
Jose Molina
The best backup catcher the Yankees have had in some time, Molina's defense seems to have taken a slight step back this year (just 25% of basestealers have been thrown out, well below his 41.4% career mark coming into '09) and you wonder if playing just about everyday last year is taking its toll on him now. Molina missed two months with a strained hamstring, but has quietly hit .271-.340-.375 when he has played. As always, Molina's still at his best when he plays once every four days.
Frankie Cervelli
The new golden boy, Cervelli arrived from Double-A Trenton with dreamy eyes and a .190 AVG when Posada and Molina went down, and exceeded every possible expectation. He's thrown out 10 of 21 potential basestealers (47.6%) and moved around behind the plate exceptionally well. Even though he hit just .269-.284-.346, Cervelli always seemed to put together quality at-bats and never failed to hustle down the line. A fan favorite, Cervelli was sent down to Triple-A to play every day once Posada and Molina returned to the full strength. His play over his two-month cameo all but earned him the backup catcher job for next year.
Expectations for the second half
I guess you could say the biggest expectation for the second half sn't really an expectation at all, just hope that Jorge Posada remains healthy. He's such an important part of the team both in the lineup and in the clubhouse. If he stays on the field, the Yankees will have arguably the most productive catcher in the majors (non-Mauer division), always a significant advantage. Molina and third stringer Cervelli provide adequate backup, but are a significant drop-off if pressed into everyday duty.
The Yankees have enviable catching depth at the moment, but just like pitching depth it can vanish in an instant. As an ex-catcher, I'm sure manager Joe Girardi will pay special attention to the workload Posada endures the rest of the season. Just stay healthy, that's all we want. The rest will take care of itself.
As we analyze the Yankees' season, we often focus on the role luck plays in a baseball game. For those not used to the concept, though, it can be confusing. This isn't the luck that leads you to find $10 in the washing machine, but it is more akin to the luck that leads you to just catch your train in the morning one second before the doors close. That still doesn't answer the question what exactly luck is in a baseball context.
For that answer, we can turn to a three-year-old Wall Street Journal article by Russell Adams. In it, the author explores concepts and analysis surrounding luck. Using ample data points from the rich history of baseball, leading analysts both inside baseball's front offices and outside of them can determine whether a player's performance is lucky or a sign of a different shift.
Luck can take on a few different forms in baseball. On an individual level, the most obvious example is Batting Average on Balls in Play (BABIP). The average player's BABIP will generally hover somewhere around .290. A player with a BABIP of .250 may be unlucky; he isn't hitting them where they ain't. He also may be popping up more and hitting fewer line drives, both negative factors on the ol' BABIP. By looking at outcomes and results, statisticians can weed out bad luck from good.
On a team level, luck manifests itself in the form of win-loss records. Generally, history has shown that teams' records track with their runs scored and runs allowed. This is known as the Pythagorean expectation. Teams that score a lot of runs without allowing as many generally win a lot of games, but one-run games or blowouts — the so-called "random" events — can impact the perception of how good or bad a team actually is. (For more on team-based luck, check out J.C. Bradbury's take. He has written extensively on the topic.)
This year, the Yankees have, by one measure, been lucky. Based purely on their +60 run differential — they've scored 60 more runs than they've allowed — they should be 49-39 rather than 51-37. That calculation, however, doesn't account for various factors, such as strength of schedule, Chien-Ming Wang's problems and the early-season blowouts. Another calculation, however, should give comfort to Yankee fans.
Using a complex statistic called base runs that attempts to calculate expected runs scored and expected runs allowed while controlling for strength of schedule, Matthew Carruth at FanGraphs has the luck breakdown of every team in the Majors. In this calculation — one Carruth admits is subjective, as are most complex concepts of team luck — the Yanks have a luck factor of -1 and the Red Sox are at 6. Tampa is at -9. In a perfect world, these would all balance to 0, and the AL would continue to be a three-way race between Tampa, New York and Boston.
(As an aside, a few FanGraphs commenters had some issues with Carruth's methodology. Take a gander through the feedback there if you're interested. My point will remain the same.)
So, where does this leave us? Well, as I said, we could take comfort in the luck factor. The Yanks were a bit unlucky and are still the Wild Card leader. Sounds good to me. But Tampa is a dark horse. If their luck evens out and Boston's does as well, they could jump ahead of the Sox and Yanks in the standings.
In the end, then, we're left where we started. We can understand the role luck plays in baseball; we can blame it for some of the Yanks' failings; but we will be subjected to its whims this summer. As the 2009 season hits its second half, the two teams in the AL East who are the luckiest will probably be the ones playing in October while the third will go home.
At 51-37, with the third best record in baseball, leading the Wild Card and just three games back in the AL East, the Yankees had a fine first half. Yet it was a tumultuous three months, wrought with streaks and injuries and strange trends, causing mass panic at times among Yankees fans. Over the extended All-Star Break, we'll go over each position to see what went right, what went wrong, and how things look for the second half. First up we looked at the starting pitching, then relief pitchers. Now we're onto the corner infielders.
The expectations
The corner infielders were supposed to anchor the 2009 Yankees. Even though everyone knew Alex Rodriguez would miss more than a month after hip surgery, the general expectation was for him and Teixeira to be the best 3-4 combo in the game. This wasn't unreasonable. Alex might be the best hitter in the game (NPD), and Teixeira was coming off one of his best seasons and is right in the prime of his career.
There's not much more to say about the expectations. They were supposed to be the best. At least once the calendar flipped from April to May.
The results
We've seen massive success from both players, but we've also seen them hit some pretty nasty slumps. Combined with A-Rod's month-long absence, and it doesn't add up to the best. They're close, for sure. The following are the two best 3-4 combos in the league, based on the first half:
1. Ryan Braun – Prince Fielder
2. Joe Mauer – Justin Morneau
After that there are a number of third-place contenders. Alex and Tex are among them, along with Youkilis-Bay, Utley-Howard, and Pujols-Ludwick. So they're not the best, but are certainly up there. Given Tex's slumps and A-Rod's absence and slump, that's a pretty good place to be right now.
It's hard not to have high expectations for a guy who just signed an eight-year, $180 million contract. Yankees fans held Tex to such a high standard, in fact, that they started to boo him during his protracted April slump. That ended promptly upon A-Rod's return, as Teixeira went on a tear.
What's often overlooked in Teixeira's early season woes is the tendinitis he suffered in his wrist. He sat out a few games early on, but with A-Rod already out of the lineup, the Yankees could ill afford to lose the other part of their 3-4 punch. We don't know how much pain he played through, but considering the results through the first month, it would seem that the wrist bothered him more than he let on.
Teixeira's season has been defined by streaks and slumps. From Opening Day through May 8, he hit just .192/.336/.384. This was both worse and longer than his normal slow starts. He more than made up for it over the next month, hitting .369/.447/.844 from May 9 through June 12. Since then, though, he's had quite the power outage, hitting .245/.341/.327 from June 13 through the All-Star Break.
While Tex's hot streak helped the Yanks surge through May, his power outage also hurt them as they struggled with the NL East. There's little concern that this slump will continue into the second half. Teixeira's a pro hitter, and we've seen him perform better in the second half over his career: .277/.368/.515 in the first half vs. .303/.390/.574 in the second half. Last year was even more pronounced: .271/.373/.484 in the first half, .366/.464/.656 in the second half.
Alex Rodriguez
For all the drama he brought leading up to the regular season, it's been all about baseball for A-Rod since he returned in May. Well, except the bit with Kate Hudson. But we won't hold America's obsession against him.
A-Rod returned with a bang, drilling the first pitch he saw into the left-field stands at Camden Yards for a three-run blast. This put the Yanks ahead early, which was big coming off the team's five-game losing streak, including four to Boston and Tampa Bay. He slipped a bit from that point, but found his stroke during the Minnesota series, hitting a walk-off homer that weekend.
From May 16 through June 7, we saw the A-Rod of old. He hit .289/.419/.618, helping the Yanks steamroll the competition. The only blemish in that period was losing two of three to Philly — though in that lone win Alex hit a game-tying home run off Brad Lidge.
Then came The Slump: .088/.262/.236 from June 8 through June 18. It might have been the worst 11 days of A-Rod's career. It was decided at that point that he'd played far too often — he hadn't missed a game since returning, and played all but two in the field — and would sit out the first two games of the Marlins series. That, it appears, did the trick. From June 21 through the ASB, A-Rod has hit .343/.483/.716. Again, the A-Rod of old.
Expectations for the second half
It looks like A-Rod is back. Teixeira is bound to come out of the little funk he's been in lately. Basically, they're in the same position as the starting pitchers. They haven't quite hit expectations, but there's still a good chance that they do in the second half.
Remember the first line of the introduction. The Yankees are in fine shape. That's without a good portion of their roster performing to expectations. If they get typical second-half production out of both A-Rod and Teixeira, they'll be right back on track, and could conceivably finish the season as that feared 3-4 combo the Yanks thought they were getting when they signed Tex.
Things are good for the corner infielders. The scariest part, for the rest of the league: They could be even better.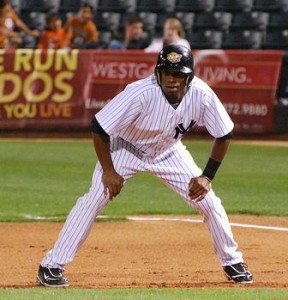 Austin Jackson entered the 2009 season as the top prospect in the Yankees system and deservedly so. After all, he had just hit .285-.354-.419 with 19 steals as a 21-yr old in the pitcher friendly Eastern League, playing half his games in pitcher friendly Waterfront Park in Trenton. His supreme athleticism and superb defense in centerfield rounded out an exciting all around package.
Just about three months into the season, Jackson is again putting up stellar numbers (.324-.389-.452, 15 SB) and running down balls from gap to gap in the outfield. However, Jackson's detractors point to his crazy high .424 batting average on balls in play, his high strikeout rate, and his mediocre power output and say his triple-slash line is luck inflated. That certainly may be true, but thanks to the beauty of the internet we can take a deeper look and find out.
Since there are a few graphs included in this post, I'm going to add a jump right here so the front page doesn't slow down. Make sure to click through though.
There's some thought throughout the Yankees Empire that the team would do well to add a veteran starter before the July 31 trade deadline. With injuries and question marks after the top two arms, there's no doubt the Yankees could explore the option. Chien-Ming Wang is out for who knows how long, and he's no guarantee to perform upon his return. Andy Pettitte has been shelled quite often. Joba Chamberlain has hit a bump or six in the road. Phil Hughes has apparently been relegated to bullpen duty for the rest of the season. If none of these conditions improve, then the Yanks could certainly benefit from another proven starter.
Problem is, they don't have much time to decide. Only a few weeks remain between now and the deadline, and deals normally don't happen overnight (you'll remember with the Bobby Abreu trade that the two sides talked all month, with the Phillies demanding Phil Hughes, but they eventually settled just before the deadline). For now they'll likely go with Sergio Mitre, but there's no reason to believe that he'll provide any real relief. He could pull a Small/Chacon, but that's as long a shot as it was with those two. Most likely, he'll be a better mop-up man than Brett Tomko and little more.
On August 1, I don't think the Yankees rotation will look any different than it does right now. I don't think they'll add a starter, not because they don't think they need one, but because there are so few available who represent a surefire upgrade. Guys like Roy Halladay and Cliff Lee will command a hefty package of prospects, and both will be free agents after the 2010 season. While either would recement the Yankees rotation, it's doubtful the front office will pony up the steep price.
There are other names out there, though their availabilities are uncertain. Still, it's interesting to ponder what direction the Yankees might take. Moshe Mandel at The Yankee Universe (the blog, not the fan club) runs down a few additional names. There are a few interesting ones, including Aaron Harang, Gil Meche, and Jarrod Washburn.
Normally I'd advocate Harang here, but it appears his woes from last season have carried over. His strikeouts are still down and his hits are up, even from last season. He makes $11 million this year, $12.5 million next, and has a $12.75 million option for 2011 with a $2 million buyout. Will the Yankees be willing to add this much payroll? Perhaps, but not for Harang, who just doesn't seem to be the pitcher he was two years ago. He would, though, add to the Yankees collection of pretty freaking big starters — he stands six feet, seven inches tall.
Gil Meche battled injuries throughout his tenure in Seattle, but after signing a five-year, $55 million deal he's led the league in games started in each season — including this one. Things haven't been perfect in this campaign. His walks are up significantly and his ERA is up at 4.50. He's also a bit of an injury concern at this point. He battled lower back pain in Spring Training, and he recently left his start against the Red Sox with back spasms. "A couple hours after I pitch, it's real stiff," Meche said, perhaps implying that this is not an isolated incident. Still, Meche has a high upside. He's owed $24 million combined in 2010 and 2011, and the Royals seem to be going nowhere fast. It's still doubtful the Yankees take on his salary.
As for the other names:
Bannister? The Yanks would be better off with what they have in-house.
Washburn? Half-year rental, though he could come cheap. He's having a good season, but he was also having a good season at this point last year, and that turned around pretty quickly.
Bedard? Too much, plus there's the whole narrative of him being too shy to play in a big market.
Arroyo? We like balls to stay in the park, please.
Doug Davis? His 3.41 ERA is nice, but it's the NL West. Plus, he walks way too many guys.
Looking at all the names above, I just don't think there's a deal out there which the Yankees would be willing to make. They'd have to add significant payroll for players who aren't our likely won't be worth their salaries. Plus, they'll have to part with prospects, and good ones at that. While the Yankees might do well to explore the addition of a veteran starter, it's easier said than done. Would you want to add any of these guys?
Sergio Mitre was named International League Pitcher of the Week. Meanwhile, Jesus Montero was asked what the biggest challenge going from A-ball to Double-A in an interview at the Futures Game, and he replied "nothing." How awesome is that?
If you still have any interest in watching the paint dry the Homerun Derby, scroll down and talk about it here.
Triple-A Scranton is off until Thursday for the All Star break.
Double-A Trenton (4-3 loss to Connecticut)
Austin Krum: 0 for 3, 1 RBI
Reegie Corona: 0 for 4, 2 K
Eduardo Nunez, Jorge Vazquez, Chris Malec & Noah Hall: all 1 for 4 – Nunez scored a run … Vazquez drove in a run … Malec doubled … Hall K'ed
Richie Robnett: 1 for 3, 1 R, 1 HR,1 RBI, 1 BB
Edwar Gonzalez: 2 for 4, 1 R, 2 2B, 2 K
RJ Baker: 0 for 3, 1 K – he allowed two stolen bases, but he gunned down three others
Wilkins DeLaRosa: 3.2 IP, 5 H, 4 R, 4 ER, 3 BB, 5 K, 1-3 GB/FB – picked a runner off first
Josh Schmidt: 1.1 IP, 2 H, 0 R, 0 ER, 0 BB, 0 K, 0-2 GB/FB
Kevin Whelan: 3 IP, zeroes, 4 K, 3-2 GB/FB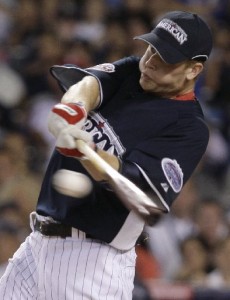 It's hard to believe the 2009 Homerun Derby is already upon us, it seems like we're just now coming down from the Josh Hamilton high of last year (no pun intended, I swears it). Ben and I were in the rightfield upper deck for that show, and it's hard to imagine anyone one-upping that anytime soon. It would be cool if someone did though.
Here are the eight participants, listed alphabetically because I have no idea what order they're going in.
American League
Nelson Cruz
Brandon Inge
Joe Mauer
Carlos Pena
National League
Adrian Gonzalez
Prince Fielder
Ryan Howard
Albert Pujols
Just so I can gloat later, my money's on Pena. Enjoy the Derby.
Photo Credit: Julie Jacobson, AP
I've always been rather skeptical of the idea of Red Sox Nation. Do fans really need to prove their love of their team through the cost of their fan package and a ludicrous faux-presidential election? While New England dithered with their quaint fan club, the Bronx fans simply went on cheering for the Bombers.
Well, I guess the Powers-That-Be have determined a fan club to a lucrative venture. Earlier today, the Yankees announced the formation of the Yankee Universe, an official Yankee fan club with "members exclusive benefits, unique access and special savings."
Per the press release, members of the fan club with earn benefits that "extend to all aspects of the fan experience." They get 10 percent discounts at the clubhouse store and online specials at the MLB.com Shop. Those holding a membership card and a ticket will get fast-tracked into the stadium at Gate 2. That one, by the way, is the gate all the way out in left field at the corner of Jerome Ave. and 162nd St. It's not really worth the walk.
In reality, this fan club isn't much of anything. For $19.95 for the rest of the season, members gain access to the Gameday Audio package and all of these benefits. It's basically an MLB.com enticement with some perks. Some of the proceeds will go to the Department of Pediatrics at the Memorial Sloan-Kettering Cancer Center.
Boston may have its nation, but we have an entire Universe. We win.
At 51-37, with the third best record in baseball, leading the Wild Card and just three games back in the AL East, the Yankees had a fine first half. Yet it was a tumultuous three months, wrought with streaks and injuries and strange trends, causing mass panic at times among Yankees fans. Over the extended All-Star Break, we'll go over each position to see what went right, what went wrong, and how things look for the second half. First up we looked at the starting pitching, now it's time to take a look at the relievers.
The expectations
The 2008 bullpen was one of the best in the business – ranking second in baseball in both FIP (3.82) and K/9 (8.66) – and the relief corps was expected to approximate that performance in 2009. The cast of characters was essentially unchanged, save a contract extension to southpaw Damaso Marte. Brian Bruney was set to join him as the primary bridge to Mariano Rivera, while rookie Phil Coke was primed to assume a key role. The rest of the pen was going to be filled out by a series of interchangeable parts, including Edwar Ramirez, Jose Veras, Jon Albaladejo, and David Robertson.
The results
The results so far have been a mixed bag. The bullpen was dreadful in April, better in May, and flat out dominant in June. They currently rank second in the majors with a 1.26 WHIP (just one baserunner every 100 IP out of the league lead), yet their ERA (4.19) is just 22nd best in the game. The relievers have thrown the fourth-most innings in the American League, a number that has to come down to avoid a second half burnout. That burden falls on the starting rotation, however.
The bullpen's revival is the result of the the massive turnover in personnel from April to June. Let's touch on the major pieces.
Mariano Rivera
Coming off a fairly major shoulder surgery, Mariano has been as fantastic as ever in 2009. Of course he did experience a rough go of it early after giving up some homers, but since May 21st he's posted a 1.86 ERA and a 0.67 WHIP. Mo's 14.33 K/BB is far and away the best in the game (next best is Scott Downs' 8.06 mark) and the best of his Hall of Fame career. It took a little longer than usual, but Mo's in midseason form and is as good as ever. He's the least of the team's concerns right now.
Brian Bruney & Damaso Marte
Bruney came out of the gate pitching like a man on a mission, out to prove all the B-Jobbers wrong about the lack of a solid 8th inning option. He struck out 12 and allowed just three hits over his first nine appearances, but went down with an elbow injury in late April. After being out for four weeks, Bruney lied about being healthy and came back too soon, ultimately landing himself back on the disabled list for another four weeks. He's been nothing short of terrible since returning, allowing opponents to tattoo him for a .930 OPS. Right now, he's a part of the problem and not the solution.
Marte's season is just 5.1 ugly innings long, as a shoulder injury has shelved him since late April. When he was on the mound he was terrible, but how much of that is because of the injury we'll never know. Currently rehabbing in Tampa, there's still no timetable for his return.
Phil Coke & Phil Hughes

After a dynamite showing last September, Coke looked like he was poised to become the shutdown lefty reliever the Yanks have lacked for years. Coke's overall numbers are rock solid, as are his splits against lefties, but his season has been a bit of a roller coaster ride. He was very good in April, pretty terrible in May, but fantastic since June rolled around. The only member of the bullpen to stick on the 25-man active roster all season besides Mariano Rivera, it's no stretch to call Coke the Yanks' second most reliable reliever of 2009.
The other half of Michael Kay's stupid little Philthys Club, Hughes moved into the bullpen after Chien-Ming Wang appeared ready to become an effective starter once again, and has done nothing but dominate. His numbers out of the bullpen (18.1 IP, 0.65 WHIP, .379 OPS against) are better than Joba Chamberlain's first 18.1 innings of relief in 2007 (0.82 WHIP, .467 OPS against), more evidence that if you put a good starter in the bullpen he'd be a damn good reliever. There's not much to say here, Phil Hughes the Reliever has been tremendous.
Al Aceves & David Robertson
The dramatic turnaround of the bullpen coincides with Aceves' recall from the minor leagues. His 40 innings of stellar relief work have been just what the doctor ordered, as he's pitched in every role and succeeded in every situation. Robertson has had his moments, mostly in low leverage spots, but he's been an effective super-high strikeout arm that can go multiple innings if need be. He's been pretty much everything you could want your fifth best reliever to be.
Jon Albaladejo, Edwar Ramirez, Brett Tomko & Jose Veras
Edwar and Veras were two stalwarts in last year's pen, providing rock-solid middle relief all summer. This year was a different story, as the two combined to allow 28 runs and 70 baserunners in 43 IP. Edwar soon found himself back in Triple-A while Veras found himself with the Indians after being designated for assignment. Albaladejo has been up and down while Tomko was mostly down, but both guys have mostly acted as the last man out of the pen. Neither has been great nor horrible, they're just kind of there.
The Up and Down Crew
Anthony Claggett was terrible in his one outing and doesn't figure to be back up anytime soon. Stephen Jackson didn't even manage to get into the game in his eight days on the big league roster before ending up in Pittsburgh. Mark Melancon has been meh in his limited showings. Zach Kroenke, Romulo Sanchez, Amaury Sanit and others are stashed away in the minors awaiting their turn.
Expectations for the second half
With the success the bullpen has experienced over the last month or so, it's tough not to be optimistic about the second half. However, a key piece in Hughes or Aceves (or both if it comes to it) could be lost if their services are needed in the rotation. Don't be surprised if the team seeks out another relief arm at this year's trade deadline. Regardless, the Yankees will need the bullpen to do the job consistently in the second half if they plan on making the postseason.