Last year we decided to use the popularity of RAB for some good, creating a pledge drive dedicated to raising money for The Jorge Posada Foundation. We based the pledges on the number of strikeouts recorded by The Big Three of Phil Hughes, Joba Chamberlain and Ian Kennedy, and even though things didn't go according to plan we still raised $1050 for Posada's cause.
The pledge drive was so successful last year that we're going to do it again this year, except we're going to change things up a bit. Instead of strikeouts from young pitchers, we're going with offense baby. Basically what we want to do is have you guys, the readers, pledge some amount of money for every run the Yankees score this year. SG's projection blowout has the Yanks scoring somewhere around 850 runs this year, so if you pledge $0.03 per run, that's just a $25.50 donation on your part. I know we're in a pretty brutal recession, but any pledge is welcome, even if we're talking just one penny per run.
All donations with year will benefit Joe Torre's Safe At Home Foundation, which is dedicated to "educating to end the cycle of domestic violence and save lives". You can learn all about the Foundation at it's website, and you can also watch a message from Torre explaining why he started Safe At Home by clicking here. No child should ever have to be in fear at their home, and we hope you'll help us support Joe in his fight against domestic violence.
Last year we collected the donations at the end of the year via PayPal,  personal check or money order, and we'll do the same thing this year. That's something to worry about at the end of the season though. If you wish to pledge – and we hope you do – just send an email to me at mike (at) riveraveblues (dot) com, letting me know how much you wish to pledge. Please put something like "Pledge Drive" in the subject line to make the admin work easier.
Thank you in advance, and let's go Yankees!
This week, tens of thousands of people who work in the wireless industry got together in Las Vegas for CTIA 2009. Hundreds of vendors have their products and solutions on display in a ginormous convention floor room — seriously, it takes five minutes to wade through the sea of people from one side of the floor to the other.
Over in the media room, press releases and media kits flood the walls and tables. Normally I just walk by without looking twice — perhaps taking a flash drive if they're sitting out. One release in particular caught my eye. Why? The Yankees logo, of course. Apparently, a company called Quantum Telecom has partnered with MLB to issue licensed phones. Whoop dee freakin' doo.
The only good thing about these puppies is the price: $49.99. The phone is unlocked, meaning you can use it with any GSM carrier in the country. Bad news: that means only AT&T or T-Mobile. Further bad news: The price tag, given that these are unlocked phones, makes it seem like they're not the most functional devices. Check 'em out for yourself: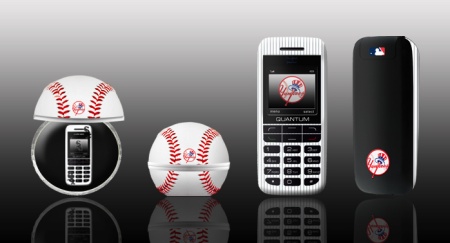 Is anyone really going to buy one of these?
The grass sure was greener a few years ago, Hal Steinbrenner reminded us all yesterday. As the Yankees took the field at their multi-billion-dollar home for the first time, the Yanks' managing general partner and co-chairperson opined on the state of ticket sales. Perhaps, he said, the Yanks had priced themselves away from reality.
"I think if anybody in any business had known where the economy was going to go, they would have done things differently," Hal Steinbrenner, in his first public comments of the spring, said Thursday afternoon. "There's no doubt that small amounts of our tickets might be overpriced."
According to the the youngest Steinbrenner son, the team has sold 35,000 season ticket equivalents, and they are anticipating well over four million fans again this year. The sticking point, however, are the Legends seats that cost $2500 per ticket per game. As this graphic by a RAB regular shows, the top tickets at Yankee Stadium are going for nearly four times as much as the next highest ticket in Major League Baseball.
In a way, though, that's exactly why the Yankees built the new park. When they unveiled plans for the new Yankee Stadium, the economy was flying high, and the luxury-box and amenity-less old stadium wasn't maximizing the Yankee revenue potential. As George Vecsey writes, rather cynically, in today's Times, "The main goal became turning ballparks into resorts, land cruises designed for A.I.G.-bonus-recipient wallets, the games lasting long enough to wring more twenties and hundreds out of the faithful."
In a similar column, Harvey Araton rehases the costs — both fiscal, political and communal — of the new Yankee Stadium. It all comes off sounding like a relic of our old economy. The Yankees' new home is spectacular and huge and flashy. It features an insanely large TV screen and $9 cans of PBR. It is defying the economic reality of 2009.
The great thing is though that it doesn't matter. The Yankees have, since the 1920s when they moved into Yankee Stadium and opened the first ballpark in baseball to earn the moniker of "stadium," been the gaudiest and most ostentatious team. They've also been the most successful, and in a few years, the economy will catch up to the Yankees' rich ways.
For now, though, the team is stuck with unsold and overpriced tickets. They can't lower the prices without spurring on a revolution from the ticket holders rich — or foolish — enough to buy the tickets. The team will just have to settle for that reality right now.
"We understand that a lot of our fans are struggling. I mean, this is the worst recession in a most of our lifetimes," Hal Steinbrenner said. "But at the same time I think baseball has always been an escape for people, you know? And I think what we're going to provide here is an unbelievable experience for thousands and thousands of our fans that, despite the troubles they're going through right now, maybe they'll be able to get away for two or three hours, get their minds off things. And we're going to make that experience, you know, tremendous."
By

Chad Jennings is reporting that the Mariners have placed infielder Reegie Corona on waivers, which is the first step towards returning him to the Yanks after Rule 5′ing him during the Winter Meetings in December. Corona's chances of sticking with team were pretty much shot down when the M's acquired Chris Burke over the weekend. The two teams have had some trade talks that would allow the M's to keep Corona, but so far they've balked at the Yanks asking price of an unknown A-ball pitcher.

Jennings also noted that Chris Garcia is going to start the year on the … wait for it … disabled list. I am shocked by this development. · (47) ·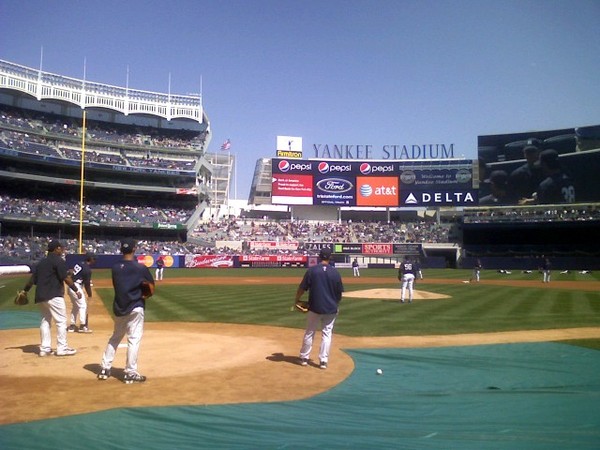 While the Pirates were busy losing to Manatee Community College in Bradenton today, the Yankees spent the day working out at their new home for the first time. Derek Jeter hit the first homer – albeit an unofficial one – at the new place, even though some players (including Jorge Posada) are saying it'll be tougher form righties to hit homers in this park than the old one. Andy Pettitte said he feels spoiled, although Joshua Robinson says the New Stadium looks like the Old Stadium with a face-lift and tummy-tuck. I'll find out for myself on Saturday.
Here's your open thread for the night, and if you were one of the 20,000 or so people who went to the workout today, we encourage you to share your thoughts on the place here. Otherwise you can talk about whatever your heart desires, just be nice to each other.
Photo Credit: Bryan Hoch
By

The new Yankees-E. 153rd St. Metro-North stop is set to open early and on budget, according to the MTA. As I explain over at Second Ave. Sagas, the station, serving Yankee Stadium with extra trains on game days and the South Bronx at all times, will open on May 23 when the Yankees take on the World Series Champion Phillies at the Stadium. Metro-North anticipates around 10,000 fans per game through the station, and I'd imagine the originally published fares will increase when the MTA enacts its May 31 fare hikes.

In other new stadium news, Nathan's and the Yankees signed a ten-year deal yesterday. Hot dogs and crinkle cut fries from the famous Coney Island-based dog stand will find an outlet in the Bronx for the next decade. · (5) ·
There's but one battle left for a Yankees roster spot, and it's for the backup infielder. The in-camp battle is between Angel Berroa and Ramiro Pena, but if it comes down to just those two the winner is pretty obvious — or at least so think Mike and I. We break down the reasons why, plus we elaborate a bit more on Dallas McPherson, who presents the Yanks with an interesting opportunity in A-Rod's absence.
After that it's onto the reader questions, which revolve mostly around roster issues. We delve into some general baseball stuff, too, like the Tigers' decision to place Rick Porcello in their rotation. Thankfully, the Yankees aren't in that kind of situation this year. Things are set up so that the guys who still need some work are still in the minors. This is mostly notable for Phil Hughes, who pitched excellently yesterday, and will have plenty of time in AAA to hone his cutter and changeup. Armed with a 4-seamer, curve, cutter, and change, he could be a difference-maker on the Yanks in the years to come.
Onto the podcast. It is available in a number of formats. You can download it here by right clicking on that link and selecting Save As. If you want to play it in your browser, just left click the link. You can also subscribe to the podcast feed, which will send it to you every Thursday. You can also subscribe in iTunes. Finally, we have the embedded audio player below.
Audio clip: Adobe Flash Player (version 9 or above) is required to play this audio clip. Download the latest version here. You also need to have JavaScript enabled in your browser.
Podcast: Play in new window | Download (52.9MB)
By

After having his scheduled start on Monday pushed back for reasons unknown, Phil Hughes took the mound against the Pirates' Triple-A squad yesterday afternoon. He allowed one run on five hits and a walk in five and a third innings, striking out seven. He struck out the side in the first inning on ten pitches, but the fact that he needed that extra pitch cements his status as a bust. Hughes said he expects to get up to 100 pitches in his next start, which will be his last one of the preseason before heading to Triple-A Scranton. "Cutter and changeup is something I really want to get going," Hughes said. "That will be a big pitch for me, both of those. I don't think they're ever going to be go-pitches for me, just something to compliment my fastball and curveball." Elsewhere, Alan Horne continued his return from shoulder surgery with two innings in an intrasquad game yesterday. He's scheduled to throw three innings on Monday. · (55) ·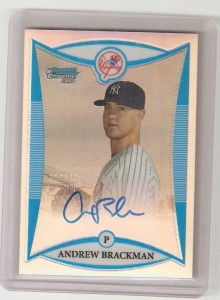 Man, it feels like just yesterday we wrapped up the TJ Rehab Watch, and now I'm here introducing you to this year's Watch already. As the title says, this year we're going to track the progress of Andrew Brackman, the Yanks' 2007 first round pick who will finally be unleashed on minor league hitters this season after missing all of last year due to Tommy John surgery. It's been a long time coming, and hopefully it'll be worth the wait.
Most of you know what this is all about, but for those of you who latched onto RAB for the first this time offseason, here's a quick primer: During the season we'll keep track of two sets of stats for Brackman – his pitching line from his most recent start, and his overall season line. You'll be able to find this info on the far right sidebar, right below the Countdown Clock for the time being. That's it, simple enough.
So what's the point of the Watch? To revel in Brackman's awesomeness. No seriously. It's there to show off his performance and make sure everyone knows how he's pitching. Of course there's always the chance that he might suck, but that's the risk. So far our previous Watchees (Phil Hughes in '06, Joba in '07, the TJ Rehab quartet in '08) haven't disappointed.
Usually I have to debate between three or four worthy candidates all winter before settling on my Watch subject, but this year it was a piece of cake. It's not often a pitching prospect of Brackman's caliber comes along, and when one does he's worth paying attention too. As exciting as Austin Jackson and Jesus Montero are, position players just don't have that wow factor. Zach McAllister and Dellin Betances? They'll have their day. Mark Melancon won't be in the minors all year, and the thought of switching to a new Watch mid-season makes me feel dirty, so he didn't make the cut either.
The minor league season doesn't start until the middle of next week, but I figured it as about time to get this thing up on the site, especially since some other sites are trying to bite our style. I keed, I keed. Enjoy.
Photo Credit: Sports Card Forum
By

Today's going to be our final Radio Show of the offseason, which is awesome because this means we'll have some meaningful baseball to talk about next week. No more Spring Training speculation, no more Hot Stove, no more waiting. It's awesome.

We're going to tackle reader questions during the entire show today, so if you have any questions you want Joe and I to answer make sure you email them in via the links on the right. The podcast will hit the site later this afternoon. · (1) ·