Over the past two-plus years, Ben, Mike, and I have done everything we can to bring the very best in Yankees coverage to our readers. We've identified opportunities and have pounced on ones we thought would bring a better experience to RAB. So when the YES Network approached us about a possible content partnership, we were all ears. Fast forward a few months, and we're ready to officially announce our participation in the YES Network blogging network.
What does this mean for the future of the site? In terms of content, nothing will change. It will still be the three of us developing and producing every post on the site (with the exception of an occasional guest post). The only difference is that now some of that content will be featured on YESNetwork.com, alongside material from Jim Kaat, David Cone, and John Flaherty. It should make for an interesting juxtaposition: three former ballplayers and three schlubs who love the hell out of the game.
For some of you, this might not be news at all. Sports Business Journal spilled the beans a few weeks ago. Then Jason picked up the story, spreading it a bit further. So perhaps many of you knew this was coming, but were just waiting for us to actually say something about it. Our lips are not loose, thank you very much, and our ships are not sunk. Truth told, it was actually pretty exciting to see the word start to get out. We're really looking forward to exploring how YES can help us and we can help YES.
To close out, we'll share a bit of the press release, which should hit YES this morning:
Since its inception, River Avenue Blues has experienced great growth, including a 100 percent traffic increase from December 2007 to December 2008.
"Their consistent climb in traffic clearly impressed us," said YESNetwork.com managing editor Kevin Sullivan, "but in the end, it was their quality of content that proved most valuable to us. We really think that incorporating their point of view with that of our experts like Jim Kaat, David Cone and John Flaherty will really round out our baseball offering."
Have I mentioned yet that Kevin is a great guy?
By

After causing a stir about the seemingly draconian and classist policies the Yankees were attempting to put into place at their new stadium, I'd be remiss if I didn't publish a follow up. Per Ross, the Yankees have rescinded their rule prohibiting non-ticketed fans from walking through the field level concourses. While the seats may be off limits to those not destined for them, fans sitting anywhere will now be able to walk through all parts of the stadium. The Yankees seemed to have caved in after fans voiced some strenuous objections to the original misbegotten policies. · (18) ·
That is a very big picture of a very big man, and today, that image graced newsstands across the country. Sports Illustrated unveiled their 2009 baseball season preview this morning, and it's very Yankee-centric except when it counts. More on that in a second.
The centerpiece of the issue is a lengthy article, not yet online, about CC Sabathia. In it, S.L. Price talks about how great a fit Sabathia will be for New York. While he may not have been ready for the big stage three years ago, according to Price, after a few years of elite pitching, Sabathia has come to embrace what he can do on the mound.
I had the opportunity to read through a PDF of the profile, and it's very illuminating. I know I run the risk of sounding like a mouthpiece for SI, but check it out and see for yourself.
The SI issue also contains team profiles of each of the 30 clubs. Mostly, they read as fluff pieces focusing, as the Yanks' one does, on team chemistry and Nick Swisher's enthusiasm.
And of course, no SI preview would be complete without some season predictions divorced from reality. SI picks the Yanks, Twins and Angels as the division winners in the AL with the Red Sox as the Wild Card. The Yanks are picked to face — and lose to — the Angels in the ALCS, and the Mets are somehow picked to win the World Series. Yeah, right.
Derek Jeter update
Not to toot our own horn too much, but Joe Girardi confirmed today that Derek Jeter will be in the leadoff spot on Opening Day. Just remember where you heard it first.
The Fine Print
This is your open thread. In a few days, we'll be able to do Game Threads at 7 p.m. That will be glorious. Play nice.
By

Just a heads up, I'm going to be on Mike Ferrara's radio show around 5:30 today to talk about (what else?) the Yanks and the upcoming season. You can listen on 1300 AM if you're in Rockland County, otherwise you can listen live here or over at the Speaking of Sports website. They'll be running an entire baseball preview show, so head over now if you want to catch them talking about the rest of the league. Matt Cerrone of Metsblog will be on after me, for all of you Mets' fan trolls lurkers out there. · (6) ·
As Spring Training games go, yesterday's was a watershed for the Yankees. No, it's not because the Yanks won their 21st game of the spring. It's not due to Joba's finding his fastball and the end to some early Spring Training obsession over radar gun readings.
It is because the B-Jobbers — that bastion of bullpen bluster — have lost their leader. Mike alluded to this stunning development briefly in the game recap this morning, but it warrants further discussion. As Bryan Hoch reported, Jorge Posada has come to see the light and is fully prepared to embrace Joba as a starting pitcher.
Posada made headlines around the Yankee world last fall when he called on the Yanks to keep Joba in the bullpen. "Leave him in the bullpen," Posada said during a YES Network appearance. "If you start him and he pitches 200 innings, he won't be able to. You're going to lose him. He's going to get hurt … I said in the spring, seeing him as a reliever, I think his body is made to be a reliever."
The Yanks' catcher missed most of the 2008 season with a serious shoulder injury. When he made those comments, he had caught Chamberlain as a starter just a handful of times.
Yesterday, after witnessing the evolution of Joba through Spring Training and the eventual dominance of his stuff against the Reds, Posada was singing a different tune. "There's no question — he's our fifth starter and I'm happy with that," Posada said. "I look for the betterment of Joba here. Give him credit, because he was so good out of the 'pen. I hadn't seen him as a starter, so he's been showing me and proving me wrong."
The added emphasis is mine and for good reason. Posada was the leader of the B-Jobbers for exactly the reason why so many Yankee fans have irrationally latched onto this idea of Joba in the bullpen. It is all they know of Joba Chamberlain.
While we at RAB know that Chamberlain has dominated at every level of professional baseball, the reality is that most Yankee fans aren't as plugged into the minors as we are. They first saw and knew of Joba when he was throwing 100 mph heat in the 8th inning. They saw him as a bullpen savior who could replace Krazy Kyle Farnsworth and never knew him as a starter. In their minds, the Yanks were experimenting with Joba as a starter and not, as we know, returning him to his natural — and more valuable — position.
As the season wears on, more B-Jobber Yankee fans will see the light. Now that Jorge has spoken, after all, the Joba-the-starter has a real star behind it.
Updated 4:02 p.m.: This one isn't an April Fools joke: Bob Sheppard may be close to announcing his retirement as the Yankees' public address speaker.
Sheppard, 98 and the Yankee announcer since 1951, has been out of commission since contracting a serious case of pneumonia in Sept. 2007, and while he had hoped to return to the Bronx, Paul Doherty, a family friend of Sheppard's and a former agent for the Voice of God, told The Times' Jack Curry that Sheppard no longer wants the pressure of a looming comeback. At his age, who can blame him?
Curry however could not get a confirmation from Sheppard. "I never said it," the Yankees PA man told Curry. "I never said I'm not returning. I never, never said I'm not returning and I say it to you now."
According to Doherty, Sheppard is stepping down for age-related reasons and not health reasons. Doherty says that Sheppard is still active and recently drove to pick up his son at the train station. The idea of a 98-year-old Sheppard behind the wheel is not a comforting one.
The Yankees, meanwhile, have not confirmed this rumor as official and have not yet named a successor to the legendary announcer. Jim Hall, the recent backup and 2008 announcer, won't inherit the mantle, and Paul Olden will be announcing this weekend's Yanks-Cubs exhibition games. If this is truly the end of the line for the six-decade veteran of the Yankee Stadium booth, all I can say is godspeed, Mr. Sheppard. It's been quite a run.
We'll continue the Fielding Bible series today with a bit on Derek Jeter's double play partner, Robinson Cano. The 26-year-old has been a strange case during his tenure with the Yanks. Sometimes he looks like a Top 5 defender at second. Others it appears he lacks the range to play the position. So what gives? Is Cano a guy the Yanks can count on in the future to hold down his position, or is he going to become a liability who needs to switch positions before age 30?
According to John Dewan's plus/minus system, Cano was putrid in 2008. He had a -13 rating, which placed him third to last in the league, ahead of only Felipe Lopez and Luis Castillo. Even Jeff Kent finished ahead of him. It's tough to argue with a poor rating for Cano, since we could all see his defensive deficiencies in 2008. Was he really third worst in the entire league, though?
UZR doesn't have the same result, but certainly a similar one. It pegs Cano at a -7.2 UZR, second worst among qualifiers and beating out only Kelly Johnson of the Braves. Castillo and Lopez do not show up on the UZR list. So yes, Cano had a pretty horrible season in the field by all accounts. That's not the fascinating part, though.
In 2007, Robinson Cano saved the most runs in the league among second baseman, according to plus/minus. That's 13 runs saved with his glove, plus another 9 saved on the double play ball. In 2006, Cano was quite average by plus/minus standards, registering -3 runs saved. UZR backs that up, placing Cano third in the league in 2007, behind only Chase Utley and Brandon Phillips — and ahead of reputed defensive whiz Mark Ellis.
Given the fluctuations in Cano's defensive output, it's tough to make a determination here. He was average in 06, stellar in 07, and horrible in 08. Chances are he's really just average, had a career defensive year in 2007, and took his poor start with the bat out to the field with him in 2008. There's no way to prove that, but it makes at least a degree of intuitive sense.
Maybe, just maybe though Cano is actually an excellent fielder and just needs to keep his focus out there. While his 2008 plus/minus was the pits, he still managed to make a number of what Bill james calls Good Fielding Plays. This is the opposite of Defensive Misplays, in that it gives a fielder extra credit for fielding a ball which seemed likely to be a hit. Surprisingly, Cano led the league in Good Fielding Plays with 69 (dude). While he ranked fourth in the league for Defensive Misplays with 42, he still had enough Good Fielding Plays to rank him fourth in the league in terms of GFP minus DM.
(Also note that Cano fielded more balls than most second basemen in the league in 2008, which inflates his DM and GFP numbers just a bit. In terms of Defensive Misplays plus Errors per touch, Cano was not in the bottom 10 in the league.)
One last statistical note before jumping into the scouting report. Dave Studenmund of The Hardball Times adds Revised Zone Ratings to the mix. For those unfamiliar with ZR, it divides the field up into slices, or zones. When balls are hit to a certain zone a particular fielder is assigned responsibility. In 2008 Cano had a .809 ZR, which put him in the bottom third of the league. However, he made 30 plays out of his zone, which looks to be about average, maybe slightly above. In 2007 he had a .833 ZR, which was right in the middle, but made 53 plays out of his zone. Only Dan Uggla and Aaron Hill fielded more out of their zone that year.
So was Cano's top-notch defense in 2007 attributable to the balls he fielded out of his zone? Given his positive rankings when ranging to his left and to his right in 2007 and their negative values in 2008, that might be the case. It's always a dicey proposition to combine defensive stats, but given what each system tells us, this might be the case. The evidence available suggests Cano has excellent range, so there's plenty to be hopeful about. We can only hope that he acted immaturely last year by taking his offensive woes out to the field with him, and that he'll learn from that mistake in 2009.
Now onto what the scouts say about Cano:
Cano took a step back defensively in 2008. Granted, he made some flashy plays on the run, going side to side or charging softly hit balls. He also possesses an above-average arm and features a nifty sidearm flick that helps on the double play. With all his flashes of brilliance, though, Cano still had a hard time fielding simple groundballs. On balls not hit particularly hard, Cano stabs too quickly at the ball or botches the play entirely. He also can seem lackadaisical. As time passes, 2007 is looking more like the exception than the rule.
Thankfully, the ability to field routine grounders is a skill which can be learned and honed. The ability to range to one's left or right cannot, or cannot so easily. Perhaps Cano should learn something from his double play partner, who we learned is quite adept at avoiding mistakes. If Cano can do that, his range should make him one of the top defensive second basemen in the league.
Previously: Derek Jeter's defense revisited.
You can get The Fielding Bible–Volume II
from Amazon.com for $16.29. That's our Amazon Associate code, so if you buy the book from that link you'll kick us a few pennies.
By

Joba Chamberlain pleaded guilty to his DUI charge in Nebraska earlier today, and was sentenced to probation of unknown length. As part of a plea bargain, the second charge of driving with an open alchohol container was dropped in exchange for the guilty plea. He'll meet the team back in New York today, and will probably beat them there.

Update (1:40pm): He got nine months probation. · (63) ·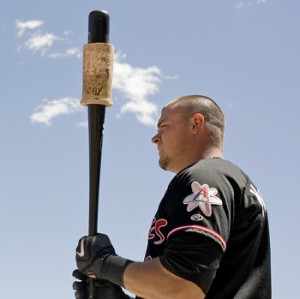 Late last night we got word that the Marlins had released third baseman Dallas McPherson, a former top prospect with the Angels. Rated the twelfth best prospect in the game as recently as 2005 by Baseball America, McPherson was never able to grab hold of the Halos' hot corner job and saw his career beset by a series of hip and back injuries. After signing a Major League contract with the Marlins last offseason, he brought his baseball career back from the grave with a monster year in the Pacific Coast League, clubbing 42 homers with the Simpsons inspired Albuquerque Isotopes. I think you know where this post is going.
First things first, McPherson had a phenomenal year last year (.275-.379-.618) in his first healthy year since 2004, but he was in an extremely favorable environment. The PCL is a hitters' league in general, plus Albuquerque is at altitude (his home OPS was nearly two hundred points greater than his road OPS), giving him another nice boost. Translating his numbers to a neutral MLB environment (via the MLE Calculator) gives you a .207-.295-.440 batting line with a Mo awful 181 strikeouts in 468 at-bats. The .233 IsoP is dead sexy, and that's pretty much right in line with his .213 career mark. There's no doubt about it, the guy can hit the ball a long way. He just struggles making contact.
The second part you need to understand about his offense is his massive platoon split. A lefty, McPherson hit just .217-.308-.528 against his fellow southpaws last year, down from .285-.395-.635 against righties. In his big league career (128 total games), he's managed just a .176-.218-.297 line off lefties, with a 38.5% strikeout rate. If the Yanks were tempted to bring McPherson aboard, it would have to be in a platoon situation only, which is fine because Cody Ransom is a righty and annihilates lefties (1.056 career OPS).
Defensively, he's nothing special. Total Zone had him pegged as a zero run defender in Triple-A last year, which is about what you'd expect from him following surgery to fuse two of his freaking vertebrae together. I think his days of being a +9 UZR third baseman – which is what he was pre-injuries – are over. He can also play first, but that's not going to make or break a deal for him.
CHONE sees a .203-.301-.409 line for McP next year, which is better than what it spits out for Ransom. Platooning the two will probably bump you up into the .250-.310-.430 range, an improvement over what you'd reasonably expect each player to do individually. Adding McPherson also allows Ransom to serve as the utility infielder (on days he starts you just slide him around if needed), which keeps Angel Berroa's inevitable suckiness off the team, not to mention stopping all this Ramiro Pena nonsense. (Seriously, it's Ramiro frickin' Pena, when did this guy become the next great Yankee shorstop?)
Now, there's two problems here. One is that the Yanks certainly won't be the only team interested. The Astros can use a third baseman, and teams like the Giants and Tigers could use upgrades. Don't discount the Cardinals either. The second is that once A-Rod comes back, McPherson's useless because he can't play anywhere other than first or third. You'd have to keep Ransom as the spare infielder because he can actually play the two middle spots. And as we've mentioned a bunch of times the last few months, why should we expect this guy to sign with the Yanks when other teams can offer him more playing time and greater opportunity? Because he wants to win? Puh-lease, the guy's looking for the longest guaranteed paycheck he can find.
The Fish resigned McPherson to a one year, $500,000 contract earlier this offseason to avoid arbitration (he's a Super Two), so they're stuck eating that money while all his new team is on the hook for is the league minimum. He hit .239-.314-.370 in 46 at-bats this spring, but is out-of-options and the team had no room for him, hence the release. I obviously think the Yanks should look into McPherson as a temporary solution at third base, but I'm not very confident they'll be able to land him. A gig with basically zero security beyond May just isn't very attractive to a player in McPherson's position. I've certainly been wrong in the past though, so who knows.
Photo Credit: Rick Scibelli Jr., The New Mexican