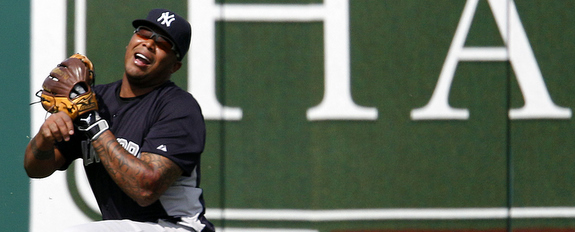 Aside from starting pitching, the Yankees had just a few glaring needs this offseason. The most obvious of the bunch was the need for a right-handed hitting outfielder to give Joe Girardi some flexibility and thump against left-handed starters. Marcus Thames did the job perfectly last season, tagging lefties for a .354 wOBA and even chipping in far more than expected against righties (.382 wOBA). As well as he performed, it was Thames' best offensive season in five years, an effort he was unlikely to repeat at age 34. Given his defensive shortcomings, it was easy for the Yankees to move on. That led them to Andruw Jones.
Jones, the guy that tormented Yankees fans back in 1996, fit the job description perfectly. He's a right-handed bat with power and he can play some defense. No, he's not the all-World defender he was in his prime, but he's considerably better than Thames and probably closer to average more than anything. Add in his low cost ($2M) and long track record, and there are plenty of reasons to like the move. But is he really all he's cracked up to be offensively?
The Yankees brought Jones in the hit left-handed pitching and that's exactly what he did last year, when he tattooed southpaws to the tune of a .402 wOBA. Unfortunately, that's in an incredibly small sample size, just 102 plate appearances. If you take out his 2008 season, when a knee injury kept him on the disabled list for close to three months, it's his fewest attempts against lefties since 2002. In 2007 and 2009, when Andruw's career really started to slip, he put a .336 wOBA in 368 plate appearances against left-handers (it was .289 in 86 PA in 2008). Granted, that's still respectable, but it's hardly jaw-dropping.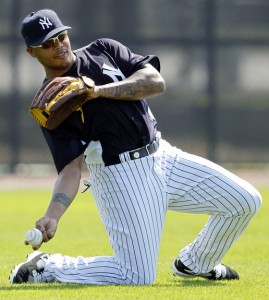 If you go back a little further, to Jones' monster seasons in Atlanta (2004-2006), he had a .373 wOBA against lefties (473 PA), which is obviously outstanding. Unfortunately that was a baseball lifetime ago, when he was still in his mid-to-late 20's and in the prime of a borderline Hall of Fame career. There's little reason is expect Jones to repeat that effort going forward, into his mid-30's. So what we have a bunch of wildly divergent data, each with it's own red flag. Last year's performance didn't come over an extended period of time, but was it really a rebound from the three prior years in the career  toilet? The stuff he did with Atlanta happened too long ago for it to mean anything today. There's no reliable recent track record here, so that makes it a gamble.
And just to be clear, his awful Spring Training performance (.171.261/.293 in 46 PA before yesterday's 1-for-3) means little to me. Thames had an awful spring last season and I ended up writing a very similar article about him, rather foolishly when I look back at it. Jones' track record as a guy capable of giving the Yankees what the need – someone to pounded lefties – isn't very good in the recent past when you look past last year's small sample size results. I guess the good news is that the Yankees have alternatives this year, namely in the form of Justin Maxwell. Thames' primary competition last year was Jamie Hoffmann, who ended up back with the Dodgers before the spring ended. At least Maxwell will be stashed in Triple-A to provide actual insurance.
It's pretty clear that the Yankees did well by not bringing Thames back, and Jones was one of the best options on the market given their specific needs. That said, he's no guarantee to give them what they're looking for, but at least he'll still be able to provide some value with his defense and occasional homers.