By

This off-season has been filled with questions about the new Stadium. One of the most frequent ones we've heard, besides "when will single game tickets go on sale?" was about beer in the bleachers. Would the Yankees lift the eight-year ban on alcohol? It appears the answer is yes. No longer will the bleachers be barricaded off from the rest of the Stadium. There won't be any beer vendors, but there will be no restrictions on carrying your brew back to your seat. At $6 for 12 ounces, it's not much more than your typical New York bar (if it's more at all). · (110) ·
By

In a bad economy, superfluous expenditures — such as baseball tickets — often suffer. As the U.S. economy tries to right its floundering ship, baseball officials are predicting a six percent decline in attendance for the upcoming 2009 season. Officials see a lot of enthusiasm surrounding the game, and WBC ticket sales shattered the 2006 numbers. Baseball's leaders are also counting on new stadiums from the Mets and Yankees to stave off a steeper decline. There is, of course, a rub.

Last year at Shea Stadium, the Mets averaged just over 51,000 fans a game. This year, they're playing in CitiField, a ballpark with a capacity of just 42,000. Even if they sell out every game — and early indications are that they will not — the Mets alone will be responsible for a one percent dip in baseball attendance. Who decided that building such a small stadium in New York City was a good idea anyway? · (49) ·
By

The sentiment from earlier in the week has become a reality: the Yankees will not carry a long man in the bullpen. Instead they'll carry Jonathan Alblajadejo, who impressed the coaching staff this month enough to warrant a roster spot. He'll join Mariano Rivera, Damaso Marte, Brian Bruney, Edwar Ramirez, Jose Veras, and Phil Coke in the Yanks bullpen. All three of the long man candidates — Dan Giese, Al Aceves, and Brett Tomko — have been sent to AAA, as has catcher Kevin Cash. The only roster spot remaining is the utility infielder job, which is yet to be determined. Either way the Yanks will have to designate a player for assignment, which would almost certainly be Giese. · (101) ·
I was perusing Joel Sherman's latest blog post about Melky Cabrera and Brett Gardner last night when I came across an initially dismaying line. It is, on its face, the prime example of the anti-Moneyball approach to baseball. Wrote Sherman:
But when not hitting a homer, Giambi was – in many respects – an on-base detriment. He was station-to-station. He offered no threat on the bases. He scored nearly as many runs (32) via his own homers as all the other ways (36) combined, which also includes trotting home on other's homers.
My kneejerk reaction to that statement — an on-base detriment — is to simply shake my head and move on. Joe Morgan and Dusty Baker hate players who "clog the bases" even when it's been proven beyond a doubt that runners on base help a team score runs. That is, after all, the goal of baseball, and people who talk like Sherman did generally aren't making valid points.
But then I got to thinking: What if Sherman is on to something here? Could a player be so slow that, while not a detriment, he underperforms on the base paths? Let's find out.
In a way, Jason Giambi was remarkably inefficient on the base paths last year. With an OBP of .373 in 565 plate appearances, he reached base 211 times last year. He scored just 68 runs for a conversion rate of just 32.2 percent. As Sherman notes, when we omit Giambi's home runs, he scored 36 runs in 179 times on base. That means that in just 20 percent of his non-home run times on base, Jason Giambi scored a run.
That doesn't seem too impressive until we bring in Giambi's overall numbers. Throughout his career, Giambi has scored 35 percent of the time after getting on base. If we eliminate his home runs, he has scored 26 percent of the time after getting on base.
But now we're just looking at Giambi in a vacuum. Let's see how the Yankees performed as a team in these situations. Counting the home runs, the Yankees turned 36.8 percent of their baserunners into runs. Discounting home runs, they turned 31.1 percent of their runners into runs. On a larger level, the American League numbers were 36.8 percent counting home runs and 31.5 percent without the home runs.
In other words, while Jason Giambi was just four percent worse at scoring overall than league average, he was nearly 10 percent worse at scoring in non-home run situations.
So what then does all of this mean? After all, Jason Giambi had a net positive effect on the Yankees in 2008 and had, by any account, a good season. Well, for starters, that combination of speed and power is quite valuable. A-Rod, for example, in his career has scored nearly 45 percent of the time he gets on base and 35 percent of the time in non-home run situations.
While the next obvious conclusion is that Jason Giambi, as he aged and slowed down, become a problem on the base paths, but that's not one we can readily make. After all, Giambi's scoring is as much a function of the guys hitting behind him as it is his own speed. For much of last year, the guys hitting behind Giambi included Robinson Cano, Melky Cabrera, Wilson Betemit and Jose Molina. That was not a pretty bunch offensively, and they could very well be the reasons why Giambi's percentage of runs scored not off of home runs was so slow.
Maybe, though, just maybe, Joel Sherman isn't far off the mark. Maybe exceedingly slow — exceptionally slow, painfully slow — baserunners can slow a team down. It would require a lot more research, but as baseball analysis is all about challenging the norms, it's an idea that shouldn't be dismissed out of hand even if it runs counter to the Shrine of the On-Base Percentage.
It was an relatively uneventful day in Dunedin. Andy Pettitte was strong for sixth and two-thirds innings, retiring ten straight at one point. He allowed just five hits and one run on the day, striking out seven against no free passes. He did uncork a wild pitch, but got himself up to 92 pitches. Afterwards Pettitte said he was pretty gassed, but feels good and has no complaints.
Damaso Marte finished the seventh inning, giving up a hit before recording the final out. Marte's been entering games this spring in the middle of the inning with runners on base almost exclusively, so I guess they're just getting ready for the situations they plan on using him in during the season. Jose Veras allowed a hit in an inning of work, while Edwar Ramirez threw a flawless ninth.
The Yanks scored a run off David Purcey nice and early, setting the tone for the rest of the game. Derek Jeter led off the first inning with a double, Johnny Damon followed with a walk, and Mark Teixiera singled in the Captain for a quick 1-0 lead. Tex drove in another run in 7th when he doubled down the first base line. Brett Gardner went hitless in three at-bats, but he managed to throw Scott Rolen out at third with an assist from Cody Ransom's leaping skills. Hideki Matsui and Nick Swisher went a combined 0-for-7, leaving a total of eight runners on base. Godzilla did reach base when Purcey plunked him.
It was just another day in the office, and the win is the Yanks fifteenth in their last seventeen games. Spring Training records actually mean less than Spring Training stats, but it is good to see the team on a nice little roll with the season just a week away. Joba Chamberlain will make his final start of the preseason tomorrow afternoon against the Reds, and is scheduled for at least six innings of work.
Minor Note: Phil Hughes was scheduled to start today, but was pushed back to Wednesday to give him some extra time off and get the Triple-A rotation all lined up.
By

Last summer, my dad and I took a tour inside Yankee Stadium. It was a great way to get inside the House that Ruth Built before it closed forever. Today, the Yankees unveiled the information about tours of the new stadium. Tickets are $20 with all the money going to the Yanks' non-profit organization and can be purchased ten days in advance. The tours go through the new indoor batting cages, the clubhouse, the dugout, the Yankee Museum and Monument Park. For more info on the tours, check out New Stadium Insider. · (4) ·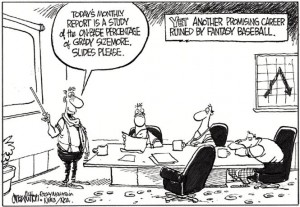 The RAB Fantasy Baseball League drafted Saturday night, but not before we hit a bit of a snafu with the keeper settings, so unfortunately we had to push the draft back a week. A few people backed out, and we went from a 20 team league to a 14 team league. Next year we're going to have to go back to Yahoo, because ESPN was a bit frustrating, especially the actual draft software.
My strategy last year was to load up on hitters early, and not take any pitchers until my last nine picks because they tend to get hurt and are just more unpredictable in general. It didn't go so well, so I scrapped that strategy all together and went back to my traditional routine of mixing pitchers in as I go. I still grabbed hitters with my first four picks, but after that I targeted some young arms with upside potential.
We have twelve stat categories, six for hitters (R, HR, RBI, SB, AVG, OBP) and six for pitchers (W, HD+SV, K, ERA, WHIP, QS). Holds + Saves instead of straight saves adds a little more flexibility to league (plus it's something different), and I took advantage of it by hording top set-up men with my last few picks. After all, what's the point in wasting a fourth or fifth round pick on a guy like K-Rod or Joe Nathan when Scott Downs or Russ Springer could give you similar stats sixteen rounds later?
The first round went Hanley, Pujols, Wright, Reyes, Braun, Rollins, Sizemore, Miggy, Utley, Tex, Lincecum, Chipper, Johan, Howard. Here's the squad I drafted (round/overall pick):
C: Russell Martin (4/51)
1B: Derrek Lee (6/79)
2B: Brian Roberts (3/34)
SS: Jimmy Rollins (1/6)
3B: Aubrey Huff (8/107)
OF: Brad Hawpe (9/118)
OF: Conor Jackson (10/135)
OF: JD Drew (13/174)
UTIL: Jack Cust (14/191)
SP: Felix Hernandez (5/62)
SP: Zack Greinke (7/90)
RP: Jason Motte (18/247)
RP: Ryan Madson  (20/275)
P: Josh Johnson (11/146)
P: Gil Meche (15/202)
P: Jered Weaver (16/219)
BN: Alex Rodriguez (2/23)
BN: Mike Aviles (12/163)
BN: Ryan Spilborghs (21/286)
BN: Chris Volstad (17/230)
BN: Jose Arredondo (19/258)
BN: Scot Shields (22/303)
Obviously I took A-Rod with an eye more towards the second half. We have eight DL spots, so I'll just slide him over and grab a player out of the free agent pool as needed once the season starts. Huff is my third baseman for the time being, and if he puts up numbers anywhere close to what he did last year, I'll be golden. He, Jackson and Aviles are eligible at multiple positions, so I have some flexibility. Most days I'll start all four relievers, unless of course I have more than three starters scheduled to pitch that day. I'd like to have someone better than Ryan Spilborghs as my JD Drew insurance, but hopefully Drew can stick it out until A-Rod comes back. I'm happy, I think I can do some damage with this team.
Anywho, here's your open thread for the night. The Nets are home against the Bucks, the Knicks are in Utah, and the Devils and Rangers will face-off in the Garden. You've also got new episodes of House and 24 on FOX, which is probably where I'll be. Talk about whatever you like here, just be nice to each other.
Oh, and don't forget to vote in this week's Fan Confidence Poll if you haven't already. Thanks.
Photo Credit: Waiting for Next Year
By

A few weeks ago, Justin Sablich of The New York Times conducting a few e-mail interviews with various Yankee bloggers. Today, he published the piece. So check it out as Cliff Corcoran, Steve Lombardi and I tackle the early questions surrounding the 2009 Yankees. I think Cliff has a point when he wonders about Jim Edmonds' availability. [Bats Blog] · (31) ·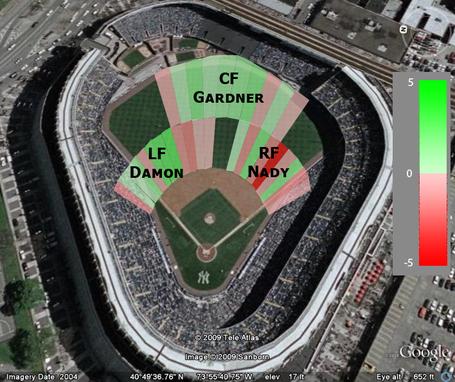 That graph comes courtesy of Dan Turkenkopf at Beyond the Box Score. Dan took the vector data from Dave Pinto's database and plotted it to show where each of the Yanks' starting outfielders excels defensively. Basically what you're seeing is how good each player is on balls hit to a specific "zone," with green being good and red being bad. The center fielder is shown above the corner guys just so you can see the overlap, it doesn't mean that balls hit to corners will go undefended or anything like that. And also don't worry about the background, the New Stadium will have the same dimensions as the old joint.
The very first thing I noticed was how bad Nady is on balls hit right at him, basically about five outs worse than expected. He's even weak to his immediate right and left, which tells me that he's just not very instinctive out there, and is at his best defensively when it's obvious off the bat that he'll need some hustle to get to the ball. You know what would be cool? If Mr. Turkenkopf put one of these together with Swisher in right instead of the X-man. (nudge nudge)
Damon is the opposite of Nady, eating up everything hit close to him, which is what you'd expect from a veteran Major League outfielder. He's also stronger going to his right, which probably has something to do with him not having to reach across his body with his glove to field balls on that side. Gardner's very strong out there, making plays on everything hit even remotely close to him. He shows the same pattern of struggling to get to balls that would require him to reach across his body with his glove, so my theory might hold a little water. Of course the small sample size police are in full force with Gardy.
Judging from the graph, it looks like the biggest problem areas are the gaps (expected), specifically the left-center field gap. And, you know, the whole Nady in right field thing. Joe and I have mentioned on the podcast several times that the hardest ball to field is the one hit right at you, but it looks like Nady is the only one in the Yanks outfield with this issue.
This is some really interesting stuff. What do you guys think?
A few weeks ago the folks at ACTA Sports were kind enough to send along a copy of The Fielding Bible Volume II, John Dewan's study on defensive metrics. Instead of reviewing the entire 400-page tome in one shot, I thought I'd address a number of issues throughout the week. We'll start off with a topic which has been beaten into the ground over the past few years: Derek Jeter's defense. As it turns out, his Gold Gloves might be justified.
This isn't to say that Jeter's range is any better than we've come to understand. He still has trouble ranging to his left, and that's probably not going to improve. Yet he's not a complete black hole out there. As it turns out, Jeter ranked best in the majors last year in Defensive Misplays, a visual metric developed by Bill James which attempts to succeed where errors fail in determining poor defensive plays. Says James:
A defensive misplay is a very specific observation of a very narrowly defined event, created in such a way as to keep the scorer's use of judgment to an absolute minimum.
An error is based on what "ought" to happen in the mind of an official scorer. A-Rod should have fielded that cleanly; Robinson Cano should have made a better throw to first. James attempts to strip the subjective observation of the scorer and create a defined set of circumstances which will determine a defensive misplay. There are 54 different types of defensive misplays. Here's his example:
Failing to anticipate the wall — Outfielder goes to the outfield wall, allowing a ball to bounce over his head back toward the infield, allowing a runner or runners to take bases which they might not have been able to take had the fielder turned and played the ball off the wall.

The scorer has to ask himself only two questions:

1) Did the outfielder go to the wall in an effort to catch the ball, and
2) Did the ball bounce over his head back toward the infield?
…
The scorer does not ask himself "Did the fielder have a real chance to catch the ball?" or "Should the fielder have chased the ball to the wall in that situation? or "Should an ordinary fielder have known that he could not catch the ball at the wall?" or anything like that. It's two simple questions: Did he chase the ball to the wall, and did the ball bounce over his head back toward the infield?
While James attempts to separate subjective judgment from objective observation, he's not always successful in The Fielding Bible. I'll agree with Mitchel Lichtman's critique: "However, as you read more about his Defensive Misplays (DM's), it becomes clear that many of them are very subjective, or at least not as objective as he claims DM's are in general." Still, it tries to add more context to the idea of an error, beyond the official scorer determining that a player messed up.
(Oh, and you'll never guess who led the league in the above-cited defensive misplay. Yes, it was Bobby Abreu, in a tie with — wait for it — Nate McLouth.)
Jeter's strength, according to James's system, is his ability to cleanly field balls he reaches. He led all shortstops last year with just 17 defensive misplays in 1,259 innings at short. Even when you count errors — which James claims were not counted in Defensive Misplays, so there's no doubling up — Jeter comes out as the best shortstop in the majors.
This puts Jeter's Gold Gloves in a bit better context. After all, it's easier to see plays that were made than those that weren't. It might not be easy for an observer to see all the balls Jeter doesn't get to. Routine grounder through the hole for a single, one might think. That's an easy observation to make, since it's difficult to determine whether Jeter should have gotten to the ball or, even more difficultly, if one of Jeter's peers would have cleanly fielded the grounder. Because he's so good on the balls he does get to, that's translated into playing good defense, hence the Gold Gloves.
When it comes to range, we know that Jeter doesn't get much respect. If you check out his UZR you'll see that since 2003 he's ranged from slightly below average to freaking atrocious (namely 2005 and 2007). Last year he was just below average by that metric. Since this is a Fielding Bible review, we'll also look at Dewan's plus/minus system. That one's a bit harsher on Jeter, rating him a -9 (-8 for fielding, -1 for his double play turning). That puts him fourth lowest among qualifying shortstops, besting only Yuniesky Betancourt (another guy who reputedly plays good D), Jeff Keppinger, and David Eckstein. During the three years from 2006 through 2008, Jeter ranks dead last at -50 — and it's not even close.
The difference between the two systems is something we should certainly explore further. While Dewan had Jeter in the cellar in terms of defensive range, UZR was a bit kinder in 2008, ranking him 11th in the majors, ahead of Jose Reyes. More notably, UZR has Jeter ahead of Christian Guzman, who ranked fifth in Dewan's plus/minus system. Clearly, there are flaws in defensive metrics. Geoff Baker, beat writer for The Seattle Times, has a comprehensive and intelligent look at defensive metrics. I highly recommend the read.
Does Jeter's ability to avoid misplays compensate for his lack of range? It's tough to say, especially when we're working with inherently flawed statistics. I will agree with Steve Lombardi's conclusion: "In a nutshell, it's his ability to avoid "Defensive Misplays" that has enabled Derek Jeter to win Gold Glove awards in the past. And, it's probably the same reason why the Yankees haven't moved him off shortstop yet." That and ego, of course.
We'll close this out with a scouting take on Jeter, also from The Fielding Bible, just to even out all this statistical talk:
Then there is the signature Jeter play, when he fields a backhander in the hole and makes his patented jump-throw. Jeter still excels at this play, but it disguises the fact that he does it because he lacks the arm strength to plant his feet and throw. His arm also causes him to play more shallow than other shortstops, cutting down on his range.
The last comment about playing shallow makes plenty of sense. Certainly, playing shallow would make it tough for Jeter to get to those up the middle balls. Regarding the first observation about the jump-throw, it might sound intuitively incorrect. You can't make as strong a throw while you're in the air, right? No, you can't, but you can also get rid of it quicker. What Dewan means here is that Jeter needs to do the jump-throw, because it would take him additional time to stop, plant, and make a strong throw. Because his arm isn't as strong, he needs a quick release. It's along the lines of Johnny Damon's arm not costing the Yanks any runs — a topic we'll visit later in the week.
You can get The Fielding Bible–Volume II
from Amazon.com for $16.29. That's our Amazon Associate code, so if you buy the book from that link you'll kick us a few pennies.