By

Fresh off a dramatic and historic loss to the Netherlands in the WBC, Robbie Cano and Damaso Marte returned to the Yanks today nursing some minor injuries, says Pete Caldera. Marte has pain in his left pectoral, believed to be the result of weighlifting, while Cano's right shoulder is barking. It's possible Cano's injury is a result of the workload and intensity of the WBC games. Both players are going to get checked out by the Yanks' medical staff today, and won't see action this weekend as previously thought. The injuries sound minor, so hopefully they won't be out very long. · (19) ·
When Barry Bonds broke the single-season home run record in 2001, most baseball fans knew he was on the juice. They had noticed his transformation from slender leadoff man to hulking power hitter. Not only that, but they noticed how he achieved such a mutation at such a relatively late stage of his career. It was pretty obvious, though it took a few years for anyone to do anything about it.
Another guy clearly on steroids at the time was Jason Giambi, then with the Oakland A's. As we all know, he signed with the Yankees after the 2001 season. Giambi was outed for his grand jury testimony after the 2004 season, at which time the Yankees claimed they had no knowledge of his alleged steroid use. In fact, they knew so little of his steroid use that they thought it perfectly okay to remove any language referring to steroids from the guarantee of the contract. Yeah, that argument really holds up.
According to Jeff Pearlman's new book, "The Rocket That Fell to Earth," due in stores later this month, Brian Cashman seemed fully aware of the situation. Pearlman — he who wrote about Barry Bonds's conversation in which he said he was going to use some hardcore stuff after the 1998 season — talked with a then-Yankee (or maybe a current Yankee?), who related this anecdote:
The book said that when Giambi went through a slump in the 2002 season, his first with the Yankees, Cashman was heard yelling at a television in the Yankees' clubhouse during a game. Citing "one New York player," the book said that Cashman screamed, "Jason, whatever you were taking in Oakland," get back on it.

The book said that Cashman then added, "Please!"
Cashman, of course, denies the story, saying that Pearlman didn't even bother to call him to confirm the quote. Pearlman owns up to that oversight, but stands by the story.
It's tough not to believe Pearlman here, at least in that Cashman knew of Giambi's steroid use prior to signing him (which was under directive from George Steinbrenner). Maybe the scene didn't unfold exactly as told, but something similar might have happened.
It's a funny scene, Cashman yelling at a televised Giambi to get back on the juice, because I'm sure many of us had similar sentiments at the time. The public outrage had not quite hit full swing, and there certainly weren't any penalties at the time for players using. We knew players were using, and Giambi was one of the obvious cases. Which leads to an obvious conclusion: if we fans knew about Bonds, Giambi, and others using steroids, how could front offices not? The answer, of course, is that they did, but aren't letting on more than they have to.
h/t BBTF
Following up on our morning report concerning potential legal trouble for Bernie Williams, we have a statement from the high-powered entertainment publicity firm Rogers & Cowan.
John Reilly, the V.P. of their music department, writes in with a denial:
Yesterday evening we learned of the filing of a complaint against Mr. Bernie Williams. The news has taken us all by surprise. On the night in question, Mr. Williams had gone out after accepting an invitation to be a guest performer with a local music act. Mr. Williams denies any wrongdoing and we feel that some published media reports today are inaccurate. At this time, Mr. Williams has been advised by his legal counsel, José M. Marxuach, to not make any further comments, inasmuch as we do not want to interfere with the ongoing investigation. We want to assure everyone that Mr. Williams will fully cooperate with the local authorities to have this matter clarified as soon as possible.
Bernie and the Puerto Rican WBC team is scheduled to take on Team USA on Saturday night. There's no word yet on Bernie's status for the game, but we'll track this story as it develops.
By

As swan songs go, Bernie Williams' efforts in the WBC haven't been what he wanted. While he was internationally walked a few days ago, his play in the field and on the base paths nearly cost Puerto Rico a key game against the upstart Netherlands team. Now, a woman in Puerto Rico has filed a complaint against Williams, alleging that the former Yankee hit her and took her camera while at a nightclub early Thursday morning. Police are investigating, and I hope they find evidence to clear Bernie. He was always one of my favorites, and I'd hate to see him go out like this. · (76) ·
Maybe Nate Silver can predict the success or failure of a baseball team, but can he predict how many times they'll head to extra innings? Well, probably, but he's not the only one. From the Albany Times Union, a senior at Russell Sage College has published a study predicting certain events in baseball games. It has won Rebecca Gregory a place at the Conference on Undergraduate Research at the University of Wisconsin in April.
For those who don't have a degree in mathematics:
The purpose of this research was to apply probability theory to determine if the 2008 New York Mets and New York Yankees baseball teams followed the same scoring patterns that other baseball teams have historically done…In addition to analyzing the 2008 New York Mets and New York Yankees scoring patterns, this paper extends the research by Glass & Lowry to include the probability that an average game would require extra innings…This research concludes that the 2008 New York Mets and New York Yankees had scoring patterns that:…were similar to the historical scoring patterns of the average major league baseball team."
The rest talks about quasigeometric distributions, so I was lost before I even started. I did Google it, though every single result is a reference to "Quasigeometric Distributions and Extra Inning Baseball Games," which is the work cited and elaborated on by Gregory.
I haven't seen the whole study, but here are some highlights, from the Times Union article:
The bottom line is that Gregory determined that a baseball team, in theory, has an 11.5 percent chance of scoring two runs during a game. When analyzing the data for the 2008 Mets, she found the team scored two runs 11.9 percent of the time. The Yankees score was a much smaller percentage.
…
She also determined that, theoretically, 10.2 percent of Major League games should reach extra innings. But in reality 9.2 percent of all baseball games went into extra innings. And there was more, having to do with the odds of getting a first and second run.
I love tattoos. Got my first one when I was 18, and then got myself another for my 19th birthday. Then I quit my job to start taking classes full-time and have never had enough of a cash surplus to continue. One day, hopefully soon, I'll start working my way down my arm. This post isn't about me, though, it's about the Yankees pitchers and their ink. Kat O'Brien writes about A.J. Burnett, CC Sabathia, Brian Bruney, and Joba Chamberlain, whose lockers all share a wall, and who all have a number of tattoos.
Apparently A.J. is covered head to toe in ink. Well, except below the elbow; colored tattoos there would mean he'd have to wear long sleeves to pitch. Strangest tatt: a picture of himself pitching on his left ankle. What is he, Steve-O? I suppose the Godzilla tatt makes up for it.
(Also, I did not know that Burnett was in a band with Tim Spooneybarger, which is all sorts of awesome.)
Joba has mostly words — sayings he lives by — tattooed on his body. He claims his entire arm will be covered by next year. Will we see Joba in long sleeves for the rest of his career, or will he be like Burnett and keep them above the elbow?
You might remember Sabathia's tattoos from an earlier post. It looks like he had nothing below the elbow last year in Milwaukee, but now his entire right arm is covered. He keeps a list of loved ones he's lost on his right arm above the elbow.
Finally, Burney. I can't stand the tattoo he has on his forearm. He has 12, so the others might compensate, but man, it's just like the Independent logo. Maybe it's just me, but I think if you're going to get a tatt you don't go pick something off the poster board at the shop.
Just for kicks, here's the one on my left arm.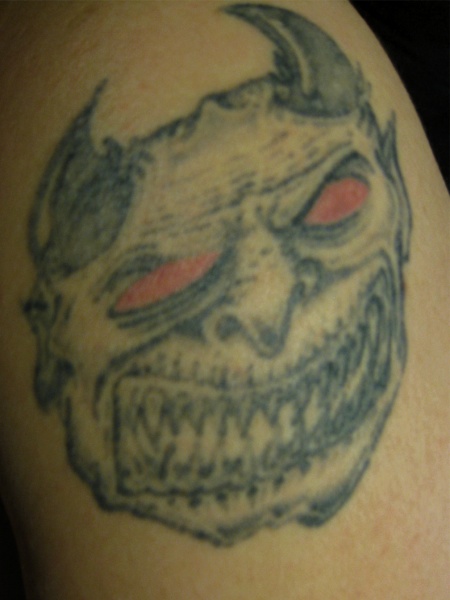 Scary, eh?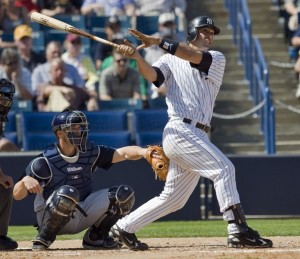 We mentioned this briefly in today's edition of the RAB Radio Show, but now we have some confirmation: Jorge Posada will making his catching debut this spring on Sunday. Kat O'Brien has the news at the end of this notebook (h/t Chris H.). The Twinkies will be in town for that game, so there's a chance Jorge will have to test his arm if the likes of Carlos Gomez and Denard Span play and manage to reach base.
Getting Jorge back and healthy is a major step forward for the team in 2009, especially considering that non-Posada catchers hit just .230-.290-.335 for the Yanks last year. He's obviously been feeling strong at the plate (.353-.421-.647 in seven games this spring), and by all accounts his rehab has gone well (minus a tiny setback), so I'm cautiously optimistic that Posada can catch 100 games this year. Dear Mo I hope he can.
Anyway, here's your open thread for tonight. The Islanders, Devils and Rangers are all in action, plus Mexico will be taking on Cuba to determine the Pool B winner in the WBC at 9pm. MLB Network will carry the game. Cuba has reached the finals in 38 consecutive international tournaments, so my money's on them. Anything goes, just be cool.
Photo Credit: Steve Nesius, Reuters Pictures
By

With a newly named stadium opening in Queens and a new Metro-North stop opening the Bronx, the MTA is attempting rechristen one stop and name another. Over at Second Ave. Sagas today, I looked at how the MTA is not embracing the CitiField moniker and what the agency plans to call the Metro-North stop near Yankee Stadium. Check it out. · (10) ·
Long show today, but with good reason. We've got tons of listener questions that cover all the major points in the Yanks Spring Training. Mike and I discuss the pitching situation, which is looking great right now, CC Sabathia notwithstanding. Phil Hughes has looked great in the two starts he's been on TV, A.J. Burnett is hitting high 90s on the gun, and Joba Chamberlain broke out of an early-spring funk to record three quality innings on Tuesday.
There's so much more, too. It seemed like every question not only led us down the intended path, but a tangential one, too. Lots of Yanks opinion and info to be sure — it'd be tough to talk about nothing for an hour and 10 minutes. We do spend a bit of time talking about recent free agent Esteban German and how he can provide the Yanks a better utility option then Berroa, Bernier, Pena, and Leone.
Onto the podcast. It is available in a number of formats. You can download it here by right clicking on that link and selecting Save As. If you want to play it in your browser, just left click the link. You can also subscribe to the podcast feed, which will send it to you every Thursday. You can also subscribe in iTunes. Finally, we have the embedded audio player below.
Audio clip: Adobe Flash Player (version 9 or above) is required to play this audio clip. Download the latest version here. You also need to have JavaScript enabled in your browser.
Podcast: Play in new window | Download (84.5MB)