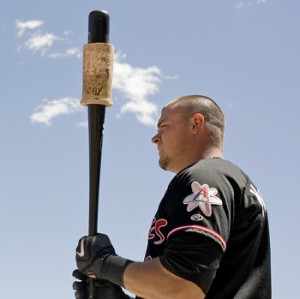 Late last night we got word that the Marlins had released third baseman Dallas McPherson, a former top prospect with the Angels. Rated the twelfth best prospect in the game as recently as 2005 by Baseball America, McPherson was never able to grab hold of the Halos' hot corner job and saw his career beset by a series of hip and back injuries. After signing a Major League contract with the Marlins last offseason, he brought his baseball career back from the grave with a monster year in the Pacific Coast League, clubbing 42 homers with the Simpsons inspired Albuquerque Isotopes. I think you know where this post is going.
First things first, McPherson had a phenomenal year last year (.275-.379-.618) in his first healthy year since 2004, but he was in an extremely favorable environment. The PCL is a hitters' league in general, plus Albuquerque is at altitude (his home OPS was nearly two hundred points greater than his road OPS), giving him another nice boost. Translating his numbers to a neutral MLB environment (via the MLE Calculator) gives you a .207-.295-.440 batting line with a Mo awful 181 strikeouts in 468 at-bats. The .233 IsoP is dead sexy, and that's pretty much right in line with his .213 career mark. There's no doubt about it, the guy can hit the ball a long way. He just struggles making contact.
The second part you need to understand about his offense is his massive platoon split. A lefty, McPherson hit just .217-.308-.528 against his fellow southpaws last year, down from .285-.395-.635 against righties. In his big league career (128 total games), he's managed just a .176-.218-.297 line off lefties, with a 38.5% strikeout rate. If the Yanks were tempted to bring McPherson aboard, it would have to be in a platoon situation only, which is fine because Cody Ransom is a righty and annihilates lefties (1.056 career OPS).
Defensively, he's nothing special. Total Zone had him pegged as a zero run defender in Triple-A last year, which is about what you'd expect from him following surgery to fuse two of his freaking vertebrae together. I think his days of being a +9 UZR third baseman – which is what he was pre-injuries – are over. He can also play first, but that's not going to make or break a deal for him.
CHONE sees a .203-.301-.409 line for McP next year, which is better than what it spits out for Ransom. Platooning the two will probably bump you up into the .250-.310-.430 range, an improvement over what you'd reasonably expect each player to do individually. Adding McPherson also allows Ransom to serve as the utility infielder (on days he starts you just slide him around if needed), which keeps Angel Berroa's inevitable suckiness off the team, not to mention stopping all this Ramiro Pena nonsense. (Seriously, it's Ramiro frickin' Pena, when did this guy become the next great Yankee shorstop?)
Now, there's two problems here. One is that the Yanks certainly won't be the only team interested. The Astros can use a third baseman, and teams like the Giants and Tigers could use upgrades. Don't discount the Cardinals either. The second is that once A-Rod comes back, McPherson's useless because he can't play anywhere other than first or third. You'd have to keep Ransom as the spare infielder because he can actually play the two middle spots. And as we've mentioned a bunch of times the last few months, why should we expect this guy to sign with the Yanks when other teams can offer him more playing time and greater opportunity? Because he wants to win? Puh-lease, the guy's looking for the longest guaranteed paycheck he can find.
The Fish resigned McPherson to a one year, $500,000 contract earlier this offseason to avoid arbitration (he's a Super Two), so they're stuck eating that money while all his new team is on the hook for is the league minimum. He hit .239-.314-.370 in 46 at-bats this spring, but is out-of-options and the team had no room for him, hence the release. I obviously think the Yanks should look into McPherson as a temporary solution at third base, but I'm not very confident they'll be able to land him. A gig with basically zero security beyond May just isn't very attractive to a player in McPherson's position. I've certainly been wrong in the past though, so who knows.
Photo Credit: Rick Scibelli Jr., The New Mexican
While the Yankees knew they would be without their starting third baseman until mid May, the team received a bombshell just minutes ago when baseball commissioner Bud Selig announced a 50-game suspension for A-Rod this morning.
Citing his power to protect the best interests of baseball, Selig took the unprecedented step of suspending a player for failing a drug test before punishment measures were in place. The MLB Players Association plans to appeal the ruling.
"These players who use performance-enhancing substances offend all of us who care for the game, and I will not tolerate their actions," Selig said during an early-morning conference call with reporters. "What Alex did was wrong and he will have to live with the damage he has done to his name and reputation. There is no valid excuse for using such substances, and those who use them have shamed the game."
Selig's decision came after nearly two months of soul searching and investigation. In February, Sports Illustrated's Selena Roberts broke the news that A-Rod was one of 104 players on a supposedly anonymous list from 2003 of those who failed a drug test. A-Rod, who a year ago had denied ever taking PEDs, came clean in a series of interviews with Peter Gammons and Michael Kay and in a press conference in Tampa.
Meanwhile, a few weeks later, as the steroid fallout dissipated, another A-Rod story popped up. The Yanks' clean-up hitter had to go under the knife for a torn labrum and was originally set to miss the first six weeks of the schedule. During A-Rod's rehab in Colorado, though, Selig decided enough was enough. He didn't want to hear about the "loosey-goosey" steroid era anymore and determined that a 50-game suspension for A-Rod would send a message to those still trying to evade drug tests.
While Gene Orza and his team at the Players Association are busy trying to figure out how to overturn this suspension, baseball insiders are worried about the labor unrest this move may generate. While popular with a media long critical of steroid uses, the PA believes that Bud Selig has overstepped his bounds as commission and has violated the Collective Bargaining Agreement.
Meanwhile, the Yankees are left with Cody Ransom at third base until seemingly the end of June now. Ransom, 33, has never gotten more than 78 plate appearances in a single big league season and remains untested. While the Yanks were prepared to use him until May to fill a hole, the reality of a half of season without A-Rod may force them to package Melky Cabrera and Ian Kennedy in a deal for a third baseman.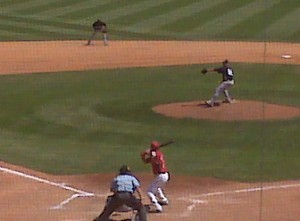 In what figures to be his final live game action of Spring Training, Joba Chamberlain looked like vintage Joba in Sarasota this aftenoon. He allowed two runs on five hits and three walks in five and a third innings, striking out six. Joba threw 86 pitches but tired towards the end of his outing, allowing two walks and two hits with one out in the sixth before being pulled.
"I've got to be more efficient," said Chamberlain (via Bryan Hoch). "I had some good short innings, but there were other times when I got extended with two outs. I've got to shorten pitches and when things get out of whack, I've got to slow things down." Becoming more efficient with your pitches is standard stuff for young starters, nothing out of the ordinary here.
The Great Joba Velocity Scare should be over, as scouts had the young righty in the mid-90′s all day according to Tyler Kepner. Oh, and Jorge Posada isn't a B-Jobber anymore, according PeteAbe's 3:38 update. Thank Mo.
Brian Bruney bailed Joba out in the sixth, stranding both inherited base runners thanks to a strikeout and fly out. Edwar Ramirez allowed a hit and an unearned run in an inning of work, while Phil Coke and Dan Giese posted identical 1 IP, 0 H, 0 R, 0 ER, 0 BB, 2 K lines to close out the game. Coke was absolutely phenomenal this spring, putting up a 15-1 K/BB ratio with a 1.42 ERA and 11 hits allowed in 12.2 IP. Hopefully he doesn't pull a Sean Henn, who followed up a strong Spring Training in 2007 with an ERA over seven in the regular season.
The center fielder battlers accounted for pretty much all of the team's offense, as Brett Gardner went 3-for-4 from the leadoff spot while Melky Cabrera went 1-for-2 with three RBI's and a run scored from the six-hole. Mark Teixeira doubled and walked, while Nick Swisher and Jorge Posada combined to go 0-for-6 with two walks and three strikeouts. Angel Berroa went 2-for-5 and was picked off first, and his hitting .379-.390-.621 this spring. The 6-3 win is the team's seventh straight, and sixteenth in their last eighteen games.
The Yanks finish up the Florida portion of their preseason schedule tomorrow afternoon against the Phillies, and then will head home to New York before taking on the Cubbies in a pair of exhibition games at the New Stadium on Friday and Saturday.
Mo matters: Mariano Rivera pitched in a minor league game today, and was so dominant that he recorded five outs in just one inning of work. After serving up a homer to MVP05 legend Rich Thompson, Mo sat down the next three batters with ease, so the team stretched him out a bit and had him face two more hitters. He's just that good.
Photo Credit: Pete Caldera
By

Via PeteAbe, new center fielder Brett Gardner was named this year's winner of the James P. Dawson Award, given annually to the most outstanding rookie in Yankees' Spring Training camp. He'll be honored before tomorrow's game against the Phillies, the Yanks' final game in Florida of the preseason. Let's hope things go better for Gardner than they have for the previous winners, which includes Shelley Duncan, Kei Igawa, Eric Duncan and Bubba Crosby.

Update by Ben: While we're on the subject of Spring Training awards, MLB announced today that the Yankees along with the Astros have captured the Bobby Murcer Award. The Yanks earned these honors by donating the most money in the A.L. to the Baseball Assistance team, an organization devoted to ensuring the financial security of former baseball players and coaches. B.A.T. raised $1.5 million this spring, an increase of nearly seven percent over last year. For more on B.A.T., check out its website. · (17) ·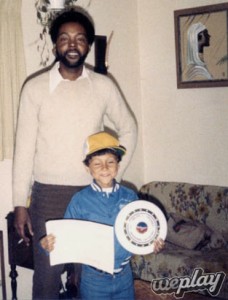 That young whippersnapper is one Mr. Derek Sanderson Jeter, before he got all grow'd up and clutchy, and comes courtesy of his photo gallery at We Play. We Play is a website the Cap'n founded along with Peyton Manning and LeBron James to promote youth athletics. Jeter was on Good Morning America this morning to promote the organization, and it was your basic ABC puff piece until Robin Roberts broke out the A-Rod steroid questions. Parade, rain. Rain, parade.
If you want to learn more about We Play, give the site a visit via the link above. Whenever a superstar player uses his popularity for the betterment of kids, it's a great thing. Well done Jetes. (h/t Deadspin)
Here's your open thread for the night. The only local team in action tonight is the Knickerbockers, who are out in Denver. American Idol is also on, if that's your cup of tea. Good thing I have lots of reading to catch up on. Anything goes here, just be nice.
Oh, and in case you need a little comic relief, Sidney Ponson has a spot in the Royals' rotation all but wrapped up. (h/t jsbrendog)
By

As he works his way back from surgery to repair a torn labrum in his hip, Alex Rodriguez has intensified his workouts and is still on target to return to the team in mid-May. He started throwing yesterday, and has been taken dry swings with a bat. A-Rod's also been working out in a pool and performing range-of-motion exercises. "His rehab is taking another step," says Joe Girardi. "He seemed like he was in a good frame of mind. We miss him, and he misses us." A-Rod will arrive in Tampa in mid-April and continue to rehab there. He can't come back soon enough. · (27) ·
By

This off-season has been filled with questions about the new Stadium. One of the most frequent ones we've heard, besides "when will single game tickets go on sale?" was about beer in the bleachers. Would the Yankees lift the eight-year ban on alcohol? It appears the answer is yes. No longer will the bleachers be barricaded off from the rest of the Stadium. There won't be any beer vendors, but there will be no restrictions on carrying your brew back to your seat. At $6 for 12 ounces, it's not much more than your typical New York bar (if it's more at all). · (110) ·
By

In a bad economy, superfluous expenditures — such as baseball tickets — often suffer. As the U.S. economy tries to right its floundering ship, baseball officials are predicting a six percent decline in attendance for the upcoming 2009 season. Officials see a lot of enthusiasm surrounding the game, and WBC ticket sales shattered the 2006 numbers. Baseball's leaders are also counting on new stadiums from the Mets and Yankees to stave off a steeper decline. There is, of course, a rub.

Last year at Shea Stadium, the Mets averaged just over 51,000 fans a game. This year, they're playing in CitiField, a ballpark with a capacity of just 42,000. Even if they sell out every game — and early indications are that they will not — the Mets alone will be responsible for a one percent dip in baseball attendance. Who decided that building such a small stadium in New York City was a good idea anyway? · (49) ·
By

The sentiment from earlier in the week has become a reality: the Yankees will not carry a long man in the bullpen. Instead they'll carry Jonathan Alblajadejo, who impressed the coaching staff this month enough to warrant a roster spot. He'll join Mariano Rivera, Damaso Marte, Brian Bruney, Edwar Ramirez, Jose Veras, and Phil Coke in the Yanks bullpen. All three of the long man candidates — Dan Giese, Al Aceves, and Brett Tomko — have been sent to AAA, as has catcher Kevin Cash. The only roster spot remaining is the utility infielder job, which is yet to be determined. Either way the Yanks will have to designate a player for assignment, which would almost certainly be Giese. · (101) ·
I was perusing Joel Sherman's latest blog post about Melky Cabrera and Brett Gardner last night when I came across an initially dismaying line. It is, on its face, the prime example of the anti-Moneyball approach to baseball. Wrote Sherman:
But when not hitting a homer, Giambi was – in many respects – an on-base detriment. He was station-to-station. He offered no threat on the bases. He scored nearly as many runs (32) via his own homers as all the other ways (36) combined, which also includes trotting home on other's homers.
My kneejerk reaction to that statement — an on-base detriment — is to simply shake my head and move on. Joe Morgan and Dusty Baker hate players who "clog the bases" even when it's been proven beyond a doubt that runners on base help a team score runs. That is, after all, the goal of baseball, and people who talk like Sherman did generally aren't making valid points.
But then I got to thinking: What if Sherman is on to something here? Could a player be so slow that, while not a detriment, he underperforms on the base paths? Let's find out.
In a way, Jason Giambi was remarkably inefficient on the base paths last year. With an OBP of .373 in 565 plate appearances, he reached base 211 times last year. He scored just 68 runs for a conversion rate of just 32.2 percent. As Sherman notes, when we omit Giambi's home runs, he scored 36 runs in 179 times on base. That means that in just 20 percent of his non-home run times on base, Jason Giambi scored a run.
That doesn't seem too impressive until we bring in Giambi's overall numbers. Throughout his career, Giambi has scored 35 percent of the time after getting on base. If we eliminate his home runs, he has scored 26 percent of the time after getting on base.
But now we're just looking at Giambi in a vacuum. Let's see how the Yankees performed as a team in these situations. Counting the home runs, the Yankees turned 36.8 percent of their baserunners into runs. Discounting home runs, they turned 31.1 percent of their runners into runs. On a larger level, the American League numbers were 36.8 percent counting home runs and 31.5 percent without the home runs.
In other words, while Jason Giambi was just four percent worse at scoring overall than league average, he was nearly 10 percent worse at scoring in non-home run situations.
So what then does all of this mean? After all, Jason Giambi had a net positive effect on the Yankees in 2008 and had, by any account, a good season. Well, for starters, that combination of speed and power is quite valuable. A-Rod, for example, in his career has scored nearly 45 percent of the time he gets on base and 35 percent of the time in non-home run situations.
While the next obvious conclusion is that Jason Giambi, as he aged and slowed down, become a problem on the base paths, but that's not one we can readily make. After all, Giambi's scoring is as much a function of the guys hitting behind him as it is his own speed. For much of last year, the guys hitting behind Giambi included Robinson Cano, Melky Cabrera, Wilson Betemit and Jose Molina. That was not a pretty bunch offensively, and they could very well be the reasons why Giambi's percentage of runs scored not off of home runs was so slow.
Maybe, though, just maybe, Joel Sherman isn't far off the mark. Maybe exceedingly slow — exceptionally slow, painfully slow — baserunners can slow a team down. It would require a lot more research, but as baseball analysis is all about challenging the norms, it's an idea that shouldn't be dismissed out of hand even if it runs counter to the Shrine of the On-Base Percentage.