By

Both Jason at IIATMS and Ross at NSI wrote on some dismaying fan-related developments in Yankeeland on Wednesday. The Yankees have updated their A-to-Z ballpark guide, and with that update comes the news that fans who are not ticketed for the field level will not have access to that area during batting practice or to the food-filled concourses ringing the lower bowl.

So while we could on Tuesday report the good news of increased access to batting practice, today we bemoan the fact that people with seats in the upper reaches of the park will have to watch BP from way up high. The old stadium held open hours during BP, and patrons didn't have to take their seats until well after the teams were finished hitting. This move just rubs me the wrong way, and as Ross notes, it's completely anathema to the current trends in stadium access. Hopefully, this provision will be unenforced during the pre-game action. · (99) ·
Dave Cameron of Fangraphs and USS Mariner fame has been counting down his rankings of all thirty organizations. He's based his rankings on four main categories: Ownership, Front Office, Major League Talent, and Minor League Talent. He grades each category than tallies up the scores, however it's a sliding scale rather than a straight average of the individual scores to get the overall. Unsurprisingly, the Nationals bring up the rear with an overall grade of F. That's what happens when your ownership doesn't care and your GM is incompetent and your scouting director can't get his first round pick signed.
Also unsurprising is that the top three organizations in Dave's rankings come from the AL East, with the Yanks specifically coming in third. Team Ownership gets the highest possible grade of A+ because, as Dave puts it, of the way the Steinbrenner's have expanded the Yankee brand. The Major League roster also grades out with an A, and frankly how can it not. They employ arguably the best player at their position at first base and third base, as well as in the front of the rotation and at the back of the bullpen. You really can't argue with the talent on the 25-man roster.
The Front Office scored slightly lower, coming in at a B+. Here's Dave:
Brian Cashman doesn't get enough credit for the things he's done right in New York. Yes, the payroll gives their baseball operations department room to make mistakes that no other franchise could live with, but he's continually targeted the highest quality of players. He's also redirected significant cash back into the farm system to develop home grown talent, and he's shown that he's an adept trader when he needs to add a piece to the puzzle. The money obviously helps, but Cashman is a good GM, and the Yankees are run well.
Cashman is one of the more controversial figures in Yankeeland. Many point out the moves that haven't worked with the benefit of hindsight, while others contend that you can justify those same moves based on the information known at that time. We at RAB fall into the latter camp obviously, but we're not stubborn enough to think our GM is without his faults. Regardless of how anyone feels, Cash is the man in charge and he's steered the ship to a prolonged run of excellence.
The final category is the team's Farm System, which comes in the lowest rated of the four categories at just a C+. Could you argue that it should be a B- or possibly even a B? Yeah, you can, but we're splitting hairs. Bottom line, the Yanks' most Major League ready young talent works almost exclusively out of the bullpen, and there's only one player that projects as an everyday regular above A-ball. Baseball America, Baseball Prospectus and KLaw were all correct when they rated the farm system middle of the pack.
The two remaining organizations are the Red Sox and Rays, which shouldn't come as a shock to anyone. Both clubs should receive an A of some sort for the first three categories, but Tampa has Boston beat in the farm system department, so I expect The Little Team That Could down in Florida to top the rankings. The bottom line, the AL East is going to be ridiculously competitive for the next few years. Should make for some great baseball.
"Our first speaker was born in the year 470 B.C., a time when much of the world looked like the Led Zeppelin album Houses of the Holy."
- Ted "Theodore" Logan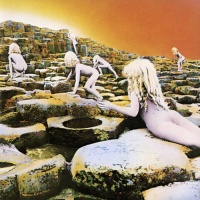 Houses of the Holy is Led Zeppelin's best album. The word "best," of course, is highly subjective; whatever is considered best is usually a matter of opinion and therefore highly disputable. In this case, however, it holds pretty strong. Even the most talented and ambitious bands would have a hard time topping Houses of the Holy with a greatest hits compilation. From Track 1, The Song Remains the Same, through Track 8, The Ocean, the album straight rocks. Not a bad song on it — and I'd go even further and say there's not even a just-decent song on it. When it comes to favorite albums of all time, this one is tops in my book.
On the train ride back to New York yesterday I listened to the album twice. While listening to The Ocean on the walk back to my apartment, I wondered how that album would play out as a baseball lineup. Surely it wouldn't go in order — Song Remains the Same is too powerful to be a leadoff hitter, and there's no way you waste a track like The Ocean hitting eighth. No, such an analysis requires a rearrangement of the tracks.
My only problem was that there are only eight tracks on the album. Eh, so NL lineups have eight real hitters. Just assume the pitcher's hitting ninth.
The criteria wasn't easy to determine. Clearly, the more powerful tracks, including power ballads, are the power hitters. The songs you can listen to over and over and over again are your on-base guys. Faster songs could signify speed, but I wouldn't want to lump slower songs into the slower hitter category, so I didn't take this into account (and really, there aren't any blazing songs on the album anyway). Basically, I listed the songs in order of how awesome I consider them, and then moved them around for nuance — like how The Book looks at lineups. So, without further ado:
1. The Ocean
One of the best rock riffs on the album, if not the very best. True to the statement above about OBP, I've listened to The Ocean more times than any other song on the album, mainly because live versions of it take rocking to a whole new level. It's got power in that it's one of the heavier songs on the album, but it's not a big time power-hitter like the songs you'll see in the Nos. 4 and 5 spots.
2. Over the Hills and Far Away
Even if you're not a Zep fan, you probably know Over the Hills and Far Away. It's one of their most visible songs after Stairway to Heaven (No Stairway. Denied!). You might also know it from douchebag acoustic guitar players who play the opening lick and that's it. Anyway, this is a No. 2 hitter like Mark Teixeira was in The Book analysis. One of the top three hitters on the team, but since it has some power it doesn't lead off. This one obviously has tons of replay value, too.
3. The Crunge
Where's that confounded bridge? This is definitely the weirdest song on the album, and a personal favorite of mine. It's all funk front to back, featuring two licks that repeat throughout (hence Plant asking where is the bridge). Also, the horn/synth on the song sounds so absurd, yet it fits in so so well. The drums are John Bonham at his finest — and that says a lot, since he had one of the best/fastest snare hands in the biz.
4. The Song Remains the Same
This epic track opens up Houses of the Holy, and it really does set the the tone for the album. In fact, in constructing this list I knew right off the bat that Song Remains would hit cleanup. It's a powerful track, featuring plenty of sick Jimmy Page leads, a breakdown into half time, and what is perhaps one of the coolest riffs in rock history (starts at 4:42 on the album track, not on the below-linked live version). Page recalls that it was supposed to be an instrumental at first, but Robert Plant jumped in with some lyrics (he also suggested the breakdown). I had heard somewhere that this was Jimmy Page's response to criticism that he wasn't as good a songwriter as Pete Townsend, but can't find anything to back that up with multiple Google searches.
5. Rain Song
As mentioned in the criteria, power ballad means power, and Rain Song is certainly a power ballad. In my younger days I didn't appreciate the song nearly as much as I do today. It starts off slow, and Zeppelin is supposed to rock, went my immature reasoning. Now, though, it's a song I can get into a groove listening to. It's not overplayed like Stairway, which is a relief because I'd hate to have this song ruined by too much radio play and, again, douchebag guitarists. I can absolutely see Rain Song knocking in plenty of runs in the fifth slot.
6. D'yer Mak'er
This is yet another one you probably all know. It's Zeppelin's foray into reggae, and I'd say it comes out quite successfully. That's another reason I love House: it isn't pegged into one musical genre. It doesn't cover the spectrum like, say, London Calling, but it's not straight blues rockers like Led Zeppelin II (though that's easily my second favorite Zep disc). D'yer Mak'er gets play all over the place, from classic rock stations like Q104.3 to mix stations like 92.3 (sorry for you non-New Yorkers/non-New Jersians). Apparently bassist John Paul Jones didn't dig the track, but he might be the only one. It's one helluva groove. The only difficult part about ranking this song is that I couldn't put it higher.
7. Dancing Days
When I ran the idea of this post by a few people, I got multiple responses of Dancing Days as the No. 2 hitter. If this were a song written by another band on another album, it would probably be a No. 2 hitter, but on this album it's up against stiff competition. It doesn't have the OBP skills of The Ocean, in that I can't listen to it ad infinitum, but it still has a killer lyrical groove. Plus, Page does some excellent work with the lead guitar accents during the verses. Also, the tone he uses for the main riff is something I've never been able to replicate. Bonus points for the synth/organ work.
8. No Quarter
This was an easy designation for the No. 8 spot. It's not that I don't like the song, but it's clearly the worst on an album (again, one good enough to be most bands' greatest hits). The riff is particularly cool, but the song is a slow-paced one and doesn't have the melodic and beautiful acoustic guitar parts to like Rain Song. Still, it's a great listen, and the spot in the batting order is more a function of the rest of the album than it is of this song by itself. After all, someone's got to hit eighth.
If anyone wants to jump in on this, pick your favorite album and put it to a batting order. Don't worry if it has 16 tracks or 8 — though 8 would probably be the minimum.
By

Last night, we jumped the gun a bit in reporting that Bob Sheppard would be in the booth for the Yankees' home opener. According to his wife Mary, speaking to Newsday today, Sheppard does not yet have his doctor's permission to rejoin the Yankees. The 98-year-old is recovering from a bad bout of pneumonia, and his family and doctor do not want to risk his health. He may rejoin the Yankees when the weather in the city is warmer. · (12) ·
For only the second time in our 20 episodes, we've got Ben on. It's always nice to have that third voice in there. The main reason: we each posted our 20 Most Important Yankees lists this week, so we thought the podcast was a great opportunity to discuss them a bit deeper. We lead the program off with that, talking about what we considered important (something I regret leaving out of my list) and why we put players/staff where we did. Plus, we got to poke a little fun at Hank.
From there it's onto reader questions, which are just a great way to get the conversation started. We talked about Joba's velocity among other topics — including the battle for utility infielder. Yesterday on the RAB Twitter feed we asked if anyone else wanted Ramiro Pena to make the team solely because he's not Angel Berroa. I guess I was outed as the guy who asked, because Mike and Ben seem to favor Berroa for other reasons. Oh well. As always, it was a great job by the listeners, sending in excellent questions.
Just a quick note before we embed the media player: This is the open thread for the evening. Feel free to discuss the radio show, but of course anything goes.
Late add: Dave from Blueseat Blogs asks, and I must oblige: Let's go Rangers!
Onto the podcast. It is available in a number of formats. You can download it here by right clicking on that link and selecting Save As. If you want to play it in your browser, just left click the link. You can also subscribe to the podcast feed, which will send it to you every Thursday. You can also subscribe in iTunes. Finally, we have the embedded audio player below.
Audio clip: Adobe Flash Player (version 9 or above) is required to play this audio clip. Download the latest version here. You also need to have JavaScript enabled in your browser.
Podcast: Play in new window | Download (69.5MB)
No matter what happened on the offensive side of the ball today — and plenty did — the story was obviously going to be about Joba Chamberlain. There has been some internal concern about him, though nothing too serious since he's still taking the ball every fifth day. This signals that he's not hurt, because if there was any concern that he was, he wouldn't be on the mound. So that's a bit reassuring in itself. Some, though, are questioning his seemingly diminished velocity, citing his mid-90s heat even after he transitioned to the rotation.
We talked a bit about this in the podcast, coming up at 7, but there are a number of factors at work here. We know that in Spring Training most guys are consciously working on certain aspects of their games. Joba's fastball velocity might not be of the utmost concern to him and his coaches at this point. He's got to work up his strength to get to that level, and that could take some time. Plus, he's also buddying around with A.J. Burnett, whose story this winter was how he learned from Roy Halladay that he doesn't have to go max effort every time. Maybe Joba's trying to learn that lesson early in his career.
Then again, maybe the velocity is a concern and we're just sticking our fingers in our ears. That could be the case, no doubt, but at this point it's probably best to watch how he's throwing overall and ignore fastball velocity. If it becomes a problem during the season, that's something to worry about then. For now, though, Joba's not looking too bad at all.
After starting off the first inning with two straight outs, he gave up back to back homers to Chase Utley and Ryan Howard. Those are two premier hitters; it's going to happen from time to time. After that, though, he seemed to settle down a bit. It's also reassuring that those were the only two runs he surrendered — and two of the three hits. A bit more concerning are the three walks he issued. I'd like to think that this was the result of him working on hitting corners and using his secondary pitches a bit more often than he would in a game, but that could be the rose-colored view. In any case, he didn't let it affect his results. We can safely place this game alongside Joba's last two starts, in the "not overwhelming, but far from bad" category. Also remember, he's not going to start a game until April 12. There's still time.
The bullpen finished off the game without surrendering a run. Edwar Ramirez continued his spring dominance, striking out two in a perfect inning. The shoulder concerns from earlier this spring seem to be gone, and it looks like he's just about locked up his bullpen spot. Brian Bruney got through a scoreless inning with a strikeout, lowering his spring ERA to 6.75. Jose Veras and Jon Albaladejo, who could be battling for that last roster spot, both tossed well, neither recording a strikeout, though Veras allowed two hits. And finally, Phil Coke struck out the only two batters he faced in direct relief of Chamberlain. He, too, has all but locked up his bullpen spot.
The Yanks managed four long flies in the game: Matsui, Ransom, Swisher, and Melky. The Yanks really took it to Scott Eyre, knocking him around for five runs in the eighth, including the Melky and Swisher home runs. Otherwise, Swisher took yet another walk and Melky went 2 for 3 with an RBI single on top of his two-run jack. Oh, and Derek Jeter went 2 for 4 in the leadoff spot. Girardi is a genius.
All in all, it was another encouraging spring game. The Yanks look like they're in sync right now, and we can only hope this spills over into the season. Man, what I wouldn't give to have it starting on time this year. April 6 seems like forever away.
By

Just a heads up, MLB.com has started posting scouting reports (with some video) for the top prospects of the 2009 Draft. Right now there's about thirty reports, but they're constantly being updated and come draft time there will be over a hundred available. It's a great way to kill time at work learn about these guys. Also, make sure you check out ESPN's MLB Draft Blog (unfortunately it's behind the Insider wall). KLaw and Jason Churchill are updating the thing daily with scouting reports (with video!), performance updates, tons of stuff. Make sure you add it to your RSS reader, because the damn thing is impossible to find on ESPN's site. · (32) ·
This afternoon's game is on YES, so we're going to throw up a game thread. Hopefully some of you get to watch Joba rock the start. Phil Coke, Brian Bruney, Jose Veras, Edwar Ramirez and Jon Albaladejo will follow, so it looks like Joba's maxing out at four innings. That's fine, given the news Girardi broke this morning. PeteAbe's got it.
The news isn't that CC Sabathia will start on Opening Day, because we knew that pretty much from the moment he signed. What we've been wondering, though, is how the team will handle Joba Chamberlain in April. Girardi said that he'll start the sixth game, meaning that the first pass through the rotation will go CC-Wang-Burnett-Pettitte-CC-Joba. This lines up CC to start the home opener against Cleveland on April 16. This won't really allow Joba to skip a start, as the off-day on the 23rd comes one day after he's scheduled to start against the A's. If all goes well he'll get four April starts to Sabathia's five.
In fact, after staring at the schedule for 10 minutes, it appears that the only reason Joba would start the sixth game rather than the fifth is so Sabathia can start the home opener. Otherwise, if the Yankees went with a straight one through five, Joba would have that honor. Don't get me wrong, I love CC and all, but I think it would be rather cool if they let Joba start the home opener.
Now for my favorite part. JOE GIRARDI READS RAB!!!!111!! Okay, so maybe not. You'll know what I mean, though, after you read this post on the Yankees lineup and then look what Girardi has for today:
1. Derek Jeter, SS
2. Johnny Damon, LF
3. Mark Teixeira, 1B
4. Hideki Matsui, DH
5. Nick Swisher, RF
6. Robinson Cano, 2B
7. Cody Ransom, 3B
8. Jose Molina, C
9. Melky Cabrera, CF
Of course, flipping Jeter and Damon in the lineup could just be to get Jeter a couple more hypothetical at bats.
Side Note: MLB.TV is giving a free preview of it's fancy new HD media player during the game today. So if you're thinking about upgrading to the premium package, or are just going to be away from a TV during the game, make sure you check it out at MLB.com. (h/t Maury Brown)
Old Yankee Stadium is now completely grassless, and city crews will soon begin demolition. (Photo courtesy of Tom Kaminski/CBS 880 AM)
The Yankees had one final piece of business pending before the city could proceed with the demolition of the House that Ruth Built. On Wednesday, the team and city moved one step closer to finalize a Yankee Stadium $10 million memorabilia, and as Bryan Hoch reported, demolition of the old park will begin prior to the April 16 home opener.
Seats, foul poles, dugouts, urinals and numerous other items from the old Yankee Stadium will be sold to fans as part of a $10 million deal between the Yankees and New York City, the New York Post reported on Wednesday.

Demolition of the old Stadium will begin next month, prior to the scheduled April 16 opening of the new Stadium. Specifics on the sale of items will be available in the coming weeks, sources familiar with the agreement told the Post.

The old Stadium is owned by the city, which will receive a guaranteed $10 million, plus a percentage of any profits above $15.9 million, in exchange for allowing the Yankees to sell the city-owned portions of the ballpark, which includes all 57,000 seats.
No value has been placed on the seats — probably the most prized stadium position. I have to wonder though if the Yanks and City of New York are going to lose out by waiting so long. The Mets announced their memorabilia sales early last summer when the economy was still relatively strong. Their sales were brisk. The Yanks are going to try to sell in a buyer's market.
As far as memorabilia goes, I don't think I'm going to buy any seats, and I wouldn't touch those urinals with a ten foot pole. Plus, I don't really have the room for either item right now. One of those signs that say "Beware of foul balls" from the main level, however, would be a nice collector's item.
What do you want out of the old Yankee Stadium?
Phil Hughes made his first appearance yesterday since being optioned down to Triple-A Scranton on Saturday, throwing five innings of one run ball against the Phillies' top minor league affiliate. We don't have a box score, but Chad Jennings says Hughes allowed only one extra base hit, which eventually led to the lone run. More importantly, Hughes retired the side in order in the fifth when pitching coach Scott Aldred told him to throw first pitch changeups to every batter he faced in the inning. He wasn't facing a bunch of scrubs either, two of the three hitters he sat down in the inning were Shane Victorino and Jason Donald, an everyday player on a championship caliber team and the Phightin's best prospect.
"I'm throwing my changeup a lot, trying to get my cutter going," Hughes said. "I'm not throwing as many curveballs as I usually do, but that's kind of what spring training is for." Amen to that.
Elsewhere in the game, 2003 first rounder Eric Duncan played his first game outside of the infield, spending the entire game out in left field. In the never ending attempt to get some value out of him, the Yanks are having the Jersey born Duncan play some corner outfield this year to add some versatility to his game. Duncan only had to field three balls on the day – two that dunked in for hits in front of him and another fly ball near foul territory that he caught in stride. Baby steps people, baby steps.
Photo via Chad Jennings