By

In South Jersey, a giant bluegrass field awaits the Yankees. This farm, run by Rick DeLea, is the sole supplier of the grass under the feet of the Yankees at both the new and old stadiums. With the Yanks opening up a new home in a few weeks, DeLea had to outfit the park with a new carpet. He ended up with 10 acres of the sod and reams of extra grass. Now, he has struck a deal with the Yankees to sell Yankee Sod at NYC-area Home Depot stores. The sod will cost $7.50 for a 16-inch by 4-foot square and will come with all of the anti-counterfeiting certifications that the so-called Official Grass of the New York Yankees should carry. Johnny Damon, unfortunately, was not quoted in the article. · (11) ·
Over in Queens, CitiField is turning into an epicurean delight. While the Mets have unveiled Nathan's hot dogs, Shake Shack and a whole raft of Danny Meyer/Blue Smoke options, the Yanks have been largely silent on the dining at New Yankee Stadium.
Today, they lifted that curtain to unveil a wide array of dining options for patrons of the Yankee Experience. The Yankees, through their Legends Hospitality group, are bringing back what the team is calling "traditional favorites." I won't judge you if you consider a lukewarm, overpriced piece of congealed cheese pizza from Famous Famiglia traditional or a favorite.
Meanwhile, the new offerings are mostly predictable, if a little disappointing. Brother Jimmy's BBQ seems to be the headliner, and the delis will now offer Boar's Head sandwiches. I'm not quite sure why the Yanks are promoting Garlic Fries, something they call "a staple of West Coast ballparks" when New York City itself offers far better food options, but that's the way it is. (The full list is available after the jump.)
As part of their continued push to make the new ballpark affordable, the team is continuing to offer a $3 hot a dog, a $3 soda and a $6 beer. Everything from the old ballpark will cost the same as it did last year with the team's preparing for a plethora of promotional items. The team has hired 4000 union workers to staff these concession booths, and they plan to donate leftover edible food to charity.
All in all, I'm a bit underwhelmed by the concession options. Items such as the Highlanders' traditional food — a pushcart hot dog vendor with sauerkraut and onions — aren't that compelling, and the sushi choices, noodle bowls and Tommy Bahamas drinks are what I would expect from stadiums in Phoenix or Denver. The local flare seems missing, and as much as I hate to admit it, it seems as though the Mets did a far better job stocking their new home than the Yanks did.
Click here for the full list of New Yankee Stadium food options.
Yanks fans have plenty of reasons to get excited for the 2009 season. Whether it's the new Stadium, the free agent acquisitions, or the up and coming talent, things seem to be going pretty well for the Bronx Bombers. Over at Jorge Says No! — which, despite the title, is not a Yanks blog — Josh continues his Five Things to Look Forward To series with the Yanks. So what does an outsider (Josh is a Mets fan) think about our favorite team?
Joba, A-Rod, Gardner, Jorge, and CC. Of course, there are different things to be thankful about with each of them. For instance, Josh seems to think we can look forward to A-Rod's tabloid antics, yet makes no mention of the XBH he'll rack up during his five months. Other than that quibble, I think Josh is pretty spot-on with the reasons we Yanks fans are so excited for 2009.
Just to add some fodder to the discussion, I got an email from ACTA Sports earlier today with some tidbits from Bill James:
The Yanks used to be a good baserunning team, with them taking an average 47 more bases than other teams in the six years from 2001 through 2007. Last year it was -4. Hopefully Gardner helps bring that number back to the positive.
Melky hits way too many fly balls, and without a power stroke it's the leading cause of his futility. "In 2007 he hit 28% fly balls (fly balls as a percentage of balls in play), and he hit .154 on them. In 2008 he increased that to 34% fly balls, and the average went down to .123." If fly balls don't leave the yard — and just 6.3 percent of Melky's did in 2008 — they're pretty much useless.
Pitchers love to throw A-Rod inside: he's led the league in three of the last four years in percentage of pitches off the plate inside. I wonder how much K-Long and A-Rod look at this type of data when determining how to prepare for the season.
There's one more bit in there about Derek Jeters and groundballs, but I'm going to tackle that topic at midnight.
With that, here's your open thread for the evening. Game 1 of the WBC finals is tonight, with Korea facing off against Japan. In NBA action the Magic head to the Garden, and in the NHL the Devils are in Philly. Just as an experiment: Anything goes here, so be bitches to each other.
Very Short Game Recap by Ben
We have a lot of content for the next few days, and the Spring Training recaps aren't quite at the top of our list of priorities. So here's a short one: The Yanks dropped a game to the Phillies today. Chien-Ming Wang and Jorge Posada were set to play a minor league game, but it got rained out. Instead, the two trekked to Clearwater. Wang was strong through five and faltered a bit in the 6th. He took the loss while allowed 3 ER on 5 H, 2 BB and 2 Ks.
Meanwhile, Brian Bruney continued to struggle. He gave up a pair of runs on Matt Stairs home run, and his spring ERA stands at 7.56. While his job is safe, the Yanks are relying on him to firm up the 8th. Dan Giese also gave up three runs today. He probably won't break camp with the Yanks at this point.
If the Yankees manage to snap out of their World Series-less funk and return to their smart team-building ways of the late 1990s, Jason Giambi and Randy Johnson will forever live as the two biggest symbols of Aught-Aught decadence. The Yankees spent a whopping amount of dollars on both of those players and additional prospects on Randy Johnson. When Johnson left after 2006 and Giambi left this winter, their departures were quick and rather forgettable.
Over the weekend, the San Francisco Chronicle's John Shea checked in with the Big Unit and the Giambino as they settle in to their new digs and their new old digs, respectively. The two former Yankees had widely divergent views on playing in the Bronx.
Neither Randy Johnson nor Jason Giambi won a World Series with the Yankees, which is why neither is viewed in that Paul O'Neill-Scott Brosius "True Yankee" sort of way, whatever the heck that is. Johnson's and Giambi's sin was playing on teams that fell short of winning it all, the Yankees' only goal.

"If you don't win the World Series, it's considered a failing year," said Johnson, who's working near his Livermore roots after signing a one-year, $8 million contract with the Giants. "Those are extremely high expectations. It's not that easy, though. I don't think you should be measured on whether you won a World Series or not because the best team doesn't always win the World Series."

[snip]

"I loved having that pressure on you," said Giambi, who returned to the A's for a $5.25 million guarantee. "If you're an athlete and really love the game, it's pretty incredible. The expectation level from the media to the fans, it's awesome, an incredible environment to play in. I know some people don't thrive in it, but I enjoyed it."
For some reason, Shea's main goal seems to be taking jabs at the Yankees. He openly mocks the "True Yankee" moniker that some players have earned, and he notes in the omitted section the Yanks' winter spending spree. In a way, though, he misses the point.
For Giambi, his time in New York was about excelling on the big stage, and he seemed to do that just fine. While his contract and tenure here will be forever marked by steroids, the Yanks got their money's worth out of Jason, and it wasn't his fault the Yanks' pitching fell apart.
Between Randy Johnson and the Yanks, though, there is no love lost. Even in Johnson's words — "I don't think you should be measured on whether you won a World Series or not because the best team doesn't always win the World Series" — are hints of excuses. He's still trying to defend himself as the man who couldn't put away the Angels in 2005 and couldn't deal with the Tigers in 2006. He is every bit the insecure pitcher Joe Torre describes him to be in his book and nothing like the bulldog the Yankees thought he was.
When all is said and done, neither Randy nor Jason will go down in the annals of Yankee history as representative of a good time. This decade has seen the team try to find a way to return to World Series glory with no luck. For one of them, it certainly wasn't from a lack of trying, and from the other, it will always just be sour grapes.
A year ago in April, we issued a Tabloid Declaration of Independence. Spurred on by a winter of rumors, some true, others nowhere near reality, we declared that with a few exceptions — Mark Feinsand's news reporting being the most notable — we would no longer be linking to stories in The Post or The Daily News.
At the time, Joe wrote, "Every day, these publications assail our better senses and bring us little in the way of opinion and insight. We are constantly bombarded with fabricated rumors, flimsy analysis, and half-baked opinions that do not pass muster to the educated fan."
We felt that we could provide intelligent and well-reasoned analysis that far eclipsed what many of the tabloid writers were producing on a daily basis. Our analysis would be as fair as we could make it and our reasoning as transparent as possible.
By all accounts, we had a successful summer doing so, and over time, we struck a balance between accepting what the tabloids say as analysis and what they report — or sometimes "report" — as rumors. In fact, we've even linked to a Post piece over the last few weeks about concerns surround Joba's velocity in Spring Training. While those concerns may be George King's and King's lone, they deserved a nod.
Yesterday, though, I was served a firm reminder of our tabloid ban when seven or eight RAB readers e-mailed me the same story and a few others linked to it in the comments. That story dealt with A-Rod, of course, and it was printed not in the sports section of The Daily News but rather on George Rush's gossip pages. In a nutshell, Rush claims that A-Rod is one of the Spitzer Madam's other clients and that A-Rod allegedly told one of the high-priced prostitutes that he took steroids. (It's here if you insist on reading it.)
In a time when New York City's mass transit is in the midst of a financial crisis, as the nation's economy founders, a gossip column's story about a baseball player's hiring a prostitute is somehow considered front page news. What's next? Dog bites man?
Not only am I reminded why we eschew the tabloids as reliable news sources that strive to bring a level of intelligence to the daily discourse, but I again see the A-Rod Double Standard at work. Will George Rush look into the lives of the other Major League Baseball players, the vast majority of whom have probably earned or paid for their fair share of one-night stands? Will we see a catalog of Joba's exploits? Jeter's ladies? Or do we just get tales of A-Rod because he's the $270 million whipping boy?
I don't even think I want to know the answers to those questions.
In the end, then, at the end of March, 11 months after issuing a tabloid ban, we're right back where we started. If sports gossip is your game, try Deadspin or any of the countless other sites that have reached for the lowest common denominator of reporting. We'll keep trying to raise the discourse, and while we don't always succeed and while we've made our mistakes, the least we're going to do is rely on sourced articles that hack-job gossip pieces with dubious motives behind them.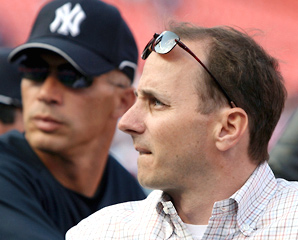 Way back in November PeteAbe posted his list of the twenty most important Yankees, and Ben said we'd follow that up by posting our own list shortly thereafter. Well, four months later seems like as good a time as any to roll out our lists. That's right, lists. I'm going to present my list of the twenty most important people in the organization today, and tomorrow Joe's going to follow up with his version. Ben will post his list on Wednesday, then we'll wrap this whole thing up on Thursday, podcast-style.
This list is a ranking of the most important people in the Yankees organization. It can be anyone – players, coaches, front office personnel, groundskeepers, clubbies, literally anyone on the payroll. We're ranking them based on their importance from this day going forward, and not just in regards to the 2009 season. Obviously there is no right or wrong answer to this, it's just my opinion.
Fun starts after the jump.
By

For much of the winter, at least since the Mark Teixeira signing, there's been plenty of debate as to who will start in right field for the Yanks. Two able-bodied vets are vying for the job: newly-acquired Nick Swisher and contract-year Xavier Nady. Via Bryan Hoch's Twitter feed, we learn that Nady is the current favorite. This doesn't appear based on spring performance, as Nady isn't exactly lighting it up. Pete Caldera notes that "Nady has more in the bank with Girardi based on last season." So was it really a competition at all?

Update (11:45 a.m.): Hoch's Twitter feed just lit up again, letting us know that Kei Igawa has been optioned to AAA. Not huge news, hence no new post. · (97) ·
Last week was another good week in Yankeeland, as the team rolled to nine straight wins thanks to strong performances from CC Sabathia, Chien-Ming Wang and Joba Chamberlain. AJ Burnett struggled for the first time in pinstripes, but the important thing is that the members of the rotation are there for each other. Jorge Posada's return from offseason shoulder surgery continued to go well, as he threw out three potential basestealers on Sunday. A-Rod is ahead of his rehab schedule out in Vail, another plus.
Off the field, we learned that the Yanks are going to open the New Stadium to the Bronx community, and that they really don't care about A-Rod's shenanigans. The center field job is apparently still up for grabs, but me thinks it's not as open as the team wants it to appear.
Please take a second to answer the poll below and give us an idea of how confident you are in the team. At some point in the next few weeks I'll create a permanent link to a graph showing the change in fan confidence over time, but for now this will have to hold you over. Don't worry, I'll pretty it up eventually. Thanks in advance.
Given the team's current roster construction, farm system, management, etc., how confident are you in the Yankees' overall future?
The Yankees made the hundred mile trip down to Port Charlotte to take on the defending AL champs today, riding the high from a nine game winning streak. Al Aceves took the mound as CC Sabathia threw in a minor league game back in Tampa (more on that later), giving up a run on two hits and walk in two and two-thirds innings. He also hit a batter and threw a wild pitch. Steven Jackson gave up a pair of unearned runs while recording four outs, and Damaso Marte walked a batter in his first spring action with the team. Kei Igawa, who had been pitching like Superman lately, struggled this afternoon, putting eight runners on base (four hits, four walks) in just two and two-thirds innings pitched. He only managed to give up one run however, and struck out four.
The Yanks offense mustered only six hits against a pretty strong sextet of Rays' arms. Melky Cabrera and Brett Gardner both went 1-for-2, although Gardner was caught stealing and Melky was hit by a pitch and threw a runner out at second. Xavier Nady, Nick Swisher, Cody Ransom and Angel Berroa combined for eleven hitless at-bats. Swisher drew a walk and committed a throwing error at first, Nady threw a runner out at second, and Ransom committed a fielding error at second. The most productive Yankee on the day was Robbie Cano, who went 2-for-3 as the DH. Overall it was a pretty forgettable day.
While the team was busy losing 4-0 to the Rays, the most important news of the day came out of the home base in Tampa. CC Sabathia pitched against a team of minor leaguers, giving up one run on seven hits and walk in five innings. He struck out three and threw 51 of 81 pitches for strikes. Jorge Posada caught him, and he threw out three of the four baserunners that attempted to steal second. After the game he said his shoulder feels 100 and is he'confident in his ability to throw. That is ginormous.
Brett Tomko starts against the Phillies in Clearwater tomorrow afternoon while Chien-Ming Wang will throw in a minor league game. The regular season starts two weeks from Monday. Woo hoo.
By

Ken Rosenthal spoke to a scout recently about two players who have gotten a lot of exposure this spring thanks to the WBC, Eduardo Nunez and Ramiro Pena. "They're two of the better young kids I've seen … two legitimate core players for the future," the scout said. "They're not that far from being major-league ready — they have some tools and they know how to play." While no one questions their defense, there are concerns about their offense, however the scout added "Their offense will not keep them from playing — they have at least survivor skills with the bat." Survivor skills with the bat? Who does that remind you of? (h/t Steve H) · (44) ·