By

Rudy Giuliani, during the Republican debates tonight, just admitted to rooting for the Red Sox in 2004. He also just took credit for the four Yankee World Series championships during his mayoralty. So does that mean the Yanks are suffering through the Curse of Giuliani or the Curse of Bloomberg, our current Boston-born mayor? · (7) ·
The Twins and Devil Rays are set to swap Matt Garza and Delmon Young, according to ESPN's Keith Law. This move immediately impacts the Santana trade because the Twins don't really need that center fielder anymore and certainly need some Major League-ready starting pitcher. Clearly, the Twins will be asking for pitching, pitching and more pitching. MLB Trade Rumors thinks that the Twins now need a third baseman, and the Yanks certainly don't have any of those in their organization anymore. The plot thickens.
Update by Mike: Rays Anatomy isn't a fan of the deal. I wouldn't be totally thrilled either if I was a Rays fan, but they really shouldn't complain; they did get Kazmir for Zambrano after all.
BA posted their Rule V draft preview, which is far more informative than mine. I've always been a Jamie D'Antona fan, but he's really just a useful bench guy for an NL club. If Fernando Hernandez is a Matt Guerrier-type, how do you not give him a shot? Ya gotta love the scrap heap pickups.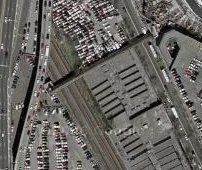 On and off for the past few months, I've assumed the Neil deMause mantle when it comes to the new Yankee Stadium. DeMause, the author of Field of Schemes, an influential book (and blog) detailing sports stadium economics – with a new edition featuring a chapter on New York coming out in April – has long called for an end to taxpayer subsidies for every little detail of sports stadium construction.
I'm on his side. I completely buy into the argument that the economic returns on a stadium do not justify the few-hundred-million-dollar layouts by the cities. Look no further than the Twins. The richest owner in the game is getting a taxpayer-funded stadium when he and the team could easily afford to fit some, if not most, of the bill.
In New York, there are plenty of things that need the taxpayer money, from our infrastructure-challenged subways to our subpar public schools. Two baseball franchies – two of the richest baseball franchises in the sport – don't need the payouts and tax breaks they're getting.
All of which brings me to a recent Village Voice story.
Click here to continue this tale of corruption and taxpayer fleecing.
By

While these talks about Santana are engaging, the point would become mostly moot if Andy Pettitte were returning. While we've heard rumors that Pettitte is leaning toward retiring this winter, what if Yankee fans showed a outpouring of support for Number 46 and convinced him to stay? That, at least, is the idea behind Steve Lombardi's Project P46. Send Andy Pettitte a holiday card. It's a worthwhile pursuit, and you can learn more through this post at WasWatching.com · (9) ·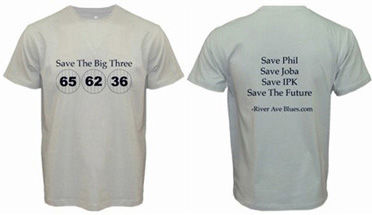 It's all we've been talking about for the past week: Should we trade for Johan Santana? Hells no! Why would we risk trading one of our big prospects for a guy who has seen a consistent increase in his BA/OBP/SLG against over the past four years? It's time to take a stand. It's time to keep our prospects.
Get your "Save The Big Three" T-Shirts here. We have a variety of styles: gray t-shirt, white t-shirt, navy t-shirt (though there is no text on the back of those), women's t-shirt, and long-sleeve t-shirt. Larger pics of the gray available after the jump and by clicking on the image at the top of this post.
Get yer T-Shirts after the jump
We've got two reports this morning filled with names. Remember: This is all just pure speculation. based on information from anonymous sources. It does however help paint a picture of trade talks that, as Buster Olney noted yesterday on a radio appearance, are still just preliminary.
Let's start with the ones that are more shady. We've got a tip that a fantasy baseball site calling itself The Grand Jury knows what the Yanks are offering. Supposedly, the Bombers want to send Ian Kennedy, Melky Cabrera and Jose Tabata to the Twins for Santana. That sounds too good to be true, and other reports seem to indicate that the Twins want more.
Those other reports come to us via Pete Caldera at The Record. Caldera has word on what the Twins want. Caldera notes that these are players who might be included in the trade: Robinson Cano, Phil Hughes, Jeff Karstens and Tyler Clippard for Johan Santana and Matt Tolbert.
While Caldera notes that AL executives see Cano as the starting point to any deal between the Yanks and Twins, this list of players is pure speculation. And right now, all we're trafficking in is rumor and idle minds trying to sell papers. The Grand Jury report, unsourced, has no more basis in reality that we can confirm than the list of players Caldera says is his take "on what deals might be discussed" between the Twins and Yankees.
"Might" is a long way from a trade, and meanwhile, both the Red Sox and Mets are planning to make offers for Santana. Since the Twins don't have to make this trade now or ever, Minnesota won't pull the trigger until they hear all the offers or until one team blows them away with a package of prized players. Let's not get too far ahead of ourselves.
As I had to bed after our most trafficked day ever on RAB, let me leave you with some ruminations on Johan Santana, courtesy of Newday's Kat O'Brien. Ms. O'Brien has a piece in Wednesday's paper about the pieces the Yankees may need to move to get Santana. Take a look:
If the Yankees believe Santana could mean the difference between making the playoffs and making or winning the World Series, they may have to give up a little more than they'd like. That could mean surrendering righthander Phil Hughes along with centerfielder Melky Cabrera and another prospect (possibly pitcher Alan Horne or outfielders Jose Tabata or Austin Jackson).

Yankees officials have not said exactly what the Twins want for Santana. However, it's been made clear that the Twins place more value upon Joba Chamberlain and Hughes than on Ian Kennedy, and that a centerfielder most likely must be part of any deal because they lost Torii Hunter to free agency. The Yankees won't easily give up Chamberlain and Robinson Cano.
This news, of course, is not really new. I noted these exact demands on Sunday, but this whole trade business is feeling more definite. I don't like it.
I don't see how shipping off Phil Hughes, a bona fide pitcher and not just a prospect, for Johan Santana makes the Yankees better in the long run. I don't see how giving up Melky and another top rated prospect in the deal makes the Yankees better.
Now, I understand that prospects are just that because we don't know how they are going to turn out, and I understand that fans tend to overvalue their own team's prospects. I still don't like this trade. Any trade with Phil Hughes is simply unacceptable at this point. This one is no exception.
Ah, the what if's of baseball. Those are the part, right? What if Torre hadn't pulled the infield in the bottom of the 9th of game 7 of the 2001 World Series? What if Tony Clark's ground-rule double over that pathetic short fence in Boston's right field somehow stayed in play? What if Ichiro had forsaken the Mariners for the Yankees last year?
That's right. You read that last one correctly. Last year, before re-signing with the Mariners, Ichiro considering leaving Seattle for the Yankees, a reporter in Japan reported today. That would have been some decision for the Yanks to make.
Ichiro eventually re-signed with the Mariners for $20 million, but could he have been on the Yankees? It's a tough call. Heading into the spring, they had Johnny Damon, Hideki Matsui, Bobby Abreu and Melky Cabrera all in need of outfield time. By the end of the year, of course, Matsui was DHing, Damon was in left and Melky had assumed the role of the starting centerfielder.
So a year ago, the Yanks probably would have passed on Ichiro. They just didn't have had space for Ichiro and seemed to be entering what ended up being a one-year period of conservative-for-the-Yankees spending. Too bad.
Of course, if the Yanks had Ichiro right now, trading Melky would be even more of a no-brainer than we seem to think it is. But that's always the joy of playing baseball's What If game.