By

Matt Holliday stands to be one of the most sought-after free agents come October. Today, Peter Gammons checked in on the A's outfielder. Holliday is concerned with his upcoming 2009 campaign, but Gammons speculates on the future. Early indications are that the Angels, Red Sox and Yankees will be competing for Holliday's services if he proves he can hit outside of Colorado this year. Of the Yanks, Gammons writes, "There are scouts who believe Holliday's natural center/right-center power is best suited for Yankee Stadium." · (49) ·
Today's game on MLB Network is blacked out in the New York area because YES is a bunch of fascists exercised their contractual right to keep it off the airwaves in their market, but for those that live outside of NY, here's your game thread for today's action. CC Sabathia is pitching in a minor league game, while this squad will face David Price and the rest of the AL Champion Rays:
Gardner, CF
Melky, LF
Nady, RF
Swisher, 1B
Cano, DH
Ransom, 2B
Berroa, 3B
Pena, SS
Cash, C
Scheduled Pitchers: Al Aceves, Kei Igawa, Damaso Marte, Steven Jackson
First pitch is scheduled for 1:15. Enjoy the game, lucky bastards.
By

The minor league spring scheduled kicked off yesterday, with Triple-A Scranton falling 6-2 to the Pirates' Triple-A squad on the road. Ian Kennedy got the start, allowing two runs in four innings thanks to a couple of defensive miscues behind him. Chad Jennings spoke to manager Dave Miley after the game, who said he was happy with Kennedy's performance. There's no box score available for the game, but Jennings was able to confirm that Eric Duncan, Chris Malec, Colin Curtis, Kevin Russo and Edwar Gonzalez played in the game, while Eric Wordekemper, Grant Duff and Kevin Whelan pitched out of the bullpen. The minor league season begins on April 9th, three days after the Yanks' season. · (3) ·
I know it's just Spring Training, but anytime your team wins nine straight games you can't help but crack a smile. Joba Chamberlain outpitched Jersey's own Rick Porcello, allowing four hits and a run in 3.1 innings. He struck out five and walked none, throwing 61 of his 41 41 of his 61 pitches for strike. Porcello allowed two runs on four hits in 2.1 IP, uncorking a wild pitch as well. Joba appears to be over his early spring struggles, putting up a 9.1 IP, 9 H, 2 R, 1 BB, 11 K pitching line in his last three starts.
Melky Cabrera went 2-for-3 with a double and a stolen base from the leadoff spot, and was relieved by Brett Gardner who picked up a hit in his only at-bat. Johnny Damon went 1-for-3 with an RBI double, and on top of that he threw a runner out at the plate. You know it's going to be a good day if Johnny D. guns someone down. Mark Teixeira and Frankie Cervelli also doubled, while Cody Ransom, Jose Molina and Angel Berroa chipped in 1-for-3 efforts. Juan Miranda put the Yanks on top for good with a two run homer off Fernando Rodney in the seventh.
Jon Albaladejo replaced Joba and allowed three hits in 1.2 innings of work, and lowered his spring ERA to 1.08. Mariano Rivera made his third appearance of the preseason, allowing his first baserunner (a hit) and striking out. He needed a whopping 12 pitches (10 strikes) to retire the side. Edwar Ramirez and Jose Veras each gave up a run in an inning of work, and Zack Kroenke picked up the save with with a scoreless ninth inning in his first action since being returned by the Marlins. The 4-3 win was the Yanks ninth in a row.
Cervelli was optioned to Double-A Trenton after the game, joining the six others that were sent down this morning. Al Aceves will face the Rays tomorrow afternoon while CC Sabathia throws in a minor league game. MLB Network is carrying the game, but it'll be blacked out in the New York area because YES wants it to be. Story of my life.
By

Times reporter Jonathan Abrams trekked off to Vail to check up on Alex Rodriguez and found that the Yankee slugger is keeping a low profile. A-Rod's doctor reiterated what Will Carroll reported yesterday — that A-Rod is ahead of schedule with his rehab. Meanwhile, in Vail, a city used to celebrities, A-Rod isn't making a scene, and that, apparently, is news. · (22) ·
Sounds like some Cleveland fans are a little pissed off about something. (h/t BTF)
* Most Yankee fans like the LA Lakers in basketball, they root for the Dallas Cowboys in football, the Detroit Red Wings in hockey, and will tell you that Rocky Marciano was the greatest boxer of all time.  What all of these "favorites" have in common is that they are winners.  These are the Cleveland area fans who just can't accept losing, so they manipulate the system at a young age and root for traditional winners.  Let's face it, the Cleveland Sports Faithful have not had much to scream about for the past 50 or so years.  However, the loyalty of a Cleveland sports fan is so much more praiseworthy to me than the local bandwagon jumping fans of teams that win.

* The argument that Cleveland teams refuse to spend money to keep athletes gets old.  Just because the Yankees have so much more to spend does not mean that the Browns, Cavs, and Indians, do not pay well.  Let me put it to you this way:  When you play monopoly with your friends, give the Yankee fan half of the deeds and three quarters of all of the money that comes with the game.  We will call the other players Pittsburgh, Milwaukee, Kansas City, and Cleveland.  They have what is left to divide amongst themselves.  This is why baseball sadly needs a salary cap.
Seriously, do you know anyone who roots for the Yanks, Lakers, Cowboys and Red Wings? I mean jeez, I know there's some bandwagoners amongst us, but come on now. Oh, and the salary cap issue is so 2004, it's time to get over it. Do you know what this is? It's the world's smallest violin.
Anywho, here's you open thread for the night. Korea is taking on Venezuela in the first game of the WBC semifinals at 9pm. The Knicks are in Orlando, the Isles are in Ottawa, and the Rangers host the Sabres in a game crucial to their playoff fate. There's also a pair of college basketball games starting at 8:15. I went 25-for-32 in first round, good enough to be tied for third place in RAB's Bracket Busters coming into today's games. Anything goes here, just be nice.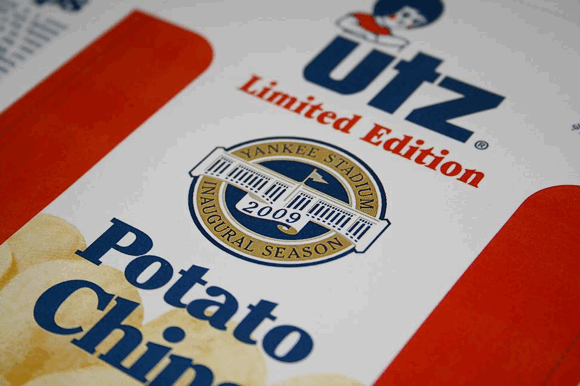 The PR folks representing Utz, the ten-year potato chip sponsor of the Yankees, sent along the above image this week. The company is offering up a special new Yankee Stadium edition of their chip bag. It'll be available at the Stadium this year and throughout the New York area. I'd imagine that just about every company associated with the Yankees will be running similar promos this year. After all, we know that New Era hopped on board that train, and now Utz has too.
The Yanks unveiled their single-game ticket prices, and front row seats will cost $2625. Luckily, the rest of the seats are in line with what we would expect:
Individual game sales for the first season of the $1.5 billion ballpark start Tuesday, and the Legends Seats that ring the infield start at $525 a game, according to the team's Web site. Those seats cost $500-$2,500 as part of full season tickets, and they include food and soft drinks.

Other field level seats cost $95, $150, $275, $300, $350 and $375. Then comes the Delta Sky360 Suite, where tickets are $375-$800, and main level tickets, which are priced at $60, $80, $95 and $150.

On the top deck, seats in the Jim Beam Suite go for $130-$150. Terrace seats are $50, $75 and $85, and grandstand tickets cost $23 and $30. Full view bleachers are $14.
Those prices are mostly in line with comparable seats from 2008 at old Yankee Stadium. Meanwhile, the Yankees say that around 800 of their 4300 premium seat packages remain unsold. Sales of those tickets had been brisk until the economy tanked in the fall.
These tickets go on sale on Tuesday for those lucky enough to get an email from the Yanks yesterday.
By

Prior to this afternoon's game against Detroit, the Yanks optioned Phil Hughes to Triple-A Scranton. Hughes made five appearances (four starts) in the preseason, putting up a 15 IP, 8 H, 5 R, 6 BB, 10 K pitching line while working on a new changeup grip. The Yanks also optioned Steven Jackson and Anthony Claggett to Scranton, while Humberto Sanchez was optioned down to Double-A Trenton. Jason Johnson and Sergio Mitre were also assigned to minor league camp. As camp draws to a close, there just aren't enough innings to go around anymore. (h/t Bryan Hoch) · (26) ·
What do you do when you're New York's most eligible bachelor, making $20 million a year and with a five-bedroom, five-bathroom house in Tampa? Why, build another one, of course. That is, in fact, what Derek Jeter is doing.
According to a report on Tampa Bay Online, Jeter is constructing a seven-room, nine-bathroom, 30,875 square-foot mansion on Davis Island. The house, as TBO.com points out, is about three-quarters the size of your typical Best Buy. It's big enough, in fact, for Derek to keep multiple girlfriends in the house.
Anyway, a cursory glance through Google Maps reveals that Derek is probably building on this vacant lot with this view of Hillsborough Bay.
I have to wonder two things though: Why will that house's carbon footprint be? And will he make it hurricane-resistant? That's a flooded out mansion waiting to happen. No matter; it's good to be king.