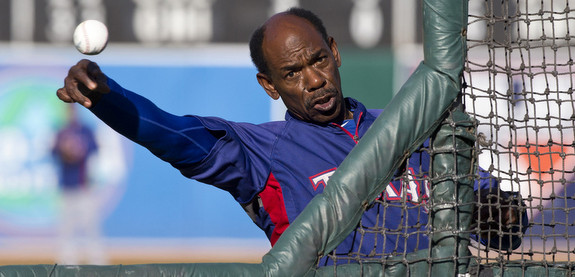 The Yankees have played every AL team this season except for three, and they'll cross one of those off the list this week: the Rangers. The Twins and White Sox will come along eventually. New York and Texas have some recent history, dating back to the playoffs in the late-1990s playoffs as well as the 2010 ALCS.
What Have They Done Lately?
The Rangers have been very hot and cold of late, and they're coming off five straight wins. Not long before that, they lost six straight. Overall, they are 44-32 with a +26 run differential this season, the best record and fourth best run differential in the AL.
Offense
At 4.4 runs per game with a team 97 wRC+, the Rangers can score some runs even though they do not have the same kind of high-powered offense we're used to seeing. They are without southpaw masher UTIL Jeff Baker (288 wRC+ vs. LHP) and CF Craig Gentry (64 wRC+), who are both on the DL with hand problems. Baker actually sprained his thumb high-fiving a teammate, in case you need to laugh at someone else's injuries for once.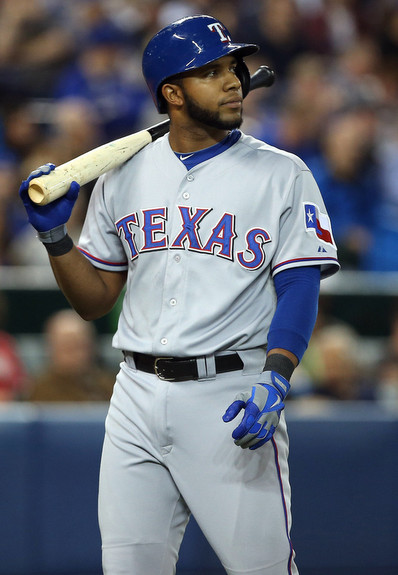 Manager Ron Washington has a deep lineup with seven regulars who are producing at a league average rate of better. 2B Ian Kinsler (126 wRC+) is fresh off the DL and the leadoff hitter, SS Elvis Andrus (52 wRC+) bats second, former Yankee DH Lance Berkman (104 wRC+) bats third, and 3B Adrian Beltre (121 wRC+) cleans up. OF Nelson Cruz (124 wRC+), C A.J. Pierzynski (111 wRC+), 1B Mitch Moreland (129 wRC+), and CF Leonys Martin (100 wRC+) usually follow the top four in some order. OF David Murphy (72 wRC+) is the final regular. Those are the nine guys Washington runs out there pretty much everyday.
The Rangers are actually carrying three catchers, though C Robinson Chirinos (37 wRC+ in limited time) can play a bunch of other positions as well. C Geovany Soto (76 wRC+) is the traditional backup. OF Engel Beltre was just called up and has yet to get into a game. Whenever he does, it will be his big league debut. IF Jurickson Profar (83 wRC+) is baseball's top prospect and something more than a part-time utility infielder. The starting nine can mash overall, but guys like Pierzynski, Cruz, Murphy, Moreland, and Martin are worse off against same-side pitchers. The switch-hitting Berkman has traditionally fared worse against lefties than righties.
Starting Pitching Matchups
Tuesday: RHP Hiroki Kuroda vs. RHP Yu Darvish
Texas was nice enough to rearrange their rotation a bit so Darvish could start tonight's game rather than their last game against the Cardinals on Sunday. Thanks for that. The 26-year-old has dominated this year, pitching to a 2.84 ERA (2.83 FIP) with an insane strikeout rate (12.17 K/9 and 34.2 K%). He also doesn't walk many (2.75 BB/9 and 7.7 BB%) and gets a decent amount of ground balls (46.0%). You can take him deep (0.98 HR/9 and 13.8% HR/FB) on occasion, however. Darvish is a true six-pitch pitcher, sitting in the low-to-mid-90s with his two- and four-seamer and in the upper-80s with his cutter and splitter. A sharp low-80s slider is his top strikeout pitch, and he'll also mix in a floating upper-60s curveball. He can varying the break on the slider — one goes side-to-side, another breaks hard and down — so he's really a seven-pitch pitcher. Sounds like fun. Darvish struck out ten Yankees in 8.1 scoreless innings the only time he's faced them, and that came early last year when New York had a much, much better lineup.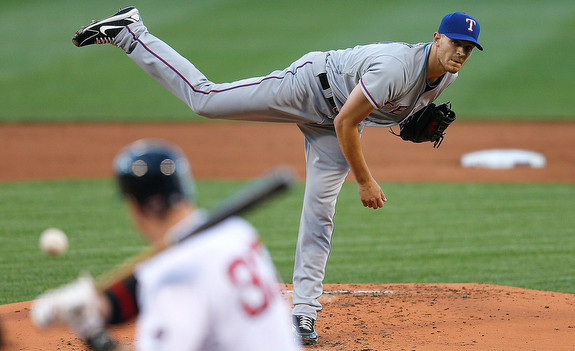 Wednesday: LHP Andy Pettitte vs. RHP Justin Grimm
The Rangers have almost a complete rotation on the DL, so the 24-year-old Grimm has been forced onto the staff for most of the year. His 5.57 ERA (4.32 FIP) is backed by decent peripherals: 7.18 K/9 (17.9 K%), 3.10 BB/9 (7.7 BB%), 1.24 HR/9 (11.6% HR/FB), and 42.7% grounders. Grimm sits in the low-90s with his four-seam fastball, which he uses to set up his upper-70s curveball and low-80s changeup. The curve is his go-to secondary pitch; he throws it almost 30% of the time and it keeps him from showing a platoon split. The Yankees have never faced Grimm, who has 86.2 career innings to his credit.
Thursday: RHP Phil Hughes vs. LHP Derek Holland
Holland, 26, is very quietly having an excellent year now that he's gotten his homer problem under control (0.56 HR/9 and 6.3% HR/FB). Well, he's probably at least a little lucky with the homers given that HR/FB rate, which is especially low given his home ballpark. Holland has a 3.43 ERA (2.80 FIP) with very good strikeout (8.35 K/9 and 22.2 K%) and walk (2.32 BB/9 and 6.2 BB%) totals. He gets a ground ball on 42.5% of balls in play. Working off a sinker that sits in the low-to-mid-90s, Holland uses low-80s sliders and changeups as his primary offspeed weapons. A mid-70s curveball will also make an appearance. The Yankees have faced him a bunch of times over the years and have typically hit him very hard — 41 runs and 75 base-runners in 39.2 innings.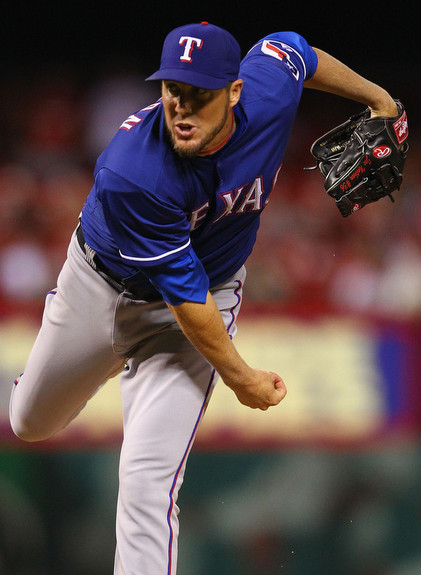 Bullpen Status
Like the Bombers, Texas was off on Monday and they have a rested bullpen. Closer RHP Joe Nathan (2.90 FIP) has never met a big game he can't blow, especially against the Yankees. Unfortunately this series really doesn't qualify as "big." RHP Tanner Scheppers (3.84 FIP) and LHP Robbie Ross (2.32 FIP) are the primary setup men while RHP Jason Frasor (4.07 FIP) and LHP Neal Cotts (2.23 FIP in limited time) do the middle relief thing. RHP Ross Wolf (3.43 FIP) and RHP Kyle McClellan (5.33 FIP) are the extra arms.
Both Mariano Rivera and David Robertson have had two straight days off, so they're in good shape. Pretty much every middle reliever appeared in Sunday's game, though that's no real biggie. The Yankees are in fine bullpen shape going into tonight's series opener. Our Bullpen Workload page has all the details. Now that Baseball Time In Arlington is defunct, Lone Star Ball is my (Texas) Rangers blog of choice.