What do you do when you're New York's most eligible bachelor, making $20 million a year and with a five-bedroom, five-bathroom house in Tampa? Why, build another one, of course. That is, in fact, what Derek Jeter is doing.
According to a report on Tampa Bay Online, Jeter is constructing a seven-room, nine-bathroom, 30,875 square-foot mansion on Davis Island. The house, as TBO.com points out, is about three-quarters the size of your typical Best Buy. It's big enough, in fact, for Derek to keep multiple girlfriends in the house.
Anyway, a cursory glance through Google Maps reveals that Derek is probably building on this vacant lot with this view of Hillsborough Bay.
I have to wonder two things though: Why will that house's carbon footprint be? And will he make it hurricane-resistant? That's a flooded out mansion waiting to happen. No matter; it's good to be king.
By

I mean, seriously. KLaw had him at 99 last night, when he struck out fifteen in seven innings. On the year, he's at 34.1 IP, 21 H, 7 R, 7 BB, 74 K. That's a 19.40 Kper9 and a 10.57 K/BB. Remember when I said Price and Prior and all of them were better prospects? I take it back. This kid is as real as it gets, and is making a case to be the greatest amateur pitcher of all time. Insanity.

In other San Diego area news, Padres' reliever Mark Worrell will miss the season with Tommy John surgery. The only reason I'm mentioning this is because I've been looking for an excuse to link to this video of him pitching for a few weeks now. How can you not laugh at that delivery? · (22) ·
Usually when the team has to make a two and a half hour bus trip, just about all of the regulars get to stay home. That wasn't the case today, as Mark Teixeira, Robbie Cano, Hideki Matsui and Brett Gardner headed to Fort Myers to take on the Twinkies this afternoon. Phil Hughes got the start in place of Andy Pettitte (more on that later) and was solid, tossing four and a third innings of three hit, one run ball. He walked one and didn't strike out any, but he got by thanks to a 10-3 GB/FB rate. Hughes was taken out after reaching his pitch limit (65 pitches, 41 strikes), and afterward said that he feels strong and ready to go, although he admitted his curve wasn't cooperating today.
Jason Johnson relieved Hughes and allowed a run in his 1.2 innings of work, while the trio of Anthony Claggett, David Robertson and Kei Igawa held the Twins scoreless over the final three frames. Igawa loaded the bases on a hit and a pair of walks with one out in the ninth, but induced a game ending double play off the bat of Denard Span.The Kei-Man is up to 12.2 scoreless innings, but is anyone have a more under-the-rader spring than Claggett? Including today, he's allowed just six baserunners (three hits, three walks) in nine innings this spring.
Trailing 2-0 in the sixth, the Yanks got on the board when Teixeira hit his first homer of the spring off Joe Nathan, who I hear is pretty good. Todd Linden – who's only hit this spring came way back in the first exhibition game – hit a solo homer of his own off the uber-nasty Jose Mijares in the eighth to tie the game. Frankie Cervelli put the Good Guys out in front with a sac fly later in the inning, and Austin Jackson took ex-Yankee farmhand Jason Jones deep in the ninth for an insurance run. Cano went 1-for-3 and made several plays during the five innings he spent in the field, so it looks like the shoulder thing is behind him. Brett Gardner, Jose Molina and Shelley Duncan all contributed 1-for-3 efforts in the 4-2 win, the team's eighth consecutive.
While all that was going on, Andy Pettitte threw against a team of minor leaguers back in Tampa. He tossed 5.1 innings, allowing one run on three hits and a walk. He also pulled a CC and struck out seven, throwing 44 of his 65 pitches for strikes. Catching him was Jorge Posada, who for the first time this spring played behind the plate on the consecutive days. He caught all of Pettitte's 65 pitches, and had to make three throws to second base. All three players were successful on their stea attempts, and two of the steals were by runners put on intentionally to test Posada. Although it would have been nice to see him throw someone out, the important thing is that he said he felt fine after the game.
Joba Chamberlain will face Rick Porcello and the Tigers tomorrow afternoon in Tampa. Too bad it won't be televised, that's as good a matchup as it gets.
By

John Lackey, the 30-year-old Angels ace, is on the verge of free agency. While he and the Angels are currently attempting to negotiate an extension, the right-handers wants more money than A.J. Burnett because he, rightly so, considers himself to be better than Burnett. Says Lackey of the Angels' efforts at retaining, "They're not trying very hard." Meanwhile, Theo Epstein, Brian Cashman and Steve Hilliard, Lackey's agent are salivating at the thought of Lackey hitting the open market next year. · (69) ·
My brackets are in pretty decent shape so far, much better than the last few years. Ironically, I paid even less attention to college basketball this year than I usually do. Go figure.
Anyway, here's your links:
Here's your open thread for the night. The Isles, Devils, Knicks and Nets are all in action tonight, plus there's a whole bunch of college basketball games going on. Today's an off day for the WBC, the semifinals kick off tomorrow night when Korea takes on Venezuela. USA will play Japan Sunday night, and they've pushed Roy Oswalt up for the game Anything goes here, just be cool.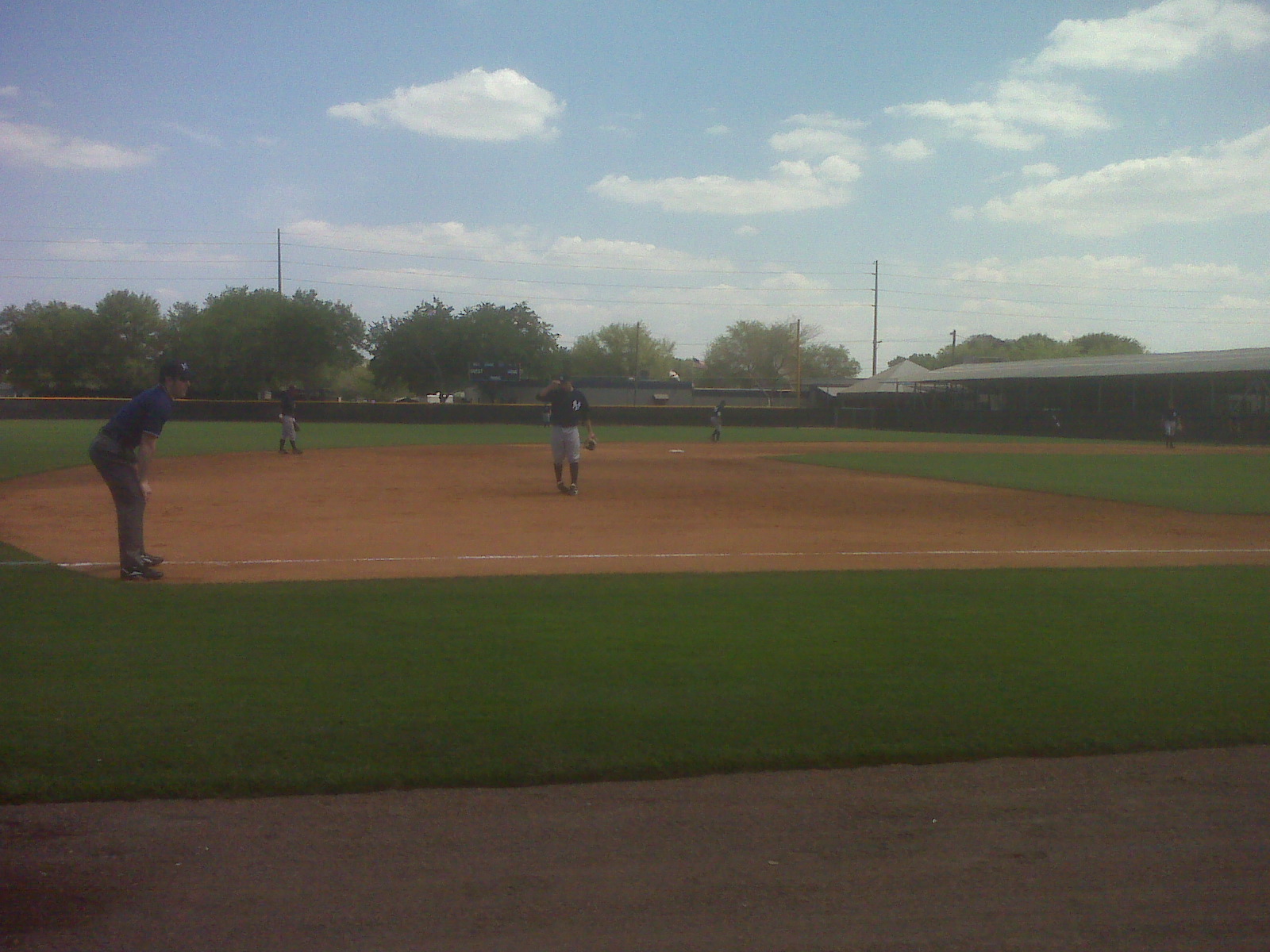 That shot of some players walking around the infield comes courtesy of longtime RABer Andy in Sunny Daytona (I have no idea who they are, so don't ask). Apparently Daytona wasn't sunny enough for Andy today, so he drove across the state to watch a bunch of minor leaguers. We benefit though, because he also got some pictures of Jorge Posada catching, Andy Pettitte walking around the mound, and Mark Melancon in mid-delivery. Pete Caldera also has some pics of Andy pitching, which you can see here and here.
Someone stole a base off Posada, who had to made three throws to second base, all of which went fine. Melancon struck out the side. Andy also send along a picture of the monstrosity he ate for dinner last night. I think it's sushi. Anyway, thanks to Andy for the pics. I wish I was there.
By

As Alex Rodriguez preens for the mirror works his way back from hip surgery, news from Colorado has been quiet. Today, in his Under the Knife column, Will Carroll chimes in with an update. "Alex Rodriguez," the BP scribe writes, "is 'well ahead' of his rehab schedule." While Carroll provides no further information than that, I would expect to see A-Rod return to the Yanks sometime around mid-to-late April, just in time for Selena Roberts' tell-all to hit bookstores around the country. · (16) ·
Just a couple of notes to hold you over until the chat at 2:
The coaching staff is impressed with Jorge Posada's arm strength. From Mark Feinsand: "I feel good about it, I do. And last night's the best I felt, because of what I saw," Girardi said. "When he threw it, I went, 'wow.' That's the expression I used when I looked at Tony (Pena). He said he felt great, and that was really positive." Hey, we're looking for any bit of positivity about Posada we can find. His ability to catch will mean a great deal to the Yanks this season (as we've said roughly 18 billion times this winter/spring). Jorge will catch for the second day in a row today, a big test for him.
According to Joe Auriemma at YES, Nick Swisher is day to day with a bruised lower calf. It doesn't sound serious at all, just a regular bump/bruise in Spring Training. I don't think it will affect his competition with Xavier Nady for the right field job.
By

In 2008, no one in the AL struck out more hitters than A.J. Burnett, and only Tim Lincecum in the NL and CC Sabathia in two leagues topped Burnett's 231 K's. In an effort to spread the strike out wealth, Burnett has been coaching Chien-Ming Wang on the finer points of mixing and matching pitches. Wang's progress this year will be one of the more compelling Yankee pitching stories. He's not the team's number one starter, and his heavy sinker provides a great contrast to Joba Chamberlain, Sabathia and Burnett's strike out-oriented approach. If Wang can up those K/9 IP numbers just a tick, the Yanks' pitching will be that much better. · (25) ·