By

When the Yankees convinced the nearly-broke City of New York to foot the bill for extensive stadium renovations in the early 1970s, much of the same storylines played out then as they did over the last few years. The Yankees threatened relocation, and they promised community benefits. The renovations were well over $100 million — or around $480 million in today's dollars — over budget, and those aching for nostalgia couldn't bear the thought of renovating the historic Yankee Stadium. Wezen-Ball recently looked back at some of the press coverage surrounding the opening of Yankee Stadium II. As the new stadium's opening day approaches, I am struck by the famous saying, "The more things change…" · (17) ·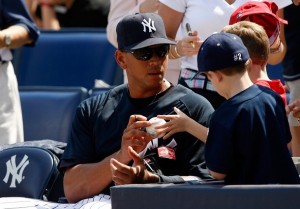 Earlier today Buster Olney wrote about how the Yankees don't really care about all of Alex Rodriguez's shenanigans, and John Brattain of The Hardball Times followed it up by writing about the damage Scott Boras may have done to A-Rod and his reputation. Brattain reviews A-Rod's career chronologically, and points out what parts appear to have that Boras Stamp all over them. He wraps up the article with this:
Rodriguez stated that he always wanted to be a Met—one has to wonder what direction his career would've taken had he enjoyed different representation and an agent who was more interested in serving his client than setting new standards and concepts in major league contracts.

Would A-Rod have been a Met at eight years/$184 million (just a guesstimate) and still battle hardened from his time in Seattle with a different agent and helped the Mets again reach the World Series in 2001? A contract like that wouldn't have stuck out as much from the deal Manny Ramirez signed, and the consensus was that Rodriguez would land something in the range of $200 million. He would've gone to a winning team where he'd be fulfilling a childhood dream.

Assuming he's telling the truth, maybe a $184 million deal wouldn't have made him feel pressured to juice, and the three years of simply playing for stats in Texas never occurred. He'd go on to build upon the legend he began in Seattle. He wouldn't have been royalty in the Mets clubhouse with Mike Piazza and Robin Ventura to help him stay on an even keel, and he wouldn't have developed the bad habits he acquired in Texas as the crown prince of Rangers baseball and the only reason to watch the team after the first of June.

Sadly, he will always be linked with the most despised man in the game—Scott Boras did make him a lot of money, but he would've been rich in any event. Alex Rodriguez may be the author of some of his problems (as we all are), but I think Scott Boras ruined him.

In an alternative time line Alex Rodriguez may have been a legend instead of an enigma.
Lots and lots of what-ifs in this piece, and I don't believe you can pin everything on Boras. It's takes two to tango, after all. Make sure you give it a read, lots of interesting stuff in there.
Here's your open thread for the night. The Devils are on the road while the Knicks and Nets are meeting in the Garden. Team USA is taking on Venezuela in a meaningless game tonight. Both clubs have already advanced to the semifinals, and all this game does is determine the Pool B winner. Japan takes on Cuba later tonight in a rematch of the 2006 WBC Title Game, and once again the loser goes home. I'll never bet against Cuba in an international tourney, so my money's on them. Anything goes, just be nice.
Photo Credit: J. Meric, Getty Images
Since cementing his place in Yankee lore with a dramatic home run in the 11th inning of Game 7 of the 2003 ALCS, Aaron Boone hasn't had much of a baseball career. After tearing his knee in a pick-up basketball game that would alter the course of Yankee history, Boone has played just 420 games over five years and has been a non-entity in baseball.
In that time, he has played for the Indians, Marlins and Nationals. He's hit just .250/.317/.383 with 34 home runs and 162 RBIs in 1286 ABs. It's almost as though he made a deal with the baseball devil. For hitting that home run off of Tim Wakefield, Boone would never again be the solid, if unspectacular, Major Leaguer he was before arriving in the Bronx. Only recently, in fact, did he learn to embrace that career-defining moment.
Today, Boone announced that he will miss the entire 2009 season as he faces surgery for a faulty heart valve. Whether Boone will attempt a comeback in 2010 as he nears age 37 is unknown. Right now, he, as he should be, is focused on his current health scare.
Hopefully, he'll be okay. His home run was an era-defining and era-ending moment for millions of young Yankee fans, and we're all rooting for Boone to pull through.
We've long made our feelings known about the NYC sports media in general and the New York Post in specific. Even more specifically, we tend to take issue with George King, whose seemingly made-up rumors fly in the face of reason. However, we also give credit where credit is due, and in his recent article about Joba he makes a few valid points. Namely, that Joba's velocity, while acceptable at this point, isn't quite what it's been in years past. Should that concern the Yanks?
Surprisingly, King doesn't turn this into a Joba-to-the-bullpen lovefest, as one might have expected. Instead, he notes that this is early spring and for some guys, especially young guys trying to gradually build up arm strength, throwing with max effort just isn't a good idea. He'll make his first start on either April 11th or 12th, so he's got plenty of time before he'll need those mid-90s bullets. Might as well work your way into them, rather than throw them mid-March.
That doesn't mean that everything is going splendidly for the 23-year-old. He's taking the ball, which signals that he's healthy, but his mechanics still need time to develop.
"With my fastball, my glove side, I am not getting totally out front and I'm cutting pitches off," Chamberlain said. "But (my) arm slot was great and everything else I threw was for strikes, the change twice and the curveball."
He's also been working on the changeup, which is the last of his four-pitch arsenal to come around. That's just as important as his fastball velocity, though King botches a Hillary Clinton analogy in the last paragraph trying to make the opposite point. Yes, Joba has showed mid-90s heat before, but his secondary pitches are what can make him a front-end starter. It's good to see how hard he's working on them this spring.
Bonus section:
Also from The Post, though I'm linking to the report on yankees.com because I don't feel like searching through the Post's website, three Yanks officials have said that Joba would move into the closer role should Mo be unable. Thankfully, that appears to not be the case. Mo has been progressing as normal this spring, despite his October shoulder surgery, and is on track to pitch the ninth inning starting April 6. So it appears there's nothing much to it, though we do know the Yanks backup plan.
It's been said before, and it will be said many times in the future: Alex Rodriguez is a polarizing figure. Some look at his production and let the conversation end there. Others look to his numerous (to be generous) quirks and his recent history of poor Octobers, and decide they don't like him. Whether the fans like him or not, he's under contract with the team for the next nine seasons, so it's advisable to get used to his antics. The Yanks already have.
That's the subject of Buster Olney's column for today, and it's quite amusing:
The rest of the world might ask: Why has A-Rod befriended Madonna? Inside the Yankees' family, the response is That's Alex.

The rest of the world might ask: Why would A-Rod host a press conference about his past steroid use and create more questions than he answers? Inside the Yankees' family, the response is That's Alex.

And today, the rest of the world might ask: Why would A-Rod pose for a picture in which he appears to be kissing himself in a mirror? Inside the Yankees' family, the response is That's Alex.

"Don't worry, we'll be sure to make fun of him for it," one teammate told Kat O'Brien.
Fans, of course, will do what they please. Many feel a sense of entitlement, in that they spend so much time and money on the team that they have the right to boo whomever they please. I won't argue with that, though I don't agree with it. I root for the laundry, and even though I've disliked Yankee players in the past I've refrained from booing. Why would I boo someone I want to succeed?
Still, this seems like the best mindset at this point. Let Alex be Alex. As long as he produces on the field, nothing else matters in my mind.
By

On Friday, we were completely unsurprised when the news "broke" that Brian Cashman knew about Jason Giambi's steroid use. This story came out in Jeff Pearlman's latest book on Roger Clemens, the Yankees and PED, and it constitutes as obvious a "duh" moment as one could imagine. Despite that, Pearlman has done a thorough job putting this sordid tale together, and he recently answered 20 questions from Jason at IIATMS. Pearlman takes about Clemens, Pettitte, the work behind the book and PED use today. Check it out. · (6) ·
Yesterday afternoon, my flight back north from West Palm Beach went north up the Hudson River past all of New York City. After spying Coney Island out the window, I followed the city north through Brooklyn (where I could spot my own block) and north up Manhattan. So many familiar landmarks flashed by underneath, and as we approached the Bronx, two Yankee Stadiums caught my eye.
While one of those stadiums is slowly and sadly being dismantled, the other is approaching is big debut. Already, reviews are trickling out from the Bronx. While it's really impossible to pass judgment on a baseball stadium until games are being played and fans can review the whole experience, architectural critics are having their say.
First up in what promises to be a never-ending stream of stories critiquing and praising the city's two new stadiums is Paul Goldberger's take in this week's New Yorker. He likes it, especially when compared with the oddly fake-looking Citi Field in Queens. Goldberger writes:
The new stadium feels more tightly woven into the fabric of the city than the old one did. (It will feel even more so once a Metro-North station opens there, later this year, and once the city finally makes good on its obligation to replace the Macombs Dam Park facilities lost in construction of the new stadium with parkland on and around the site of the previous one.) If you approach it by driving along Jerome Avenue, you see a couple of the Bronx's finest Art Deco apartment houses across the street from the west façade, and you get a hint of the subtle counterpoint that once existed between a baseball park and an urban setting. The stadium is bigger and more imposing than everything around it, of course, but it seems to grow out of its surroundings, and this somehow rescues the building from its own pomposity. In a way, the apartment houses on Jerome Avenue, the jumble of storefronts and bars under the elevated tracks on River Avenue, and the constant presence of street life shape the stadium as much as its designers have.

At Citi Field, conversely, the Ebbets Field façade, stuck in the middle of acres of parking (as Shea was), seems more like a theme park than it would if it were in the middle of the city. HOK has tried to make the stadium feel more urban by placing a long brick building, containing the Mets' offices, just beyond right field, along 126th Street, where it faces a favela of auto-body shops in Willets Point. But, since the site is defined mainly by expressways and parking lots, the architects are fighting a losing battle. It's a pity that the Mets didn't build on the far West Side of Manhattan, where Colonel Ruppert first thought of putting Yankee Stadium, ninety years ago, and where the Jets recently tried to build a football stadium. A football stadium doesn't need to be in the middle of a city, but a baseball park, smaller and used much more often, does.

A stadium is a stage set as sure as anything on Broadway, and it determines the tone of the dramas within. Citi Field suggests a team that wants to be liked, even to the point of claiming some history that isn't its own. Yankee Stadium, however, reflects an organization that is in the business of being admired, and is built to serve as a backdrop for the image of the Yankees, at once connected to the city and rising grandly above it.
I am predisposed to both hate and like the new Yankee Stadium. I hate it because it's replacing something that never needed to be replaced. I like it because I can appreciate the grandiosity of the whole park. This new garish Yankee Stadium is Yankee decadence in 2009 when no one else can or will spend what the Yanks have spent.
After spying a completed Citi Field for the first time from Laguardia last Friday, I can echo Goldberger's thoughts. From the outside at least, Yankee Stadium looks like it belongs. Citi Field, on the other hand, looks like Any New Ballpark, USA. I've seen Citi Field in Philadelphia and Pittsburgh, in Detroit and Atlanta. It may evoke Ebbets Field if you look at it from the front, but from any other angle, nothing screams unique New York.
When Yankee Stadium — the real old Yankee Stadium — meets its end in a few months or a year, a part of New York City history will join old Penn Station in the great pantheon of landmarks in memory. The new stadium won't replace the old one in our hearts. If the early word is to be trusted, it will, however, be a sight unto itself.
The Great Sabathia Crisis lasted all of one start, because the big fella was straight nasty tonight. Four innings, one hit, one walk, seven strikeouts. The other five outs he recorded all came on groundballs. The one hit was an infield single off the bat of Jose Tabata that hit the third base bag and popped fifteen feet in air, eliminating any chance of Cody Ransom making a play on it. Sabathia threw 59 pitches, 40 for strikes. I know he was facing half of an NL lineup, but great googley moogley. That was awesome.
As great as CC was, Mariano Rivera was better. Making his first appearance of the spring, Mo struck out the first batter he faced on three pitches. He then induced a weak grounder back that he fielded himself for the second out, and struck out the third batter for crisp 1-2-3 frame that took all of eleven pitches (eight strikes). I know there's some concern about the 39-yr old Rivera after offseason shoulder surgery, but considering how ridiculously awesome he was last year with the shoulder issue, isn't there a chance he'll be even better this year?
Hideki Matsui kicked off the scoring with a two-run double down the line in the first, and he followed that up with a monster homer in the third that was just a few rows shorts of leaving Steinbrenner Field all together. All in all, the Yanks sent eleven runners to the plate in the third, scoring six runs thanks to the Matsui homer and doubles by Mark Teixeira, X(BH) Nady, and Melky Cabrera, plus a two-run base hit by Jorge Posada, who caught five innings with no problems. His arm was tested in the second when ex-Yankees farmhand Jose Tabata stole third; the throw was high and off line, but the pitch was down and a tough one to handle. Most importantly, Posada was fine and had a look of relief on his face after letting one loose for the first time post-surgery.
Edwar Ramirez and Al Aceves finished the game off between rain drops with four combined innings of one run ball; the run coming on a Jeff Salazar solo homer to lead off the ninth. Yankee pitchers struck out twelve Pirates and had a 13-2 GB/FB ratio in the 9-2 win. Pretty good night, I'd say.
Elsewhere in the baseball world, Team USA kept their WBC dream alive thanks to a David Wright walk-off knock. Ya gotta believe.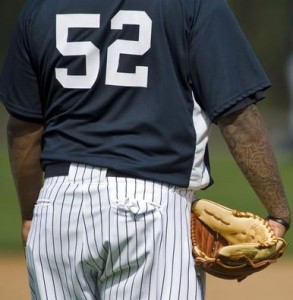 This is the moment we've all been waiting for, ever since we learned that CC Sabathia had agreed to join the Yanks back on Decemember 10th. Tonight, we'll get to see him pitch in a Yankees' uniform. It's a St. Patrick's Day Miracle.
Bryan Hoch says that Sabathia will go one and a third CC innings (four innings for a regular pitcher), and will be followed by Mo making his spring debut in the 5th. Jorge Posada will catch the first five frames. Here's the rest of the boys:
Posada, C
Damon, LF
Teixeira, 1B
Matsui, LF
Nady, RF
Melky, CF
Ransom, 3B
Pena, 2B
Nunez, SS
Scheduled Pitchers: CC Sabathia, Mariano Rivera, Al Aceves, Edwar Ramirez
Some kid named Tabata is playing right and batting fifth for the Buccos. YES will have the action with first pitch set for 7:15. Enjoy the game.
Oh, and here's your last reminder to vote in this week's Fan Confidence Poll if you haven't already. Thanks.
Photo Credit: Reuters Pictures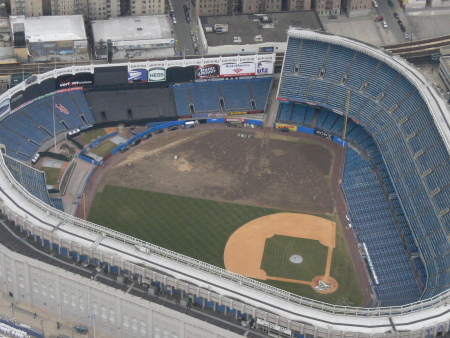 First stages of Stadium deconstruction. Credit: Tom Kaminski, WCBS
Sooner or later, they're going to have to tear down Yankee Stadium (which, as long-time readers know, will not be done by us). It appears the process has already started. Via Bryan Hoch, we get some some overhead photos from WCBS 880′s Tom Kaminski detailing the first stages. Check out the wide view, one from a north east perspective, and a close-up of the now-dirt outfield. While I'm excited to see the team in the new Stadium, it is still sad to see the old one dismantled.