The Yanks batting order kind of writes itself, right? The top four guys are basically set in stone, there's an obvious spot at the bottom of the order for Gardner or Cabrera, and the five through eight spots can be filled capably in almost any order. So why am I revisiting the topic? Because I love reading Beyond the Boxscore, and Sky Kalkman wrote a post today about lineup arrangement. It's based on The Book, which is next on my stack of books (after I finish The Fielding Bible Volume II). Sky walks through the reasoning behind the importance of each batting order spot, and concludes with the order of on-base importance. We'll jump to that part, and then get into what this means for a potential Yanks lineup.
As an exercise in the ability to not make an out, this is the order of lineup spot importance: #1, #4, #2, #5, #3, #6, #7, #8, #9. Power changes things around here — for instance, A-Rod is the best OBP guy on the team, but he's not going to hit leadoff because he has a ton of pop. That means he's best suited for the fourth slot. Make sure to click over and read Sky's rationale for each position. Things might make a bit more sense after doing so.
With all this in mind, here's how I would arrange the Yanks:
1. Derek Jeter
2. Mark Teixeira
3. Johnny Damon
4. Alex Rodriguez
5. Hideki Matsui
6. Jorge Posada
7. Nick Swisher
8. Robinson Cano
9. Brett Gardner
If Xavier Nady wins the right field job, I'd just as easily slot him into the seven spot. Ditto Cabrera and the CF job/ninth spot.
This actually isn't that absurd when you think about it for a bit. Plenty of fans want to see Derek Jeter bat leadoff because he's well-suited for the job. He gets on base at a good clip and doesn't hit for much power these days. In fact, Damon hits for considerably more power, so Derek is arguably the best candidate for leadoff hitter on the team. Since this is an idealistic scenario and not based on the reality of the club, it was a no-brainer to hit him there.
One strange aspect you might see is Mark Teixeira hitting second. As Sky notes, "the #2 hitter comes to bat in situations about as important as the #3 hitter, but more often." So you want your #2 hitter to be better than your #3, since he will see more at bats, even if it's just a few more per season. Teixeira is the Yanks second best hitter. He has power, which keeps him out of the leadoff role, but not as much as A-Rod, which keeps him from the fourth slot. The next best place for him, then is the #2 hole.
Having Johnny Damon hit near the top of the order is an advantage. He consistently has an above average OBP, has some speed on the basepaths, and has gap power. As a lefty at Yankee Stadium, he can also knock some balls out of the park. Under these guidelines he seems like the ideal #3 hitter — good average, good OBP, decent power, not one of the top three hitters on the team.
As for #5, I had a bit of trouble picking someone for here. As Sky notes, the old-school thought is that this is your second-best power hitter. However, that's not exactly the case. Because of the guys hitting ahead of him, he can be valuable with all sorts of hits. So you want a high-average type player. That's Matsui, who hasn't hit below .285 in his six big league seasons. he has decent power, though we saw that come down a tick last year. Still, if he can manage a full season of his 2008 line — .294/.370/.424 — I don't think any manager in the game would hesitate to hit him fifth.
The only notable changes to the probably lineup are in the top three spots. When the Yanks open on April 6 the order will almost certainly go Damon, Jeter, then Tex. Does that make a huge difference? I don't know. Intuitively, I don't think it makes much, if any difference in how the team scores its runs. Maybe Jeter hits into fewer double plays out of the leadoff spot and that creates a few runs for the Yanks. Maybe Johnny hits his home runs with a few more guys on base. Maybe Teixeira is in a greater position to score runs out of the #2 spot than the #3. I think that more than anything, this shows how blessed the Yanks are at the top of the order.
By

Never one to conform to the traditional measuress of top 10′s, top 30′s or top 100′s, Project Prospect posted their gigantic list of the top 200 prospects in the game today. The list is headed by the usual suspects (Wieters, then Price) and is full of familiar names up top, guys like Colby Rasmus, Madison Bumgarner and Jason Heyward. Seven Yankees' farmhands made the list: Jesus Montero (#37), Austin Jackson (52), Dellin Betances (71), Zach McAllister (110), Brett Gardner (115), Jairo Heredia (169), and Austin Romine (196). So Andrew Brackman isn't one of the 200 best prospects in the game but Chris Withrow is? Really? · (55) ·
With a team like the Yankees, there really aren't many questions that need answering in Spring Training each year. We know who's going to play on the infield every day for the next two years, and 80% of the rotation is locked up for the foreseeable future as well. Sorting out the last bullpen spot and maybe center field just isn't all that exciting.
Thankfully, there's always Triple-A. The organization is blessed with Major League ready pitching depth at the minor's uppermost level, and they sport position players cut from every kind of cloth imaginable. Very few of these players are guaranteed full time jobs with Scranton, and the rest of the bunch are is just doing their best to secure a job beyond the end of camp.
As Spring Training roars past it's midpoint, we can start to get a sense of who fits where in the Triple-A picture. Some guys have been locked into jobs since November, others have taken advantage of their opportunity and are beginning to run away from the competition, while other players haven't done much of anything to help their cause. There are still enough question marks that it's worth breaking down the roster position by position, and try to figure out who fits where.
Much like everything else he does, I like the way Jason Churchill presented his Triple-A Tacoma projection over at his awesome site Prospect Insider, so excuse me while I bite his style. The good stuff is after the jump.
By

As I'm sure you can imagine, when I filled the inaugural RAB Fantasy Baseball League last week there were plenty of people who got left in the dark because they just didn't send the email in time. Well, those people didn't take no for an answer and instead formed a second league, affectionately dubbed the RAB Alternate League. This new bastard league has some openings available (three to be exact), so if you still want in just send me an email at the address on the right.

The league settings are the same as the original league (you can see them here), and the draft is scheduled for this coming Sunday (the 22nd) at 6:15pm. Remember, it's a crazy deep twenty team keeper league, so please only email if you're serious about playing. I'm not managing the league, but it's in very capable hands, and of course it's 100% free. Thanks in advance.

Update (11:10am): The Alternate League is full. Thanks again everyone. · (6) ·
By

With the injuries mounting, Team USA has considered the unthinkable (at least for Bud Selig): They could forfeit the tournament if they continue to lose players. On Sunday, the team's backup catcher had to play left field, and we've seen a steady stream of players exit with various aches and pains. While I certainly appreciate the international drive behind this tournament and the compelling games and storylines, news of a forfeit lends the WBC an aura of mismanagement. It seems like a hastily assembled event with no effort to court or accommodate the star players that would lend it legitimacy. I can see why the Yanks don't want their players participating, and if other teams follow suit, those behind the tourney will have to assess their 2012 aims. · (40) ·
The Phillies rolled into Tampa this afternoon with about half of their starting lineup and a contingent of Major Leaguers in tow. While Chase Utley is still on the mend from surgery and Jimmy Rollins is repping the US at the WBC, Raul Ibañez, Ryan Howard, Matt Stairs, Jayson Werth and Geoff Jenkins had the pleasure of squaring off against Joba Chamberlain and the Yanks.
In a way, it would be a test for Joba. He had two bad outings, followed by a good one and needed to show progress as the Grapefruit League marches toward Opening Day. Well, he responded quite nicely, thank you very much. In three innings, Joba allowed a pair of hits and a walk — to the first batter of the game no less — while striking out three.
We like to debate Joba around here. While most RAB readers and commenters seem to recognize the value of Joba in the rotation, a bunch of B-Jobbers, our nickname for those folks who believe Joba should pitch the 8th inning, infiltrate the airwaves on the FAN, ESPN and MLB Network. As Mark Feinsand related after the game, though, the Yankee coaches all agree that Joba is a starter. Joe Girardi, Dave Eiland and Brian Cashman don't really care what those talking heads have to say; Joba is a member of the starting rotation through and through.
"I understand that side of the argument," Eiland said of the B-Jobbers to Feinsand. "There's no denying what he did out of the pen. Could we put him back there right now and have him do the same thing? Sure. But power guys don't come around that often with the four pitches that he has. When they do, they're in a rotation somewhere – usually in the top three spots."
Meanwhile, once Joba was removed this afternoon, the bullpen and the Yanks' offense took over. Brian Bruney managed to put three runners on in one inning but escaped unharmed. Kei Igawa, Jonathan Albaladejo and David Robertson combined for five scoreless innings, striking out six and allowing four baserunners, as the bats carried the Yanks.
When the dust settled, the Yanks walked away 12-0 winners over the defending World Champions, and their rather meaningless Grapefruit League record now stands at 9-8. Nick Swisher led the attack with three hits and three RBIs in four at-bats. Brett Gardner scored twice and drove in a run with an RBI triple. Xavier Nady, Cody Ransom and Shelly Duncan all picked up a pair of hits. If only it all counted.
The Kei Watch
Kei Igawa continues to tantalize the Yankees during Spring Training. Igawa threw three scoreless innings today. He gave up two hits and a walk and struck out three. He's doing a better job of trusting his stuff and is getting players to hit into outs instead of home runs. On the spring, he has now thrown 12 innings, surrendering six hits, two walks and zero runs. He has 11 strike outs to go along with that 0.00 ERA. What the Yankees will do with Kei and the $12 million they owe him is anyone's guess, but after two forgettable seasons, Igawa is making a statement, albeit in March.
By

One thing we noticed last year in Spring Training was the weight loss of Brian Bruney. He'd been scorned in 2007, sent down to AAA in August after the team got fed up with his inability to throw strikes. He responded in quite the immature manner, tossing a chair on his way out of the clubhouse (bonus if someone can find the ESPN report on that). After the season it was uncertain whether the Yanks would offer him arbitration. They did, and Bruney showed up leaner and apparently more willing to put his work in. He had fans quite optimistic before injuring his foot early on. After missing a few months he returned late last season to post quite stellar results. He talks about his transformation over at YES (opens in a new window, and it looks like you'll have to click the top link for it to play). The biggest overall change: treating it like a full-time job. I'm pretty optimistic about Bruney this season, and this only adds to it. · (23) ·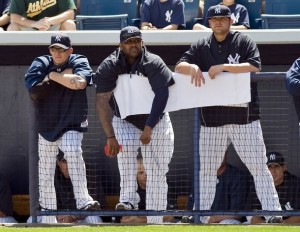 We usually try to avoid stories from the tabloids, but occasionally one comes along that's worth directing your attention to. Joel Sherman of The New York Post penned one such piece, talking about the bond that has developed between the members of the Yanks' starting rotation, and what newcomers CC Sabathia and AJ Burnett have done to build up some of that all important team chemistry. Allow me to quote:
On a suggestion from A.J. Burnett before a Feb. 28 game at Steinbrenner Field, the members of the Yankees' projected rotation went to watch Joba Chamberlain warm up. And a habit was born.

"We have Five Musketeers," manager Joe Girardi said.

One for all, all for one.

The fraternity in the Yankees clubhouse has been noticeably stronger this spring, and no place has that been more overt than among this re-shuffled rotation. The five starters have committed to each other in a variety of ways, including going to watch each other's pre-game warm-ups.

Most days all four non-starters will attend the bullpen session of that day's starter. Only Chamberlain and CC Sabathia made it yesterday (Chien-Ming Wang continues to battle a cold and Burnett had a family issue), but this has become the in thing and about seven young pitchers, including David Robertson and Phil Coke, stood on the side to offer support. At the conclusion of the warm-up, Pettitte was surrounded by fellow pitchers giving him fist bumps. This is now routine for that day's starter: fist-bumping unity.

"It means a lot to get those knuckles," Sabathia said.

[snip]

"You have to have each other's back," Pettitte said. "This is a tough place to play, but if you know everyone is in your corner pulling for you and wants you to be successful, that does help you win. We have to have (this unity) and we are going to have it."

[snip]

"As a starting pitcher you can leave," Chamberlain said, "and to look over and see that they have not left that feeling is indescribable."
I'm firmly in the "chemistry is overrated" camp, but it's great to see the staff coming together like this. Andy Pettitte is a guy that doesn't have to prove anything to anyone in this game, but his quote shows just how much each guy appreciates knowing that every one else has their backs. Sherman also mentions that Sabathia bought a slew of courtside tickets for Orlando Magic games and has been taking different teammates to each game, and that Burnett has taken his teammates out on his boat and is organizing an all-out bass fishing tournament. Good stuff.
What do you guys think, how important is chemistry? Talk about that, or whatever else you want here. The only local team in action tonight is the Nets, who are out in Denver. Anything goes, just be nice.
Oh, and if you haven't gotten a chance to vote in this week's Fan Confidence Poll, make sure you don't miss out.
Photo Credit: Steve Nesius, Reuters Pictures
By

As the Yanks prepare to open their new ballpark in a few weeks, Sports Business Journal reports that the team took out another $100 million loan to cover final cost overruns. The total debt incurred by the team to build the stadium now stands at $1.3 billion, but according to SBJ, analysts are projecting healthy finances for the Yanks. According to sources, the team projects to $450 million in revenue for 2009, and while the team must dole out payroll and revenue sharing payments, the Yanks still stand to be one of the higher grossing clubs — if not the highest — in all of baseball. · (10) ·
If anyone is missing Jason Giambi this spring, you can head over to Athletics Nation where Tyler Bleszinski has conducted an interview with the former Yanks first baseman. It's quite the long one — and it's only the first part. Jason talks about the difference between playing in Oakland and playing in New York, how he views himself on each team, and the adjustments he made to his swing upon coming to the Yanks.
Head over to read the whole thing — I can't possibly do it justice without completely reprinting it. However, there were a couple of parts I found particularly interesting. The first of which is Giambi's reply to the question of how he views himself as a defensive first baseman. I didn't know what to expect after reading the question, but it certainly wasn't this: "I view myself as great." Yeah, right. Tyler's talking about playing first base, Jason, not about chugging Jack. Jay at Fack Youk takes a closer look at this statement.
Most interesting, though, is the revelation that Giambi very well might not have been a Yankee had ownership not intervened. The A's and Giambi apparently had a place in deal before the 2001 season which would have paid Big G around $90 million over six years.
Trust me, I wanted to stay in Oakland. We had a deal done. You can ask Billy Beane. It was my free agent year before the season started. And ownership at the time pulled the deal off the table. I had flown my parents out, my agent, everybody. A lot of people don't know that.
That creates one massive what-if scenario. Looking at the list of free agents that year, there was really only one superstar bat available: Barry Bonds. Would the Yanks have pursued him to fill their left field void? He was, after all, fresh off a record-breaking season. The Giants ended up signing him for four years and $72 million with a $18 million club option, but without another blue-chip slugger on the market perhaps the Yankees would have put their resources towards Bonds.
Barring that, they could have gone forward with a Johnny Damon signing, putting him in left field. Considering the money they would have saved on Giambi, they could have as easily signed Rondell White, too, to play right field.
I love how one little interview sparks so many questions. We'll never know how Yankee history would have unfolded had Giambi re-upped with the A's in 2001. But it's fun to think about for sure.