The Yankees' season came to a disappointing and premature end a few days ago, and despite what you feel or read or have heard elsewhere, coming to within two wins of a second consecutive American League pennant is hardly a failure. Sure, the Yanks are held to a different standard and they fell short of expectations this season, but there are far worse fates than losing in the League Championship Series. But I digress.
Even with the Yanks losing out on the chance to play in a second straight Fall Classic, their presence will still be felt in the World Series. I explained the ties between the Yanks and Rangers before the ALCS started, but the Giants also have plenty of Yankee roots as well. Let's take a look …
Brian Sabean
San Francisco's senior vice president and general manager since 1996, Sabean cut his teeth in a baseball front office with the Yankees. His eight year stint with the Yanks spanned from 1984 to 1992, and his job description progressed from scout to scouting director to vice president of player development. It was under his watch that the Yankees drafted players like Gerald Williams, Brad Ausmus, Pat Kelly, J.T. Snow, Russ Springer, Sterling Hitchcock, Carl Everett, Andy Pettitte, and Jorge Posada. Sabean was also running the farm system when Derek Jeter, Bernie Williams, and Mariano Rivera were climbing the ladder.
It might sound odd considering some of his questionable moves with the Giants, but Sabean played a major role in building the late-90's/early-00's Yankee dynasty.
Hensley Meulens
Meulens is in his first season as San Francisco's hitting coach, a role he filled with their Triple-A affiliate last season. His coaching career has taken him all over the world, but his baseball career all started on Halloween Day in 1985, when the Yankees signed him out of Curacao as an 18-year-old.
Better known as Bam Bam, Meulens spent parts of five seasons with the Yanks from 1989 through 1993. The utility player hit just .221/.290/.344 in 159 games in pinstripes despite his deceptive nickname, striking out in almost exactly one-third of his at-bats. He was ultimately released before the 1994 season, and moved on to Japan, Montreal, and Arizona before hanging up the spikes in 1998.
Dave Righetti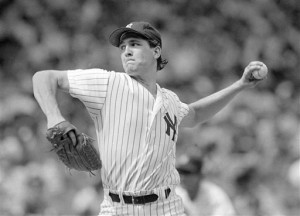 The Giants' long-time pitching coach (his first year on the job was 2000), Rags did it in all pinstripes. He was nearly traded to the Angels as part of a package for Rod Carew in 1980, but instead went on to win the 1981 Rookie of the Year Award for the Yanks thanks to a 2.05 ERA in 15 starts. Two years later he no-hit the Red Sox on the Fourth of July, but he moved to the bullpen in 1984 and replaced Goose Gossage as closer.
Righetti closed for the Yanks until the 1990 season, after which he signed with the Giants as a free agent. All told, Rags won 33 games in two-plus years as a starter, then saved 223 in seven years as the closer. A two-time All Star, Righetti is second to Rivera on the franchise's all-time saves, appearances (522), and games finished (379) list.
Roberto Kelly
Long before Kelly was coaching first base for the Giants (a position he's held for the last three years), he spent five-plus years as a serviceable outfielder in the Bronx. Signed out of Panama as an 18-year-old in 1982, Kelly debuted in 1987 and somehow earned a trip to the 1992 All Star Game despite a .272/.322/.384 batting line. Then-GM Gene Michael used the All Spear appearance as ammo to sell high on Kelly after the season, shipping him to Cincinnati for some guy named Paul O'Neill (and a minor leaguer). That one worked out well.
* * *
The Yankees won't be playing for a World Championship series this season and having some of their alumni there offers little consolation, but it's always interesting to see how small the baseball world is. Aside from Bam Bam, the guys up there played a rather significant role in Yankee history in one way or the other. Now they're all trying to win a World Series ring together, but somewhere else.