With Opening Day 35 days and 16 hours (as of midnight) away, tickets are on everyone's mind. The Yankees are trying to fill up the new Stadium, and over the last few weeks, they've faced a lot of criticism for their ticket polices.
Most notable was the brouhaha last week over the relocation policies. Many long-time season-ticket holders have been feeling slighted by the team, and the Yanks faced some flak over the obstructed views in the bleachers as well. While the team hasn't been able to placate the rightfully disgruntled season-ticket holders, the Yanks dropped the bleacher prices $5.
Today, we have a few more ticket stories. First, Neil deMause reports that the Yankees are charging $8 more for standing room only tickets than they are for bleacher seats. DeMause sees this as a clear sign of things to come for the bleacher creature.
"The reason, obviously," he writes, "has to do with the fact the Yanks held bleacher ticket prices at $12 from last year for PR reasons, but have no problem with charging through the nose for standing room, since there were no standing-room seats at the old stadium to compare prices with. Take it as a sign that bleacher prices will likely rise fast to meet market levels in the next year or two."
If — or when — the Yanks raise their bleacher prices, the Creature will not take kindly to it. But as is often the case, ticket prices are about market economy. If the Yanks feel they can charge $20 for bleacher sets and sell out, they will do so, fans' feelings or not. Ross at New Stadium Insider has a different take: He likes to roam the ballpark and sees SRO ticketing as a different way to enjoy the Yankee Experience.
* * *
On the scalping front, WasWatching finds an analysis of the impact the high price of Yankee tickets may have on scalping.
Basically, Paul Mulshine at The Star-Ledger posits that because prices for many seats at the new Stadium are priced prohibitively expensive, scalpers won't be able to turn a profit on them. The Yankees may then attempt to sell them through a so-called Dutch Auction on the day of game if they can't package them to season-ticket buyers. That is, the Yanks will start the ticket off with a high price and lower it as the game draws closer. Scalpers can't cash in if the seats are too expensive to sell.
It's an interesting theory, but it doesn't quite work that way. The high-priced tickets have earned headlines, but the vast majority of tickets in Yankee Stadium are closer to affordable. Scalpers will have no problem getting their hands on those tickets to sell at a significant mark-up this year.
Steve Lombardi does wonder though who's really going to pay even $500 a ticket to see the Nationals face the Yanks in a Thursday day in June. That's a good question.
* * *
Finally, while we don't have a set date yet for single-game tickets, Ross is eying sometime around March 17 for the big day. The Yanks are going to be offering a single-game pre-sale to Scranton/Wilkes-Barre Yankees season-ticket holders that day, and the general public should get a crack at whatever remains a few days later. We'll update this info as we get a more concrete sense of the date.
By

Ray Negron — a 36-year Yankee vet and the subject of an excellent profile by Alex Belth last year — has a new children's book, and his editors want more. In fact, according to Ken Davidoff, they want a tell-all memoir in the style of the Joe Torre/Tom Verducci book. Negron though isn't about to bite the hand that has seen him through thick and thin for the better part of four decades. As a close confidant of George Steinbrenner, Negron has seen it all behind the scenes in the Bronx. Yet, as he told Ken Davidoff, he is "not for sale."

"Joe Torre was supposed to be an icon in New York," Negron said this past week in an interview. "To me, what he did with that book was just an insult to everything that's supposed to be so good about the Yankees. You don't take shots, you don't talk negative, if you're a manager." Negron's memoirs would be an era-spanning look inside a secretive organization, but I understand and appreciate his reverence and respect for the organization. · (10) ·
PeteAbe has a couple of small injury notes:
· Jesus Montero (strained right groin) was injured sliding to track down a passed ball. Joe Girardi said it seemed like a "moderate" strain. Given his status and youth, they'll be cautious bringing him back.

· Jon Albaladejo caught a ball off the back of his left leg near the ankle and has a bruise. He's day-to-day.
A pair of small nothings, if you ask me. Both guys have plenty of time to get healthy before the season starts. The more important injury news, that you might have missed earlier, is that Jorge Posada's shoulder is okay, and he could DH as soon as tomorrow. My educated guess it that the team will hold him back until Tuesday.
Former Yankee Updates: Chad Jennings checks in on some former Yankees and how they're faring during Spring Training. Of note is the news that Carl Pavano managed to throw two scoreless innings without chipping a nail, stubbing his toe or bursting his appendix.
Here's your open thread for the night. The Nets are the only local team in action because the Devils won this afternoon. Anything goes, just be nice.
It was an offensive day down in Florida today as the Yanks and Reds hammered out 33 hits and 24 runs. While three home runs paced the Yanks' offensive, two unearned runs emerged as the difference as Cincinnati eked out a sloppy 13-11 win over New York in Sarasota.
For the Yanks, the game had two story lines: bad pitching and good hitting. Staked to a 2-0 lead, Al Aceves gave up three runs in the first. Jonathan Albaladejo, J.B. Cox, Damaso Marte, Brian Bruney, Christian Garcia and Mark Melancon followed, and every pitcher gave up at least a run. Melancon's was unearned, and the darkhorse candidate for the ever-important 8th inning role racked up another two spring K's.
Offensively, the Yanks blasted four doubles and three home runs as the team's 19-hit onslaught led to 11 runs. Brett Gardner homered for the second time this Spring. He really wants that center field job. Robinson Cano, who had a hot spring in 2008 also, added four RBI on a double, a home run and a single. A-Rod also doubled twice, and Jeter had a three-single day.
In the end though, players who, Mo willing, won't see the Bronx this year decided this game. An error by Eduardo Nuñez led to one earned run and a passed ball by Jesus Montero led to another. At this early point in the Spring, the Yanks' bats are doing all we hoped, and while Damaso Marte's surrendering two home runs isn't a good sign, I like the results I'm seeing from Melancon.
Mike will have updates on some minor injuries to Albaladejo and Jesus Montero later this evening. The Yanks' next game is set for tomorrow afternoon at 1:05 p.m., and the Yanks will now be sans A-Rod, Jeter and Cano as those three are off to the WBC. We'll keep an eye on their Classic results.
There exists a chasm between Yankees fans when discussing Ian Patrick Kennedy. There are those who saw his performance — and attitude — last year and took it as a sign that he's finished in the Bronx. He doesn't have what it takes, both physically and mentally, and the Yanks should trade him for whatever they can get. Then there are those of us (and I say us because I clearly fall into this camp) who think that he still has the potential to help the Yankees in the future. We base this on his potential, which really hasn't changed, and the knowledge that some pitchers get shelled early in their careers.
This year is quite different for the former USC star, and he knows it. The biggest difference, of course, is his presumed spot on the team.
"I came to spring training thinking I had that job," he said. "I was more content, where this spring training I'm hungry to beat out anybody I can. It's go-time. It's a little different."
Mark Feinsand gave Kennedy a positive review on his first start of the spring — one hit, one walk, three strikeouts, and no runs in two innings. He might get one more opportunity to start a game before the real starting five take over the games. Then he'll probably head across the street to minor league camp so he can get the proper work in.
None of this changes the fact that Kennedy has plenty to prove once the games count in 09. It is a positive sign, though, and we've been looking for anything positive from Kennedy since last season. The best case scenario for him is to pitch the entire season in AAA and get some major league innings in September. Some success there could put him in the conversation for a 2010 rotation spot, or make him a valuable trade chip for the Yanks.
By

Mother Nature got in the way of CC Sabathia's simulated game which was scheduled for this morning, so instead he'll go tomorrow according to Pete Caldera. His first start of the spring is scheduled for March 6th, and this isn't going to threaten that date at all. Caldera also notes that Jorge Posada's shoulder feels better and he could DH tomorrow if the team lets him, which they won't. Aaaaaaand exhale. · (19) ·
Kat O'Brien just got back from a trip down to the Dominican, and aside from all the talk about steroids and the various development academies comes this gem (emphasis mine):
Probably the best part of the trip was getting to talk to a lot of children and teens who hope to one day be major leaguers. We happened upon a bunch of kids practicing in San Pedro de Macoris, Robinson Cano's hometown. They were all wearing jerseys with Cano on the back, and a coach told me Cano had bought uniforms for the entire league – about 6,000 kids. He also bought two ambulances for the town. So he is really beloved there, the coach said even more so than fellow natives Sammy Sosa and Alfonso Soriano. What people like best is that Cano still comes back in winter, often sitting and watching kids play baseball on Saturdays.
Awesome, you gotta love it when these megarish athletes give something back, whether it be providing an entire league with jerseys or taking a family on a Disney vacation. It's amazing how little play stories like this get in the MSM. (h/t Jason)
By

In the post-game wrap-up today, Peter Abraham has an interesting quote from Joe Girardi. The Yankee skipper, it seems, is worried that A-Rod may still be suspended. "I think you have to be a little bit concerned any time you go in front of Major League Baseball," Girardi said. "The precedent has been set with how they've dealt with players but there's still always a concern. I'm hoping it's a fact-finding mission and that he's set to go on April 6."

Major League Baseball has never suspended anyone for past PED use, and the Players Association would throw a fit, legitimately, of epic proportions if they did so. The Yanks have every right to be worried about a suspension, but one will not come down for A-Rod on Sunday. I'd bet money on that. · (34) ·
By

There was a little bit of panic when Joba was only throwing 88-89 in his start today, but it was clear that he wasn't throwing with full effort. Turns out that yeah, the Yanks will be taking it easy on their ace-in-training during camp. "For Joba, he doesn't have the same experience the other guys have," said Joe Girardi. "We think it's important to get him on the mound and build him up because he had the (shoulder) issue last year." Also keep in mind that the regular members of the starting rotation won't begin throwing in games until next week, and Joba's scheduled to make two starts before then (including today), putting him that much ahead of the pace. Like we were saying earlier: relax, it's February. · (37) ·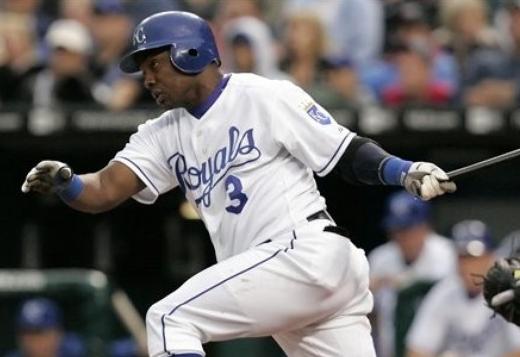 I wanted the Yanks to sign Juan Cruz back in early January, but alas, they never showed serious interest in him and Cruz ended up with the Royals. The terms: 2 years, $6M guaranteed with a $4M option for a third year. The Diamondbacks received Kansas City's second round pick (because the Royals' first rounder is protected) and a sandwich rounder as compensation, giving them 5 of the first 44 picks and 7 of the first 62. They can do some serious damage this year. You can see the up-to-the-minute draft order at our 2009 Draft Order Tracker.
To make room for Cruz on the 40-man roster the Royals designated utility man Esteban German for assignment, and I hope the Yanks at least kick the tires on him. German has been outrighted before (by the A's back in 2004) and has plenty of service time, so if he clears waivers he'll have the ability to refuse an assignment to Triple-A and become a free agent. Obviously, that's when the Yanks should look at him, and on a minor league deal only. There's no way you give him a Major League deal or claim him on waivers (putting him on the 40-man).
Basically, all German offers is versatility and a replacement level bat, although in 2006 and 2007 he was a 1-1.5 win player off the bench. He's only played 36 innings at short the last three years, but he's seen plenty of time at second and third. Offensively, about the best you can hope for at this point is .260-.310-.340 with maybe a dozen doubles and a rare homer, but hey, if he's willing to come in and compete for a job, why wouldn't you do it? The more competition the better, I say.
Anyway, here's your open thread for the night. The Devils already won today, and both the Islanders and Rangers are in action tonight. The Knicks are also playing down in Miami. Oh, and here's the box score of today's game if you're interested. Have fun.
Photo Credit: Dick Whipple, AP