Or: As the Jim Leyritz Saga Turns. Last Friday, as you might remember, former Yankee Jim Leyritz was jailed for defying his pretrial sobriety mandate. The case's prosecutors claim that The King attempted to drive his car with alcohol in his system "on at least four occasions," so Circuit Judge Marc Gold signed a warrant for his arrest. Leyritz's attorney said he'd dispute the claim, and it appears that he has won.
I'll let Leyritz's attorney explain why his client was released:
"When Judge Gold issued that order, he had no jurisdiction to issue it," said Leyritz's attorney David Bogenschutz.
So he's out on a technicality, I guess. Here's a sentence from the CBS 4 report that has me baffled: "Bogenschutz doesn't dispute the allegations but claims his client 'misunderstood' his restrictions." So his attorney doesn't dispute that he attempted to drive while drunk, the very action that got him in this mess in the first place. So does that mean that Leyritz "misunderstood" that he can't drive his car while he's drunk? That's what it sounds like to me.
If you want to watch the CBS news report, you can watch it here.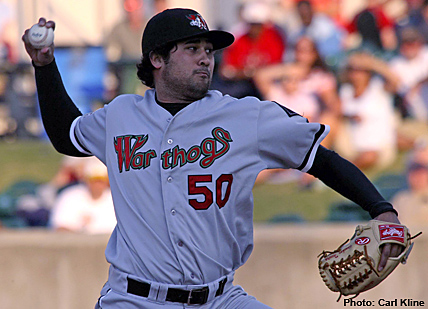 Kanekoa Texeira | RHP
Background
Born in Maui and raised in Honolulu, Texeira attended Kamehameha High School, which has produced two fringe big leaguers: ex-Yank Bronson Sardinha and his brother Dane. His high school career was plagued by inconsistency – after flashing premium arm strength as a junior his stock took a hit when he was merely ordinary as a senior. Baseball America rated Texeira the second best talent in the state for the 2004 Draft, but he lasted until the 34th round of the draft (916th overall), when the Brewers grabbed him. He didn't sign and instead headed to Saddleback College in Orange County, CA, a two-year institution.
As the Andy Pettittee free agent "will he or won't he?" saga dragged on this winter, proponents of Pettitte's possible return cited his off-season involvement with a PED investigation as one of the reasons for his bad second half. They tired, he reasoned, because he was too involved with a federal investigation and Congressional hearings to keep himself in perfect baseball shape. This year, these supporters said would be different.
However, on the first day of Spring Training, The Daily News gave to me a story about Andy and the Feds. According to the report, Pettitte met in D.C. last Tuesday with two federal prosecutors who are investigating Roger Clemens for perjury. Pettitte said simply that he "couldn't talk it" to reporters this week.
As Yogi said, it's like déjà vu all over again. Of course, 2009 isn't at all like 2008, right? This time, Pettitte had just one visit with the two assistant U.S. attorneys as far as we know. The rest of the off-season, he was able to spend resting his injured throwing arm.
Now, I don't mean this to cast doubt or suspicion on Pettitte or the team. The rest of the New York sports media is doing fine in that regard with A-Rod, thank you very much. But this winter, Pettitte had a contract dispute extend through the end of January, and he took a journey to D.C. The distractions are there, and Pettitte isn't one to make excuses about them. He'll show up as ready to play as any soon-to-be 37-year-old can.
In the end, the Yanks don't really need Pettitte to be anything spectacular. He is the fourth starter in the Yankee rotation and the fifth best in terms of stuff and potential at this point in this career. They're guaranteeing him just $5.5 million 2009 and have a plethora of young arms waiting in the wings. Basically, anything the Yanks get from Andy will be icing on the cake. A good season would be a pleasant surprise; a mediocre one is more likely. As long as he throws the innings, I'll take it.
By

Check out this quote from Brian Cashman following yesterday's A-Rod press conference (via PeteAbe): "We've invested in him as an asset. And because of that, this is an asset that is going through a crisis. So we'll do everything we can to protect that asset and support that asset and try to salvage that asset." Salvage that asset? Sheesh, he makes it sound like Alex is an unproductive player with a franchise crippling albatross contract. That's straight up cold blooded, yo.

Update by Ben (11:14 a.m.): The Artist Formerly Known as Steve sends us this Reuters article with more less-than-glowing quotes from Cashman. "The one thing he could have said was the fact he chose to do this to make himself better … at what he does on the baseball field," Cashman said. "That's the truth. I don't think Alex is very good at communicating … whether it's about talking about your game and the impact you had on it after hitting a home run or if he had a tough game at the park, let the team down. Anybody that's been in that clubhouse when he's trying to talk about success or failure on the baseball diamond knows that is something he is not very good at." Ouch. · (132) ·
One of our bigger complaints about Joe Girardi in 2009 was that he tinkered with the lineup a bit too much. Some of this was due to injury, but other times it was based on match-ups. While playing to the strengths of your roster is generally favorable, some of Girardi's moves weren't defensible with split data. Instead, it seemed he subscribed to the "sit lefties against lefties" mode of managerial thought. Unfortunately, that's not always the best way to go.
We knew going into last season that Jason Giambi wouldn't play 162 games. He'd have been lucky to play 150 games, especially since he was the primary first baseman. He ended up with 142, and only a few of his off-days were due to small injuries. For the most part, he sat against lefties, which caused some frustration at RAB. Jason does hit from the left side of the plate, but he holds his own well enough against lefties, posting identical splits in batting average and OBP in 2009. His slugging was a bit higher against righties, but that's no reason to sit him against southpaws.
This issue was exacerbated by Giambi's normal spot in the lineup, No. 5. The normal replacements at first, Wilson Betemit and Richie Sexson, weren't going to slot in there. When Giambi sat, the guys at the bottom of the order had to move up. The problem was that the Yanks rarely had a player who could hit adequately behind A-Rod. This meant the order juggled when Giambi sat. I can't imagine that being good for anyone.
Lesson: Don't get into a platoon situation with a player at the heart of your order. It doesn't appear as though this will be an issue this year, though one of the bounceback candidates will have to step up and take that slot. The top four are basically set in stone: Damon, Jeter, then Teixeira and A-Rod. A healthy Matsui could take the spot, as could Jorge Posada if his shoulder holds up. Even Robinson Cano could be a candidate.
Two guys who likely won't get a chance to hit fifth: Xavier Nady and Nick Swisher. That's a good thing, because those are two guys you could see platooned to some degree or another. Let's check out their recent and career splits.
Last year, Swisher was equally crappy against lefties and righties, as you might expect. He had a much better eye against lefties, putting a .197 batting average against a .359 OBP (.162 ISO — .094 ISO against righties). His slugging against righties was a bit higher, but the ISO mark — slugging minus batting average to cancel out the singles — was along the same lines, .189 against lefties, .192 against righties). Career he's a .240/.338/.459 hitter against righties, .253/.396/.429 against lefties. So it looks like if you're going to platoon Swisher, you want him hitting against lefties.
(His 2007 stats were skewed heavily towards lefties, for what it's worth.)
Problem there is that Xavier Nady has long been known as a lefty masher. In 2005 he posted a .700 OPS against righties vs. a .852 mark against lefties. In 2006 the split was even more pronounced, with a .969 OPS against lefties vs. a .736 OPS against righties. However, that started to change in 2007. In 366 plate appearances against righties Nady posted a .802 OPS, while posting a .819 mark against lefties. His .805 OPS against righties in 2008 might signal that he's developed over the years and could be fine as an everyday player.
What does this mean for the Yankees lineup in 2009? It might mean Hideki Matsui gets in on the platoon situation. He has a career .870 OPS against righties vs. a .803 OPS against lefties. This includes splits of .815 vs. .751 in 2008 and .885 vs. .821 in 2007. Hideki could then take his off-days against lefties, allowing both Swisher and Nady to be in the lineup. Against righties, either Swisher or Nady could sit.
Of course, given the lesson posted above, this would disqualify Hideki from the fifth slot. Well, at least in my mind. Maybe I'm overthinking this, but I'd far rather see a consistent lineup one through five, day in and day out. Since Jorge won't be in the lineup every day, that leaves Cano to round out the heart of the order. Slotting him fifth would allow the Yanks to trot out Damon-Jeter-Teixeira-Arod-Cano for almost every game. I don't know about anyone else, but I feel more comfortable when the lineup fluctuations come at the bottom, not in the heart.
By

There is a maritime urban legend about how a captain must go down with his ship. Someone ought to tell Bud Selig that. The MLB Commissioner is no rookie to the game. He owned some of the Milwaukee Braves, bought the Seattle Pilots in 1970 to move them to Wisconsin and has served as commissioner since 1992. While some call his reign revolutionary, I don't have nearly as high opinion, and the latest Selig news just reinforces that feeling.

In a lengthy interview with Newsday's Wallace Matthews, Selig attemps to absolve himself of any blame in the PED scandal that baseball has yet to shed. In a completely classless move, Selig blames the players association for stymieing his efforts at securing drug testing in the mid-1990s and claims that he and his advisers felt the bat was to blame for the power explosion ten years ago. "I don't want to hear the commissioner turned a blind eye to this or he didn't care about it," Selig said. "That annoys the you-know-what out of me. You bet I'm sensitive to the criticism. The reason I'm so frustrated is, if you look at our whole body of work, I think we've come farther than anyone ever dreamed possible."

It doesn't quite work the way Selig would hope. It happened on Bud's watch; as the head of the game, he has to take responsibility for it. In a way, though, it's fitting for Selig to say this on the same day as A-Rod's press conference. Like or not, these two are baseball's public face, and every time they open their mouths, they manage to cram their feet down their throats. That is not a comforting thought for fans of the game. · (36) ·
I need a PED break for a few hours. As hard as we've fought to find other news, Yankee Universe has been subsumed by Alex Rodriguez and his failed drug test from 2003. I hear he strangles dolphins with his bare hands as well.
Anyway, for your open thread tonight, let's do a little link-o-rama. Mostly, these are interesting posts outside the realm of the Yanks, but I'll lead it off with some Bronx-inspired hits.
That's all I have for now. After a few days off, the Knicks are hosting San Antonio, and the Nets are in Houston tonight. The Devils are skating in Florida. Play nice.
Do you remember where you were six years ago? Do you remember what you did everyday for three years in between 2001-2003? Do you remember what you ate and what you drank? Do you remember, down to the minute, with whom you spent all your time?
In the aftermath of Alex Rodriguez's press conference this afternoon, that level of detail is basically what media members and many Yankee fans are now demanding from A-Rod. It's a patently absurd standard for those of us with the best of memories, and it just doesn't matter.
Ten days ago, A-Rod's world came crashing down when Sports Illustrated reported on his failed — and supposedly anonymous — drug test in 2003. From his opt-out antics to Madonna to steroids, he went from an image-conscious superstar to a circus sideshow to a three-ring event in the span of a few hours.
On the flip side was the media. In the span of ten years, from 1998 when the AP started reporting about Andro to today, the people tasked with covering the game have gone from complicity to outrage. Once it was taboo to report about supplements in baseball; today, if the reporters can't play the Gotcha Game with A-Rod, they fail at their jobs.
Meanwhile, A-Rod is up a creek without a paddle. Today, for reasons unknown, he spun a tale involving his cousin and another unknown supplement. There's no reason to believe this to be a false one. After all, for years baseball players have been injecting, swallowing and rubbing anything in or into their bodies that they felt would give them a not-so-natural edge. Of course, it would have been better for A-Rod to come out with a laundry list of substances he took and the dates he took them without excusing away his poor decisions.
Great. That is perhaps not the best strategy in an effort to exculpate one's self, but I have a bigger question: Who cares about the minutiae? We know Mike Francesca does. We know plenty of holier-than-thou reporters all of a sudden seem to care, but it doesn't matter.
Alex Rodriguez has been publicly shamed. His reputation is in tatters, and as a potential future Hall of Famer, he's admitted to more drug use than anyone else who has stepped forward so far. Barry Bonds hasn't accepted any responsibility for his actions, and neither has Roger Clemens. Andy Pettitte and Jason Giambi should be commended for coming forward, but they were rather guarded about it. Mark McGwire just doesn't want to talk about the past, and even Ivan Rodriguez believes that "only God knows" if he is on the list of 103 other players.
Even still, it doesn't matter. He's come forward; he's admitted his wrongs; he made a lot of mistakes over an indeterminate length of time; he's apologized. That's that. In the comments to our liveblog, RAB readers are debating this until they are blue in the fingers, but it's done. The skeptics of the sports world may not like it, but it's time to move on, at least until the next tell-all book hits the shelves and everyone get all riled up all over again.
By

Blogging legend Chad Jennings spoke to Nardi Contreras – the Yanks' minor league pitching coordinator – late last week, and has some interesting info on guys like Humberto Sanchez, JB Cox and Phil Coke (amongst others). Quick summary: Sanchez will be a reliever in 2009, Cox just flat-out ran out of gas last year, and no one really knows what role Coke will play at the start of the season. Make sure you give it a read. · (62) ·
So today's the day everyone in the New York media has been waiting for. At 1:30 this afternoon Alex Rodriguez will sit down in Tampa and face the media music about his PED use. The Yanks have set up fifteen additional chairs (according to ESPN) for teammates to come out and support him, with Joe Girardi, Derek Jeter, Jorge Posada, Andy Pettitte, Mariano Rivera, CC Sabathia, AJ Burnett and Mark Teixeira expected to be there. Buster Olney and PeteAbe have already chimed in with what they think should go down today, and to save you the time of reading their posts, they boil down to "tell the media everything we want to know."
Me? I honestly don't care. He revealed more in his interview with Gammons than any PED user we've seen, yet that's not enough. The details of his PED use is inconsequential to me, and I think that most fans feel the same way. No matter what A-Rod says today, it'll never be enough. Anything short of revealing exact reasons why, exact dates, exact substances, exact cycling schedules, and exact sources while strapped to a lie detector with the dude from Lie to Me staring him down won't be enough. I just want some baseball.
ESPN will be broadcasting the presser live, as will YES, MLB Network and SNY. MLB.com will also be providing coverage, but I'm not sure if it's video or just audio. Either way, I got your back if you're stuck in the office. Hopefully this is the last time I have to do one of these things.