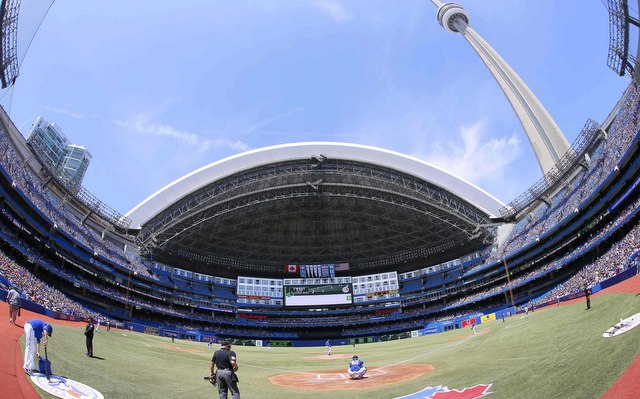 Once again, it's time for the biggest series of the season. It's been the biggest series of the season the last three times the Yankees and Blue Jays met. They'll play three games in Toronto this week, starting tonight. The Blue Jays have dominated the Yankees this season. They're 11-5 against New York and have outscored them 73-48. That said, these clubs are an even 3-3 at Rogers Centre in 2015.
What Have The Blue Jays Done Lately?
Believe it or not, the Blue Jays lost their last series. The Red Sox did the Yankees a solid and took two of three in Toronto this weekend. The Blue Jays are 85-64 with +213 run differential overall. That's the second best record in the AL and by far the best run differential in baseball. The Cardinals are a distance second at +113. A hundred run gap. Sheesh. The Yankees are 2.5 games back of Toronto in the AL East (two in the loss column).
Offense & Defense
By now you know the Blue Jays have a powerhouse offense. The best in baseball by a not small margin. They're averaging 5.51 runs per game with a team 115 wRC+ this year, both the best marks in MLB, and that includes 5.57 runs per game and a team 125 wRC+ at home. It's a great offense that's even better at home. Toronto is currently without SS Troy Tulowitzki (shoulder), 2B Devon Travis (shoulder), OF Michael Saunders (knee), and IF Maicer Izturis (shoulder). None are due back this series.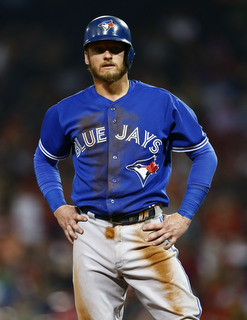 Even without Tulowitzki, manager John Gibbons has three elite hitters in 3B Josh Donaldson (155 wRC+), OF Jose Bautista (146 wRC+), and 1B Edwin Encarnacion (148 wRC+). They have 39, 36, and 34 home runs, respectively. The Play Index tells me the last team to have three qualified hitters with at least 30 homers and a 145 OPS+ was the 2004 Cardinals (Albert Pujols, Jim Edmonds, Scott Rolen). Donaldson, Bautista, and Encarnacion are on pace to become the sixth such trio in history. Somehow the Yankees have never done it.
OF Ben Revere (96 wRC+), C Russell Martin (111 wRC+), OF Kevin Pillar (79 wRC+), and the first base platoon of 1B Justin Smoak (109 wRC+) and 1B/OF Chris Colabello (145 wRC+) is the supporting cast. IF Ryan Goins (84 wRC+) is playing short with Tulowitzki hurt and IF Cliff Pennington (53 wRC+) is at second. C Dioner Navarro (83 wRC+) is the backup catcher and OF Dalton Pompey is the designated September pinch-runner. C Josh Thole, IF Munenori Kawasaki, UTIL Matt Hague, OF Ezequiel Carrera, and IF Darwin Barney are the extra September players.
The Blue Jays are a very good defensive team even without Tulo. Their only below-average gloveman is whoever is playing first base on a given day. Martin, Donaldson, and Pillar are all elite at their positions while Goins, Bautista, and Pennington are above-average. Revere is average overall because he can't throw at all. Arguably the worst outfield arm in the game. He does have range though. Toronto doesn't get enough credit for being so well-rounded.
Pitching Matchups
Monday (7pm ET): RHP Adam Warren (vs. TOR) vs. LHP David Price (vs. NYY)
This is the fourth Yankees-Blue Jays series since the All-Star break, and, predictably, Price will pitch in all four. The 30-year-old southpaw has a 2.42 ERA (2.80 FIP) in 30 starts and 208.1 innings this season, making this the best year of his career. It's even better than his Cy Young season back in 2012. His strikeout (25.9%), walk (5.4%), and homer (0.69 HR/9) rates are all great, and while his grounder rate (41.1%) is below-average, it doesn't matter because he generates so much weak contact. Lefties (.289 wOBA) have actually hit Price harder than righties (.269 wOBA), which is a trend that started last year. Price is a pure power pitcher, living in the mid-90s with his two and four-seam fastballs, and a notch below that with his cutter. He also throws a nasty mid-80s changeup and a few upper-70s curves. Price locates everything very well. The best combination of power and command in the game. The Yankees have faced Price four times this season: eight runs in 2.1 innings in April, seven scoreless inning in early-August, three runs in 7.1 innings in mid-August, and two runs in five innings earlier this month.
Tuesday (7pm ET): RHP Luis Severino (vs. TOR) vs. RHP Marco Estrada (vs. NYY)
Estrada, 32, has a 3.14 ERA (4.42 FIP) in 160.1 innings spread across 25 starts and six relief appearances this summer. He started the year as the long man before moving into the rotation. His walk rate (7.9%) is about average but everything else is below-average: 18.1 K%, 32.3 GB%, and 1.18 HR/9. Estrada has been very homer prone throughout his career (career 1.36 HR/9), and while he was able to keep the ball in the park earlier this season, he's now allowed ten homers in his last eight starts. Thanks to his upper-80s changeup, Estrada has had more success against lefties (.273 wOBA) than righties (.289 wOBA) both this year and throughout his career. An upper-80s four-seam fastball sets up that changeup as well as his upper-70s curveball. Like Price, Estrada has started against the Yankees four times this year: five runs in 4.2 innings in May, 6.1 scoreless innings in early-August, two runs in six innings in mid-August, and four runs in five innings last week.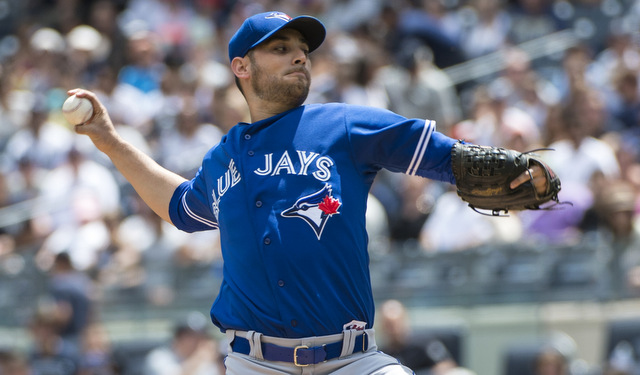 Wednesday (7pm ET): RHP Ivan Nova (vs. TOR) vs. RHP Marcus Stroman (vs. NYY)
A torn ACL suffered during a fielding drill in Spring Training was supposed to end Stroman's season, but his rehab went exceptionally well, and he was able to rejoin the rotation a week and a half ago. The 24-year-old has allowed four runs on ten hits and three walks in 12 innings so far, striking out five with a 68.4% ground ball rate. He had a 3.65 ERA (2.84 FIP) in 130.2 innings last year, his big league debut. Stroman throws six pitches regularly, led by his low-to-mid-90s two and four-seam fastballs. He also throws a low-90s cutter and sliders, curveballs, and changeups in the mid-80s. Stroman uses all of 'em. He's quite unpredictable. The Yankees saw him in his first start off the DL last week, and scored three runs in five innings.
Bullpen Status
Thanks to some trade deadline pickups and roster shuffling, Gibbons now has a strong and deep bullpen at his disposal. Rookie RHP Roberto Osuna (2.38 ERA/2.91 FIP) is closing with ex-starter RHP Aaron Sanchez (3.27/4.77) and LHP Brett Cecil (2.77/2.71) handling setup duties. RHP Mark Lowe (1.53/2.15) will also see some high-leverage work from time-to-time.
RHP Drew Hutchison (5.33/4.25) was moved to the bullpen after Stroman rejoined the rotation. He joins RHP LaTroy Hawkins (2.57/3.15), RHP Liam Hendriks (2.52/1.99), LHP Aaron Loup (4.76/3.80), and RHP Bo Schultz (3.46/4.78) in the middle innings. RHP Steve Delabar, LHP Jeff Francis, RHP Chad Jenkins, and RHP Ryan Tepera are the extra September arms. Hendriks, Cecil, Lowe, and Hawkins all pitched yesterday.
Our Bullpen Workload page can keep you updated on the status of Joe Girardi's heavily used bullpen. Andrew Stoeten's site is the place to go for Blue Jays news and analysis, though the language is not exactly family friendly. Consider yourself forewarned.