Got 14 questions in the mailbag this week. We're getting a lot of questions asking for injury updates on prospects (James Kaprielian, etc.), and folks, if I had any, I'd give them to you. I'd stick them in DotF or give them their own post if it was significant enough. Everything I know is on the site. Anyway, the RABmailbag (at) gmail (dot) com is the place to send us questions throughout the week.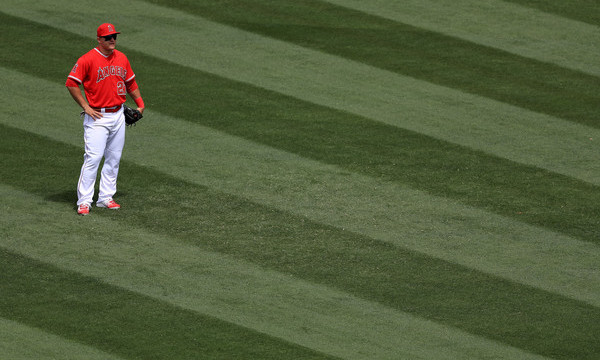 Peter asks: If the Yankees emptied the farm would they have enough to trade for Mike Trout? Would the Angels want it? Should the Yankees do it even if it took the best package they have of Sanchez, Mateo, Severino, and Judge? My Trade Proposal Sucks, I know.
Angels GM Billy Eppler has said the team has no plans to trade Trout, and even though that's the kind of thing every GM says about their star player, I believe him. Trout is too special to trade, even with the Angels looking worse by the day. I suppose it's possible Eppler has some leftover love for certain Yankees prospect following his time in the front office, but I wouldn't hold my breath. Not when it comes to a Trout trade.
Trout is the kind of player you trade anything and everything to acquire. How could the Yankees say no to a package that includes, say, Luis Severino, Dellin Betances, Aaron Judge, Jorge Mateo, Gary Sanchez, and Kaprielian? They couldn't possibly say no. It is a heck of a lot easier to rebuild a farm system than it is to have the best player in the world in his mid-20s. I don't think Trout will be traded, but the Yankees should call and offer everything anyway.
Matt asks: What's the date Gary Sanchez would need to remain in the minors until in order to delay his free agency one year? Do you think the Yankees will call him up immediately after that date has passed to see if he can help generate some sort of offense?
The date has already passed. It was Monday this week. Austin Romine has been mostly fine as the backup and while Sanchez would likely be an upgrade, I don't have a problem with the Yankees keeping him in Triple-A a little longer so he can play everyday. Romine's playing well, so ride it out and maybe turn him into a prospect via trade come July. There's no reason to make a change at backup catcher just yet. It would be different if Romine were stinking up the place.
Mendel asks: If Tanaka keeps up this kind of production, and the Yankees continue their terrible season, would/should they consider trading him at the deadline? And what kind of package can they get in return?
This question was sent in before the Yankees won a bunch of games over the last week. Obviously the chances of them selling — which were small to start with — have gone down quite a bit since them. If, however, they do take a plunge and sell later this summer, as unlikely as that may be, they have to make Masahiro Tanaka available. Don't half-ass it. Put everyone on the table.
The Yankees could market Tanaka as a No. 1 starter with a year and a half of team control remaining, so he'd help you for two postseason runs. The Yankees should even be open to eating some money to increase the prospect haul. David Price was traded for two young MLB players (Nick Franklin, Drew Smyly) and a good prospect (Willy Adames), so that's the benchmark for Tanaka. Two players you can plug into the big league roster — given the team's roster situation, a starting pitcher would be preferable — plus a third piece.
Andrew asks: How does the Nationals re-signing of Strasburg affect their re-signing of Bryce Harper and the possibility of Harper signing with the Yankees if at all?
I don't think it changes anything. I guess it shows it's not impossible to sign a top Scott Boras client to an extension right before free agency, but Stephen Strasburg and Harper are two different people with different motivations. Strasburg is a pitcher who has already had a major arm injury, remember. That's not insignificant. Harper is as confident in his talent as any player we've seen. He seems like the type determined to smash contract records. Harper is the kind of player who will go into free agency and take the biggest contract, no questions asked. If the Yankees make that offer, they'll get him.
Jason asks: Humor me here, I'm just going to throw out a couple of names for you to opine on in case the Yankees decide to buy instead of sell or just shake things up a little bit: Nick Markakis, Carlos Gonzalez, Drew Pomeranz, Yasmany Tomas.
I don't see the point in adding another declining veteran outfielder like Markakis and Gonzalez, even if they are still productive. At least Tomas has youth on his side, plus he's right-handed, so he makes more sense than the other guys. The Yankees need to keep a spot open for Judge and it's unlikely Jacoby Ellsbury is going anywhere, which means acquiring Tomas or CarGo or Markakis pushes Brett Gardner out the door. No thanks.
Pomeranz, who has a 1.80 ERA (2.61 FIP) with a 31.9% strikeout rate in 40 innings this season, has always been interesting. It's a question of health, more than anything. He's got an out pitch curveball and a lively low-90s fastball, so the stuff is fine. More than fine, really. Pomeranz just has no track record of staying on the field. He's thrown 120+ innings once in his career, and that was way back in 2012. The Padres got him for Yonder Alonso and Marc Rzepczynksi over the winter, so I wouldn't pay substantially more than that. How about Rob Refsnyder and Chasen Shreve, plus maybe a non-top prospect? My trade proposal sucks. I'll roll the dice on a bat-missing southpaw with two years of team control remaining even with the health issues.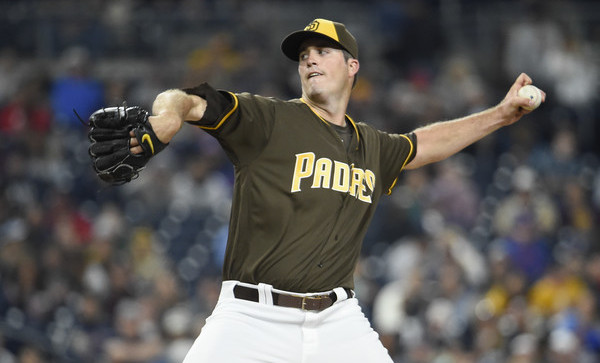 Travis asks: If the Nationals are in on Miller or Chapman at the deadline, what kind of return could the Yankees get (if they decided to deal either one)? Example: (my trade proposal sucks) Chapman for Victor Robles, Austin Voth and Trevor Gott.
Andrew Miller and Aroldis Chapman have different value because of their contract situations. Chapman is the better pitcher, but Miller has more value because he's under contract for two years beyond this one. Back when he was a rental Miller was traded for Eduardo Rodriguez, and I think that's the benchmark for Chapman. One stud young player. I'd love love love to see the Yankees get Joe Ross for Chapman, but I don't think it'll happen. Ross is too damn good at this point.
The Robles/Voth/Gott package would be a pretty good return for Chapman in my opinion. Voth is pretty close to MLB ready as a Triple-A starter, Gott is a bullpen option right now, and Robles is the top prospect lottery ticket in the low minors. He's basically the outfield version of Mateo. Lucas Giolito and Trea Turner are presumably untouchable. I'd focus on Robles, Voth, righty Reynaldo Lopez, and outfielder Andrew Stevenson in trade talks. Here is MLB.com's top 30 Nats prospects, if you want to look them over yourself.
John asks: Do you think the Yankees should look into acquiring David Freese? The Pirates have an excess of infielders with Kang back. What would it take to get him, and is it realistic? Thanks.
Freese would definitely make sense and I think he's more realistic than most trade targets sent into the RAB inbox. (No offense, folks.) Jung-Ho Kang came back a few days ago, mashed two homers in his first game, and he's been starting at third base ever since. Freese is basically a platoon first baseman and fill-in third baseman now, and Pittsburgh has Jason Rogers in Triple-A to fill the same exact role. (Rogers can play other positions too.)
Chase Headley is maybe possibly kinda sorta starting to hit a tiny little bit, but he's still not hitting for any power, and at some point the Yankees will have to make a change barring a huge breakout. Freese, who is on a one-year contract, would be a fine fill-in. The Pirates could use some pitching help, both starters and relievers. Would Nick Goody or James Pazos for Freese work? I wouldn't offer much more than that. Freese could fit though, yeah.
Andy asks: I'm looking at Mateo's stats on Fangraphs and it's tough not to be impressed. How does BABIP work for the minor leagues, though? Mateo's .456 is outrageous, as is his 212 wRC+. Is it easy for good players to post really high BABIP's in the low(ish) minors?
A .456 BABIP is very high even for the minors, but it's not at all uncommon for top prospects to post sky high BABIPs. Kris Bryant had a .405 BABIP between Double-A and Triple-A in 2014, for example. Refsnyder had a .377 BABIP that same year. There's a lot of bad in the minors. Bad pitching and bad hitting. That doesn't mean it's easier to hit, but pitchers make more mistakes and the good prospects don't miss them. Given his speed, I wouldn't be surprised if Jorge Mateo finished the season with a .400 BABIP or so. It's not crazy. A .380+ BABIP in the minors doesn't automatically mean a hitter got lucky. And the opposite is true for pitching prospects. A sub-.250 BABIP isn't uncommon.
Paul asks: What is Girardi's nickname for Aroldis Chapman?
Chappy! That's actually not a Joe Girardi original though. People have been calling him Chappy for years now. It fits the standard Girardi nickname nomenclature, so he's stuck with it.
Jonathan asks: I'm curious to see any promotion predictions you may have for top prospects. Player, current level, and when this year (if applicable) you think we might see them make the jump to the next level, then the next ya know? To the highest level you think they'll reach this year.
Promotion season is coming up. They usually start happening in early-June and continue throughout the summer. Mateo to Double-A is the obvious one and I think it'll happen next month. Tyler Wade will have to slide over to second and make spot starts at short. Mateo is the priority prospect there. Miguel Andujar could move up to Double-A as well. He's had a strong season overall and did spend all of last year with High-A Tampa. Can't keep him there forever.
That's probably it for the notable position players, unless you count Sanchez and Judge getting big league time at some point. On the pitching side, Domingo Acevedo figures to move up to High-A assuming this recent lower body injury is nothing serious. Chance Adams could get bumped from High-A to Double-A, and Jonathan Holder going to Triple-A is an easy call. Kaprielian's injury threw a wrench into things. He's might be in Double-A right now if he were healthy. He could still get there if he comes back reasonably soon.
The Yankees have a bunch of injured players coming back (Luis Torrens, Wilkerman Garcia, Ty Hensley, Austin DeCarr) plus others in Extended Spring Training (Drew Finley, Jeff Degano) who are going to join an affiliate at some point. I think players like Wade, Dustin Fowler, Hoy Jun Park, Abi Avelino, Thairo Estrada, and Kyle Holder are at their levels to stay this season.
Anonymous asks (short version): What about trading CC Sabathia to the Giants?
The thinking here is Sabathia has pitched decently in the early going, he's from the Bay Area, and the Giants have big time concerns at the back of their rotation. Jake Peavy and Matt Cain have been very bad. I would be surprised if Sabathia accepted a trade at this point though, even home to Northern California because his family lives in New Jersey full-time now. The salary is an obstacle; there's no such thing as an untradeable contract, but Sabathia's deal is as much a deal-breaker as any in baseball. I could see this if Sabathia were a rental. Maybe he'd be willing to go pitch in San Francisco for two months and try to get another ring. But a year and a half? That's pushing it.
Paul asks: Anecdotally, people swing on 3-0 counts more often than even 2 or 3 years ago. Does the data back this observation up?
It definitely seems like more players are swinging 3-0 this season. Not only Yankees, all around the league. Offense is down and I guess teams think ambushing a 3-0 pitch from time to time will help them score. Alex Rodriguez famously hit his 660th homer last on a 3-0 pitch last year (video). Here are the league averages as far as back as Baseball Savant can go before it starts timing out:
2016: 7.4% swings in 3-0 counts
2015: 7.9%
2014: 8.4%
2013: 7.7%
Unexpected! I sorta love it when the numbers are the complete opposite of what my eyes are telling me. It's good to be humbled once in a while. Anyway, swinging 3-0 has gone down the last few years, though we're talking about a window of one percentage point here, from 7.4% to 8.4%. That's not a huge difference, but it is a difference nonetheless. I'm guessing that come the end of the season, the rate will again be up around 8.0%.
Asher asks: Why the heck does Eovaldi not throw a 2-seamer more often? Pitcherlist pointed it out, and then perusing Fangraphs showed me that it has markedly more movement than his 4-seamer while carrying almost the same velocity (his max with the 2-seamers is still 100.7mph!) yet in his entire career he's only thrown 545 of them compared to almost 6000 four-seamers.
I prefer Brooks Baseball for PitchFX info, and it says Nathan Eovaldi threw a sinker earlier in his career, but he hasn't thrown it regularly since 2012. He threw zero sinkers in 2013, 36 sinkers in 2014, and none since. I'm not sure why he scrapped it, though I'm sure there's a reason. Eovaldi probably didn't feel comfortable locating it given the movement or something like that. It could be worth tinkering with again. I tend to think when a pitcher stops throwing a pitch all together, especially early in his career when he's still looking to establish himself, it's because it was one of his worst pitches and he kept getting burned on it.
Anonymous asks: Where do you feel Aaron Judge's K rate needs to be in Triple A for you to be comfortable bringing him up to the majors? And, once he's up, what should it be for him to have success?
I don't think there's a magic number, and really, the box score is not going to tell us when Judge is big league ready. He's someone you'll really have to see to know when he's ready. Judge has a very specific weakness (soft stuff away) he's set out to correct and his strikeout rate is nothing more than a proxy for that weakness. Even if he cuts his strikeout rate down to, say, 15%, he might still be flailing away at breaking pitches away. The flaw could still exist even if the numbers look great, you know?
Long-term I think Judge will settle in as a 25% strikeout rate guy, which is higher than average but not outrageously so. That's Jay Bruce/Mark Trumbo territory. His first few weeks and months in the big leagues could easily feature a 35.0% strikeout rate though. There figures to be an adjustment period. As long as Judge hits for power, draws walks, and plays a solid right field, that strikeout rate is fine. I do not think he's a budding superstar. I see Judge as someone who could become a +3 to +4 WAR outfielder, and maybe someone who has a +6 WAR career year along the way.