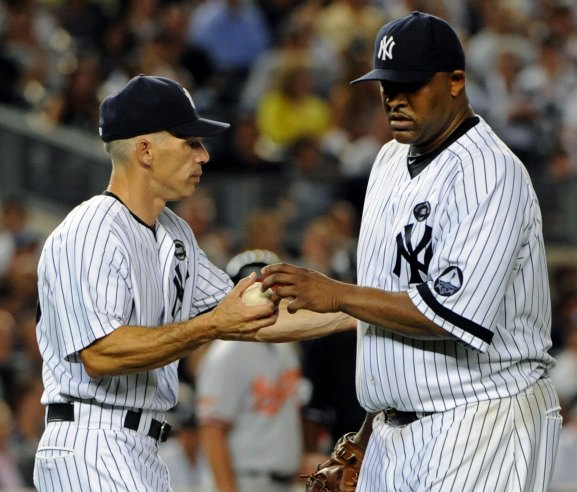 From the very start it didn't look like the Yanks had much of a shot in this one. The first five batters reached base safely, resulting in three Orioles runs. Sabathia came back to retire the next seven straight, but he served up a few more meatballs before leaving the game with one out in the seventh. The offense had a few chances to make it a game, but they continually failed to deliver. The result was an uninspiring game and the Yankees' third straight loss.
Sometimes the ace just doesn't have it. The Yankees needed Sabathia to play the stopper last, so the timing couldn't have been worse. But even if he pitched a little better the Yanks would have had a tough time winning this one. They put nine runners on base and batted 11 times with a runner in scoring position, but produced just two runs. The Orioles, on the other hand, went 6 for 13 with RISP. This was, essentially, the exact opposite of what I'd expected coming into the evening.
We could recap the highs and lows of the game, but there weren't many highs and the lows were frustrating enough that I don't mind glossing over them. Suffice it to say that this was not the best way to spend three hours of my Tuesday evening. But I did, because more often than not I'm rewarded. Just not this night.
The Yankees now turn to the rookie to stanch the bleeding. Ivan Nova takes the mound needing to deliver the final game of the series. It's a tall order for a rook, even when facing a last-place team. These aren't April's Orioles.