While A-Rod's name, as we mentioned in the podcast, will be in the steroid-related headlines for the foreseeable future, the Gene Orza scandal should have deeper ramifications across baseball. Earlier today, Jon Heyman wrote about how the union failed to do its job.
That list would have been long gone if not for the union; according to three baseball sources familiar with the testing process, players union COO Gene Orza worked long and hard to try to pare down the list. Orza's mission, SI's sources say, was to find enough false positives on the list to drive the number of failures so far down that real testing wouldn't be needed in 2004 or ever.

Orza wanted to get the list down below the five percent threshold for testing to go away entirely. But after months of trying, Orza couldn't do it, and baseball announced that a curiously imprecise 5-7 percent of players failed the 2003 survey test, enough to ramp up the testing in 2004, much to the union's dismay.

And when BALCO investigators asked for the results of the players linked to that scandal, Orza did what came naturally to him, which was to fight. He had a history of winning his fights, so that gave him confidence that he could win this fight.

But this time he didn't win. The feds subpoenaed all the records instead of just the BALCO boys.

All 104 players who tested positive were now at risk.
If I were one of those 103 other players, I wouldn't be feeling too good about myself or the union leaders right now. This move could very well cost Orza his job, as Shysterball speculated, and the union some leverage during the next round of labor talks in 2011. If Orza, as originally reported, tipped off A-Rod to an impending drug test, the fallout will be even worse.
I can't defend A-Rod though because of Orza's ineptitude. He took steroids; he lied about it on national television; and his 40-hour silence has been deafening. Just because his name shouldn't have been associated with his supposedly anonymous sample doesn't excuse his behavior or actions. But the people he entrusted with his secrets have let him down, and that thread of this story will linger for a long, long time.
In light of the A-Rod steroids revelation, we decided to do a special edition of the RAB Radio Show. We totally winged the show, deciding that an agenda wouldn't accomplish much. This story is still very young, and there's so much we don't know (you'll notice at one point that Mike and I say "we don't know" a hundred or so times). We just thought we'd let it all out there.
People are going to get sick of talking about this soon. Some are already sick of it. By Thursday, our regular podcast date, it'll be a tired subject, so we got together to talk about it tonight, in hopes that we won't have to deal with every story on the topic from now until A-Rod issues his statement. That's really the next big thing to happen in this saga.
Oh, how could I forget to mention that we're joined this time by Ben. He provided an excellent take on the situation last night, and lends his thoughts to our discussion. If only we could have him on every week.
Onto the podcast. It is available in a number of formats. You can download it here by right clicking on that link and selecting Save As. If you want to play it in your browser, just left click the link. You can also subscribe to the podcast feed, which will send it to you every Thursday. You can also subscribe in iTunes. Finally, we have the embedded audio player below.
Audio clip: Adobe Flash Player (version 9 or above) is required to play this audio clip. Download the latest version here. You also need to have JavaScript enabled in your browser.
Podcast: Play in new window | Download (50.3MB)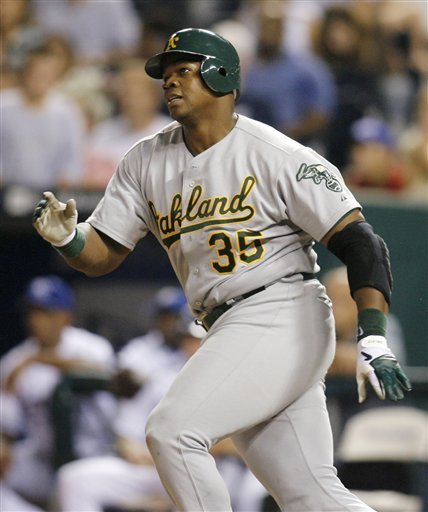 Phil Rogers of The Chicago Tribune wrote an interesting little nugget yesterday that I found at (where else?) MLBTR. Check it out:
There has been so little interest in Frank Thomas he doesn't even land in the rumors. He's not going to get ready while he's out of camp, which is why the Players Association needs to organize a spring training camp for out-of-work players. The White Sox's abandoned Tucson complex would be a perfect place.
First, let me plug this post from earlier today about Thomas. Secondly, it makes a ton of sense for the union to run something like this, especially in today's market. There's still roughly sixty free agents out there still looking for work, and a good chunk of those guys can still be assets to a MLB team and would benefit from such a camp. You could elementarily break them down into three groups:
Players hurt by the market: Bobby Abreu, Garret Anderson, Joe Biemel, Orlando Cabrera, Juan Cruz, Adam Dunn, Orlando Hudson, Braden Looper, Doug Mientkiewicz, Will Ohman, Dennys Reyes
Players looking to prove themselves coming off injury: Joe Crede, Scott Elarton, Randy Flores, Tom Glavine, Orlando Hernandez, Chuck James, Mark Mulder, Matt Wise
Veteran players looking to prove they have something left: Moises Alou, Rich Aurilia, Ray Durham, Damion Easley, Jim Edmonds, Keith Foulke, Nomar Garciaparra, Luis Gonzalez, Ken Griffey Jr., Mark Grudzielanek, Livan Hernandez, Jon Lieber, Kent Mercker, Jay Payton, Ivan Rodriguez, Curt Schilling, Rudy Seanez, Julian Tavarez, Frank Thomas, Mike Timlin, Ron Villone
Camp certainly wouldn't be mandatory, and the players would have to pay for their own living arrangements, etc. Pitchers could throw bullpens and live BP, position players could hit everyday and take fielding drills, stuff like that to help prepare them for the season and show what they have. Essentially it would just give these players a place to work out and gain exposure, while the thirty teams could go to one central place to see who could help them. They could even play a game against a club once a week or something.
I know there's a lot more that goes into this idea than I could possibly imagine, but it seems like something MLBPA should be seriously considering for it's members. Anyway here's your open thread for the night. Talk about whatever you like, just please be civil, especially when talking about A-Rod.
Photo Credit: First Base Tickets
By

I think we're all aware of how great a player Albert Pujols is. He leads the National League in the Triple Crown Categories (.334 AVG, 319 HR, 977 RBI) this century, and that's despite spotting the field the 2000 season because he hadn't been called up yet. However, as Joe Posnanski points out, we've seen this kind of greatness before, and not that long ago either. Who is it? Well, you've have to read to find out. (h/t BtB)

Fun fact: I saw this player hit a ball over the visiting team's bullpen and into the left field bleachers, just over the entrance ramp, at the Stadium about sixteen years ago. That was the first time I can remember seeing something happen in person at a baseball game that truly amazed me. It was quite the shot. · (18) ·
By

The off-season woes of Bobby Abreu have been well-documented around here. Showing signs of a steep decline but still managing to turn in a 120 OPS+ last season, Abreu has been a free agent fielding few phone calls this season. With a week left until Spring Training, Nick Cafardo's sources tell the Boston Globe columnist that Abreu may have to settle for a one-year, $3-million deal. For that money, the White Sox, Mariners, Angels, Dodgers, Braves and Mets could all get in on the bidding. I can't imagine Abreu is too thrilled about the prospects of an 80 percent paycut. · (33) ·
Selena Roberts, former New York Times columnist and current Sports Illustrated writer, has a lot riding on her Alex Rodriguez story. Seemingly without seeing the list of players who failed the 2003 drug tests but corroborating her information with four sources, she has accused one of baseball's biggest starts and its highest paid player of juicing.
She's also two and a half months away from publishing an exposé on A-Rod called Hit & Run: The Many Lives of Alex Rodriguez. Baseball & The Boogie Down believes that this upcoming book raising some interesting questions:
From what I've gathered through several web searches, the book is described as "an expose of A-Rod's controversial path to self-destruction." Something tells me the purpose of this book is not intended to paint A-Rod in a positive light.

I'm sure Alex is aware of the book and I'm sure Alex knows who Selena Roberts is. Why would he give her the time of day and answer any questions she asks him? She should have known that he'd blow her off when she asked him about testing positive. His failure to say anything to her shouldn't be read as an admission of guilt, which is kind of how it came across in her interview with Bob Costas. I may not have the quote 100% correct, but she basically said, "He could have said I don't know who your sources are but their dead wrong." Hence, she believes her sources even more.

Could this be just a ploy to sell a few extra books? If Alex comes out and says she's wrong and that he never tested positive, then what? Then it turns into he said, she said and then how do we know who to really believe. What if someone trots out 4 anonymous and "reliable" sources that say he didn't test positive and the SI article is a fabrication. It's not out of the realm of possibility, especially when people say they have anonymous sources. There's really no way for anyone, other than the person citing the sources, to verify it's authenticity, right?
It's certainly an interesting scenario, but the more time that passes without a statement from A-Rod, the less likely it is. If A-Rod wants to shed some doubt on this list, he first has to know for sure that he isn't on it. At some point in the future during the Bonds perjury trial, the entire list will be made public, and if A-Rod has any doubt about his name's appearing on it, he can't do this.
RAB commenter Artist formerly known as "The" Steve summed it all up in an e-mail to me this morning:
For the sake of his legacy, denial is his only hope. I've heard HOF voters (Ken Davidoff) already say they won't vote for him if this is true. But he can't do that credibly if the Feds have the original list and samples and that eventually becomes public. According to the Bonds court case, they do. So everything will come out eventually.

I think he's boxed into a corner. He HAS to fess up, and live with the consequences.
A 100 percent complete admission will be the first step in rehabbing an image, and as the silence continues from the A-Rod camp, the next few days will be quite telling.
By

Buster Olney opines on the A-Rod fiasco and feels that the Yanks' third baseman is tarnished forever. Kiss the Hall good bye. Kiss the MVP awards good bye. From here on in, he's simply A-Roid until death do us part. It's not fair; it might not even be accurate; but now that the media has decided to pass judgment on a scandal it collectively ignored for the better part of a decade, that's the way things are in the wonderful world of baseball. · (54) ·
When the A-Rod news broke this morning, I wasn't surprised or outraged. Nothing that comes out of this ongoing steroid mess can shock me anymore. Rather, I was deeply and truly disappointed.
Alex Rodriguez was supposed to be one of the Good Guys. Since he was drafted in the early 1990s, he had labels attached to him, labels tagging him as one of baseball's all-time greats. He was a natural talent who knew how to play the game hard. When, at the age of 20, in his first full season, he took Seattle and the AL by storm, we knew we were witnessing history.
Over the years, we know the A-Rod saga. He signed on with Scott Boras who pushed him to become the best in everything. A-Rod couldn't just be the best player in baseball. He also had to have the best contract ever and eventually had to play on the best team ever on baseball's biggest stage.
Now, I don't mean to intimate that Boras' pushing or A-Rod's own internal demons led him to steroids, but it's hard to ignore that theme in all that we know about A-Rod. As the last five seasons have unfolded, we have seen A-Rod's highs and lows. We've seen Slappy McBluelips turn into a two-time MVP winner turn into a non-clutch post-season choker turn into an adulterer and now a steroid user.
Underneath it all, the kid I once was and the baseball fan I still am are both disappointed. I'm disappointed that one of those Good Guys, one of those players who went on TV and told Katie Couric that he never used steroids would turn out to be a liar and a fraud, disappointed that one player destined for enshrinement on his natural talents alone would throw it all away because everyone else was doing so why shouldn't he.
Maybe I'm being too willfully blind to the history of baseball. Ty Cobb was a racist who never would have played against non-white players. Babe Ruth was hardly a model citizen. Mickey Mantle was a drunk, and countless players have philandered their ways across the baseball landscape.
Maybe the problem isn't with the players, but maybe it's with the fans who try to idolize guys who are just professional athletes. Maybe our heroes never existed; we just dreamed them into existence and refused to acknowledge their flaws until it was far too late.
In the end, moral outrage is sure to rule the day. The same reporters and league officials who turned a blind eye to steroids for twenty or thirty years will breach on about the ills of the drugs and baseball's corruption, past and present. The games will go on, and I will live and die with the Yankees. But as anything scandal breaks, as another big name falls, the part of me that believes in baseball as America, that, as Annie Savoy does in Bull Durham, believes in the Church of Baseball, will feel a little less sure about the game and a lot more disappointment. Who are our heroes after all?
By

Via MLBTR comes a Jerry Crasnick story about Ray Durham. The 37-year-old switch-hitting second baseman has fielded no offers this off-season and is mulling retirement. Of note to Yankee fans is the fact that Durham's agent tried to pitch the middle infielder to Brian Cashman. The Yanks, however, according to Crasnick, are "looking for a bounce-back year from Robinson Cano" and turned down Durham.

Now that the Hot Stove League is drawing to a close, a few readers e-mailed us today wondering if the Yanks should revisit Ray Durham not as a potential starting second baseman but as a back-up infielder. He did after all put up a .289/.380/.432 line last year. However, his fielding splits look pretty bad. It might be worth it for the Yanks to toss a non-roster Spring Training invite his way. His should be better than Angel Berroa, but I wouldn't put much weight on Durham in the Bronx. · (18) ·

The circus has officially come to town, and it won't be leaving any time soon. Hot on the heels of the news that A-Rod failed a 2003 drug test, baseball and its supposed drug problem has once again grabbed center stage in New York City. For the 2009 season, A-Rod and, by extension, the Yanks will be under the microscope.
Anyway, as the story developed during the course of the day, numerous threads developed. The Players Union and Alex Rodriguez will take spotlight, and this could get messier before it gets better. I'll wrap them up for the open thread.
The A-Rod Angle
The Union Response
Harold Reynolds and Bob Costas were both appalled at Roberts' report that Gene Orza may have tipped off A-Rod to an impending drug test. Costas felt that this could be a blanket breach of the Collective Bargaining Agreement and that the owners could use this as leverage in their efforts to weaken the union when the CBA expires after 2011. It's very possible that Orza's job and the reputation of the Players Union are both on the line right now and how he handles the blowback will determine the future of the union.
Why was the list from 2003 of the players who failed the screening drug test destroyed? The Union officials were supposed to destroy, and Ken Davidoff notes that the union leaders, who had the legal right to do so, completely dropped the ball. A lot of union members must be questioning their leadership right now.

The existence of this list may also, as Costas noted this afternoon, raise some Fourth Amendment issues.

The Players Association and MLB both related statements focusing on the privacy angle. Neither organization refuted this report, and both noted that the samples should have been anonymous. What a disaster.
Keeping it all in perspective
At one point this afternoon, Bob Costas compared the failure to handle the samples with the required care and anonymity to one of this country's greatest and most shocking political scandals. "This is in the category of Nixon burning the tapes," he said. Ross at New Stadium Insider wonders if the nation is ignoring larger problems for the spectacle of A-Rod. This is, after all, just a baseball story. Chew on that one for a bit. I think Ross has a valid point, but baseball has long been tied into American culture and identity. This is a fairly significant American scandal.
The Fine Print: Use this as your open thread tonight. Let's not have any A-Rod or steroid flame wars. Play nice.