By

Strike Adam Dunn off the list. According to The Washington Post, Dunn and the Nationals have agreed to a two-year deal. No word on the dollar amount, but I'd have to guess it'll be around the $8-$10 million AAV range. That leaves Manny Ramirez as the sole remaining corner outfielder, and he is facing very few options.

Update: Tom Verducci at SI.com reports that this deal is indeed worth $20 million over two years. In my opinion, that makes Abreu's deal with Anaheim seem like a pretty good one for the Angels right now. · (83) ·
In today's Daily News, Anthony McCarron would have us believe that Derek Jeter is frustrated with the Alex Rodriguez situation. That's what the headline says, and that's what his article intimates.
Upon closer reading, however, this concept utterly breaks down. Let's excerpt only Derek Jeter's quotes and not McCarron's reporting/analysis.
"I'm not addressing Alex's situation until everybody's here…"

"I'm not going to do it every single day," Jeter said… "Are things a distraction? It's a distraction when you talk about it every single day…"

"Every year it's something," Jeter said Tuesday. "Last year…I'm sure you go back, there was something. It's the Yankees, there's always a story at some point. A lot of the guys who've been here, they're used to it. Not something of this level, but used to answering questions about some other things. Once baseball activities begin, hopefully we can concentrate on that.

"I understand you guys have a job to do, I really do," Jeter told reporters. "But we have a job to do, too, and it's much better for me, much better for the team to address it one time and not continually address it day after day. If everyone (in the media contingent) was down here today, I'd address it today.

"A lot of times, situations where there's controversy, guys pull for each other and pull together a little more. That's what you hope for."
That, my friends, is not Derek Jeter getting frustrated over Alex Rodriguez. That is Derek Jeter, after 13 seasons, unleashing his pent up fury over the New York media. It's been a long time coming.
Derek, as Joe Torre and Tom Verducci make abundantly clear in their recent book, has been the even-keeled leader in the Yankee Clubhouse. While not as outspoken as many of his critics would like him to be, he leads by example. He certainly knows about and masterfully exploits the give-and-take surrounding the Yanks and the hyper-sensitive media. This is, in a way, the first real crack we've seen in Derek's armor, and I applaud it.
At some point, the media is going to have to acknowledge its role in the steroid scandal through something other than misguided righteous indignation. These reporters were in the clubhouse every day; they saw the players; they must have known something about what was going on. Yet, none of them bothered to pursue the story ten years ago. So they resort to over-the-top coverage and attempt to sow dissent among the Yanks, the Giants, whichever player tests positive today.
Derek is right to take these reporters to task, and he's doing today exactly what a captain should be doing. He's protecting his teammates from what has turned out to be a rather vicious media machine. I certainly don't expect the press to kowtow to baseball players. I'm a firm believer in the First Amendment and feel that a healthy press is a vital to the American democracy. But at some point, these reporters need a lecture like the one Derek gave yesterday. Good for him.
By

It's prospect season, which is why you're seeing oodles of lists and rankings and projections coming out. The guys at Project Prospect posted their list of organization rankings today, ranking each club's farm system based strictly on position prospects.  Despite lacking in that department, the Yanks still came in 17th thanks primarily to the 1-2 punch of Austin Jackson and Jesus Montero. I think the Marlins are the clear leader in position player prospects with Cam Maybin, Logan Morrison, Mike Stanton, Matt Dominguez, Kyle Skipworth, Chris Coghlan and Gaby Sanchez. That's just not fair.

Also, make sure you check out this THT article on minor league defensive statistics. That should be useful. · (25) ·
Beyond the Box Score is in the process of posting three facts about each team in advance of Spring Training, and late last night they touched on the Yanks. Here we go:
Nick Swisher will bounce back. Despite a career high percentage of line drives hit, Swisher's BABIP was a career low .251. Compared to a career BABIP of .279, he seems like a safe bet to bounce back. Now whether that's in a Yankees uniform or not…
And on the other side of the spectrum, there's Xavier Nady. His line drive rate was also a career high, but so was his BABIP. .337 versus .316 career. If the Yankees do decide to move a corner outfielder in a trade, they should focus their efforts on moving Nady, not Swisher.
Joba Chamberlain should be in the rotation. Enough said.
I feel kind of cheated because items one and two kind of go together, but whatever.
Anywho, I made note of Swisher's career low BABIP vs. his career high line drive percentage back when I originally lobbied for his acquisition, and I even explained why it would make sense to keep Swish over Nady during a pinch hitting appearance at Newsday. That said, the three of us here have gone on record numerous times saying that we'd like to see the team keep both players for depth purposes, unless of course they get blown away with an offer.
As far as the third bullet point goes … duh.
It's hard not to feel bad for Bobby Abreu. The dude has put up solid numbers his whole career, and when he finally hits free agency he's faced not only with a declining market, but also with a glut of free agents who play his position. His stock has plummeted over the course of the winter; that three-year, $48 million contract is nothing but a dream. The Boston Globe's Nick Cafardo even said that the "feeling is that he may have to sign for about $3 million." This for a guy who has put up an OPS+ of 120 or better every season since 1998 (except for 2007, when his horrid May brought his OPS+ down to 114).
Word came late Tuesday that Abreu is in serious talks with the Angels, a team that is quite an obvious fit. The Angels have an OBP problem: They have just three returning players who posted an OBP better than .340 in 2008, and two of them are 33 years old. Despite the money owed to outfielders, the Angels could sure use another one. Sure, they have Vlad Guerrero, Torii Hunter, Gary Matthews, and Reggie Willits, but they don't combine for a very good outfield. Adding Abreu not only gives them another bat, but it affords them an OF/DH rotation which could put up some decent numbers.
In fact, by the time you read this, Abreu could unofficially be an Angel. Ken Rosenthal reports that the Angels have asked for outright waivers on Nick Green — no, not the former Yank — which would give them a roster spot for a free agent signing. They're said to prefer Abreu to Dunn, and given the rumors of the past few hours it seems that it's only a matter of time before Bobby ditches his pinstripes for a halo.
As Rosenthal notes: "Two general managers with interest in Abreu said Tuesday that they were told he was headed to an American League team." That could, of course, mean the Mariners, who are also reportedly interested in Abreu, and with good reason. They lost Raul Ibanez this winter, and Wladimir Balentin hasn't been exactly what they'd hoped…yet. Abreu on a one-year deal would make sense for them, but as Ryan Divish notes, the team "has yet to put together a trade of Jarrod Washburn or Miguel Batista (Carlos Silva is untradeable) to free up some money to sign Abreu to a one-year deal." So all signs point to the Halos.
What does this mean for our Baseball Between the Numbers contest? Here are the people who had the Angels:
Jake H: 2 years, $14 mil
Nath Yanks: 2 years, $15.5 mil
Nikhil R.: 1 year, $9 mil
Spaceman Spiff: 2 years, 16.5 million
Zach Sanders: 1 year, $6.5 million
Looks like it will be a runoff between Nath and Zach.
By

Following up on my Congressionally inspired rant, we learn that Congress will not summon A-Rod to D.C. Edolphus Towns, Henry Waxman's replacement atop the House Committee on Oversight and Government Reform, put his rank-and-file members back in their places today when he said that his staff will continue to work on the economic recovery plan and will not ask A-Rod to talk about six-year-old PED tests.

In other PED-related news, Marvin Miller, the godfather of the Players Association, criticized, well, everyone today. He says that the PED revelations are part of a modern-day witch hunt and that the union caved in accepting the stringent drug tests a few years ago. Finally, Miguel Tejada will plead guilty to a perjury charge. · (38) ·
By

Over at The Hardball Times, Josh Kalk used PITCHf/x data to take a look at pitch sequencing and tries to figure out why guys with great stuff might not get the results a guy with fringy stuff does. That data reinforces the old adage that everything in baseball revolves around the fastball, and shows just how devastating the splitter can be. Make sure you check it out, very interesting stuff. · (10) ·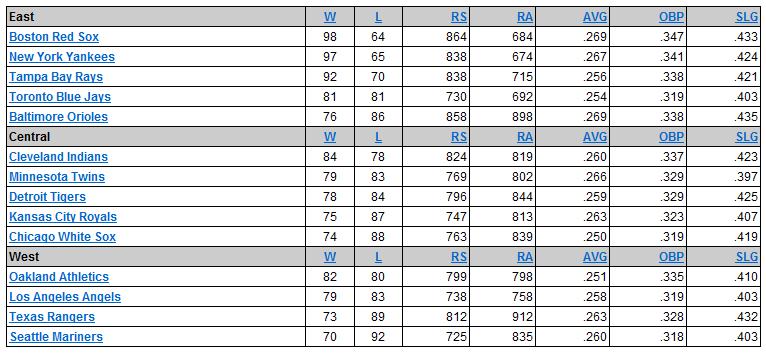 (click chart for a larger view)
Baseball Prospectus released their 2009 projected rankings yesterday, and sees the Yanks finishing second in the AL East behind the BoSox. PECOTA has the Yanks finishing 97-65, just one game back of the Sawx, but more importantly it projects the Yanks to have the best pitching in the majors. Their 674 projected runs allowed is ten runs better than Boston's, but what scares me is that the four best pitching staffs in the AL – and four of the five best staffs in the bigs – reside in the AL East. That's kinda crazy.
Based on these projections, the Yanks would finish with the second best record is baseball, although they'd have to settle for a Wildcard spot for the second time in the last three years. That's fine with me. Get in however you can, and I'll take my chances with a rotation of CC Sabathia, A.J. Burnett, Chien-Ming Wang and Joba Chamberlain in a short series. You can see the NL projections here.
Here's your open thread for the evening. The Islanders and Nets are playing at home tonight, and the Knicks are out in Oaktown. Anything goes, just be be nice.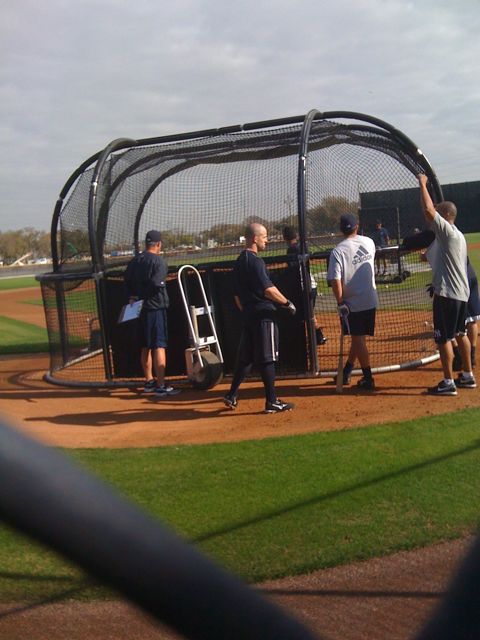 It's a beautiful thing, ain't it? Yankees' players on the field, taking batting practice, playing catch, getting work in … it's exactly what we need to see right now. Pitchers and catchers aren't due to report for another four days, position players not for another seven days, yet there's still a nice group of players in camp early and working out.
Mike Rose of Newsday noted that two of the players out playing catch in the outfield were Mark Melancon and Phil Hughes. Man, how much are you looking forward to seeing Melancon nail down wins for Hughes for the next decade? Rose also noted that Brett Gardner (who you can see in the pic above), Derek Jeter, Jorge Posada and Nick Swisher were taking BP. Joe mentioned earlier that Posada's rehab from shoulder surgery is going well, though he won't be ready to catch when exhibition games begin. Good to see he's healthy enough to at least take some hacks.
Getting back to Swisher, PeteAbe has a shot of him taking BP, although it's not the best picture in the world and we'll have to take Pete's word for it. Last I heard Swisher lives out in Arizona (where the A's and ChiSox hold ST), so it's awesome to see him at camp early. As you may remember, Swisher lost some weight this winter. Pete also noted that Chien-Ming Wang is in healthy and in the house. That's UUUGE.
Over on the minor league side, Chad Jennings touched based with Mark Newman and got a bunch of info about the Triple-A rotation, veterans on minor league deals, Eric Fryer, JB Cox, Colin Curtis, Alan Horne, and lots more. Make sure you check it out.
Other than Gardner pledging his undying support, no one really bothered to comment on A-Rod. Can you blame them?
Oh boy, baseball's almost back.
Photo Credit: Pete Abraham, Journal News
By

The crew over at Camden Depot (an O's blog, obviously) posted their list of the Yanks' top twenty prospects, starting with Austin Jackson and Jesus Montero on the 1-2 spots. Everyone has their own preferences when it comes to ranking prospects, and it's pretty easy to see that the guys at C-Dep like upside. I'm putting the finishing touches on my Top 30 list (which will be posted Friday), and just for comparison's sake, there's four players in their Top 20 that didn't crack my Top 30. Check it out. (h/t MJ for the email) · (50) ·