By

A-Rod's a cheater! His numbers are meaningless! The steroids helped him hit all those home runs! The mainstream media, and even many non-mainstream writers, have bandied about lines like this over the past few days. It comes as no surprise; we saw the same thing with Barry Bonds, and even Roger Clemens. Steve Hulkower of Bugs & Cranks tries to set the record straight. No, he's not excusing A-Rod or anyone else for taking steroids. Rather, he's pointing out that few people understand the actual effects of these drugs. He supplies a primer on Primobolan, the steroid he allegedly tested positive for.

Takeaway quote: "In other words, people only believe that Rodriguez's numbers are illegitimate if they want to believe that they are. It is completely their choice…but in the time between the Bonds fiasco and now the Rodriguez fiasco, it seems that no one has bothered to stop and think or stop and learn." · (35) ·
By

Peter Abraham checked in with his first on-field news roundup of the Grapefruit League, and it's a good one. He has some updates on the Swisher/Nady situation and the center field battle. Most important, though, is his bullet on Joba. As we hinted at last week, the Yankees are going to use Joba as their fifth starter from Day One until he reaches his innings limits, and in the words of PeteAbe, there are "no plans to pitch him out of the bullpen." I'm sure the usual talking heads will decry this decision, but it's the right one for the good of the team. · (64) ·
This is good news. According to Bob Raissman at the Daily News, A-Rod will speak about the steroids issue on ESPN "probably later Monday." That he's addressing the issue today is a good thing; in fact, it would be pretty foolish to delay it any further. There's no word on exactly when we'll hear from him, so we'll update this post when we get better info.
I think Raissman hits it with this line: "In order to reclaim PR territory he once occupied, he must come off credible and personable when he makes his first statement." This means doing the Giambi apology thing if he knows he's guilty, and saying point blank that he's clean if he's not guilty. Straight to the point, or as close to the point as he can get. Remember, Giambi never really said what he was apologizing for in 2005, though we all got the gist of it. If A-Rod took a similar tack, I would be satisfied.
Hat tip to A.D. for finding the link I'd been trying to find for the past 10 minutes.
For the past three years I've subscribed to MLB.tv, and this year shouldn't be any different. The $120 per year has always paid for itself in terms of entertainment dollars per hour, and now that they've lowered the price to $110, that goes even more so. No, I can't watch Yankees games on it, but I can watch the Yanks on TV and have another game in front of me on my monitor. Or, if I'm feeling really ambitious, I can hook up my second monitor, allowing me to watch the Yanks, watch another game, and comment on the game thread.
As Brad Stone of the New York Times notes, there are a few upgrades to the MLB.tv package this year. It sounds like they're going for a Netflix streaming system, rather than having the user select a speed: "Technology by Swarmcast, a content delivery network with headquarters in Minneapolis and Tokyo, will help the league determine the speed of a fan's Internet connection and adjust the quality of the video accordingly." So if we're somewhere between the 800K and 1.5MB quality, we'll get something in the middle, not the lesser of the two.
My favorite upgrade is that you can now overlay radio broadcasters on the TV feed. Sick of Kay? Listen to Sterling. Sick of them both? Listen to the out of town radio announcer. I'm not sure how widely used this feature will be, but it does raise the possibility of a feature I've been pondering for a while.
Why not really open up the platform? Allow users to start their own announcing channels. An individual or group could enter a special room, kind of like our live chats, where they can provide their own play by play and color commentary. Other users can then overlay that rather than a mainstream broadcaster. I can see this not only being a fun feature for fans, but something that could drum up some more interest in the MLB.tv service. Most people do not want to watch baseball on their computers, but I'm sure a number would give it a shot if they either got to call the game themselves, or if they got to listen to a less insufferable commentator.
On the technical end, the downside is that the amateur commentators won't have a view of the whole field like the guys in the booth do. That could be remedied, I suppose, by providing multiple camera angles to the amateur announcers. Would MLB and the broadcasters be willing to do that? I'm not sure, but I don't see why not. In fact, that might be another feature in itself, the ability to watch the game from any camera in the park.
The question which will determine the feasibility of this: How will the media outlets react? They pay big bucks for the exclusive rights to broadcast games, and they might not be on board with amateur announcers cutting into the time of their professionals. MLB won't want to compromise their relationships with these outlets, so if they say no, that could render this idea DOA. Still, it's something which I think would bring more viewers to the MLB.tv platform and which would provide an opportunity for new voices to be found.
Until this story moves forward either by a statement from A-Rod or further news developments, this should be our last post on the matter for a little while. But in the meantime…
Submitted for your approval are two opposite views on the A-Rod steroid scandal. On the one hand, Larry Mahnken at RLYW says that A-Rod is still a Hall of Famer. On the other, Peter Abraham calls this latest development a sure sign of the worst of times of baseball and doesn't have many kind words for A-Rod.
As Monday morning dawns, where do you come out? Vote. Discuss.
Right now, would you vote for A-Rod on a Hall of Fame ballot?
While A-Rod's name, as we mentioned in the podcast, will be in the steroid-related headlines for the foreseeable future, the Gene Orza scandal should have deeper ramifications across baseball. Earlier today, Jon Heyman wrote about how the union failed to do its job.
That list would have been long gone if not for the union; according to three baseball sources familiar with the testing process, players union COO Gene Orza worked long and hard to try to pare down the list. Orza's mission, SI's sources say, was to find enough false positives on the list to drive the number of failures so far down that real testing wouldn't be needed in 2004 or ever.

Orza wanted to get the list down below the five percent threshold for testing to go away entirely. But after months of trying, Orza couldn't do it, and baseball announced that a curiously imprecise 5-7 percent of players failed the 2003 survey test, enough to ramp up the testing in 2004, much to the union's dismay.

And when BALCO investigators asked for the results of the players linked to that scandal, Orza did what came naturally to him, which was to fight. He had a history of winning his fights, so that gave him confidence that he could win this fight.

But this time he didn't win. The feds subpoenaed all the records instead of just the BALCO boys.

All 104 players who tested positive were now at risk.
If I were one of those 103 other players, I wouldn't be feeling too good about myself or the union leaders right now. This move could very well cost Orza his job, as Shysterball speculated, and the union some leverage during the next round of labor talks in 2011. If Orza, as originally reported, tipped off A-Rod to an impending drug test, the fallout will be even worse.
I can't defend A-Rod though because of Orza's ineptitude. He took steroids; he lied about it on national television; and his 40-hour silence has been deafening. Just because his name shouldn't have been associated with his supposedly anonymous sample doesn't excuse his behavior or actions. But the people he entrusted with his secrets have let him down, and that thread of this story will linger for a long, long time.
In light of the A-Rod steroids revelation, we decided to do a special edition of the RAB Radio Show. We totally winged the show, deciding that an agenda wouldn't accomplish much. This story is still very young, and there's so much we don't know (you'll notice at one point that Mike and I say "we don't know" a hundred or so times). We just thought we'd let it all out there.
People are going to get sick of talking about this soon. Some are already sick of it. By Thursday, our regular podcast date, it'll be a tired subject, so we got together to talk about it tonight, in hopes that we won't have to deal with every story on the topic from now until A-Rod issues his statement. That's really the next big thing to happen in this saga.
Oh, how could I forget to mention that we're joined this time by Ben. He provided an excellent take on the situation last night, and lends his thoughts to our discussion. If only we could have him on every week.
Onto the podcast. It is available in a number of formats. You can download it here by right clicking on that link and selecting Save As. If you want to play it in your browser, just left click the link. You can also subscribe to the podcast feed, which will send it to you every Thursday. You can also subscribe in iTunes. Finally, we have the embedded audio player below.
Audio clip: Adobe Flash Player (version 9 or above) is required to play this audio clip. Download the latest version here. You also need to have JavaScript enabled in your browser.
Podcast: Play in new window | Download (50.3MB)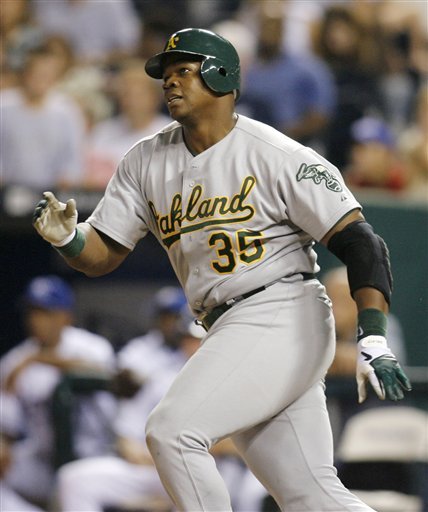 Phil Rogers of The Chicago Tribune wrote an interesting little nugget yesterday that I found at (where else?) MLBTR. Check it out:
There has been so little interest in Frank Thomas he doesn't even land in the rumors. He's not going to get ready while he's out of camp, which is why the Players Association needs to organize a spring training camp for out-of-work players. The White Sox's abandoned Tucson complex would be a perfect place.
First, let me plug this post from earlier today about Thomas. Secondly, it makes a ton of sense for the union to run something like this, especially in today's market. There's still roughly sixty free agents out there still looking for work, and a good chunk of those guys can still be assets to a MLB team and would benefit from such a camp. You could elementarily break them down into three groups:
Players hurt by the market: Bobby Abreu, Garret Anderson, Joe Biemel, Orlando Cabrera, Juan Cruz, Adam Dunn, Orlando Hudson, Braden Looper, Doug Mientkiewicz, Will Ohman, Dennys Reyes
Players looking to prove themselves coming off injury: Joe Crede, Scott Elarton, Randy Flores, Tom Glavine, Orlando Hernandez, Chuck James, Mark Mulder, Matt Wise
Veteran players looking to prove they have something left: Moises Alou, Rich Aurilia, Ray Durham, Damion Easley, Jim Edmonds, Keith Foulke, Nomar Garciaparra, Luis Gonzalez, Ken Griffey Jr., Mark Grudzielanek, Livan Hernandez, Jon Lieber, Kent Mercker, Jay Payton, Ivan Rodriguez, Curt Schilling, Rudy Seanez, Julian Tavarez, Frank Thomas, Mike Timlin, Ron Villone
Camp certainly wouldn't be mandatory, and the players would have to pay for their own living arrangements, etc. Pitchers could throw bullpens and live BP, position players could hit everyday and take fielding drills, stuff like that to help prepare them for the season and show what they have. Essentially it would just give these players a place to work out and gain exposure, while the thirty teams could go to one central place to see who could help them. They could even play a game against a club once a week or something.
I know there's a lot more that goes into this idea than I could possibly imagine, but it seems like something MLBPA should be seriously considering for it's members. Anyway here's your open thread for the night. Talk about whatever you like, just please be civil, especially when talking about A-Rod.
Photo Credit: First Base Tickets
By

I think we're all aware of how great a player Albert Pujols is. He leads the National League in the Triple Crown Categories (.334 AVG, 319 HR, 977 RBI) this century, and that's despite spotting the field the 2000 season because he hadn't been called up yet. However, as Joe Posnanski points out, we've seen this kind of greatness before, and not that long ago either. Who is it? Well, you've have to read to find out. (h/t BtB)

Fun fact: I saw this player hit a ball over the visiting team's bullpen and into the left field bleachers, just over the entrance ramp, at the Stadium about sixteen years ago. That was the first time I can remember seeing something happen in person at a baseball game that truly amazed me. It was quite the shot. · (18) ·