Back in our regular slot, Mike and I take a show full of questions from the readers. It's tough to create an agenda for the show at this time of the year, so why not let the listeners dictate it? We talk a lot about the construction of the team — center field, the Nady/Swisher situation, the bullpen. There are questions about who will win the divisions across the league. The best part: We do not really talk about A-Rod, except for a quip here and there.
Onto the podcast. It is available in a number of formats. You can download it here by right clicking on that link and selecting Save As. If you want to play it in your browser, just left click the link. You can also subscribe to the podcast feed, which will send it to you every Thursday. You can also subscribe in iTunes. Finally, we have the embedded audio player below.
Audio clip: Adobe Flash Player (version 9 or above) is required to play this audio clip. Download the latest version here. You also need to have JavaScript enabled in your browser.
Podcast: Play in new window | Download (61.7MB)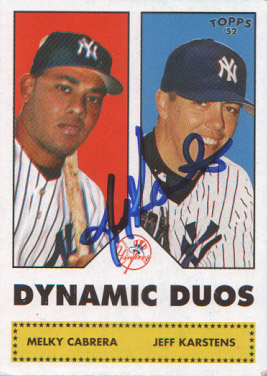 One of the most difficult parts of putting together a prospect list of any size is sorting out the back end. There always seems to be about ten or twelve players worthy of those last three or four spots, and in the end it comes down to personal preference. Do you go with the high upside youngster with little to no professional experience, or the older and more polished player on the cusp of the big leagues despite a lower ceiling? No matter which way you go there will always be someone left on the outside looking in.
Last year I prefaced my Top 30 by profiling the five players who fell just short of making the list, but I wanted to change things up this year. Instead of posting a feature on prospects 31-35, I'm going to highlight some players that didn't make the list this year, but could very well make it next year. One or two of these players were in that 31-35 range, but the rest are still too raw for me to seriously consider them for a Top 30 spot. If they develop and improve the weaker parts of their games in 2009, there's a good chance all of them will make the big boy list next year.
The good stuff starts after the jump.
By

Bud Selig is one of the bigger problems with the steroid era. While he faced a combative players association, he rarely stepped up to speak out against drugs in the game until it became a national scandal. Since then, he has never punished a suspected — or known — PED user for failing a test prior to 2004 when mandatory punishments were enacted. Today, in an interview with USA Today, Selig says that he "would have to think about" suspending Alex Rodriguez.

In a nutshell, that's a complete and utter joke. The PA would throw a fit about it, and that Selig even mentions it is reason enough for me to say he should resign. This isn't leadership; this is public grandstanding. Somehow, despite the fact that A-Rod took PEDs, lied about it on national television and chose softy Peter Gammons to interview him on Monday, the media reaction — between Roberts' book and Selig's interview — has nearly turned A-Rod into a sympathetic victim. That's as bad a reflection on the state of baseball as A-Rod's PED use six years ago is. · (59) ·
By

We're going to record today's show a little later than usual today, so you have some extra time to think up some questions. I think we're all tired of hearing about A-Rod or Joe Torre's book, so we won't be talking about either topic and will ignore any questions asked about them, so don't waste your time. Nothing personal, but we're all sick of it. Email your questions to either Joe or myself via the links on the left, and make sure you send them in no later than 2pm so we have plenty of time to get to them on the show. Thanks. · (3) ·
In one of the more even-keeled looks at the way the Alex Rodriguez PED story developed over the last few weeks, The New York Observer follows the reporting trail. While Selena Roberts broke the story, she was battling her former coworkers at The Times for the scoop, and it seemed just a matter of time before some news outlet broke the story.
The piece he assigned was not in fact this one: It was to revisit whether he actually fit in as a Yankee, and go over the last two seasons in which Mr. Rodriguez has been romantically linked to a stripper, subsequently divorced, and then linked, romantically again, to super-cougar Madonna…

There was plenty of material for a write-around. But as Ms. Roberts dug deeper into the story, she started hearing more and more credible information about Mr. Rodriguez's use of steroids. And so a magazine piece that anyone could have written became, because of careful reporting, a nice, sharp, clean news break.

It was not a fast bit of work. David Hirshey, the executive editor at Harper, an imprint at HarperCollins, remembers the call he got from Ms. Roberts' agent, Mark Reiter. "Mark told me about four months ago that Selena was deep in an investigative piece on A-Rod and she would probably need three issues of Sports Illustrated to tell it all," said Mr. Hirshey. "And that there'd be a lot of great stuff left over."

[snip]

Meanwhile, across town on Eighth Avenue, the loss was especially painful. The Times had been chasing the A-Rod story. "We were working on it for many weeks," said Tom Jolly, the paper's sports editor. "It's a story whenever there's smoke around A-Rod for a period of time, and we were chasing that smoke."
Say what you will about Ms. Roberts' opining during the Duke Lacrosse debacle, but this story was uncovered through some good old investigative journalism. Whether or not it needed to or should have been published is a debate I will leave up to you.
The kicker though isn't the way this story unfolded. Rather, it's what is going to happen next.
"The book is still a work in progress," said her book editor [David] Hirshey. "I assure you she has more drug revelations as well as other news. Not everything that Selena has on A-Rod's steroid participation has come out yet."
That's the part that worries me as a baseball fan and a Yankee fan. At this point, it doesn't really matter what further allegations Roberts' book may hold. She could tell me that A-Rod took estrogen while riding on a purple unicorn, and I couldn't care less. A-Rod's reputation is in tatters, and what he did in the past — as Mark McGwire once said — doesn't really matter anymore.
But as someone who wants to see the Yankees win and do well this year, the last thing this team needs is a mid-May publication of a book slamming A-Rod. That is, however, what awaits. Oh, how I long for the days of just last week when The Yankee Years was the worst thing surrounding this team. It is, as Derek said yesterday, always something around here.
When discussing outfield defense, there are two main factors to consider: range and arm. So often we get caught up in the range aspect of the equation, and for good reason. You can conceivably save more runs by having more range than you can by having a solid arm. That's not to say that an arm doesn't play into things. In fact, the guys at FanGraphs thought it mattered enough to come up with ARM, which means outfield arm runs. It's just another way the baseball community is improving upon defensive metrics.
You can check out the league leaderboard here. Only outfielders qualify, and beyond that it appears there's a minimum game requirement. That's per position, not overall in the outfield. We'll get to that issue in just a second. For now, let us ogle the Orioles outfield. Nick Markakis checked in second overall in the league with a 6.8 ARM, trailing only Hunter Pence (an astounding 8.6). With a UZR of 10.1, it looks like he could be the best defensive right fielder in the league. Playing to Markakis's right is Adam Jones, who checks in with a 3.2 ARM and a 10.3 UZR. With that type of production, couldn't they afford to put Adam Dunn and his -14.9 UZR and -3.7 ARM in left? I guess not. For now they'll have Luke Scott (-0.6 ARM, 4.7 UZR) and Felix Pie (0.5 ARM, -1.2 UZR in a small 2008 sample).
I first read about this at Beyond the Boxscore, where they listed the best and worst arms in the league. I fully expected Johnny Damon to be in the bottom crew, but alas he is not. Why? Apparently he didn't have enough innings at one position to qualify. That's my best guess at this point. FanGraphs' list cuts off at 43 names, all of whom had more than Damon's 659.1 innings at one outfield position. Damon did log 285 innings in center, though. Adding up his ARM stats, he's at -2.7 in 944.1 innings, which would put him at 11th worst in the league. Of course, most of the guys worse than him played considerably more innings, so when you rate out the stats (ARM/150, anyone?), he could easily look worse.
You can check out the Yanks leaderboard here. Brett Gardner destroyed everyone on the team, posting a 3.9 ARM in just 160.2 innings. One might say that's a small sample size inflating his number, but in left field he posted a 1.0 ARM over 145.1 innings. The Melk Man posted a 0.2 ARM in center, though in a much smaller sample he was far better at the corners, posting a 0.4 ARM over 18 innings in left, and a 0.5 ARM over 23.2 innings in right.
FanGraphs also released DPR, or double play runs. Their definition:
The number of runs above or below average a fielder is, based on the number double plays versus the number forces at second they get, as compared to an average fielder at that position, given the speed and location of the ball and the handedness of the batter.
Sounds a bit complex. In any case, you'll never guess who ranked among the worst in the league. Yep, Mr. Derek Sanderson Jeter. Fielding numbers are just out to get this guy. He ranked fifth worst in the league, ahead of Freddy Sanchez, Brian Roberts, Placido Polanco, and Yunel Escobar. For anyone interested, of the Yankees last year to turn in a positive DPR, only one is still with the team: Cody Ransom. The others were Morgan Ensberg, Wilson Betemit, and Alberto Gonzalez. A-Rod came in at zero.
What do these fancy defensive metrics tell us? No, they don't determine who has the best outfield arm, or who turns the slickest double play. Those we can judge with our eyes. Instead, these stats measure what happened. Who saved more runs with their arm in the outfield? ARM can tell you. Who was the best at turning double plays? DPR can tell you. They're results-oriented, not talent oriented. For all we know, Derek Jeter might turn a pretty double play. But as far as the results last year, he and Robinson Cano weren't the best DP combo in the league.
By

Both Sabernomics and The Wall Street Journal's Numbers Guy tackled the issue of the impact PED use has on a player's statistics. Both sites came to approximately the same conclusion: PED use has a very minor or nearly negligible impact on a player's overall totals. Sabernomics thinks PED use may have contributed 2.37 home runs over two seasons to A-Rod's totals, and the Numbers Guy believes that while it's hard to come up with a set number, the total impact is slight. In my opinion, statistically analysis is not the way to judge the impact of PED use rather. Rather, the drugs allow players to recovery faster and, ideally, stay healthier longer. That impact is much harder to measure. · (44) ·
Pitchers and catchers are like, forty hours away. How awesome is that?
Here's a recap of today's action from camp:
Here's your open thread for the night. The Isles are taking on the Devils in Newark, the Rangers are taking on the Fightin' Ovechins at home, and the Knicks are out playing that other LA team. Talk about whatever your heart desire, just be nice.
Opening Day is fast approaching. (Photo by flickr user Daniel, Peralta)
With the new stadium set for a Feb. 17 completion date, the construction crews in the Bronx are coming down the home stretch. Zell's Pinstripe Blog has one of the last sets of construction photos, and things look great.
We can see a shot of the new Gate 4 and a glimpse of Babe Ruth Plaza. The entrances to the new stadium look quite fancy as well.
Meanwhile, across the street at the House That Ruth Built, some initial destruction has commenced. It looks like the old ticket booths will be the first to go. As late as my senior year in high school, those tiny blue booths still sold gameday tickets. The old stadium appears to be roped off forever.