As the Joe Torre story broke a few weeks ago, news emerged that the Yanks were considering adding non-disclosure and non-disparagement agreements to their standard contracts. When Joe wrote it about at the end of January, his post generated some interesting debates over the contract provision. Many criticized the Yanks for attempting to control the P.R. spin while others approved of the term.
Today, we learn that the Yanks would not be alone in keeping a lid on the clubhouse. The Dodgers, Torre's current employer, already include a NDA in their contracts. Jayson Stark dropped this tidbit into his Rumblings & Grumblings column this week:
The Dodgers apparently have no reason to worry about Joe Torre's writing a gut-spilling, sanctity-violating book about his current team. A friend of Torre says the Dodgers included a confidentiality clause in Torre's current contract. So sadly, we'll probably never get to read the Dodgers' catchy clubhouse nicknames for Manny or Derek Lowe.
When the Yankees do it, they're accused of violating their employees' First Amendment privileges, but when the Dodgers do it, it becomes accepted industry practice and hardly registers in the news. Nope. No double standard in baseball.
By

The Yankees' defense over the past few years, perhaps over the bulk of the decade, hasn't been very good. Whether they trot out a crew of all-bat, no-D players, or whether they give playing time to guys whose D has drastically declined, the Yanks have been below-average preventing batted balls from turning into hits. Eric Seidman at FanGraphs takes a look at the phenomenon using UZR. I know that some have a problem with defensive stats, but what our eyes, or at least my eyes, saw in 2005 is consistent with the numbers. The Yanks D was terrible. Thankfully, it appears that the team will field potentially average or above average players at every position (except Jeter, of course) this year. · (88) ·
According to a report in Sports Illustrated, four independent sources have confirmed to Selena Roberts and David Epstein that Alex Rodriguez tested positive for anabolic steroids in 2003 and was subsequently tipped off to a drug test the following year. Needless to say, this will create some media circus for the Yanks and A-Rod in the coming weeks.
Roberts, a former Times columnist, and Epstein, a long-time SI staff writer, got a hold of what should have been a sealed list. The government just hasn't been very good at keeping a lid on confidential information during this largely unnecessary steroid investigation. But what's done is done, and the news does not sound good for A-Rod's image. The two write:
In 2003, when he won the American League home run title and the AL Most Valuable Player award as a shortstop for the Texas Rangers, Alex Rodriguez tested positive for two anabolic steroids, four sources have independently told Sports Illustrated.

Rodriguez's name appears on a list of 104 players who tested positive for performance-enhancing drugs in Major League Baseball's '03 survey testing, SI's sources say. As part of a joint agreement with the MLB Players Association, the testing was conducted to determine if it was necessary to impose mandatory random drug testing across the major leagues in 2004.

When approached by an SI reporter on Thursday at a gym in Miami, Rodriguez declined to discuss his 2003 test results. "You'll have to talk to the union," said Rodriguez, the Yankees' third baseman since his trade to New York in February 2004. When asked if there was an explanation for his positive test, he said, "I'm not saying anything."
According to the report, A-Rod tested positive for increased testosterone levels and for Primobolan, a hard-to-detect designer steroid that minimizes what Roberts and Epstein termed "bulk development." In other words, there's no Jason Giambi/Barry Bonds effect in play with Primobolan.
At this point, I have to assume that A-Rod has passed numerous drug tests and has been clean, but this story will still be a P.R. disaster because of a subsequent development in 2004. After A-Rod's failed test as a member of the Rangers in 2003, he may have been warned in 2004 when, as a Yankee, his name popped up on the testing rolls again. Reportedly, A-Rod is the unnamed player whom Gene Orza, COO of the players union, was accused of tipping off to an impending drug test in 2004. Si reports:
According to the 2007 Mitchell Report on steroid use in baseball, in September 2004, Gene Orza, the chief operating officer of the players' union, violated an agreement with MLB by tipping off a player (not named in the report) about an upcoming, supposedly unannounced drug test. Three major league players who spoke to SI said that Rodriguez was also tipped by Orza in early September 2004 that he would be tested later that month. Rodriguez declined to respond on Thursday when asked about the warning Orza provided him.
Who knows what this will do to the Yankees? Who knows what this will do A-Rod and his reputation? People tolerated A-Rod because everyone always just assumed he was clean. At this point, it's hard to believe that any player was truly off steroids. For the sake of the Yanks, I hope this blows over, but I, for one, am not too optimistic.
By

Just a quick heads up: you can still buy game used Staten Island Yankees jerseys over at Baby-Bombers.com, at reasonable prices too. There's even a select few game used Trenton Thunder unis available. They've got jerseys from players like Dellin Betances, Steve Karsay, Octavio Dotel, Ian Kennedy, Shelley Duncan, Chase Wright, Jose Contreras, Wilkins DeLaRosa and tons more. Give it a look. · (2) ·
Okay fine, he didn't say exactly that. Joba did talk about the whole starter or reliever thing however, and says he's (heh) relieved to be starting:
The GM told the phenom to prepare over the winter to be in the Yankee rotation.

"That was a little calming to me because I know I'm going into that," Chamberlain said Friday after throwing a bullpen session at the Yankees' minor-league complex. "Physically, you're not going to do anything differently, but the game is so hard mentally that it was nice to know that.

"You just prepare like you're going to get 30 starts and pitch 200 innings. That's my mindset and I got into it early."

[snip]

Chamberlain's off-season fitness program paid special attention to strengthening his shoulder, he said.

Friday, all appeared well during an easy bullpen session. He threw 30 pitches – all fastballs and changeups – and said he'd be ready to throw his breaking pitches in his bullpen session Monday.

"Everything's going good, just the few kinks you get in your first bullpens," said Chamberlain, who has thrown four sessions since he arrived in Tampa last week. "You work on repeated your mechanics. But my arms, my legs, feel really good."
This is an understated part of this whole thing. The preparation needed to go into a season as a starter is different than the prep needed to relieve. I think the most interesting thing CC Sabathia said during his press conference was that physically he had no problems starting on three days rest down the stretch for Milwaukee last year, it was all the mental preparation that wore him down. If Joba approaches his innings limit and the Yanks can't afford to just shut him down, then move him to the pen. I think the going from reliever to starter nonsense has to stop.
Also, I feel inclined to link to this.
By

One of the most common Spring Training cliches is "[insert player here] worked all hard all summer and is in the best shape of his life," but how often is it true? Not often. Well, Nick Swisher reportedly lost sixteen pounds this offseason, ironically by incorporated chocolate milk into his post-workout regiment. Based on the photo in the linked article, it looks to be legit (here's last year's slightly thicker version of Swish). Reliever Brian Bruney also reportedly shed sixteen pounds off his frame this winter, which supposedly puts him under 220 lbs for the first time since high school. There's no picture to verify Bruney's new physique, but I'll give him the benefit of the doubt after all the weight he lost last offseason. I'm sure Joe Girardi will be pleased. · (27) ·
How many of you were around in the days of Friday Randomness? That's old school right there baby. Remember your roots.
On to the links:
Boy does that bring back memories. I wish I had done this earlier in the offseason, it could have been a weekly thing. Anyway here's your open thread for the evening. The Rangers are in Dallas (hopefully they won't come back with Sean Avery), the Devils are in Atlanta, and the Knicks get a visit from the Celtics. Venezuela will look to remain undefeated in the Caribbean World Series tonight when they take on Mexico. Anything goes, just be nice.
In his latest Rumblings & Grumblings column, ESPN.com scribe Jayson Stark takes a look at the state of the free agent market. With just a week left until Spring Training, some big names — Manny Ramirez, Bobby Abreu, Adam Dunn, Orlando Hudson, Juan Cruz — remained unsigned, and the excuse that any or all of these players hurt team chemistry doesn't really fly.
But that's not important right now. In the column, Stark gives us a tidbit about Nick Swisher and the Braves. It's the rumor that just won't die. He writes:
In the meantime, the Braves seem to have emerged as the club most interested in Yankees outfielder Nick Swisher. But there are indications the teams got hung up when the Braves asked the Yankees to eat some of the $22.05 million Swisher has coming over the next three years — and got turned down flat.
When push comes to shove, I'm going to bet on "no deal" here. The Yanks have no incentive to trade Swisher — or Xavier Nady, for that matter — for anything less than what they want. Doing so would in fact weaken the team's bench. If the Braves won't give up the prospects or money for him, the Yanks may very well be better of for it.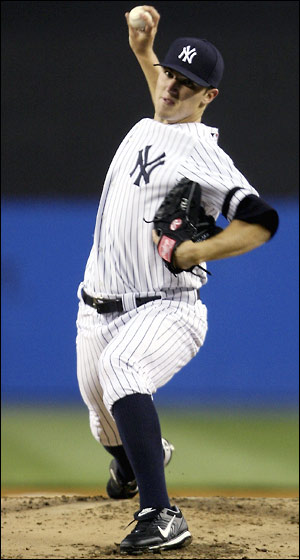 The start of the 2008 season was an exciting time for us Yankees fans. The team had two young and talented pitchers in the rotation for the first time in a long time, and a third in the bullpen that was slated to join the other two in the rotation later in the summer. Of course things didn't go as planned, as Phil Hughes and Ian Kennedy struggled before getting hurt, then Joba Chamberlain joined them in the infirmary after successfully making the transition to the rotation. Other than being young and being Yankees, those three guys don't have much in common. They're three different kinds of pitchers with three different body types and three different development tracks, yet they all got hurt, albeit in different ways. Why is this?
Enter former A's and Mets' pitching coach Rick Peterson. Peterson and Gary Armida, author of Full Count Pitch, sat down and talked about the epidemic of young pitchers getting hurt (h/t BBTF). The article starts with Peterson stating the industry in general has been slow to react to all the injuries, and that the focus needs to be shifted from "rehab to prehab." Amateur coaches (going all the way back to little league) don't have enough information about the proper way to develop young pitchers, which has been a major contributor to the explosion of pitching injuries.
Aside: While I agree that amateur coaches don't have enough info, we also have to remember that their job isn't to develop players, it's too win. Why should Tony Gwynn (coach at San Diego State) take it easy on Steven Strasburg, the likely first overall pick in the 2009 draft? The team that drafts Strasburg isn't paying Gywnn, the school is, and that's who he has an obligation to. It's his job to do what's right for the university, not what's in the best interest of Major League teams. It's a grey area, and we have to remember that the vast majority of college pitchers will never throw a professional pitch, let alone a big league pitch, so is it right to treat the true prospects differently than everyone else?
The article then goes on to list the three root causes of arm injuries. I'm going to quote at length, so let's add a jump to keep from overflowing the front page.