By

Following up on my Congressionally inspired rant, we learn that Congress will not summon A-Rod to D.C. Edolphus Towns, Henry Waxman's replacement atop the House Committee on Oversight and Government Reform, put his rank-and-file members back in their places today when he said that his staff will continue to work on the economic recovery plan and will not ask A-Rod to talk about six-year-old PED tests.

In other PED-related news, Marvin Miller, the godfather of the Players Association, criticized, well, everyone today. He says that the PED revelations are part of a modern-day witch hunt and that the union caved in accepting the stringent drug tests a few years ago. Finally, Miguel Tejada will plead guilty to a perjury charge. · (38) ·
By

Over at The Hardball Times, Josh Kalk used PITCHf/x data to take a look at pitch sequencing and tries to figure out why guys with great stuff might not get the results a guy with fringy stuff does. That data reinforces the old adage that everything in baseball revolves around the fastball, and shows just how devastating the splitter can be. Make sure you check it out, very interesting stuff. · (10) ·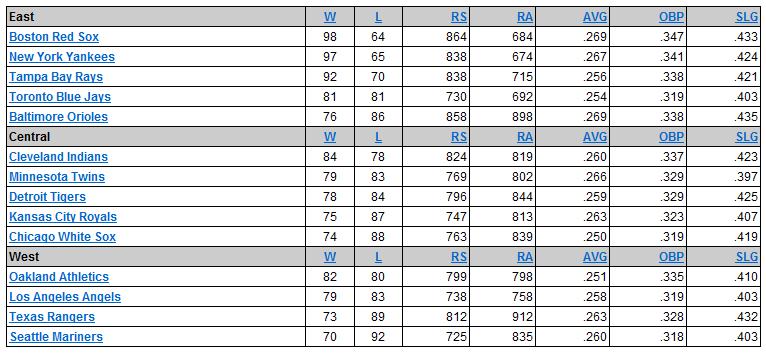 (click chart for a larger view)
Baseball Prospectus released their 2009 projected rankings yesterday, and sees the Yanks finishing second in the AL East behind the BoSox. PECOTA has the Yanks finishing 97-65, just one game back of the Sawx, but more importantly it projects the Yanks to have the best pitching in the majors. Their 674 projected runs allowed is ten runs better than Boston's, but what scares me is that the four best pitching staffs in the AL – and four of the five best staffs in the bigs – reside in the AL East. That's kinda crazy.
Based on these projections, the Yanks would finish with the second best record is baseball, although they'd have to settle for a Wildcard spot for the second time in the last three years. That's fine with me. Get in however you can, and I'll take my chances with a rotation of CC Sabathia, A.J. Burnett, Chien-Ming Wang and Joba Chamberlain in a short series. You can see the NL projections here.
Here's your open thread for the evening. The Islanders and Nets are playing at home tonight, and the Knicks are out in Oaktown. Anything goes, just be be nice.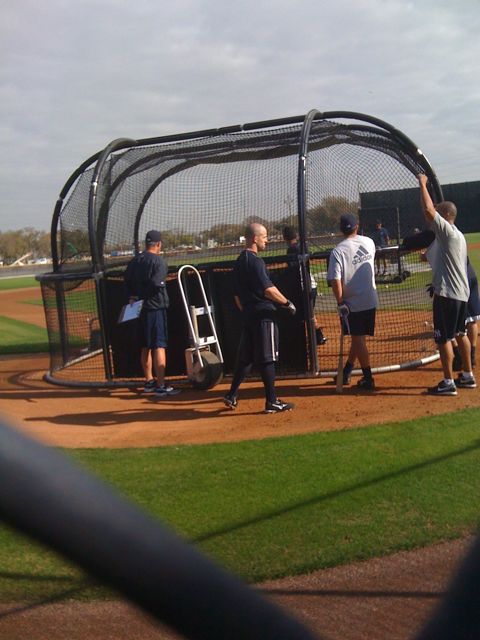 It's a beautiful thing, ain't it? Yankees' players on the field, taking batting practice, playing catch, getting work in … it's exactly what we need to see right now. Pitchers and catchers aren't due to report for another four days, position players not for another seven days, yet there's still a nice group of players in camp early and working out.
Mike Rose of Newsday noted that two of the players out playing catch in the outfield were Mark Melancon and Phil Hughes. Man, how much are you looking forward to seeing Melancon nail down wins for Hughes for the next decade? Rose also noted that Brett Gardner (who you can see in the pic above), Derek Jeter, Jorge Posada and Nick Swisher were taking BP. Joe mentioned earlier that Posada's rehab from shoulder surgery is going well, though he won't be ready to catch when exhibition games begin. Good to see he's healthy enough to at least take some hacks.
Getting back to Swisher, PeteAbe has a shot of him taking BP, although it's not the best picture in the world and we'll have to take Pete's word for it. Last I heard Swisher lives out in Arizona (where the A's and ChiSox hold ST), so it's awesome to see him at camp early. As you may remember, Swisher lost some weight this winter. Pete also noted that Chien-Ming Wang is in healthy and in the house. That's UUUGE.
Over on the minor league side, Chad Jennings touched based with Mark Newman and got a bunch of info about the Triple-A rotation, veterans on minor league deals, Eric Fryer, JB Cox, Colin Curtis, Alan Horne, and lots more. Make sure you check it out.
Other than Gardner pledging his undying support, no one really bothered to comment on A-Rod. Can you blame them?
Oh boy, baseball's almost back.
Photo Credit: Pete Abraham, Journal News
By

The crew over at Camden Depot (an O's blog, obviously) posted their list of the Yanks' top twenty prospects, starting with Austin Jackson and Jesus Montero on the 1-2 spots. Everyone has their own preferences when it comes to ranking prospects, and it's pretty easy to see that the guys at C-Dep like upside. I'm putting the finishing touches on my Top 30 list (which will be posted Friday), and just for comparison's sake, there's four players in their Top 20 that didn't crack my Top 30. Check it out. (h/t MJ for the email) · (50) ·
One of the keys to the Yankees offense in 2009 will be the recovery of Jorge Posada. We saw last year just how much the team misses him when he's out of the lineup, and adding even the 2006 version of his bat to the already powerful lineup can make a huge difference in how the season plays out. He's coming back from major shoulder surgery, so his ability to stick behind the plate all season, or even for 100 games, has come into question. Thankfully, it appears he's progressing nicely.
He made 140 throws yesterday, backing up to incrementally increase the distance. That sounds like a good number of tosses for a guy who had his labrum repaired in late July. It might not give us an indication of whether he'll be ready to squat behind the plate on Opening Day, but at least we know he's making these throws with few, if any, complications.
"I feel good," he said about an hour after completing the exercise and taking batting practice with fellow early campers Derek Jeter, Nick Swisher and Brett Gardner. "I'm coming along. Every time I throw, I feel good. I'm improving every time I throw, so that's always good."
As Jorge notes, improvement is certainly the key here. Brian Cashman has already said that Posada won't be available to catch at the start of Spring Training, which is fine so long as he's building up strength in the shoulder. As he gets better he'll get closer to being game-ready. That's all we can really ask at this point in his rehab. His answer to the question of being ready for April 6, "I think so," might not inspire a ton of confidence, but news on his progress does, at least for me. It can't be easy to come back from shoulder surgery, so I'm just glad Jorge's on the field.
By

Over at Fack Youk, a young blog which in some roundabout way covers the Yankees, they're counting down the days to Spring Training by the numbers. Sunday's, #5, was obviously Joe DiMaggio. You can also check out the entire countdown, which includes some pretty nice write-ups. It's definitely something to keep our minds off this whole A-Rod fiasco. · (9) ·
Who didn't see this one coming? Per Jim Baumbach:
Rep. Elijah Cummings (D-Md.) plans to recommend to the head of the congressional committee that has previously hosted baseball players that A-Rod receive an invite to testify about his steroid use, Cummings told Newsday last night.

"I think we're going to have to see what Rodriguez will tell us," Cummings said in a phone interview.

"He is in a confessing mode, so maybe he needs to put his apology into some meaningful action by cooperating with the committee so we can see if there are things we need to reopen to make sure baseball is doing all that it can to rid itself of this kind of practice."

[snip]

Cummings said last night that he is pleased Rodriguez admitted his steroid use in the wake of the Sports Illustrated report that he failed a steroid test in 2003. But Cummings said he was troubled when he heard Rodriguez's reasoning for taking illegal performance-enhancing drugs beginning in 2001.

"When he says in his admission that he knew he was viewed as a top player making all this money but he needed basically some backup so he can make sure he reached his goals, it sounded like somebody who was trying to catch up with a reputation that had preceded him," Cummings said.

"When I heard that, I could not help but think of the scrawny kid who doesn't have a reputation. What about them? Or the kids that are very talented. They see a Rodriguez who commits a crime — it is illegal to do what he did — and who basically violates policies of the game and gets rich."
Oh, please. Talk about a self-serving politician. Elijah Cummings is sooooo concerned about the kids that he wants to get on TV when A-Rod comes to Washington. Think of his reputation the children.
Remember: Cummings would be quizzing A-Rod on a failed drug test from 2003 and PED use from 2001-2003. If Congress gets to revisit baseball's bad decisions from seven years ago, can we revisit Congress' bad decisions from the same time period?
This is grandstanding at its finest, and while A-Rod will appear before a House committee if he is subpoenaed, it will simply allow a bunch of politicians to have their day in the A-Rod spotlight and nothing more. Are we done now that Congress has yet again poked its nose unnecessarily into baseball's business?
When I arrived in Texas in 2001, I felt an enormous amount of pressure. I felt like I had all the weight of the world on top of me, and I needed to perform, and perform at a high level every day.
Back then, it was a different culture. It was very loose. I was young. I was stupid. I was naive. And I wanted to prove to everyone that, you know, I was worth being one of the greatest players of all time. And I did take a banned substance. You know, for that I'm very sorry and deeply regretful.
Forty-eight hours ago, as the Yankees' little A-Rod-centric universe was seemingly crumbling around itself, I was deeply, deeply disappointment in someone I had assumed was above it all. A-Rod was good ol' natural talent, and he didn't need any of That Stuff. Talk about naivete.
Today, I'm still disappointed. Baseball hasn't been pure for decades, and now we'll have to wait another generation for the game's savior to show up. But after watching A-Rod's seemingly sincere — if well-rehearsed — national apology tonight, I'm willing to forgive — but not to forget — and move on.
Rodriguez's apology tonight was exactly what he needed. He came as clean as he could considering the circumstances and came across as deeply sorry. Perhaps A-Rod was, as Rob Neyer cynically wrote, sorry that he was caught, but no matter the underlying emotion, he was utterly sincere tonight.
From the get go, A-Rod framed this apology around himself. He felt the pressure to perform, and we all know what happens to A-Rod under pressure. No one in baseball, it seems, is more insecure considering the talent, and it sounds like A-Rod, around the same age as Joe, Mike and I when he arrived in Texas, felt the weight of the baseball world and $250 million on his shoulders. Surrounded by old-timers such as Juan Gonzalez, Rafael Palmeiro and Ivan Rodriguez, Mitchell Report boldfaced names, A-Rod caved.
That's the thing. Again, it was such a loosey-goosey era. I'm guilty for a lot of things. I'm guilty for being negligent, naive, not asking all the right questions. And to be quite honest, I don't know exactly what substance I was guilty of using…
It wasn't until 2003. I was laying in my bed in Surprise, Arizona. We were doing a team conditioning down by the pool in Arizona. And I suffered a very serious neck injury that went all the way down to my spine. I missed about 2½ weeks of spring training, and I was scared I was going to miss time…
It was time to grow up, stop being selfish, stop being stupid and take control of whatever you're ingesting. And for that, I couldn't be — I couldn't feel more regret and feel more sorry because I have so much respect for this game, and, you know, the people that follow me and respect me. And I have millions of fans out there that are, you know, will never look at me the same.
On top of the sincerity, A-Rod has shown that there is no such thing as a smart baseball player. I can hardly say I'm surprised. In his interview with Peter Gammons, A-Rod noted that he didn't know what substances he was using and he barely knew from whence they came. Skeptics will raise an eyebrow and wonder what athlete would put something in his body without knowing what it is.
To them, I say what athlete wouldn't if someone else told them how great it was? I have been around collegiate athletes; I've been around gyms. I see how people take supplements without doing much research. If the label says it's good, if your buddy says it works wonders on your recovery time or your biceps, it's a lot harder to say no. Add in a few hundred million dollars, some fawning coverage of Mark McGwire, Sammy Sosa and, in 2001, Barry Bonds, and it all adds up to PED use in the mind of a susceptible 26-year-old.
That is of course no excuse; it's just stupidity. It was stupid of A-Rod to take something without knowing what it was. It was stupid of every baseball player who's done that. But since then, A-Rod has developed a reputation for his near-robotic work-out pace. He carefully metes out his diet. He no longer breaks the rules, and while Joe Torre might considering him a fraud because of it, it sounds like his teammates trust him now, six years after he failed the test.
At the time, I wasn't even being truthful with myself. How can I be truthful with Katie or with CBS?
A few years later, when he sat down with Katie Couric, he again was stupid. He lied to her on TV, but unlike Joe Torre, A-Rod wasn't about to break that clubhouse vow. If he told her the truth on national television, it would have been a disaster, and he wouldn't have been able to avoid throwing half of baseball under the bus. Maybe I'm rationalizing, but for the good of the game, this revelation and subsequent damage control-cum-apology worked out better.
Look, I think New Yorkers like honesty. I think they like people that say the truth. I also think they like great players that know how to win. And I think winning's the ultimate medicine we can take here. If we can win a championship, if we can play well, if we can play well down the stretch, I think New Yorkers love to forgive you.
And right now, I made a mistake. I was stupid. I was an idiot, all these things. And I think New Yorkers can probably relate with that every once in a while. And I think they want to see me, now that I've come forward, continue and, like with Andy Pettitte, be a great player again.
When all is said and done, it simply boils down to winning. I have to believe A-Rod when he says he's been clean and has been tested since 2003. Imagine the blowback if he were caught lying about PED use on national television again. So to be redeemed, at least in the eyes of the Yankee fans, A-Rod just has to go out and do what he does. He has to hit; he has to play hard; and he has to lead the Yanks.
What he did will never be okay, and he'll have to live with the consequences of that decision for the rest of his career and his life. I'll remain disappointed and disillusioned. But I believed him enough to get ready to move on. Be clean. Play hard. Win. That's how A-Rod can win back those fans willing to be won back.
A few hours after A-Rod's ESPN interview with Peter Gammons in which he admitted to performance-enhancing substance use from 2001-2003, the Yankees and the MLB Players Association have responded in turn.
The Yankees are standing by their man:
We strongly believe there is no place in baseball for performance enhancing drugs of any type, and we support the efforts of the Commissioner to continually improve the testing process.

We urged Alex to be completely open, honest and forthcoming in addressing his use of performance enhancing drugs. We take him at his word that he was. Although we are disappointed in the mistake he spoke to today, we realize that Alex—like all of us—is a human being not immune to fault.

We speak often about the members of this organization being part of a family, and that is never more true than in times of adversity. Alex took a big step by admitting his mistake, and while there is no condoning the use of performance enhancing drugs, we respect his decision to take accountability for his actions. We support Alex, and we will do everything we can to help him deal with this challenge and prepare for the upcoming season.
The Players Association leaders were more defensive, but they had to be. Their leadership has been accused of ineptitude, negligence and illegal actions. They explain why the anonymous tests were not destroyed and reiterate the claim that Gene Orza has never warned anyone of an impending steroid test. After the jump, their statement.