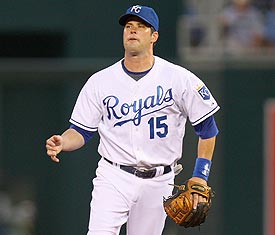 For the bulk of last month and all of this month, much of the talk in Yankeeland has revolved around the bench. The conversation tends to tip this way in the winter months, after the big signings have been made and the team is in what Brian Cashman calls "nonroster invitee mode." This is actually good news for the bench, since teams can find undervalued players who can take on a utility role. These are no-risk moves that can bring decent rewards if the player pans out and can handle a part-time role. Yet there's one name I can't help but notice on the free agent list, who likely wouldn't take a non-roster invite deal, but could immensely improve the Yankees bench.
Not only has Mark Grudzielanek not signed yet, but I can't remember hearing his name mentioned this winter, at least since he rejected the Royals offer of arbitration. This is actually a bit strange, since he'd probably sign at a reasonable salary, and provides good defense and a decent bat for a middle infielder. Plus, he doesn't cost the signing team a draft pick. If there are any teams actually interested in Orlando Hudson, I don't know why they wouldn't look to Grudz first.
The downsides of Grudz seem to wash with the upsides. He will be 39 in June, meaning he's susceptible to decline. He also missed the last two months of the season with a torn deltoid ligament in his right ankle. Yet in the later stages of his career he's put up fine numbers for a second baseman, and according to his UZR, he's been at least a decent defender since they started tracking the stat. Not sure how he'd do at shortstop at this stage, but he can probably play it in a pinch. He might even be able to play it as well as Angel Berroa.
Why would Grudzielanek, a starter his entire career, want to back up the Yankees infield? He wants to win. The Yankees present him an excellent chance to do just that. It would come at the sacrifice of playing time, so it's a matter of whether that's worth it to Grudz or not.
At this point he's probably still waiting around for an offer to start comes around, but as we get closer to Spring Training he might change his tune. If he was willing to play for a mediocre team he could have just accepted arbitration from the Royals and took home at least $4.5 million. Maybe Philly makes him an offer and he goes there because of their uncertainty with Chase Utley early on and Pedro Feliz all the time. But if he ends up signing as someone's utility infielder, I'd prefer it be with the Yankees.
Photo: Getty Images
By

As you know, the Yankees play a number of games which are broadcast on My9. These games often fall on Friday nights. Also appearing Friday nights on My9: WWE Friday Night Smackdown. Now, I remember back in the day when the WWF (oops) was preempted on the USA network for the Westminster Dog Show, so the Yankees have to prevail in a broadcast conflict, right? Yes they do. As it stands now, My9 will broadcast the Yanks on Fridays June 26, August 28, and September 25. Smackdown will be delayed, though My9 will show it in its entirety on Saturday. · (36) ·
USA Today ran an article today that basically amounts to 100 young players you need to know for 2009. David Price predictably topped the list, and was followed by Travis Snider of the Jays and Chris Davis of the Rangers. Three Yankees made the list:
35. Brett Gardner, OF, Yankees: Right now, Gardner is stuck in a five-man logjam in the Yankees outfield. Things could clear up for him (a trade of Xavier Nady or Nick Swisher, further club dissatisfaction with Melky Cabrera) or get more crowded (Jorge Posada forced to DH, pushing Hideki Matsui into the outfield mix). Gardner, 25, gives the Yankees a needed burst of speed (he stole 13 bases in 14 tries) and does the little things well, but will need to hit more — maybe a lot more — to get playing time.

84. Austin Jackson, OF, Yankees: The weak link in the Yankees' lineup, at least offensively, is center field, where either Brett Gardner or Melky Cabrera is likely to be on opening day. By some point later in the season, it's not an unrealistic scenario that Jackson, 22, could be there. He is speedy with the ability to hit for average like Gardner but has more power. Cabrera can do similar things as Jackson offensively but slumped terribly at the plate last year. If Cabrera slumps again, Jackson will be a call away in Class AAA.

97. David Robertson, RHP, Yankees: Robertson, 23, emerged as a steady big-league bullpen option, then hit the wall with an 8.18 August ERA and was sent back to Class AAA. He throws hard enough to be a factor again this season, if not immediately.
These lists are very tough to put together, because you're not ranking guys based on who's the best player or prospect, you're ranking them based on who will have the biggest impact in the big leagues this year. That said, David Murphy (#11) over Colby Rasmus (#12) is laughable.
Couple other quick comments: Clayton Richard (#17) is way too high, Tommy Hanson too low (#34), and JA Happ (#95) extremely too low. I'd have Happ in the top 25, ditto Hanson. I love me some Jason Motte too (#25), dude had 126 strikeouts in 76.2 IP between Triple-A and the bigs last year. And I'm sorry, if you're going to include guys like Jess Todd, (#44) Adam Miller (#45), Scott Elbert (#50), and Phillippe Aumont (#72), then you have to include Mark Melancon. That's just crazy.
Anywho, there's your open thread for the night. The Nets are in D.C., and the Knicks are getting visit from LeBron. Anything goes, just be nice.
Photo Credit: Al Tielemans, SI
The Tampa Bay Rays surprised us in 2008. Most of us knew that they had plenty of talent in the pipeline, and that in the next few years it would all come together to make them contenders. Few thought that would happen last year. Yet they ended the season with the second best record in the AL and beat out the Red Sox (and the Yankees) for the AL East title. It seems we get a bit of a surprise every year, so Tom Verducci wonders who it will be in 2009.
Verducci begins by discussing the criteria of a breakout team. First and foremost, they had to have losing record the previous year. He notes that 29 of 112 playoff teams since 1995 have had a losing record the previous year. Not only that, but 11 of the last 13 to do it had a record lower than their Pythagorean record. Run prevention is also more important than run production for these teams. Verducci notes that the 2007 Rays scored more runs than the 2008 Rays. In fact, no turnaround team this decade has done so without improving their run prevention from the previous year. Finally, teams with 98 or more losses are basically beyond hope, as the '99 Diamondbacks have the biggest turnaround, having lost 97 games in 1998 before making the playoffs in '99.
Finally, onto his picks.
Detroit Tigers. Really? Didn't Verducci just talk about the value of run prevention? I suppose it's tough to do worse than they did last year in that department, as they were third worst in the AL, posting a 4.90 team ERA. True, they could see a rebound from Verlander, which would help. On the other hand, their best starter in 2008 was a 26-year-old who doesn't exactly have a stellar minor league record. Their bullpen is still a huge question mark, too. So they'll need a bounceback from Verlander, an improbable repeat from Galarraga, a complete comeback from Dontrelle Willis, a solid showing when Jeremy Bonderman shows up, and some solid work out of Nate "6.35 ERA and they let me pitch 168.2 innings" Robertson. I'm not placing any bets here.
Braves. Great choice. They've added two quality pitchers in Javy Vazquez and Derek Lowe, plus Japanese import Kenshin Kawakami. They've got some arms on the farm, too, in case something goes wrong with their 2008 ace Jair Jurrjens, or if Kawakami ends up being spelled I-G-A-W-A. They could use some help with the bats, sure. As far as run prevention goes, they took definite steps to improving their 4.46 team ERA, which ranked 12th in the NL (though they were within 0.1 of being eighth).
A's. This is a tough call. Their offense looks pretty set with the additions of Jason Giambi and Matt Holliday. The left side of their infield is still well below average unless Eric Chavez decides that he's healthy and ready to hit, and even then they have a hole at shortstop with Bobby Crosby. On the run prevention side they'll have a tough time improving on their 4.01 team ERA (5th in the AL). They've got a number of options should a starter fail, but there's no big-time talent like Rich Harden or Dan Haren among them (at least that I'm aware, unless you're counting Brett Anderson, who is only 21 years old). So why do I think they can be a turnaround team? Billy Beane obviously spent a lot of time tinkering and creating the team the way he wanted. He's got a number of options. Plus, the Angels did nothing to improve their team this off-season.
Orioles. Seriously? At least 'Ducc admits it's virtually impossible: "Realistically, they have no shot at the playoffs, not in the AL East." So why did he even bother to add them? Yes, they're building a quality team and I certainly trust them in the hands of Andy MacPhail. They're not going to be as bad in 2009 as they were in 2008, but the competition ahead is still stiff. It would take some major issues from the three top teams in the division for the Orioles to even have a chance. I do think, however, that they'll put the Jays in the cellar this year (and considering the Jays had the best team ERA in the AL last year, that's saying a lot for the competition in the AL East).
A surprise team doesn't have to be a winner, though. In 2007 we saw the Chicago White Sox go 72-90 after having the inverse record in 2006 and winning the World Series in 2005. In 2008 that was the Detroit Tigers, who made it to the Series in 2006 and finished with an 88-74 record in 2007. They had an inverse of their 2007 record in 2008. So who are my fall-off-a-cliff candidates for 2009?
Mets. Yes, they improved one of their biggest 2008 weaknesses, the bullpen, in a big way. The rest of the team has issues, though. Their starting outfield is Fernando Tatis, Carlos Beltran, and Ryan Church. That's not bad, but it also contains two guys who didn't get to 350 at bats last year. That means Nick Evans will get some time out there, and he's anything but a sure thing. They'll need another big year from Carlos Delgado, and at 37 years old that's a big question. In the rotation they have Santana, which is a force you cannot deny. Beyond that they have a guy who walked 105 hitters last year (and who was league average in overall performance), a guy who saw a 48-inning increase over his previous year, a guy coming off rotator cuff surgery, and Tim Redding. There's potential for a fall there, especially in the NL East.
White Sox. They have so many questions. Who plays center, and can he be league average? Can Alexei Ramirez post a league-average OBP (and can he not get caught in 9 or 22 steal attempts?), can Konerko have a full, quality year as he did in 2007? Can Josh Fields handle third? Can one of their prospects handle second? Can Bartolo Colon hold up over the course of the season? Can the Sox find a useful fifth starter from their internal options? Was 2008 Gavin Floyd for real? I'm not saying these will all go wrong for them, but I think they're deep questions that could lead to a team with some serious flaws.
Dodgers. If they bring back Manny, I suppose the story changes. However, if he walks they might have some problems in the West. Not that their peers have improved substantially. But the Rockies and Giants have decent-looking teams, as do the Diamondbacks. In any case, an infield of Casey Blake, Rafael Furcal, James Loney, and Blake DeWitt doesn't sound too inspiring, especially when you start to think about injury issues. They'll also be heavily reliant on youngsters in their rotation, and a repeat performance by Hiroki Kuroda.
Brewers. A 90-win team in 2008 likely won't be in 2009. We know of their losses this off-season, and it was all on the run-prevention end. If they get Sheets back and he's healthy they'll have a shot in the central, or at least at the Wild Card. Absent that, though, they're looking at Yovani Gallardo as their ace, followed by Jeff Suppan, David Bush, and Manny Parra. Yeah, Sheets would help a lot.
This is a profile of Yankees relief pitching prospect Mark Melancon. To find out the latest news on Melancon click here.
Mark Melancon | RHP
Background
Melancon was born in Wheat Ridge, CO and grew up in nearby Golden, just outside of Denver. He attended Golden High School, where he lettered all four years in baseball and basketball and three times in football. He helped capture the National Championship in baseball, winning the clinching game after doubling off Ian Kennedy earlier in the double elimination tournament. Melancon was named to the All-State Team twice in his career (as well as twice in football and once in basketball) and graduated as a member of the National Honors Society.
Despite being rated the third best prospect in the state by Baseball America, Melancon was not a major prospect for the 2003 Draft. The Dodgers grabbed him the 30th round, adding him to a haul that included Chad Billingsley, Matt Kemp, Russ Martin and Andy LaRoche. Melancon didn't sign, instead following through on his commitment to The University of Arizona.
By

Via Sam Borden, the Yanks have acquired minor leaguer Eric Fryer from the Brewers in exchange for Chase Wright. Fryer was the Brewers' 10th round pick in 2007 out of Ohio State, and last year hit .335-.407-.506 for Low-A West Virginia while spending most of his time in left field. He didn't make the Brewers' top 30 prospects in the 2009 Prospect Handbook. When Wright was designated for assignment to make room for Andy Pettitte on the 40 man roster last week, the Yanks had ten days to trade the lefty before exposing him to waivers. Teams don't have much leverage when trying to trade DFA'ed players, so this is the typical return you can expect. · (134) ·
The Yanks may have won the winter, but it didn't come cheap. Speaking at a charity event last night, Brian Cashman addressed the Yanks' off-season spending and said that the team is done with the big contracts this year.
David Waldstein from The Times covered the Yankee GM's appearance:
Cashman spoke for nearly two hours to a capacity audience of 164 people at the Jacob Burns Film Center on behalf of Ed Randall's Bat for the Cure foundation to benefit prostate cancer research. He talked at length about George Steinbrenner, Manny Ramírez, the 2004 collapse against the Red Sox, the Yankees' center-field situation and past failures regarding pitching and minor-league development…

Regarding the current Yankees, Cashman said he was looking only to sign some nonroster invitees to spring training, and did not expect any major moves between now and the beginning of camp. "I fully expect to go to spring training with what we've got," he said. "And that's a good thing."

Cashman took a question about why he was not pursuing Ramírez, and he said that he simply could not afford it after spending so freely during the off-season. "People expect us to get in on Manny, but it's not going to happen," Cashman said. "We're in the nonroster invitee mode…He's a great player, but when you look at our payroll, we're tapped."
Considering how the Yanks' payroll appears to be right around $192.5 million heading into Spring Training, Cash's words ring true. This time, there will be no stealth, 11th-hour signing of Manny Ramirez, and as Scott Boras and the Dodgers square off, Manny is in danger of losing his negotiating leverage.
Meanwhile, with the Yanks committed to their current roster, that means the starting center fielder come Opening Day will be either Melky Cabrera or Brett Gardner. Cashman expects the two to fight it out and egg each other on this season. I'd be more comfortable with a better player anchoring that spot.
But that's that. Now bring on Spring Training.
By

"… but that doesn't mean you're going to win the summer when it counts." That quote came from this Don Amore article, which follows a breakfast Brian Cashman recently had with Connecticut Chamber of Commerce. Cash spoke primarily about the team's offseason while avoiding Joe Torre's book like the plague (can you blame him?). The most interesting point he touched on were the adjustment periods that CC Sabathia, AJ Burnett and Mark Teixeira would need now that they're coming to New York, and how Joe Girardi will be better after all the experience he gained last year. It's a quick and interesting read, so make sure you check it out. (h/t Sam Borden) · (43) ·
2009 Payroll
| Player | Sal. |
| --- | --- |
| A-Rod | $32 |
| Sabathia | $14* |
| Teixeira | $20** |
| Jeter | $20 |
| Burnett | $16.5 |
| Mo | $15 |
| Jorge | $13.1 |
| Damon | $13 |
| Matsui | $13 |
| Swisher | $5.3 |
| Wang | $5 |
| Marte | $3.75 |
| Nady | $6.55 |
| Cano | $6 |
| Molina | $1 |
| Bruney | $1.25 |
| Melky | $1.4 |
| Pettitte | $5.5 |
| Total | $192.35 |

* $9 million bonus
** $5 million bonus
Depending on how exactly the Mark Teixeira and CC Sabathia signing bonuses count against the payroll, that $192.35 million could turn into $206.35 million. That covers 18 of 25 players, leaving seven roster spots to players who will presumably make under $500,000 each. Even factoring in the $500K, that means another $3.5 million, bringing payroll to $209.85, or right in line with 2008.
That would seem to be the Opening Day figure, though the Yankees do owe a bit more money elsewhere. For starters, they need to pay a certain minimum to all players on the 40-man roster, though that's won't bump up the value too much. There's also the million or so owed to Andrew Brackman, and the $4 million owed to Kei Igawa. Plus, if a player hits the Major League disabled list, they'll call up another player, who will get a prorated portion of the league minimum salary.
We can start to form a better picture of the Yankees salary situation into the future as well.
Yankees Future Payroll w/ Tex
| | | | | | | | | | |
| --- | --- | --- | --- | --- | --- | --- | --- | --- | --- |
| | 2009 | 2010 | 2011 | 2012 | 2013 | 2014 | 2015 | 2016 | 2017 |
| A-Rod | 32 | 32 | 31 | 29 | 28 | 25 | 21 | 20 | 20 |
| Tex | 25 | 20 | 22.5 | 22.5 | 22.5 | 22.5 | 22.5 | 22.5 | |
| Sabathia | 23 | 23 | 23 | 23** | 23** | 23** | 23** | | |
| Burnett | 16.5 | 16.5 | 16.5 | 16.5 | 16.5 | | | | |
| Cano | 6 | 9 | 10 | 14* | 15* | | | | |
| Marte | 3.75 | 4 | 4 | 4* | | | | | |
| Swish | 5.3 | 6.75 | 9 | 10.25* | | | | | |
| Jorge | 13.1 | 13.1 | 13.1 | | | | | | |
| Jeter | 20 | 21 | | | | | | | |
| Mo | 15 | 15 | | | | | | | |
| Damon | 13 | | | | | | | | |
| Matsui | 13 | | | | | | | | |
| Molina | 1 | | | | | | | | |
| Wang | 5 | | | | | | | | |
| Nady | 6.55 | | | | | | | | |
| Melky | 1.4 | | | | | | | | |
| Burney | 1.25 | | | | | | | | |
| ~Total | 206.35 | 160.35 | 129.1 | 119.25 | 105 | 70.5 | 66.5 | 42.5 | 20 |

* team option
** can opt out of contract
Matt Holliday's name has been connected with the Yankees by many fans (and his own father). If he puts up a good season in Oakland he'll be one of the premier names in the 2010 free agent class. With Scott Boras as his agent you know he'll do just fine on the market. Figure, for the sake of argument, that the Yanks land him on a five-year, $85 million deal. That would bring the Yanks 2010 payroll to $177.35 for just 11 players. In 2011 that would be $146 million for nine players. Things could clear up in 2012, when CC could opt out and the Yankees hold options on Cano, Marte, and Swisher. However, that's still $85 million on four players.
With such big numbers prevent the Yankees from adding another long-term contract or two? I don't think so. It will certainly make them think twice, but as with Teixeira, if a player they desire falls into their price range, they're going to make the move. Their best weapon is capital. They might as well use it when they can, so long as they use it wisely.
Bonus section:
A couple of links in my browser that don't really even fit in an aside:
At the LA Times, Jon Weisman and his commenters ponder an inside-the-park home run derby. I'd watch it for sure.
Eddie at Detroit Tiger Tales discusses what went wrong with his predictions for the Elias rankings. Hopefully this leads to an even more accurate projection after the 2009 season.
By

When I first started blogging, I aspired to reach the level of RLYW and Bronx Banter. Back then, Banter was on the Baseball Toaster network, one I got to know well over the next few years. Sadly, it has come to an end. With Banter on the SNY Network and Toaster flagship Jon Weisman now with the L.A. Times, they've closed up shop. While a handful of their bloggers have called it quits, you can still find many of the mainstays elsewhere, including the must-read Cardboard Gods. · (1) ·