By

I'm going to be on longtime RAB reader Joey H.'s radio show tonight, and if you want to listen in you can do so here. So head on over to check it out, send in a question, call in, or just listen.

Update (8:50pm): You can go here to listen to the replay the broadcast if you missed it. · (3) ·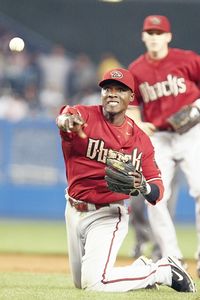 This morning Buster Olney posted "baseball's 31st team," a 24-man (?) squad containing nothing but players still available on the free agent market. Pete Abraham followed his lead with his own need-a-job All-Star team, and now I figured I'd throw my two cents in as well. Here she goes:
C: Gregg Zaun – the best of a bad lot, Zaun's the only legit starting catcher option that posted an OBP north of .321 last year (he was at .340)
1B: Doug Mientkiewicz – I'll take Minky's avg offense and Gold Glove defense over Kevin Millar's & Sean Casey's mediocre bat/no glove offerings
2B: Orlando Hudson – no brainer, my specialty
SS: Orlando Cabrera – another avg bat/GG defense guy, he's easily the best of a terrifying SS crop
3B: Joe Crede – not going to offer much OBP, but he might run into 25 homers … another stud glove guy
LF: Adam Dunn – it's okay Adam, I love your perennial .900+ OPS
CF: Jacque Jones – might have a little offensive rebound in him, but more importantly I need a guy with a ton of range between these two corner OFers
RF: Bobby Abreu – what, were you expecting Brad Wilkerson?
DH: Manny Ramirez – no explanation needed
Rotation: Derek Lowe, Andy Pettitte, Ben Sheets, Braden Looper, John Garland – with above average defense all-around the infield, give me the ground ball guys … and Ben Sheets

Bullpen: Juan Cruz, Aquilino Lopez, Brandon Lyon, Will Ohman, Brian Shouse, Russ Springer, Matt Wise – it's a collection of above avg K guys who throw strikes for the most part
Bench: Pudge Rodriguez (C), Gape Kapler (OF), Damien Easley (IF/OF), Ty Wigginton (IF) – outside of Pudge, everyone on the bench can play multiple positions adequately and hit the ball out of the park … only problem is no lefty hitter
So what do you think? The lineup has a couple big boppers and for the most part they catch the ball, and the starting rotation will give me a ton of innings, enough that Sheets can be handled with care. The bullpen's a crapshoot like always, and some guys on the bench could start for some teams. It's weird, you can see that team winning anywhere from like, 70 games to 90 games.
Here's your open thread for the evening. The Titans are deadlocked at seven with the Ravens at home right now, and the Panthers kick off against the Cards at home at 8:15. The Rangers and Devils are in action (Devs are out on the west coast, so late start), as are the Knicks. Talk abotu whatever, just be nice.
When last we visited with Corky Simpson, the septuagenarian was taking a beating for inexplicably leaving Rickey Henderson off of his Hall of Fame ballot. After facing mountains of Internet abuse, Simpson recanted yesterday. His apology, however, reeks to me of a half-hearted and back-stabbing attempt to make online ends meet.
Simpson's mea culpa arose from an interview Carl Steward, columnist for the Oakland Tribune. Steward and Simpson talked about the controversial ballot, and Simpson offered up his excuse and an apology. "Rickey deserves to be in the Hall of Fame, and if I had my ballot back, he'd have a shot at unanimity — and I wouldn't be hated by quite so many people," Simpson said.
Had he stopped there, Simpson would have offered a nice shot at reconciliation, but as he kept talking, his responses grew more sarcastic and less sincere:
"I'll bet it was worse than when 98 people failed to vote for Catfish Hunter some 22 years ago," he added. "The blogosphere would have exploded if it had been around when 43 people failed to vote for Mickey Mantle, 23 for Willie Mays, 36 for Jackie Robinson, nine for Hank Aaron, 31 for Roberto Clemente, 57 for Yogi Berra, 23 for Stan Musial, 20 for Ted Williams and 28 for Joe DiMaggio."

Green Valley News sportswriter Nick Prevenas said he warned Simpson about leaving Henderson off his ballot when he filed the column, but Simpson told him he "wasn't a Rickey guy and that he would vote for him next time."

[snip]

Simpson is now well aware of the controversy he stirred but regrets that it happened. "If I had properly researched the situation, I would have voted for Rickey Henderson if for no other reason than he played for nine ball teams," he said. "Imagine that. He'll be the first Hall of Famer to have a bronze bust with nine caps stacked on his head. Seriously, he was a wonderful player and I simply goofed. I voted for eight deserving men. I could have picked two more — and I wish to heck I had."
I don't buy it, not one bit. Simpson clearly doesn't like Rickey Henderson. Why else would he have told one of his colleagues in Arizona that he "wasn't a Rickey guy"? It's also really easy to tell someone you'd vote a player the next time when he's bound to be a first-ballot Hall of Famer.
Meanwhile, Simpson is going after a straw man argument. It doesn't matter if other deserving players weren't picked on the first ballot. If a player is Hall of Fame-worthy, he should be voted in on someone's ballot no matter what everyone else is or isn't doing. It is also dismaying to learn that a Hall of Fame voter had not "properly researched the situation." Again, I would seriously consider removing Simpson's voting privilege if I were in charge of the BBWAA.
But then again, what should we expect from an organization which saw three of its members try to vote non-rookie Edinson Volquez as Rookie of the Year this year?
This past week I discussed a favorable trade scenario for Xavier Nady. The caveat, of course, being that it's favorable to the Yanks. Surely the Reds would want a significant add-on if they were to even listen. They might also want to swap Aaron Harang for Bronson Arroyo, at which point Cash should hang up the phone (much like Reds fans think Jocketty should hang up on a Nady/Harang swap).
Mark Sheldon of MLB.com notes that the Reds are still looking for some right-handed power to sandwich between lefties Joey Votto and Jay Bruce. At this point Brandon Phillips seems to be the leading candidate, though he's no bopper. After smacking 30 homers in 2007, he followed that up with a .261/.312/.442 performance. That's not at all ideal production for your No. 4 hitter. This is what fuels the speculation that the Reds are looking outside the organization for some pop. Hence, the link with Nady.
Sheldon acknowledges that the Yankees surplus (is it really a surplus, though?) of outfielders could make the two teams viable trade candidates. But, as he notes:
On the trade market, the Yankees have a surplus of outfielders and could be willing to deal either Nick Swisher or Xavier Nady, with Nady being the most likely to be moved. The Yankees need starting pitching in return and probably wouldn't settle for anyone less than a Reds veteran such as Bronson Arroyo or Aaron Harang.
I'd obviously change that from an or statement, saying that the Yanks wouldn't settle less for a veteran such as Harang. As I said in the original, though, a one-for-one swap would be inequitable. Chad from Redleg Nation says "no thanks" to the proposal. The commenters on that post are also taking me to task. That I can understand. I would imagine Reds fans have become attached to Harang over the past few years, and don't want to trade him for a guy coming off a career year (and whose production dropped in the second half).
If not Harang, though, it doesn't seem the Yanks and the Red would match up on a trade. Take a look at their 40-man roster. There are some good young players there, one quality veteran pitcher (Harang), and some middling talent. Not at all what the Yanks should be seeking in a Nady trade. I'd far rather go into the season with depth than make a trade for the sake of making a trade.
By

In their on-going effort to capture the low-risk signing market, the Red Sox inked former Dodger closer Takashi Saito to a one-year, incentive-laden deal, according to Ken Rosenthal. Saito will make between $1.5 and $2.5 million with incentives that could push his contract value past $7 million. When he's on and healthy, Saito is utterly filthy, and while he did pass his physical, he missed much of 2008 with a sprained elbow ligament. All in all, this is a very nice pickup for Boston. · (91) ·
By

Lost in the hoopla of the last week was a very brief note at the end of a Newsday article. The Yankees are going to have Melky Cabrera and Brett Gardner fight it out for the center field job during Spring Training. Interestingly, this news seems to confirm that Johnny Damon and Nick Swisher probably won't be in the mix for that job if all things go according to plan. Melky, by the way, had x-rays after getting hit by a Daniel Cabrera pitch on Thursday. They came back negative. · (45) ·
When it comes down to the Yankees and the Red Sox, it's always a competition. One team has to be better, smarter and more popular than the other. One team always has to win.
This off-season, the Yanks have emerged the winners. They've out-spent the Red Sox, and they even snatched Mark Teixeira seemingly out from under Boston at the least minute. Yet, still, their fans insist that the Red Sox may come out ahead. Just take a look at this post by a Sox fan using Win Value to show how much smarter the Sox are. Never mind the Yankee injuries and other 2008 speed bumps.
Of course, two can play that game. Courtesy of frequent RAB reader Scott Falivene, let's take a look at some payroll figures. Scott writes:
Red Sox fans — and their front office it seems — love to cry about the advantage the Yankees have over them in spending. So with the Sox signing Smoltz, I was curious what the cost of their rotation will be, you know, because they can't compete on the Yankee's level. I used the top seven guys most likely to see time in the rotation because it's unlikely the same five guys start and end the year in the rotation.
Here are the total 2009 expenditures in millions, courtesy of Cot's Baseball Contracts. Homegrown players are denoted with an asterisk:
Red Sox
Beckett
10.5
Dice-K
8.0
Smoltz
5.5
Penny
5.0
Wakefield
4.0
Lester*
0.5
Buchholz*
0.4
Total
33.9
Yankees
Burnett
16.5
Sabathia
14.0
Wang*
5.0
Hughes*
0.4
Kennedy*
0.4
Chamberlain*
0.4
Aceves*
0.4
Total
37.1
Scott adds some more commentary:
Granted, that CC figure is a bit misleading, and the Yanks might still sign Pettitte. But that's the way [Sabathia's contract] is structured. $3.2 million sure doesn't seem that crazy different, no?

Better yet, the Red Sox have "bought" $33M of pitching for 2009 while the Yankees have only "bought" $30.5M. Evil Empire indeed.

Also, EVERY team in baseball has the ability to sign Smoltz and Penny as their 6/7 starters, right? Those Red Sox sure have it a lot tougher than the Yankees. They should really complain more often. I don't want this to seem as if I'm not aware of the spending advantage the Yankees have but, seriously, aren't Red Sox fans supposed to be hyper-educated about the game? They need to stop.
We'll have some more guest opinions on the Red Sox over the next couple of days, but I think Scott raises some valid points. Sure, the Yankees can outspend the Red Sox by a significant amount, but when push comes to shove, officials, fans and columnists in Boston don't really have much credibility if they start claiming poverty. The Red Sox may not be the wealthiest team around, but they're in the top five. No one will be too sympathetic to the team's self-perceived plight.
By

Using the rosters as of this week and The Hardball Times' projections, RLYW has run a simulation of the 2009 season, and the results are encouraging. The Yanks end up winning the AL East 76 percent of the time and the Wild Card 19 percent of the time. They average out to be about 102-60. I'll take that. · (19) ·
"When you're down, you expect your organization to pick you up, not kick you when you're down," Pavano said. "I've had to pick myself up quite a few times the last four years."
Really? I mean … seriously?
I'm pretty sure Brian Cashman stood by this guy's side all four years, constantly reminding everyone that all of his injuries were legit. Hell, he called him up this year when he could have just left him toiling away in the minors on a rehab assignment.
Give me a break Carl. When you stay healthy for two months, then you can think about running your mouth.
Here's your open thread for the evening. The Nets are in Milwaukee, the Rangers in Buffalo. MLB Network is showing highlights if the 1996 World Series starting at 8pm. Talk about that, or whatever else you like, just be nice.

Melvin Croussett | LHP
Background
Born and raised in Santa Domingo, DR, Croussett is the child of the world's first female areo-nuclear chemical engineer and a world record setting shotputter/javelin thrower. His talent for throwing a baseball was obvious at an early age, as he used to ward off rodents at his uncle's sugar cane farm by throwing softball sized rocks at them. He initially worked at a distance of about 20 feet at age five, but eventually reached as far as 430 feet by age thirteen. Yankees' scouts first noticed him when he picked off a bandicoot at 325 feet from the back porch without getting out of his chair or spilling his beer.