As the Steelers sealed the Super Bowl deal tonight, pitchers and catchers started eying their calendars. In less than two weeks, these players will head to points warm for the annual Spring Training rite. While their position player brethren will join them a few days later, a few key players remain unemployed.
Former Yankee Bobby Abreu is still waiting for a job, and Adam Dunn remains unsigned. But the one of the bigger on-field catchers of the Hot Stove League is still out there. After ensuring that options worth a combined $40 million wouldn't be exercised, Manny Ramirez is still a free agent looking for work.
It's surprising, in a way, that Manny is still out there. He's a career .314/.411/.593 hitter with a 155 OPS+. Age hasn't slowed him down too much, and had Mark Teixeira landed in Boston, he'd probably be Bronx-bound right now. But as fate would have it, Manny, persona non grata on the one team that could really use him, has suffered from the poor economy.
According to the latest reports, Manny may find that a two-year, $30-million offer is the best he can do. It's hard to imagine Ramirez happy with that deal. It does seem to be all about the money for him.
So I have to wonder about the Yanks. I know the team is, according to GM Brian Cashman, done with their free agent signings. I know they want to get younger all around and better defensively. I know they have too many outfielders. Could the team really pass up Manny at $15 million per though? Travis at Pinstripe Alley pondered this question over the weekend, and I'm almost tempted to agree. Manny the bat is an appealing target, and if the price drops, who could say no?
That's Super Bowl 43 for those that don't know how to read Roman numerals once they get beyond X's, V's and I's. Don't worry, I had to look it up myself.
This year's matchup is pretty much everything the NFL and NBC could have hoped for. You've got the historic power franchise in the Steelers and the feel good underdog in the Cardinals, who are making their first ever trip to the big game. The last time these two teams met was Week Four of the 2007 season, when Pittsburgh walked away with a 21-14 win. That was the second to last game Matt Leinart has started in the NFL.
The Steelers had the league's best defense by far this year, giving up just 237.2 YPG, nearly 23 YPG less than the next best defensive unit. Only once did a team gain more than 300 yards of total offense against the Steelers this year. The Cards offense, on the other hand, was one the best this year, averaging 365.8 YPG, a distant second in the NFC behind the Saints' supercharged attack.  They racked up at least 300 yards of offense sixteen freaking times this season, so something's gotta give.
Arizona's going to rely on University of Pittsburgh product Larry Fitzgerald just like they have all year, but the Steelers held Andre Johnson, TJ Housyomomma , Plaxico Burress, Reggie Wayne, Randy Moss, and Terrell Owens to a grand total of two touchdowns (56.6 YPG on avg) in seven total meetings this season. Troy Polamalu has the ability to match every big play Fitzgerald makes with one of his own.
John Manuel of Baseball America ran through the SB43′s baseball ties earlier this week. Steelers running back Mewelde Moore spend three years in the Padres' farm system and was rated the system's 29th best prospect back in 2001. Third string QB Dennis Dixon was the Braves' fourth round pick in '07 and is still active in their system, but he didn't play baseball in '08 because of a knee injury. Hines Ward is a former 73rd round pick of the Marlins and Cards' corner Matt Ware spent two years in the Mariners' farm system. Polamalu was rated the fifth best prospect in the state of Oregon out of high school in 1999, but he instead went to USC on a football scholarship and the rest is history.
Here's your open thread for the night. I'm assuming SB43 will be the primary topic, but feel free to talk about anything and everything. Just be civil.
Enjoy the game.
One of the more obvious aspects of Joe Torre's book is the former Yankee manager's dislike of Carl Pavano. At least that's the one remaining thing upon which Torre and all the people he reportedly skewers in the book can agree. Pavano, on the other hand, isn't too happy about it.
Writing on the ESPN Radio 1050 AM blog, Andrew Marchand notes a statement by Pavano concerning the book:
"I am extremely disappointed that someone I had a lot of respect for would make these type of comments in his upcoming book," said Pavano, in a statement released to 1050 ESPN New York through his agent, Tom O'Connell. "I wish nothing but the best for Joe Torre and my former Yankee teammates, but with that said it does explain why I haven't received any Christmas cards from Joe the last few years."
Now, I can understand why plenty of Yankees past and present — such as David Wells who called Torre a punk — may take exception with the excommunicated St. Joe's words. But Pavano shouldn't look his gift horse in the mouth. The Yanks paid him $40 million to be a fraud. He should take his money and stay out of this, no matter how right he may be in calling out Torre.
By

MLBTR has started to put together it's annual list of players who are out of options, and this year it includes the Yanks' very own Melky Cabrera. There was some confusion on our part whether he had used an option last year (mostly because we were too lazy to look), but he did spend 21 days in the minors last year, eating up his final option. His first option was used when he was sent down following his disasterous 2005 debut, the second option was used when he was sent to Triple-A to start 2006. Melky will have to be passed through waivers to be sent to the minors from here on out.

The only other interesting name on the out of options list is the Rays' Jeff Niemann. He'll have a very tough time cracking Tampa's pitching staff, and I'm sure there will be a ton of interest in the former fourth overall pick. · (92) ·
By

Jay Busbee at Yahoo! Sports ranked the top 50 worst announcers in sports. While Joe Morgan, Tim McCarver and Joe Buck all made the top ten, two Yankee homers, in the worst sense of the word, ranked high on the list as well. John Sterling came in at only ??only! ? number 17, and Michael Kay made the cut at 49. It's hard to believe there are 16 announcers worse than Sterling, but there you go. · (58) ·
With the Red Sox recent signing of Jason Varitek, we've yet again been exposed to the non-guaranteed aspect of arbitration contracts. As we learned in late October, a player who accepts arbitration is not guaranteed a contract for the following season. This became a big issue in Yankeeland when the team declined to offer arbitration to any of its free agents. Perhaps now we can gain a clearer understanding of the process.
As we learned from Jon Heyman, Varitek didn't accept arbitration because he "didn't believe that accepting arbitration would guaranteed him a spot on the team." This references a recent and similar case, that of Todd Walker and the San Diego Padres. Following the 2006 season the Friars offered Walker, a Type A free agent, arbitration, hoping he would decline and they would pocket the two draft picks when another team signed him. Walker, apparently foreseeing the lack of interest in his services, accepted the offer. Not only that, but he won the arbitration case, winning a $3.95 million salary vs. San Diego's offer of $2.75 million.
During Spring Training that year, Walker didn't hit so well. Over 40 at bats he hit just .225 with just one RBI. Battling with him for the second base position were Marcus Giles, who hit .326 with a homer and 4 RBI, and Geoff Blum, who hit .316 with two homers. The Padres used this terminate Walker's contract, paying him only $971,000. This was under the non-guaranteed clause:
A Player whose Contract is terminated by a Club under paragraph 7(b)(2) of the Uniform Player's Contract for failure to exhibit sufficient skill or competitive ability shall be entitled to receive termination pay from the Club in an amount equal to thirty (30) days' payment at the rate stipulated in paragraph 2 of his Contract, if the termination occurs during spring training but on or before the 16th day prior to the start of the championship season. If the termination occurs during spring training, but subsequent to the 16th day prior to the start of the championship season, the Player's termination pay shall be in an amount equal to forty-five (45) days' payment at the rate stipulated in paragraph 2 of his Contract.
Walker and the Players Association filed a grievance, hoping Walker could recoup the total of his 2007 salary and become an unrestricted free agent. This did not work out well for them. The Padres were able to prove, via simple statistics, that Walker failed "to exhibit sufficient skill or competitive ability." Walker then signed a minor league deal with the A's, was eventually called up, but ultimately released (in the move which added Dallas Braden to the 40-man).
Given this case, one might understand why Varitek was wary about his prospects should he accept arbitration. However, it's not like Walker was a mainstay in San Diego. He was a journeyman at that point. In other words, there was no San Diegan loyalty to Todd Walker like there is a Bostonian loyalty to Jason Varitek. I imagine that Theo might catch some flak if he wanted to release the Super Captain after Spring Training.
In the case of Bobby Abreu, well, I'm not so sure this would have been as cut an dry as the Walker case. First and foremost, Abreu is a much, much better player than Walker. Second, the Yanks would have to bank on Abreu having a poor, poor spring if they wanted to release him. Xavier Nady and Nick Swisher would likely have to outhit him in order for the Yanks to even make a case to release him. Not that Swisher and Nady are necessarily worse than Abreu, but it's not exactly a slam dunk that they'd outhit him in the spring.
Moreover, because of the difficulty in releasing him, the Yankees, as Brian Cashman said at the time, would have had to consider Abreu a signed player, at a minimum $16 million, for 2009 if he accepted arbitration. Considering what we've heard from both Cash and Hal back in December and to this day, that might have been enough for them to pass on Mark Teixeira. That means he goes to Boston, and that changes the entire tenor of the off-season.
Looking back on the Walker case helps frame this arbitration debate. Yes, the Yankees could have offered Abreu arbitration, knowing that if he slipped up in Spring Training they could have released him for a fraction of his 2009 salary. However, that would take not only Bobby slipping up, but his potential replacements outhitting him. If that didn't happen, the Yankees would undoubtedly have been on the hook for his entire 2009 salary, in addition to carrying him on the roster. Clearly, the Yanks couldn't trade him without picking up a significant portion of the tab. As such, the Yankees would have to take his salary into consideration when making moves this winter. Clearly, the team had bigger plans.
Receiving two draft picks for Bobby Abreu would have been nice, but they weren't guaranteed. Given Bobby's contract demands (well, at least until recently), he might have declined the offer and hit the market, only to have his dreams shattered by a complete lack of demand. On the other hand, his agent might have had an inkling of the winter's chill climate and advised his client to accept, with the hope of getting his multiyear deal in 2010. That would have significantly hampered the Yankees plans. Given how excited most of us are about the upcoming season, I'm fairly certain we prefer the way things eventually unfolded to the speculated outcome of offering Abreu arbitration and netting the draft picks.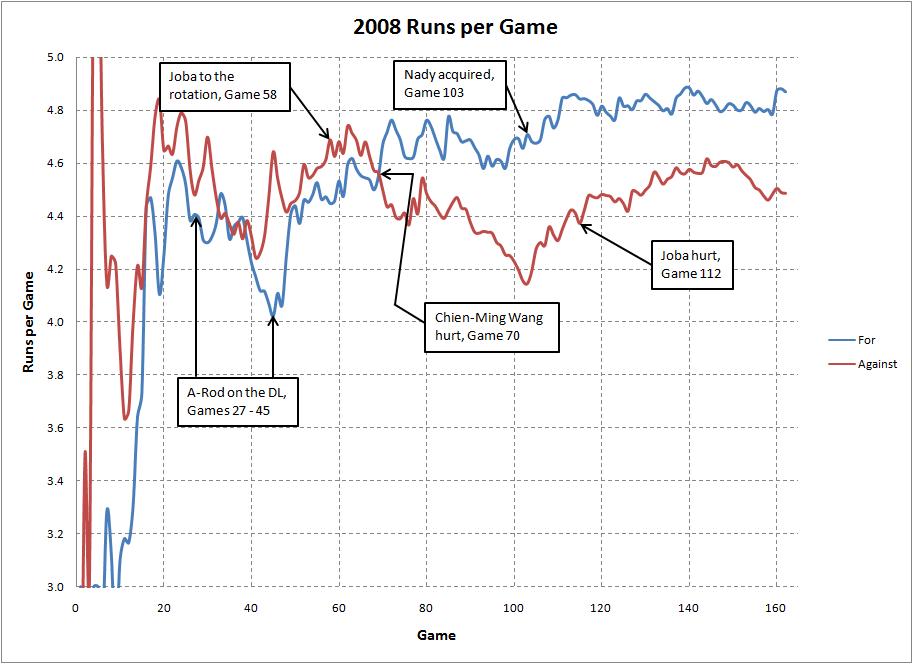 (click image for a larger view)
At BlueSeat Blogs the other day I posted a graph showing the Rangers' goals for and goals against during the course of the season, which explained why they weren't able maintain their hot start (their defense came back down to Earth). I thought it would be interesting to see how the Yanks' season last year shaped up in terms of runs scored and allowed, so click on the above graph and take a closer look. There's some interesting stuff in there.
The blue is runs the Yanks scored, red the runs they allowed. Note how the offense suffered when A-Rod was on the DL, and how the run prevention improved when Joba was in the rotation. Otherwise here's your open thread, so talk about the graph or anything else you want. Just don't be mean.
It's a tough time for banks looking to garner a little name recognition. In one corner, we have Congress criticizing Citibank and the Mets over the stadium naming rights deal. In the other corner, we have columnists questioning Bank of America's plan to sponsor the Yanks.
With the scrutiny on TARP and the general state of the economy, it is of course unsurprisingly to hear so many voices slam the banks. I just wonder if it's the smartest policy. Rick Rothacker, financial columnist for Bank of America's hometown Charlotte Observer, wonders if the beleaguered bank and long-time MLB sponsor should keep up the sports visibility. He writes:
[Bank spokesman Joe] Goode said Bank of America treats sponsorships as a business proposition rather than a mere marketing exercise. "We partner with profitable sports franchises that yield significant revenue streams for the bank," he said. For example, the bank offers team-related products to consumers, makes loans to sports teams and offers wealth management services to players and owners. The Yankees debit and credit cards are among the bank's most popular "affinity products," he said…

"This is exactly the kind of thing taxpayers are fed up paying for," said Stephen Lerner, assistant to the president at the Service Employees International Union, a frequent critic of the bank.

Banks that have taken taxpayer money, particularly ones such as Bank of America that have "double-dipped," need to show they are being good stewards of taxpayer money, said Steve Ellis, vice president at Taxpayers for Common Sense, a nonpartisan government watchdog group. Bank of America received $20 billion this month to help shore up its Merrill Lynch & Co acquisition, adding to $25 billion it had received earlier.
This raises some interesting sponsor-related questions, and as the Super Bowl ads are sure to be toned down this year, I wonder if that's a good thing for our economy. Taxpayers are wont to complain if their money isn't being spent wisely, but who is to say that investment in advertising and sponsorship isn't a wise one?
Ideally, Bank of America and Citibank spend money on these deals because the returns pay off. Bank of American will draw in so many more customers and so many more investment dollars by plastering its name across the new Yankee Stadium just as Citibank will with the Mets.
As the economy attempts to straighten itself out, more and more of these stories will pop up, and the populist sentiment will be outrage. But it's all part of the economy. Banks invest in sponsorships because it draws in customers while filling the coffers of other organizations. To pare down rational advertising just because the government is responsible for the bank portfolio is a knee-jerk reaction best left to closer analysis.
By

The July International Signing Period is one of most unique experiences baseball has to offer. The players signed out of Latin America sound too good to be true, mostly because there's so little information about them that whatever info we do have gets extrapolated out into something otherworldly. Take Edward Salcedo for example. He was beyond uberhyped last year, yet never signed with a team. If he was as good as advertised, wouldn't someone have signed him by now?

One of this year's top IFA prospects is Rafael DePaula of the Dominican, who according to this article (here's the translated article) throws 93 with two excellent breaking balls and clean mechanics. The 16 year old righty already stands 6'3″, so he's still got a ton of projection left. Let the hype begin. (h/t Michael Ruiz for the email) · (29) ·
Ken Rosenthal (via MLBTR) mentioned in his column today that the Yanks and Mariners talked briefly about a Hideki Matsui for Jarrod Washburn swap earlier this offseason, but couldn't find a match because of the difference in salaries (Matsui's owed $2.65M more than Washburn this year). I'm going to assume this discussion took place when it seemed like there was little chance Andy Pettitte would return, and perhaps even before the CC Sabathia and AJ Burnett pickups. You may remember that the Yanks were pretty close to acquiring the lefty before the trade deadline last year, but the M's put a stop too the move because they wanted a top prospect in return.
I've been against trading Matsui because I think he's more useful to the Yanks than anything they could get in return. Just look at Washburn, he kinda sorta qualifies as an innings eater – he's averaged ~178 IP over the last three years – but he's been below average during that time, posting between a 4.72 and 4.78 FIP and averaging +1.6 WAR (replacement level is set at two wins below league average, so Washburn was about half a win below average). With two bum knees, a full no trade clause and $13M coming to him, Matsui's understandably not the most desirable trade target.
To the Yankees however, Matsui represents a bit of an upside play at DH. While dealing with knee issues that limited him to 287 of 486 possible games over the last three years, he hit .291-.372-.469 with a ~.365 wOBP. Do you know what Bobby Abreu hit last year? .296-.371-.471 with a .348 wOBP. It's entirely reasonable to expect Matsui to replace Abreu's production this year if he stays healthy, which he has a much better chance of doing as a DH.
Would it be nice to see a guy like Manny Ramirez or Adam Dunn occupying the DH spot? Sure, but given the Yanks current roster construction that's extremely unlikely. Let's give Hit-deki a chance, he just might surprise us.