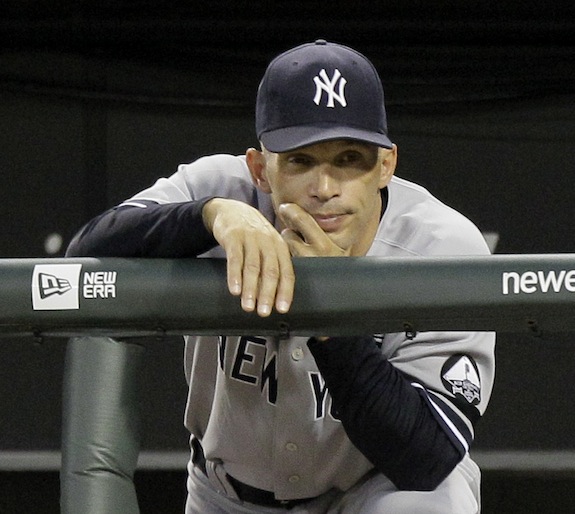 I always feel a bit guilty second-guessing the Yankees when they can hand the ball over to Mariano. Joe Girardi had his lead going into the ninth inning last night, and Rivera, unusually oh-so-good with his location, missed with a cutter. Luke Scott made the right kind of contact, and the Yanks' one-run lead had vanished. Before that pitch, we could come to grips with Joba's four-pitch outing, and Boone Logan's inability to get Corey Patterson out. After that, it all fell apart.
As we know all too well, the Yanks lost in the 11th inning when David Robertson could get an out in his second inning of work. Because Joba threw only four pitches and because the other bullpen options included Chad Gaudin, Sergio Mitre, Jonathan Albaladejo and Romulo Sanchez, Robertson was Girardi's best choice, and the move just didn't work out. That's baseball for you. What happened in the top of the inning though was an illustration in poor roster management.
The sequence went like this: Alex Rodriguez, pinch hitting for Greg Golson who had earlier replaced Austin Kearns, walked. Eduardo Nuñez ran and advanced to third on a throwing error. Ramiro Peña, who had been at the plate with Nuñez on third, was removed for Marcus Thames who struck out. Then, Mark Teixeira pinch hit for Brett Gardner and was immediately intentionally walked. So too was Jeter, and then Lance Berkman had to come to the plate to face a lefty. He bounced into a double play, and the Yanks, 2 for 10 with runners in scoring position, had squandered a prime situation. They had a runner on third with no one out, and the bases loaded with one out only to see the inning end with nary a run.
For someone who usually manages by the book, these moves don't hold up to a close examination. The first line to consider is Mike Gonzalez's. The Orioles' lefty has, for 2010, a reverse split. Leties are 10 for 29 against him while righties are 7 for 46 with 18 strike outs. Even over the last three years, lefties have fared slightly better against Gonzalez than righties have. Yet, Girardi took out his lefty — on-base machine Brett Gardner — who doesn't exhibit significant splits to use Mark Teixeira. In a vacuum, that's a defensible move even if the intentional walk was the most obvious of intentional walks.
A game, though, isn't played in a vacuum. Since Lance Berkman isn't nearly the same hitter from the right side as he is from the left and because Gonzalez is better against righties, Girardi's decision to use Teixeira for Gardner and not to save him for Berkman came back to haunt the Yankees in a bad way. Girardi, in other words, managed to burn through seven players for three lineup spots, and the moves simply did not maximize the Yanks' available resources or deploy them at the right time. We saw Girardi fall victim to this problem in Texas, and to a lesser extent, we saw it again yesterday.
For most of the year, Girardi handles the roster well. He might sacrifice bunt more often than we'd like; he might have leaned a bit too heavily on Francisco Cervelli out of the necessity of it this year. But by and large, he's a steady manager. Yet, with the expanded rosters, he's been too clever by half, and he starts to run through bench players with no regard for strategy. In the grand scheme of the season, the Yanks won't rue losing yesterday's game; their playoff spot is very secure. But we saw a glimpse of a Joe Girardi who did not have good grasp on the implications of his move and seemed to act without thinking. It was very un-Girardi-like.