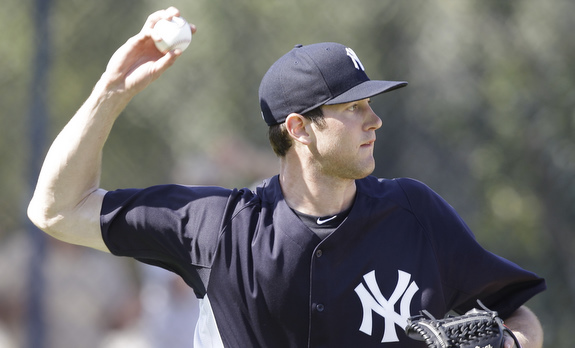 It's a little later than we expected (blame that on a groin/hip issue), but Andrew Brackman will make his Spring Training debut against the Braves this afternoon. The other two members of the Killer B's have already wowed us on a few occasions, but the elder statesman of the group will get a chance to strut his stuff a day after Joe Girardi said he's not in the running for the fifth starter's job. Not surprising, and it won't put a damper on today's outing. Here's the lineup…
Brett Gardner, LF
Nick Swisher, RF
Curtis Granderson, CF
Jorge Posada, DH
Jesus Montero, C
Jorge Vazquez, 1B
Eduardo Nunez, 2B
Brandon Laird, 3B
Ramiro Pena, SS
Available Pitchers: Freddy Garcia, Dellin Betances, Andrew Brackman, Robert Fish, Warner Madrigal, Romulo Sanchez, Daniel Turpen, Brian Anderson, and Eric Wordekemper.
Available Position Players: Gustavo Molina (C), Jose Gil (1B), Kevin Russo (2B), Doug Bernier (SS), Bradley Suttle (3B), Austin Krum (LF), Melky Mesa (CF), and Jordan Parraz (RF).
Old buddy Scott Proctor is scheduled to come out of the bullpen for Atlanta today. Good for him. The YES Network is carrying this game live at 1:05pm ET, plus MLB Network will be broadcasting a replay later this evening. Enjoy the game.