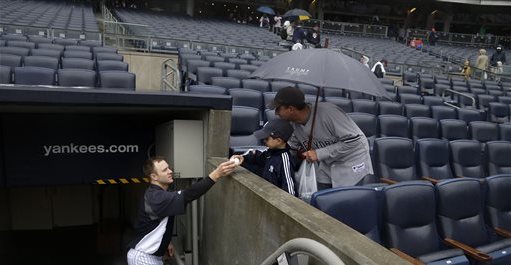 The Yankees didn't get a chance to complete the three-game sweep over the Blue Jays on Sunday afternoon because of the weather, but the rainout did allow the team to juggle their Andy Pettitte-less rotation. Following the postponement, Joe Girardi announced the team will skip Vidal Nuno's upcoming start and instead throw CC Sabathia, Phil Hughes, and Hiroki Kuroda against the Orioles next week. Nuno will be available out of the bullpen.
Having a second left-handed reliever will be a big help next week against Baltimore, who has lefty-heavy lineup featuring Nate McLouth, Nick Markakis, Chris Davis, and former Yankee Chris Dickerson. Those middle two are the big concerns, so having a second southpaw won't be insignificant for at least three games. There can be some serious mixing and matching later in the game if need be.
Girardi indicated they will slot Nuno back into the rotation following the series with the O's. The Yankees are off on Thursday, so they can push the Nuno/Pettitte rotation spot all the way back to May 28th, nine days from today, when they'll be across town playing the Mets. Pettitte is eligible to come off the DL on June 1st, so it's possible he will only miss one start with his left trap strain. With all due respect to Nuno, that would be ideal.
It's also worth noting Austin Romine will benefit from the rainout. He's started the last two games and played in each of the last four, and there still isn't a firm timetable for Chris Stewart's return from a day-to-day left groin problem. Romine gets a little break and will be able to catch all three games in Baltimore without much of a problem. Without the rainout, he might have started six straight games behind the plate heading into the off-day. That could be a dangerous for a young catcher with a history of back problems.
The three game series in Camden Yards opens on Monday night, when Sabathia starts against former teammate Freddy Garcia. The Orioles lost to the Rays on Sunday afternoon and will enter the series four games back in the division.