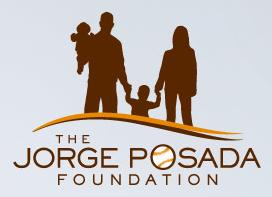 Back in March we announced our plans to run a pledge drive during the season to benefit The Jorge Posada Foundation. RAB was growing at an exciting rate, so we decided to take advantage of the increased popularity and do something for the good of mankind.
The terms of the pledge drive were simple: For every strikeout Phil Hughes, Joba Chamberlain and Ian Kennedy recorded during the season, readers would donate some fixed amount of money to Jorge's foundation. Most pledged $0.05 per strikeout like I recommended, but others pledged more, including a kind few who pledged $0.50 or even $1.00 per strikeout. All told we received twenty-three pledges, not including the three of us.
The problem was that The Big Three didn't exactly cooperate with our noble cause. All three pitchers spent time on a disabled list, plus Phil Hughes and Ian Kennedy pitched their way out of the bigs by May. At the end of the season, the three combined for just 168 strikeouts at the big league level, 118 of which belong to Joba. Thankfully, just about everyone agreed to boost the strikeout total by counting Hughes' & Kennedy's strikeouts from the minor leagues and winter ball towards their pledge. That boosted the K total up to 357.
I collected everyone's pledgess over the past few weeks, and last night I made the donation to the foundation. When it was all said and done, the total donation made to The Jorge Posada Foundation was $1,050 (I rounded my pledge up to make it nice even number). Despite the holidays and the struggling economy, most people donated more than their pledge called for, and we are grateful. To see a screen cap of the confirmation page, click here. I did add a note saying "Donated by the readers of River Ave. Blues, a full service Yankees fan site," but apparently that doesn't get noted on the confo page.
Thank you again to everyone who pledged their hard earned money to this cause, and thanks also the many other bloggers who linked to RAB to spread the word about our efforts. We greatly appreciate all of your guys' support.
If you missed out on the pledge drive but are interested in making a donation, visit The Jorge Posada Foundation website.
By

Over at The Hardball Times, John Walsh analyzed the outfield arms across baseball. He uses a rigorous methodology which you can read about at THT to come up with a metric that "represent[s] the number of runs that an average fielder would save playing half his games in [his team's home] park." The numbers for the 2008 Yanks were not pretty. Bobby Abreu and Johnny Damon cost the Yanks -9.7 below average, and while Melky's center field contributions were positive, his 3.0 runs saved above average mark couldn't counteract the corners. Xavier Nady, splitting time between two teams, put up a 4.4 positive contribution. It will be interesting to see how the seemingly revamped Yankee outfield does in 2009, and these numbers don't make a strong case for Damon in the outfield. · (73) ·
By

Via MLBTR, Freddy Garcia chose to sign with the Mets over the Yanks. It's a minor league deal apparently, but he could earn up to $9M in incentives. I can understand why Garcia made the decision he did, he'll have a much better chance of sticking with the big league club with the boys in Queens. · (136) ·
Oh, to be in Tom Kaminski's chopper as he flies past Yankee Stadium. (Photo courtesy of WCBS 880 AM)
Tomorrow is moving day for the Yankees. As the AP reported earlier today, the Yanks are, after 86 seasons, packing up and heading to a new ballpark.
On Friday, all but a few Front Office departments will begin the task of setting up new offices and a new home on the north side of 161st St. Except for the clubhouse staff, IT, the ticket office and the main switchboard, the rest of the Yankee crew will be start life in New York Stadium. Everyone else will join them on Feb. 27.
Meanwhile, in Queens, Shea Stadium seems to be mostly demolished with just half of the donut left. We're still awaiting word from the Yanks about stadium memorabilia sales. Meanwhile, some of the Shea faithful want to see the Mets sign Andy Pettitte.
Anyway, this is your open thread for the evening. You know the drill. Play nice.
By

For the folks who think MLB's own steroid investigation was about as ethical as the players' alleged drug use, comes this tale of fishing, courtesy of Ken Davidoff. On more than one occasion, it seems as though George Mitchell and his team of investigators tried to catch a big fish by feeding subjects some names. While this hardly clears anyone named in the Mitchell Report, it certainly casts further doubts on the validity of this entire exercise. Maybe Mark McGwire was right after all when he told Congress he wasn't there to talk about the past. It's all just very murky water under the bridge. · (16) ·
About an hour after I asked which teams can afford to sign a free agent, Jon Heyman of Sports Illustrated provided his own take on the situation. Except his is a bit more inclusive. The only team which shows up on my list but not his is the White Sox, though I think he underestimates Ken Williams's penchant for sneaking in a deal. All told, he thinks half the teams in baseball can afford another "big deal or two": Dodgers, Giants, Mets, Brewers, Braves, A's, Cubs, Red Sox, Angels, Nationals, Orioles, Yankees, Twins, Rangers, Mariners.
I guess "big deal" is a relative term. I'm still skeptical that the Mariners, Rangers, Twins, or Orioles will add more than $5 million in 2009 payroll. The Nats might be willing to add more, but will it really help them compete in the stacked NL East? Still, I think most of these teams are out on the guys we ran down in today's RAB Radio Show.
A couple of other Yankee-related notes from Heyman:
The definitive word on Pettitte: "But where else is he going to go?" I still think a deal gets done as February approaches. It makes sense for both parties.
"Hal Steinbrenner is thought to be against signing [Manny] Ramirez." That was pretty much a given.
"The Yankees are said to be getting more interest in Nick Swisher than Xavier Nady." I can understand why, in terms of Swisher being locked up for the next three years. Then again, it's not like he's played since last season. Perhaps part of the reason is teams think they can get Swisher on the cheap. No, I'm sure Cashman wouldn't trade him for Aaron Heilman.
Heyman says that Bobby Abreu's defense isn't as bad as we might think. "Abreu, in fact, is fifth in assists among right fielders over the last three years and third in fielding percentage." I imagine him saying this with a completely straight face, as if any of us believes that fielding percentage — for an outfielder, no less — counts for a damn thing. Almost all advanced defensive metrics out there have Abreu at the bottom of the league.
I apologize in advance for some audio issues about 2/3 of the way into the show. We're working to get these issues resolved, but a big part of it is Time Warner. Bear with us, and we'll certainly improve on that aspect.
Arbitration is the big story. Like Ben, we lament Melky Cabrera's settlement. How could his agent have thought he was worth $1.7 million? I don't see the argument here. The Yankees caved, though, and that's all that matters. Here's to hoping for bigger things from the Melk Man in 2009.
The subject quickly changes to free agency, as we note that there are many free agents remaining for just a few teams. Where are guys like Orlando Hudson and Adam Dunn going to land? Mike and I run down the Type As and bigger-name Type Bs remaining. We have a few guesses for most, but one has us stumped.
Then it's onto reader Q & A. We got some good ones this week. Hopefully next week we'll be able to take some live callers.
Onto the podcast. It is available in a number of formats. You can download it here by right clicking on that link and selecting Save As. If you want to play it in your browser, just left click the link. You can also subscribe to the podcast feed, which will send it to you every Thursday. You can also subscribe in iTunes. Finally, we have the embedded audio player below.
Audio clip: Adobe Flash Player (version 9 or above) is required to play this audio clip. Download the latest version here. You also need to have JavaScript enabled in your browser.
We appreciate any feedback. You can leave it in the comments or email either of us.
Podcast: Play in new window | Download (69.7MB)
By

We touched on this a little bit last night, but Keith Law's top 100 prospect list is officially posted over at the Worldwide Leader. Austin Jackson comes in at number 46, as he notes that Jackson's athleticism hasn't translated into baseball skills just yet. Jesus Montero and Andrew Brackman come in at numbers 83 and 95, respectively. Both have the standard complaints – Montero probably can't catch, we have to see how Brackman comes back from TJ. Dellin Betances cracked Law's list of ten prospects that narrowly missed the top 100. Prospects 1-25 are free, but the rest are stuck behind the iron curtain of Insider. Law's chatting at 1pm, so if you have any questions for him make sure you check it out. · (74) ·
Here's a thought to help us slog through a slow Thursday morning. On MLB Trade Rumors this morning we found out that the Reds have reached their 2009 payroll limit. If they want to add players to strengthen their team, they'll have to shed comparable dollars in the process. In other words, they're all but done with the remaining free agent crop. Late last week, we learned that the Astros are likely out as well. The Diamondbacks appear to have severely limited funds, as a number of pitchers (Randy Wolf, Jon Garland, Randy Johnson) have rejected offers, presumably because of insufficient dollars. The Padres are looking to shed Jake Peavy's contract, so it's not likely they're willing to add payroll.
This is not good news for those remaining free agents. The number of teams willing to add payroll is diminishing. WIth fewer teams involved, these free agents have far less leverage than they normally would. Because free agents are subject to market conditions, we could see a number of players taking significant pay cuts — or else sit out part or all of the 2009 season.
Most affected, of course, are the Type A guys who rejected arbitration offers. This means our best pal Jason Varitek, Orlando Cabrera, Juan Cruz, Ben Sheets, Orlando Hudson, Manny Ramirez, and Oliver Perez. Not only do they face a diminished market, but they also cost a signing team a draft pick, which may lead them to shy away.
When thinking of teams which can clearly afford to add some payroll, I've got the Yankees, Mets, Red Sox, Dodgers, Angels, Giants, White Sox, and Cubs. Those are the larger market teams, and all of them seem to have a bit of payroll flexibility. There have been conflicting reports on some — Jayson Stark has said in the past that the Giants can't afford Manny. If an opportunity arose, though, I doubt any of these teams would rule themselves out.
Then we have the teams mentioned above, those who are done spending. They might ink a few players to minor league deals, but you won't see them getting any of the higher tier free agents. These include the Reds, Blue Jays, Astros, Rays, Marlins, and Padres. Arizona appears to have some level of payroll flexibility, but not much, so we'll keep them off this list initially. Ditto Texas, Detroit, and Kansas City. Pittsburgh probably won't add anyone, and there have been no indicators that the Twins are willing to add payroll.
This leaves us with the majority of teams, the ones we're not quite sure about. They might be able to add payroll, but we're not quite sure. As mentioned above, the Diamondbacks, Rangers, Twins, Tigers, and Royals appear to have some flexibility, but probably not much. None of those teams is probably willing to add even $5 million in payroll. Though I haven't read anything about them directly (or don't remember having done so), the Indians, Orioles, Rockies, Mariners, and Brewers seem to fall into that category.
Who does that leave? The Braves, Phillies, Cardinals, and A's. Clearly, this is a rough estimation, but could it be that only 12 of the 30 teams are willing to add more than $5 million in additional payroll? Not good news for the remaining free agents if that's the case. So are these players going to disperse among the available teams, or will they wait around for what they deem an acceptable offer to come around?
That's what we're looking for during the rest of the off-season. With a limited number of teams willing to add significant payroll, you might see a number of one-year, below-market deals signed during the first week or two of February. Let's hope the Yankees can take advantage of that situation.