A few months after the Yankees' unceremonious loss to the Angels in the 2002 playoffs, The Onion, the nation's finest satirical news source, ran one of their better sports articles. "Yankees Ensure 2003 Pennant By Signing Every Player in Baseball" screamed the headline. Kat O'Brien's latest for Newsday could almost be that article, except Kat is dead serious.
She writes:
The Yankees have expressed strong interest in righthanded pitchers Derek Lowe and A.J. Burnett in the past couple of days, according to sources familiar with the talks, after offering ace lefty CC Sabathia a contract in the ballpark of six years and $140 million…

Although pitching is the Yankees' priority, and they traded for first baseman/outfielder Nick Swisher last week, a source said the Yankees have expressed an interest in first baseman Mark Teixeira. The Gold Glover is, with Manny Ramirez, the top free-agent offensive player available. The Yankees might simply be trying to drive the price up for the Red Sox and Angels by indicating interest in Teixeira, or they could be hedging their bets in case something falls through on the pitching front and they have money to spend.
So based on O'Brien's sources, the Yanks have contacted every top free agent except for Manny Ramirez in the last few days. I wonder when Manny gets his phone call.
Meanwhile, these unnamed sources also answered Joe's overnight query. CC is reportedly "mulling things over" while in Houston this weekend. As the Yankees turn, so baseball turns. The dominoes, I predict, won't fall until someone signs with the Yankees first. So we wait.
You know how yesterday morning I mentioned how it was perfectly normal that we hadn't heard anything about CC's response to the Yankees offer? Turns out, we didn't hear back because the dude was booked solid. And we probably didn't hear back today because he was freakin' exhausted.
First, let's start with Jon Heyman's guy, who says that Sabathia was "in Las Vegas over the weekend participating in a [golf] and poker tournament for sports stars." Hey, the guy's got money to burn. Unfortunately, I was not able to find the results of this tournament. According to this dude, Sabathia is no good at poker.
CC must have been flying this weekend, because Peter Gammons has word that he was in Houston attending a high school football game. Fellow free agents Adam Dunn and Orlando Hudson were also supposedly present, along with "other friends." I'm guessing these friends who won't be signing multimillion-dollar contracts this winter.
Kat O'Brien spoke to "someone close to the lefty" and found out that he was at a wedding. I wonder if this wedding was in Houston or Las Vegas. Ken Davidoff says that Sabathia "took the weekend off to chill out with friends and family," but how mich chillin' can you do if you've always got a flight to catch?
I ran across a few business-of-baseball related stories that I found interesting. They're not Yankee-related, but perhaps you'll like them too…
While CitiGroup is going to wind up cutting 52,000 jobs over the next few months, the Mets are claiming that the stadium naming deal is safe for now. Citi has contracted with the Mets to pay $20 million annually for the next twenty years for the rights to name the team's new club. We'll see how much of the $400 million payout the beleaguered financial institution can make. I wonder if a naming rights deal is the best use of the bank's government bailout fund.
The SEC levied some insider trading charges against Mark Cuban today, and that will probably be the final nail in the coffin containing his bid to buy the Cubs. The MLB owners have long resisted allowing Cuban into their exclusive club, and this development gives them the perfect excuse to turn him down. Sam Zell would do well to hold onto the club until the economy improves a bit.
The AL Champion Rays, despite finishing 26th in attendance in 2008, plan to raise ticket prices for next season. As questions have emerged about the long-term viability of baseball in the Tampa area, it will be interesting to see how potential fans react to the higher ticket prices.
Justice was served in baseball land today, as the mythical beast known as Albert Pujols won his second NL MVP award. While the BBWAA should be commended for giving the award to the right guy, I still have a beef with the voters, specifically Tom Haudricourt of the Milwaukee Journal Sentinel. Not only did Mr. Haudricourt have Pujols at #7 on his ballot (somehow behind THREE other first basemen), he managed to have three Brewers on his ballot. (h/t KLaw)
Three Brewers on his ballot. Three Brewers.
So, let's get this straight. A writer who covers the Milwaukee Brewers for a living used three of the ten votes on his MVP ballot to vote for players who play for the local team he covers. If that's not fishy enough, Haudricourt also claims that he likes "to weight (sic) my voting to teams in the playoff hunt because I think that puts more pressure on players and separates the men from the boys," which would be perfectly reasonable if he didn't have Carlos Delgado three spots ahead of Pujols on his ballot. Let's review.
Carlos Delgado: .271-.353-.518, 71 XBH, 124-72 K/BB ratio, 38.2 VORP for a team that finished 1 GB of the Wildcard
Albert Pujols: .357-.462-.653, 81 XBH, 54/104 K-BB ratio, 98.7 VORP for a team that finished 4 GB of the Wildcard
But Mike, Carlos Delgado didn't start hitting until midseason, you say. Well, let's look at their stats after Delgado finally started hitting at the end of June:
Delgado: .308-.392-.626, 47 XBH, 80 RBI
Pujols: .356-.444-.664, 50 XBH, 73 RBI
LOGIC FAIL. Pujols still has him beat, and this doesn't even consider his Gold Glove caliber defense. I wonder if Pujols' 7th place vote has anything to do with him residing in the same division as Haudricourt's beloved Brew Crew? If writers can not put their personal biases aside, they should not be voting for baseball's major awards, period. Pujols was far and away the best player in the game this year (Hanley Ramirez finished second in VORP at 79.4), and to have him seventh on a MVP ballot is just ignorant.
/rant
Meanwhile, back in the Bronx, the Yanks managed to pull off some under-the-radar roster moves over the weekend. Are you ready? Here it goes: Jon Albaladejo, Andrew Brackman, Chien-Ming Wang, and Jorge Posada were activated from the 60 day DL. That's it. Groundbreaking stuff, I know. The Depth Chart is up to date; they need some starting pitching. Like, bad.
Elsewhere, the first free agent came off the board as LHP Jeremy Affeldt inked a 2 yr, $8M deal with the Giants. Great signing by Brian Sabean, locking up an effective and underrated bullpen arm before the reliever market exploded. And because Affeldt was a Type-B free agent, we now officially have a Sandwich Round in next year's draft. Make sure you check out our 2009 Draft Order Tracker as free agents sign throughout the winter.
So here's your open thread for the night. Talk baseball, Browns-Bills, Rangers-Senators, whatever you like. Just don't be a dick.
By

It's official; the Yankees and Cubs will open the new Yankee Stadium with a pair of exhibition games on April 3 and 4. While ticket information for what is sure to be the hottest ticket in town will be announced later this winter, the Friday game will go on at 7:05 and the Saturday contest will be an afternoon affair. This marks the first preseason exhibition series in the Bronx since 1993. For the fun of it, the average temp on April 3 of this year was a frigid 42 degrees. · (2) ·
By

In a column this morning, Dan Granziano of NJ.com analyzed the Sabathia offer via an economic spectrum. While, as Brewers GM Doug Melvin said, the Yanks may very well be bidding against themselves, the offer makes perfect sense if you assume the viewpoint of the Yanks. To them, Sabathia is an investment worth at least $140 million over six years.

It's true that the Yanks probably would have had the current top bid had they offered "only" $110 million over six years, but then the Brewers could have counter-offered. The Yankees didn't want to take that chance, and the powers-that-be felt that an initial offer of $140 million over six years was a true expression of the value of CC Sabathia to the Yankees for the length of the contract. This is a good point to remember when other teams and their officials and fans start complaining about the Yanks' riches. It's all about the economy. · (63) ·
Just to rib the people involved in the Jake Peavy discussion, here's something you can keep in mind when spelling his last name.
This is a Peavey:
This is a Peavy: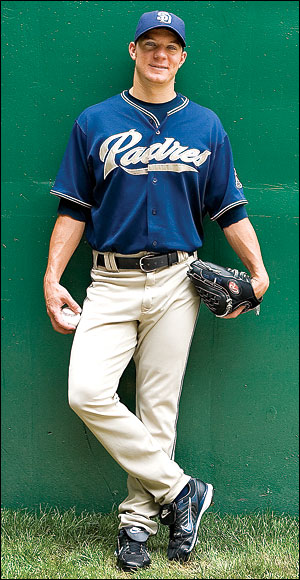 Any questions?
The back-and-forth on Jake Peavy and the Yanks continued today with Buster Olney's offering up his take on the rumors that just won't die. According to Olney's latest blog post on ESPN.com (Insider-only), the Padres and the Yanks probably won't be consummating a deal anytime soon.
Writes Olney:
he past conversations between the Padres and the Yankees about Jake Peavy never developed into anything that close to being serious, sources say, and it's highly unlikely the Padres and Yankees will ever get serious about a Peavy deal.

The Yankees are focused almost entirely on adding pitching through free agency, because they won't have to part with their prospects in a deal. CC Sabathia, Derek Lowe and A.J. Burnett are the Yankees' targets, and not Peavy.

So, in practice, two things would have to happen before Peavy-to-the-Yankees became serious:

1. A whole bunch of other pursuits would have to end badly.

2. The price on Peavy would have to come down.
I know a lot of Yankee fans would like to see Peavy in pinstripes; I know others who think trading for him would be a bad move. I'd much prefer Peavy over Lowe or Burnett at the right price. I think he represents a better long-term investment and will be a better pitcher over the duration of their respective contracts.
That said, I can understand why the Yanks don't want to give up the farm for Peavy. I can understand why they'd rather go after the free agents. But if the Yanks sign CC, and the price on Peavy drops, it would be hard to say no to that deal. It might not be accurate for us to seriously evaluate this potential acquisition right now, but things have a funny way of changing in the Hot Stove League.
It seems that despite the free agent signing period opening on Friday, baseball took the weekend off. The most we got was a rumor that K-Rod was in New York for a physical. Well, that and the Yankees' mega offer for CC Sabathia. Does the fact that CC hasn't yet accepted this offer, and likely will not accept it in the next few days, mean anything in the long run of the Yankees pursuit of the hefty lefty?
Not at all. Why should it? Clearly, Sabathia's agent wants to field a few more offers before making any sort of decision. He likely wants to see how things go with Mark Teixeira and the Angels, since that club is a likely suitor for his client. He probably wants to see how the Manny situation develops. He also probably wants to get an idea of offers made to other free agent pitchers. In other words, he wants to give the situation time to develop so he can better gauge what is in his client's best interests.
As much as we wish this would play out quickly, that's just not likely. We're talking about the best pitcher on the free agent market, possibly the best one to hit the market in the past five to ten years. Yes, the Yankees offer was generous, and I'm sure he appreciates the gesture. That doesn't mean, however, that he's just going to sign it. He probably wants to see what's going on elsewhere. And that's no insult to the Yankees.
Imagine this scenario, though. CC claims that he wants to get this done quickly: "I want to get it done pretty quick. I try to be as less free as possible. All that is is stress, having it drag on through the winter. We'll see what happens." So here's how he could not only get this done quickly, but maximize his return in the process.
Now that the weekend has passed, Sabathia's agent, Greg Genske, could/should go to Cashman and say: "We appreciate your more than generous offer. While we understand that this will make CC the highest paid pitcher in the history of the game, there are other factors to consider. However, my client has made it known that he doesn't want to drag this out all winter. Our counteroffer is six years, $150 million. If offered, we will sign immediately."
Pie in the sky? I don't think so. It works for Sabathia because he won't find that kind of money elsewhere. It works for the Yankees because it reels in their top target, allowing them to focus on the rest of the roster. Once again, it's not likely. But it sure is neat to think about.
By

Jim Leyritz sat down with two Daily News reporters to talk about his fatal DUI accident. In the first interview since December's crash, Leyritz talked about the psychological and emotional impact the accident had on him. Surprisingly, when talking about the victim, Fredia Ann Veitch, Leyritz claimed that his car had been parked at a red light when she went through the light and hit him. If true, he'll face a heavily reduced sentence after his trial, set to begin in January, wraps up. But the reality is that Leyritz was still behind the wheel with a BAC of nearly twice the legal limit. · (32) ·