By

The Red Sox picked up an under-the-radar free agent this winter: some kid named Tim, who they paid off to become a Sawx fan. Drunk Jays Fans has the news, complete with a full arsenal of not so nice language. This whole thing is just too funny. · (31) ·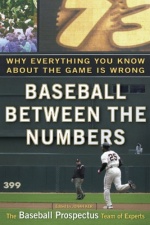 Every year for Christmas, my parents browse through my Amazon Wishlist and get me a ton of books. Sometimes, though, they'll pick out things that aren't on there which they think I might like. This year, it was Baseball Between the Numbers. Problem is, I already have the book. So instead of going through the Amazon return process and buying myself yet another novel, I've decided to put this to good use. It's the latest giveaway on Rive Ave. Blues.
We're going to do this contest style. Since we're in the free agent signing period, and since this is a particularly bizarre off-season, I figured we'd do a free agent guessing game. Who more appropriate than Bobby Abreu? The rumor mill isn't treating him well, even after Pat Burrell and Raul Ibanez have found homes. No one seems to have an idea of where he'll land, so that makes the game more interesting.
To enter, you have to guess 1) the team that will sign him, 2) the number of years he'll receive, and 3) the total dollar amount of the contract. So we don't have a situation where one person bids $10 million and another bids $10 million and one, we're going in increments of $500,000. So $10 million and $10.5 million are okay, but $10.1 million invalidates the entry. One entry per person. Make sure to leave a valid email address when you're filling out the comment form (do not leave your email address in the comment, though).
Update: Just to be clear, the criteria above are listed in the order of importance. So if you don't get the team correct, you can't win.
By

Bernie Williams never really wanted to retire when the Yanks decided his time was up. Over the last two years, the former center fielder has come to grips with his enforced retirement, but in a way, he just hasn't been able to accept that his Major League career is all but over. In a lenghty profile on Bernie, the Daily News' Christian Red explored the ins and outs of Williams' celebrity in Puerto Rico and the current state of denial Williams appears to be in over his career.

To prove himself ready for the WBC, Williams tried his hand at winter ball and hurt his quad. As it heals, he's contemplating his next step. "What would be the logical next step? That's why the World Baseball Classic is so pivotal," Williams said to Red. "To be really honest, if I play and I start getting those feelings back again, start getting the urge and feel good physically, it can open a whole world of possibilities for me. But right now, I'm just speculating on what could happen. It's not going to be until I play in that competition whether I'm going to be able to make those kind of decisions." At some point, Bernie will retire. For now, he's trying to live his dream for another game, another series, another season. · (49) ·
By

Derek Carty over at THT took a look into what 2009 might hold for the Yanks' young second baseman. Granted, Carty's article is focused on fantasy value, but it's still nice to see someone believing that Cano's due for a nice rebound next year. It's a relatively short read, give it look. · (35) ·
As I write this post, there are just 36 hours left in the presidency of George W. Bush, and baseball fans might be watching closely. Pardon rumors surrounding Roger Clemens just won't die.
On Friday, the Daily News' I-Team blog, run by the paper's sports investigative team, noted that Dana Perino, White House press secretary, basically shot down the idea of a Clemens pardon. Meanwhile, yesterday, Buster Olney hypothesized on the prospects of a pardon. In the end, the ESPN scribe didn't believe a pardon would be forthcoming.
For the most part, baseball on the whole is sick of the Clemens-Bonds-steroids saga. It's become far more about catching a big fish in a lie or half-truth about something they did five or ten years ago. While George Mitchell tried to gloss over the shortcomings of his report by half-heartedly suggesting ways the game should look forward, once he named names the report became a useless piece of sensationalistic reporting instead of a series of serious recommendations.
The Bush pardon question, though, and Clemens' potential culpability raise some interesting questions. If Bush were to pardon Clemens, in a way, this part of the saga would be over. No longer would we have to listen to he said, he said fights between Clemens and McNamee as the game of baseball tries to move beyond the cloud of steroid.
Olney summed up the argument for a pardon in a nutshell:
He probably has already suffered the greatest punishment he will receive: the diminishment of his reputation and legacy. In the past month, a golf tournament removed Clemens' name from its title, as did a hospital funded by the pitcher's money. It's possible he will never be inducted into the Hall of Fame, despite putting up the most daunting numbers of any pitcher in his lifetime.
Why bother running Clemens through the public spectacle of a trial, basically?
Well, the flip side of that argument is a good one. It's possible that Clemens lied to Congress, and as Olney writes, if Bush pardons his friend Roger Clemens, he may have to do the same for Barry Bonds. At that point, millions of government dollars and thousands of man-hours would basically have gone to waste. Of course, many people already think the money has gone to waste, and a witch hunt for Bonds or Clemens won't make anyone feel better.
In the end, a Clemens pardon is probably, as Olney said, a headline-grabbing event that Bush seems to be trying to avoid in his final day in office. He's taken heat for the Isaac Toussie pardon and seems much less trigger-happy on the pardon issue than Bill Clinton did during the waning days of his presidency.
So the steroid circus will continue. While I'd hardly advocate for pardoning Clemens or Bonds, part of me thinks the health of baseball and the continued success of the game would benefit from the opportunity to put the Steroid Era behind us once and for all.
By

Jim Rice, newly elected to the Hall of Fame after doing nothing for fifteen years that really should have improved his chances of enshrinement, doesn't like the Yanks' spending. While ignoring the fact that the Red Sox have spent more money to win a title than any team in baseball history, Rice slammed the Yankees for their spending ways. Talk about your sour grapes… · (81) ·
Wow, that NFC Title game was something else, huh? Congrats to the Arizona Cardinals on finally clinching the first Super Bowl berth in franchise history.
The Ravens last played in the AFC Title Game way back in 2001, when they were on their way to winning the first World Title the city of Baltimore has seen since the Colts won Super Bowl V way back in 1971. The boys from Steeltown are playing in their third AFC Title game in the last five years, but in the end that doesn't really mean much of anything.
This should be a great, an old school smashmouth kind of game. It looks like Mother Nature won't interfere much after dumping snow on the Three Rivers area all night. Enjoy the game.
Last night, CC Sabathia walked home with the Warren Spahn Award for the second straight year. The prize is given out by the Oklahoma Sports Museum to the best lefty pitcher in the game, and it's no stretch to award it to Sabathia.
By itself, the award is hardly newsworthy but how the AP covered the presentation and Sabathia's acceptance is. The AP sent Jeff Latzke of their Oklahoma City bureau to the event, and here is how he covered it. On the surface, that seems fine and dandy, but take a look at these seemingly innocuous two paragraphs:
Before Saturday night's ceremony, he said he's looking forward to having Joba Chamberlain and Mariano Rivera there to close out games for him, and he's already talked to Chamberlain about it.

"To have that bullpen and have just the support of that team, that team is unbelievable," Sabathia said. "To add me and A.J and put Tex in that lineup, I think it's going to be an unbelievable team. Hopefully we have a special year."
That's right; Jeff Latzke just put Joba Chamberlain back in the bullpen. At no point did Sabathia actually say that he's looking forward to Mo and Joba closing out games. He simply said that he's looking forward to the support of the Yanks' bullpen.
Meanwhile, if we compare Latzke's reporting to that of Yankees.com beat writer Bryan Hoch, a different tale emerges. Writes Hoch:
Before Saturday night's ceremony, Sabathia said in a press session that he is looking forward to having Mariano Rivera close out games for him.

"To have that bullpen and have just the support of that team, that team is unbelievable," Sabathia said. "To add me and A.J. and put Tex in that lineup, I think it's going to be an unbelievable team. Hopefully we have a special year."
Now, I wasn't at the press session, but do I trust the guy who covers the Yanks all season or some AP writer based out of Oklahoma City? The choice is clear to me.
This isn't, of course, a new rant. We've had problems with the AP's creating news where there isn't any before. We've seen them misquote Yankee officials and, as they do here, put words into the mouths of players. It doesn't help their credibility, however, to talk about Joba's role in the bullpen because, simply put, he doesn't have one. AP or not, Joba is starting this year. He may reach an innings cap, but baring a disaster, he will spend the season in the rotation. The Yankees are better off for it.
The Cardinals, long the laughing stock of the NFL, are playing the biggest game in franchise history today, and perhaps the biggest sports event the state of Arizona has seen involving an Arizona team since … well … a warm November night back in 2001. Donovan McNabb and the Iggles aren't new to this NFC Championship game thing, as this will be their fifth trip to the game in the last nine years.
Does Kurt Warner have another shot at something special left in that right arm? Can McNabb continue to persevere through all the crap he has to deal with? Should be an exciting game, chat away about it here.