Dellin Betances | RHP
Background
Born and raised in Brooklyn, Betances attended Grand Street High School. He popped up on the prospect map after a sophomore year growth spurt that saw him add six inches and twenty pounds to his frame. Betances dominated as a junior, going 6-0 with 100 strikeouts and just eleven hits allowed in 41.2 IP. He allowed one earned run all season and led Grand Street to the PSAL semifinals, where he struck out sixteen in a three hit shutout of New Utrecht. Invited to the prestigous Aflac All-American Game, Betances retired the heart of the West squad's lineup on nine pitches in his only inning of work.
Baseball America rated Betances the seventh best high school prospect prior to his senior year, however he struggled due to mechanical issues that led to inconsistent velocity. Despite that, he still managed to set a school record with 20 strikeouts in one game. In the revised rankings before the draft, he still checked in as the 68th best prospect in the class, and top prospect in the state. Betances had a strong commitment to follow fellow New Yorker Pedro Alvarez to Vanderbilt, and unconfirmed rumors swirled that he wanted a seven figure bonus and would only sign with the Yankees.
Betances lasted until the eighth round of the '06 draft, when his hometown team popped him with the 254th overall pick. Despite the Vandy commitment and rumored bonus demands, he signed quickly for a cool million bucks, at a time a record for the eighth round. Betances was assigned to the Rookie level Gulf Coast League Yanks after signing, and used his bonus money to buy his parents a house in Bogota after the summer.
It wasn't long ago that Mike suggested that the Yankees sign reliever Juan Cruz. The reasoning: he's a Type A free agent, which means teams will have to sacrifice a first round draft pick in order to sign him. The bottom 15 teams in the league would have to sacrifice a second rounder, but due to the signings of A.J. Burnett, CC Sabathia, and Mark Teixeira, the Yankees would only surrender a fourth rounder. Hence, he's more attractive to them than other teams. Ken Rosenthal covers this in his latest column.
Also on the ledger is Ben Sheets. Rosenthal thinks he "could be the Yankees' answer to Brad Penny and John Smoltz, both of whom signed with the Red Sox for relatively low base salaries with the chance to earn significantly more through incentives." It doesn't appear Sheets is ready to take an incentive-laded deal, however. Matt Cerrone from MetsBlog has noted that Sheets seeks a two year deal worth roughly $18 million. The chances of that aren't likely, unless the Brewers deem it a worthy risk.
Rosenthal cites "one executive" saying that Sheets will likely get one year and between $6 to $8 million, with incentives bringing the potential deal past $14 million. That's more like it. Even better, Rosenthal suggests a "lucrative club option," which would make the deal more attractive to any acquiring team. That way, they can retain Sheets's services, albeit at a high price, if he stays healthy through 2009. If we're talking one year, $7 million with $7 million in incentives plus a $16 million team option for 2010, the Yanks would have to give that serious consideration.
Then again, that all hinges on Andy Pettitte. Tom Verducci mentions the lefty in his latest column: "…though a baseball source said he has been weighing a lesser offer to return to the Astros." This doesn't seem likely, as Rosenthal quotes Astros owner Drayton McLane: "I haven't had any discussions with Andy or any of his representatives at all. We're up against our (budget) number right now." Also, why would Pettitte take less than $10 million from Houston? I thought the reason Pettitte rejected the Yanks offer is that he didn't want to take a hefty pay cut.
Rosenthal tallies the Yanks' current payroll at $187.975 million, which includes 17 players. Presumably, this covers Xavier Nady and Melky Cabrera, who both avoided arbitration yesterday. Brian Bruney could bring that figure close to $190 million, with seven more spots left to fill on the 25-man roster. If Sheets made the full $14 million, that would bring the Yanks north of $200 million, but still lower than their official payroll total last year of $222.2 million (which I believe is calculated on August 21). Their Opening Day payroll would also clock in at under the $209 million they spent in 2008.
Cruz is a bit of a different situation. WIth Kyle Farnsworth commanding two years and $9.25 million, you'd have to think that Cruz would want more than that. Would the Yanks be willing to go higher than that, in dollars and years, to sign a reliever? I'm not so sure that's in the works. It makes sense on many levels, and perhaps the Yankees would get a better deal because of other teams' unwillingness to sacrifice a first rounder for Cruz. I would guess, though, that signing both Cruz and Sheets isn't a likely scenario.
Still, picking up one could help the Yankees shore up the pitching staff. Both Sheets and Cruz offer plenty of upside, and both will cost the Yankees less in terms of draft picks than other teams. If Andy Pettitte continues his quest to get another $16 million, the Yanks could do worse than singing Sheets to an incentive-laden deal.
By

In October, the rumors got my hopes up. Supposedly, Joe Morgan and Jon Miller were heading for a break-up. Sadly, the news is far, far worse. In a move that is somehow being defending as "beefing up its Major League Baseball coverage," ESPN is adding Steve Phillips to the Sunday night slate and sticking Peter Gammons in the studio. ESPN's broadcasting trio of Morgan, Miller and Phillips is now probably the worst in the game. · (44) ·
By

For the last 13 seasons, girls of all ages have screamed with delight whenever Derek Jeter, the city's most eligible bachelor, steps to the plate. Now, it seems, Derek, no spring chicken as he nears his 35th birthday, may be getting ready to settle down. According to FoxSports.com, Jeter and his recent girlfriend Minka Kelly were house-hunting in LA. Now, it's perfectly likely that Jeter was simply helping his LA-native lady friend pick out a new home, but you never know. It'll be a big day in New York when Jeter finally ties the knot. · (60) ·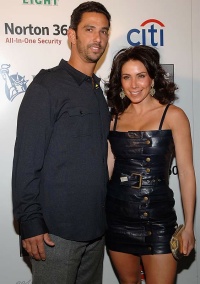 As Spring Training draws nearer, our conversations shift gears from how the Yankees should build their team to how the Yankees can cope with what they've got. Foremost among concerns is Jorge Posada, who as you all know missed most of 2008 with shoulder issues. He had surgery in late July and is reportedly recovering well — so well, in fact, that he wanted to play in the WBC. Despite his desire to represent his country, it's not happening. Not only do the Yankees want to closely monitor his progress, but there is also the issue of working with the new pitchers. He'd do well to develop a rapport with CC Sabathia, A.J. Burnett, and everyone else on the staff.
On his ESPN blog today, Buster Olney checks in on a few injury situations around the league. Here's what he has to say about Jorge:
He is coming back from shoulder surgery and the Yankees have no idea how effective he can be as a catcher, and whether he can be a full-time catcher again. If he can't catch, that would mean he would have to get the bulk of his at-bats as a designated hitter, compelling the Yankees to press for a trade of one or two veteran hitters, among Xavier Nady, Nick Swisher and Hideki Matsui. The organization has another $40 million or so invested in him over the next three years, so Posada's status will probably be the Yankees' biggest concern of spring.
He makes a good point. If Jorge can't throw but he can swing a bat, DH is the only place to play him. As we saw last year, though, that shoulder injury really sapped his power. So that creates yet another conundrum. If Jorge can't throw, but he can hit, but he demonstrates a continued lack of power, what do you do? Do you slap him on the 60-day DL and hope the rest time helps him complete his recovery? Do you play him anyway?
The biggest obstacle, of course, is Matsui. There's no way he can play the outfield on any kind of regular basis, if at all. Not only because of his knees, but because Johnny Damon plays his position. So right there you have a problem. It will be next to impossible to dish Matsui, considering his injury risk, his salary, and his full no-trade clause. Plus, if he's healthy he's a weapon in that lineup, and to substitute a less-than-healthy Jorge for him would be a mistake.
Beyond that, there's the issue of finding a replacement behind the plate. We saw last season that Jose Molina cannot handle the rigors of full-time duty. His bat is a liability, though his defense is stellar. Kevin Cash provides similar offense, though I can't vouch for his defense one way or another. If Posada can't catch, the Yanks will likely have the equivalent of a pitcher batting ninth.
So what do the Yankees do from there? Any trade would cost them dearly, since other teams would know their desperation (Lone Star Ball suggests Hughes for Saltalamacchia). There are only a few catchers left on the market, and as I've said on the RAB Radio Show, I wouldn't touch Pudge. I'm sure the Yanks wouldn't give up a draft pick to sign Varitek, even if it's just a fourth rounder. Beyond that, the only name even worth considering on the remaining free agents list is Javier Valentin. Even then, he's never caught a full season.
As you can see, much depends on Jorge Posada. This will be a big topic for the next month or so, until the team actually sees how he throws and handles himself behind the plate and at it.
By

Next Tuesday, Joba Chamberlain and Jon Lester are gathering for a talk and a Q-and-A at Sacred Heart University in Fairfield, Connecticut. Tickets are still available (info here), but we have a better offer than tickets. Long-time reader Jay CT has convinced MC Andrew Marchand to accept some questions from River Ave. Blues. So in this thread, post the question you would pose to Joba and Lester. We'll gather them up, pick from the best and send them along to Marchand. Make them good, and make RAB proud. · (77) ·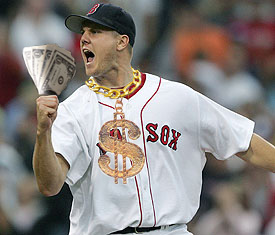 Teams and their arbitration eligible players had to exchange salary figures by today, although over thirty players (of 111 eligibles) have already agreed to deals prior to the deadline. Xavier Nady was one of those players, Ryan Howard was not. The Phillies' first baseman submitted a salary figure of $18M (!!!) despite just over four years of service time. The Phils countered with $14M, and the two sides appear headed to a February hearing. Howard has the stats – including a Rookie of the Year trophy, an MVP (not to mention a second place and fifth place finish), a World Series Title, and 153 HR & 431 RBI over the last three years – but is he really worthy of being the fifth highest paid hitter in the game today? Perhaps even more fitting, is he really deserving of $2M more in annual salary than Albert Pujols? I think the arbitrator will side with the Phils' braintrust on this one.
Elsewhere in salary arbitration land, Jonathan Papelbon agreed to $6.25M salary today, setting a new record for first year eligible relievers. The previous record was the $5.6M Bobby Jenks received just yesterday. That's a lot of moola for a pair of guys who threw just 4.8 and 4.2% of their teams' total innings last year, respectively. In case you're wondering, Mariano Rivera settled for $4.25M in his first year of arbitration.
Brian Bruney is the Yanks' only remaining arbitration-eligible player after Melky agreed to a deal worth $1.4M. Melky Cabrera. $1.4M. I've always said that Melky was a nice guy to have around as a fourth outfielder until he started making seven figures in arbitration, and now that time has come. Yikes. Bruney asked for $1.55M, the Yanks offered $1.1M. They should hammer that one out.
If you want to follow along all the arbitration madness, I suggest doing so on The Biz of Baseball's convenient tracker. DePo has a nice breakdown of the process in case you're wondering what the hell arbitration is.
Here's your open thread. The Rangers are playing their last game before the All-Star break, and if you're into American Idol, well then I suppose you already know that's on tonight too. Have fun.
By

In 2003, Tony Peña, the Yanks' current bench coach, won Manager of the Year when his Kansas City Royals finished with a winning record for the first time since 1994. This week, Peña seemingly auctioned off his trophy on eBay. It seems that the winning bid was for a whopping $200. So clearly Tony wasn't after the big bucks. I do wonder though what the backstory is. · (43) ·
Yes, we know some baseball owners have been whining and moaning about the need for a salary cap in the wake of the Yankees' winter spending spree. Brewers owner Mark Attanasio was the first to stand on the soap box and declare: "At the rate the Yankees are going, I'm not sure anyone can compete with them." Astros owner Drayton McLane offered similar sentiments. A's owner Lew Wolff tried to pass off his support of a cap to the betterment of the sport: "Parity is what we're looking for."
I'd estimate the chances of baseball adopting a salary cap at zero. The owners wanted it back in 1994, and we all saw how that turned out. There's no chance they risk another labor stoppage over the cap issue. It's dead and buried, despite a handful of owners crying about the big, bad Yankees. Yet it's an issue that's sure to come up plenty this season, especially if the Yankees get off to a hot start.
A few baseball writers have joined the small chorus in favor of a salary cap, but the San Francisco Chronicle's Bruce Jenkins makes a compelling case against a cap. He brings up a number of old arguments, but he lays them out in an easily digestible manner. It means a lot coming from a guy who writes about the Oakland A's, a team with a relatively low budget. He notes the parity we've seen in baseball over this decade:
This decade has given us the very essence of baseball parity. Recalling the seven World Series matchups prior to Rays-Phillies, we find Boston over Colorado, St. Louis over Detroit, White Sox over Houston, Boston over St. Louis, Florida over the Yankees, Anaheim over the Giants and Arizona over the Yankees.

In other words, seven different winners in eight years, and only three teams even appearing twice over that span. Do we see the Yankees winning any of those World Series?
Jenkins also isn't afraid to call out owners on their own foolishness. I couldn't agree any more with this paragraph:
But let's not hear owners – people who, ostensibly, built a fortune through smarts and good sense – crying, "Oh, somebody save me from my mistakes." Teams fail because of their own stupidity and ill-advised transactions, not because they're short on cash. What the Rays pulled off was no miracle, nor was it an aberration. That was just a flat-out superior team, built on dimes, nickels and guile.
He then goes onto compare baseball to the NBA, where they have a (largely ineffective) salary cap. Teams often trade contracts, not players. Their trades are also more complicated than necessary due to the cap and the rules regarding salary swaps. He correctly notes that only a handful of teams really compete in the NBA each year, and that in the past 30 years baseball has seen 20 teams win it all, while the NBA has seen nine. Yes, nine, as in, can count them on two hands.
I think Craig at Shysterball has a nice take on the issue:
Sure, no matter what the economic situation is, the Royals would never have been able to sign CC Sabathia. But without a salary cap in place at least there is an enemy to complain about in the Yankees or their skinflint owner or their brain dead GM or what have you. What do Kansas City bargoers complain about if there is a salary cap? Section 1.5(A)(1)(i)?

Such a discussion wouldn't even be worth the beer.
Me? I think that the lack of a cap allows teams a greater flexibility in building their teams. Using Craig's example, if the Royals think they're one piece away from a serious title run, they can break the bank and bring in a big-name superstar, either via free agency or a trade. With a cap you can be one piece away and stuck right there, because the cap prevents you from make a team-benefitting move.
There's also something to be said for playing to your strengths. We heralded the A's after the release of Moneyball because they used their strength in statistical analysis to find inefficiencies in the methods of evaluating talent. That strength is considered by some to be more virtuous than that of money, since many of these teams can never have a level of capital equal to the Yankees. Yet it's still a strength the Yankees posses. They pay the price for it, too. As many have noted, signing CC Sabathia, A.J. Burnett, and Mark Teixeira guarantees nothing for the Yanks. They have to pay dearly, in terms of money, in terms of long-term commitment, and in terms of draft picks. Since their greatest strength is the dollar, they've chosen to use it in the best possible manner. If they chose to focus on the draft, but didn't have a particular strength in drafting amateur players, that would be a mistake.
I know we've harped on this topic a lot this winter, perhaps too much. Yet I think it's a topic worthy of robust discussion. There are some in favor of a salary cap in the name of parity, but an overwhelming amount of evidence suggests that no further parity would be created by instituting a cap.
By

According to Dylan Hernandez of the LA Times, the Yanks and Xavier Nady have agreed to a $6.55 million salary for 2009. This is $0.55 million more than I had estimated. The Yanks still have Brian Bruney and Melky Cabrera on the agenda, though you have to figure those will get done relatively soon. The Yanks' other arbitration case, Chien-Ming Wang, agreed to a $5 million contract last month.

I took down the salary cap post in favor of this. That one will re-appear shortly. · (58) ·