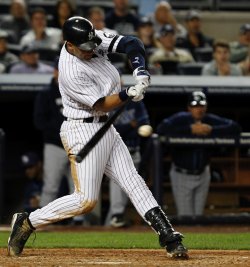 For most of the season Derek Jeter didn't look like Derek Jeter at the plate. Sure, he appeared to have the same stance, but once the pitcher delivered the ball it seemed as though a different, much worse, hitter possessed him. He swung at almost everything, especially the first pitch of an at-bat, and when he put the ball in play it was mostly on the ground. It didn't show much in the first month, as he produced a .380 wOBA. But in May the Captain's flaws became exposed.
What's odd about Jeter's April and May is that it looks like the results should be reversed. In April Jeter walked in just three percent of his PA and hit the ball on the ground 71.3 percent of the time, yet he slugged .521 and had a .380 wOBA. In May he walked a bit more, 6.4 percent, and hit fewer balls on the ground, 63.1 percent, but is power dropped considerably and he slugged just .359. It looked like he might be recovering, but in June things got a bit worse.
Something must have changed after May, because Jeter's BABIP plummeted. After a .325 BABIP in April and .337 in May, Jeter had a .268 BABIP in June and followed it up with .278 in both July and August. Watching Jeter's swing it was clear that luck played only a minor role in this change. He was making weak contact with almost everything, grounding pitch after pitch to second and short. It not only led to him making more outs, but also making outs for others. After grounding into eight double plays in the season's first three months, Jeter grounded into 11 in July and August.
In September things came to a head. Jeter went just 6 for 36 with two walks and two extra base hits in the month. His BABIP: .200. He was looking as poor as ever. During an extra innings game on September 10 in Texas Jeter went 1 for 7, and that seemed to be the breaking point. Joe Girardi gave him the next day off, during which he went to work with hitting instructor Kevin Long. The changes were subtle. Long had Jeter focus on striding straight forward rather than towards home plate. Try that at home; you'll notice that you generate better bat speed when stepping straight forward. They also worked on the timing in Jeter's front foot tap and his leg kick. But would these changes translate into results?
The effect was almost immediately noticeable. Almost every Yankee looked poor against Cliff Lee the next day, but Jeter managed to put together four superb plate appearances that included two walks and an RBI double. Since then he has at least one hit in every game and is overall 14 for 45 with five walks and four doubles (.311/.396/.400). It might sound like something you can dismiss with a small sample size disclaimer, but the changes are noticeable in Jeter's approach. His swings look more authoritative, and he's putting the ball in the air more often.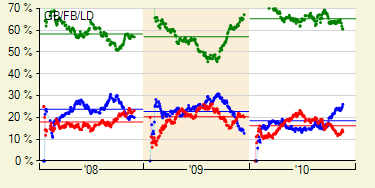 As you can see in his batted ball chart, ground balls are falling and line drives are rising. That's the idea. Even fly balls seem to have a little uptick in the past few games. But even more important than the trajectory of the ball is that Jeter is hitting them hard. That's a welcome change from his performance during the summer.
Is Derek Jeter cured? We've only seen him at work for a handful of games since Long's intervention, but given the noticeably different approach and the results I think that Jeter has figured out what plagued him most of the season. The recovery couldn't have come at a better time. The rest of the team picked him up for most of the season. Now it's time for Jeter to shine in the postseason.