Over at MLBTR, Alex Walsh has a Reds-related Bobby Abreu update. He writes:
The Reds won't sign a veteran outfielder to a multi-year contract. If the Reds do sign such an outfielder, like Bobby Abreu, the deal will be for one-year. With the economy the way it is, such a deal may become increasingly more favorable to a player like Abreu.
So let met toss out some idle thought. What if Bobby Abreu ends up settling for a one-year deal? Should the Yankees get involved?
There's no doubt that Bobby Abreu is still a very good hitter, if a terrible fielder, but I'd believe, without analyzing the situation, that one year of Abreu would be better than one year of Nady or Swisher. if the Yanks sign Abreu to a one-year deal, they could easily move Nady while maintaining Swisher, who is under contract for a few more years.
Of course, there are some limitations here. With Swisher and Nady, the Yanks have the luxury of seeing what they have. They can go with one and trade the other. It gives them roster flexibility. As soon as they commit to Abreu, he would be the starting right fielder and whichever of Nady or Swisher remains with the Yanks would be either be relegated to the bench or left field with Damon in center. The outfield defense would suffer, but the bench could be stronger.
In the end, it's just a though. Feel free to debate this or anything else tonight in your open thread. Just play nice.
By

Pete Caldera at NorthJersey.com checked in with Kevin Long yesterday. The Yanks' hitting coach didn't kick back during the off-season. He spent a week working with A-Rod, helped Robbie Cano fix his swing during the Caribbean Winter League, visited Jorge during the catcher's rehab and touched base with Johnny Damon too. He is also hard at work leaning the stylings of Mark Teixeira. It's all part of the job, and most comforting to Yankee fans is Long's assessment of Cano. Long feels that Cano is more focused and primed for a huge season in 2009. · (41) ·
Much like Bobby Abreu, Orlando Hudson is finding that it's tough out there for players on the wrong side of 30 looking for a big day. Ken Rosenthal checks in on the Hudson market and finds nothing doing:
Hudson, coming off surgery on his left wrist, has resumed all baseball-related activities. He continues to seek a contract of three or more years, executives say, but ultimately could settle for a shorter term with the right team — say, the Mets or Yankees.

Both of those clubs currently are set at second, the Mets with Luis Castillo, the Yankees with Robinson Cano. A trade of either appears unlikely, but Hudson could land with another team — most likely, the Nationals — if his market in New York fails to develop.

Trading Cano and signing Hudson would work for the Yankees financially — Cano is owed $25 million over the next three seasons, and the Yankees could pay Hudson a similar figure. But the Yankees, confident that Cano will rebound from an off year, only would trade him if they received a significant return.
I've never been keen on the Yanks' getting Hudson, and I'm not quite sure why so many people were willing to write off Cano's season. In a sense, Cano's bad season was due to luck more than anything else. His line drive and BABIP numbers suggest that he should have had a better season, and I'd much rather take the 26-year-old over Hudson.
Of course, again, if the right trade came up that happened to involve Cano, I would hope that Brian Cashman think long and hard about it, knowing that Orlando Hudson is out there. Hudson's availability, however, does not mean the Yanks should shop Cano, and if they head into the season with Robbie at second, the Yanks should be a-OK.
Tyler Kepner sat down with some Q.T. with Brian Cashman earlier this week, and the results are in today's Times. The Yanks' GM talked about his outfield situation, the Hot Stove League and his recovering All Stars.
On trading Xavier Nady or Nick Swisher:
"It depends on the trade talk," Cashman said. "If we feel there's a benefit, we'll make a move. That's basically it. We're in a position where we don't have to make a move, so that's a strong position to be in. We could have them all year. We're not going to do anything unless there's a reason to do it."
On Jorge Posada's and Mariano Rivera's respective rehab efforts:
"Our catcher and closer are coming off shoulder surgeries," Cashman said. "That's what concerns me, and that's what people should be focused on. Everything is coming along fine, but nobody usually has hiccups this early. Posada's just throwing at 90 feet on flat ground and Mo's not even throwing yet."

Posada will not be able to catch by the exhibition opener Feb. 25, Cashman said, but he is on track to be ready for the regular-season opener April 6. Rivera does not throw in January even when he is healthy, so his schedule is not alarming. But it is Cashman's job to fret.

"Mo's surgery wasn't as serious as Posada's," Cashman said. "But it's still shoulder surgery."
Meanwhile — and somewhat related — comes the news via a Ken Rosenthal column that the Yankees are not really interested in Ben Sheets or Freddy Garcia. Considering how Cashman would like to find a starter, those two players are no sure thing. As Kepner hints at and as Rosenthal basically states, the Yankees are looking to fill the innings with someone who will deliver innings and not someone with the potential to be a top-flight starter as Sheets would be but has a questionable MRI dogging him.
Everyone in baseball seems to be in a holding part. Bobby Abreu, Adam Dunn and Manny Ramirez rumors have gone dark (although Bryan Hoch says Manny won't be a Yankee). When the dust settles, however, and pitchers and catchers report in 26 days, the Yanks may head to camp with a few roster tweaks yet.
By

According to reports out of the Tampa area, former Yankee bench coach and baseball lifer Don Zimmer is recovering from a minor stroke he suffered last month. Zimmer is currently working to regain what Mark Topkin called "the speech and mobility he lost." Zimmer is 78, and 2009 would be his 61st season in baseball. Here's to a quick recovery for Zim. · (9) ·
Earlier this week, Melky Cabrera with 2.148 years of playing time, joined 110 others in filing for salary arbitration. As a super-two, Melky could experience the trials and travails of salary arbitration.
In discussing the Melky situation earlier this week, Pete Abraham posted a question: "It's easy to see how Nady and the Yankees could have something to talk about. Maybe even Bruney. But what could the possible holdup be with Melky? He should be happy to get a free appetizer at the new Hard Rock Cafe after how he played last season."
It is an interesting question. Mostly, these salary arbitration cases are settled well in advance of a hearing. It's certainly better for the two teams to settle on a figure before the Yanks go in and explain why Melky doesn't deserve any money (not a tough arugment) and Melky explains why he deserves what would really be an inexplicable raise.
Since we haven't had a chance to dump on Melky dig into the erstwhile Yankee center fielder in a while, I thought about running a post on the arguments Melky could make. The only attribute of his that would ever warrant a raise is his arm. He managed seven assists last year and has 28 over his career. Otherwise, he put up a 68 OPS+ with a .249/.301/.341 line, most it coming in April. (He hit .235/.280/.286 over his final 98 games.)
Historically, Melky doesn't stack up too well either. I ran his qualifications — age 23 season, 453 plate appearances, 68 OPS+ — through Baseball Reference's Play Index, and his fellow underachievers do not make for a very promising list. In baseball history, only 24 players suffering through their age 23 seasons of the game have done as bad or worse than Melky did in 2008. None of those have really gone on to do much of anything.
I don't like to see Melky be so bad. I'd much rather see Melky mature into a top-notch center fielder or at least an average one. I don't, however, see what Melky has to gain by the arbitration process. Oh, to be a fly on the wall during that hearing.
It just looks wrong. (Photo by flickr user Keith Barlow)
As I write this, it's 6:15 p.m., and I just got home from a walk to the bank. The bank, it should be noted, is at the corner of my block, and yet, by the time I got back home, I was chilled from head to toe.
With the current temperature hovering at 15 and a windchill of -1, it's that kind of day. The low for the evening in Brooklyn is 10 with winds up to 20 miles per hour, and baseball is a far away thought right now. Earlier today, Home Run Derby noted how oddly peaceful baseball stadiums look in the cold. The hulking ballparks are just there, blanketed by snow and silent.
A quick run through Flickr gave us the photo above. We can also see the field covered in snow. But in less than a month, pitchers and catchers report. The metaphorical snow on baseball fields around the country will begin to melt, and all will be right in the world again.
You know the Open Thread drill. Anything goes. Just play nice. In local action, the Knicks are playing the Wizards, the Rangers are in Chicago (where it's actually colder than it is in New York) and the Devils are in Columbus.
By

While not complaining about salary caps, the owners at their meetings in Phoenix this week managed to enact a few smart rule-changes concerning the playoffs. First, all playoff games must be at least nine innings long. If a game is called due to weather, it will be resumed from the point of suspension. Second, head-to-head records will now determine home-field advantage for tiebreaker scenarios instead of the coin toss. "I'm delighted," Commissioner Bud Selig said about these common-sense clarifications. Me too, Bud. Me too. · (4) ·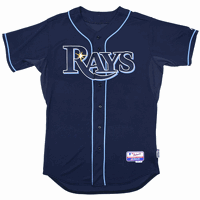 Via Shysterball, we learn that the Tampa Bay Devil Rays of St. Petersburg have once again changed their uniforms. The team — famous for changing, well, everything — will soon unveil a new alternate jersey.
On May 1st, the Rays will don a new alternate jersey when they host the Red Sox at Tropicana Field. It will be a navy blue button-down with RAYS outlined in white trim with a light blue shadow across the chest.

The sunburst emanating from the "R" is forty percent larger than the sunburst on the team's home and road jerseys. Light blue piping surrounds the sleeves and collar and extends down the front of the jersey. The player's name and number are featured on the back [in navy] outlined in white.
Now of course, this is a marketing ploy. It's fairly amusing that one of the teams with the fewest amount of fans would have the most egregious changes. They change their team, their colors; their uniform styles.
So in the spirit of Friday afternoon, let's run through the history of the Tampa Bay Rays' uniforms. For the sake of comparison, we'll compare them to the changes in the Yankee uniforms since 1997. Keep in mind that Yankees merchandise is baseball's top-selling. One of these two teams is doing something right.
After the jump, more about uniforms than you ever wanted to hear.
By

Despite contentious hearings, a strident Times editorial, and opposition from numerous advocates and officials, the New York City Industrial Development Agency has approved another $370 million in tax-free bonds for the Yankee Stadium construction project.

The agency voted 11-1 in favor of the bonds with Comptroller William C. Thompson's representative voting against the issuance and the Queens rep abstaining. Neil de Mause estimates the total subsidy for the Yankee Stadium and CitiField construction projects at $1.8 billion. One can make convincing arguments for against public support of the initial costs of construction, but by now, I have to believe that the teams should be taxes for more bond requests. Either way, the bond issue is pretty much closed. Problems surrounding land valuation and missing green spaces and parks in the Bronx remain.

For Mike's chat, click here. He's still going. I wanted to get this breaking news up on site. · (8) ·