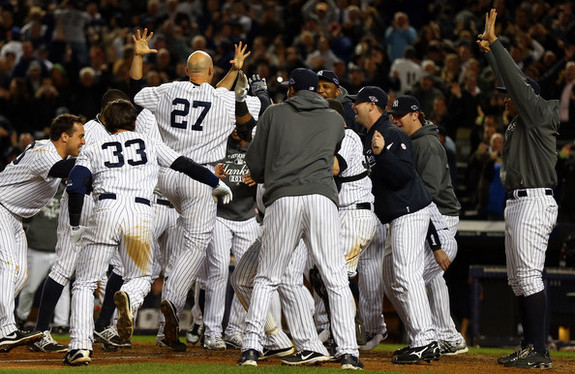 I didn't sleep very much last night, but boy did I sleep well. Something about a win like that, a miraculous comeback in the late innings of a huge game, just makes me sleep so soundly. The Yankees, especially these 2012 Yankees, have a knack for pushing you away with ugly play only to suck you back in with huge moments like that. You go from hating them to loving absolutely everything about them in the amount of time it takes Raul Ibanez to run the bases.
1. So … what the hell happens with Ibanez in Game Four tonight? Does Joe Girardi automatically start him after last night even though left-hander Joe Saunders and his massive platoon split is starting for the Orioles? Would he be better holding Ibanez back on the bench and strategically deploying him as a pinch-hitter against a right-hander late in the game? You've got to give him as many at-bats as possible and not count on him to come off the bench with the big hit every time, right? Too many questions for one bullet.
2. Everyone's focusing on Alex Rodriguez and moving him down in the lineup, but doesn't Girardi have to sit Curtis Granderson tonight? I love the Grandyman as much as anyone, but he's been absolutely dreadful this series as well as for most of the second half. With Saunders starting, it might be worth it to start Jayson Nix (or I suppose even Ibanez) in left in Game Four. Brett Gardner hasn't had many at-bats lately and you might be asking too much by starting him against a lefty-crusher like Saunders. Either way, yeah let's get Curtis on the bench for at least one game. He's been terrible.
3. The starting pitchers, however, have not been terrible. If you had told me a week ago that worst start from CC Sabathia, Andy Pettitte, and Hiroki Kuroda was going to be three runs in seven innings, I would have assumed the Yankees swept Baltimore pretty easily. Even the bullpen has been fantastic, with five scoreless innings including 3.1 by David Robertson. The Orioles have scored seven total runs in 29 offensive innings this series. I feel like that isn't being talked about enough. New York's pitchers have been stellar.
4. You might have been asleep for this one, but the Athletics made a comeback of their own and walked off against the Tigers in Game Four of their ALDS matchup. It took Jose Valverde all of eight pitches to blow a two-run lead in the ninth and 14 pitches to lose the game. He was getting hammered too, all four hits were hit right on the screws. Anyway, I mention this because the win by Oakland forces Justin Verlander to pitch in Game Five today. That means he won't be able to start in the ALCS until Game Three. Jim Leyland has been unwilling to use him on three days' rest as well, so Verlander wouldn't get the ball again until a potential Game Seven. If Detroit wins today, it's possible that whoever they play in the ALCS (hopefully the Yankees) will be able to push them to six games and only see the best pitcher in baseball once. That's huge.