We'll start off with the good news. A report earlier this week indicated that the Yankees offered Nick Swisher for Mike Cameron. Thankfully, Buster Olney has stepped in and debunked this already specious rumor. On his blog today, he note:
Heard this in regards to rumors of a Mike Cameron-Nick Swisher swap: The Yankees have not had any trade talks with the Brewers since the winter meetings, and they are not considering a Cameron-Swisher trade.
So sanity is restored. It's not like many of us took this seriously, anyway. Why would the Yankees offer Swisher, who is young, for Cameron, who is not? The only advantage Cam holds is the ability to play a pretty center field. He did have his best UZR since 2003 in 2008, but even so Swish's youth, and the fact that he's under contract next year, make him the more favorable player. Plus, I suspect if the Yankees made this offer, the Brewers would have had the paperwork done already.
We do have some fresh rumors regarding Swish and Xavier Nady. Via MLB Trade Rumors we get word from both Ken Rosenthal and Jerry Crasnick that the Yanks and Braves have discussed the corner outfielders. Rosenthal even went so far to say that the two teams have spoken about trade possibilities.
The team's next step will be to add a bat, and the club has spoken with the Yankees about their available hitters, Xavier Nady and Nick Swisher, sources said.
By no means does this indicate the Yankees will actually pursue a trade. Like any good GM, Cashman is listening to what's out there. If he finds something that improves the team this year and in the future, he'll consider it. If the best that's out there is something like Swish for Cameron, I suspect he'll head into Spring Training with a bit of a surplus. As we've noted multiple times, depth becomes even more valuable in the spring, when teams get a better look at their teams (and see their players befall injuries).
By

Talking Points Memo broke what might possibly be my favorite story of well-spent tax-payer money. Forget the tax-free bonds for the new Stadium. Instead, enjoy this tale of U.S. Marshal escorts for Joe Buck, Tim McCarver and Troy Aikman at various points in the baseball and football seasons. The DoJ report (PDF) outs Joseph Band as the sub-par statistician-cum-lawyer who set up this gig, and while the report makes for some great legal ethics reading, there's no word on how much this actually cost us. I hope the FOX announcing team can manage without their escort in the future. (Worthless RAB points to the first person who can ID the movie quote in the post title.) · (127) ·
According to the Atlanta Journal-Constitution, the Braves and Derek Lowe have come to terms on a four-year, $60-million deal. It's a nice contract for Lowe and a solid signing by the Braves.
Meanwhile, this is a deal that echoes through New York for a few reasons. First off, when the Yanks opted to go for A.J. Burnett instead of Lowe, I never expected the former Dodger hurler to land himself a $15-million AAV deal. It seems that I was wrong, and it seems that the market for starting pitching is a bit more robust than the market for corner outfielders.
From that four-year deal, we probably have to reevaluate the Yanks' one-year offer to Andy Pettitte. You could very easily make the argument now than $10 million for one year of Pettitte is indeed to low. It shouldn't take Derek Lowe money to lock up Andy, but it may take $12-$13 million guaranteed.
Second, the Mets are looking at an off-season of futility. They low-balled Lowe and never had a real chance to up their offer. Instead, one of their top divisional competitors lands one of the bigger free agent pitchers left. Now, Omar Minaya will have to dole out the bucks for Oliver Perez and probably take a good, long look at Ben Sheets' medical reports as well.
Catching up on a news item from the over the weekend, we find Maury Brown at the Biz of Baseball talking about the success of the YES Network. Now that the final 2008 numbers are in, the YES Network has emerged as the most watched regional sports network in the nation for the sixth consecutive year.
According to Brown's compilation, "YES averaged 29,000 TV in total day delivery, 16% more than #2 NESN, which averaged 25,000 households." Take that, Boston. Meanwhile, this 29,000 total was just 2,000 less than the combined total delivery of MSG, MSG Plus and the Mets' SportsNet NY. Talk about crushing the competition.
Meanwhile, when the Yankees are on TV during primetime, YES draws an average of 72,000 households. Game telecasts, according to the YES Network press release, "regularly out-performed ABC, NBC, Fox and CBS programs in New York. For example, from May 28 to August 7, primetime YES Yankees telecasts were the #1-rated program in the New York DMA 24 out of 25 game days in TV households, Men 18+, Men 18-49, Men 25-54, Adults 18-49, Adults 25-54, and Total Viewers 2+." While that's a lot of TV ratings mumbo-jumbo to the untrained ear, in a nutshell, that simply means more money for the Yankees.
In terms of local popularity, it's not that close. Thirty-three Yankee telecasts earned a 5.0 rating or higher while just seven of SNY's Mets telecasts reached such lofty levels. They may have been a mediocre, over-paid and under-performing team in 2008, but the Yankees still reel in the viewers. For the bottom line, that's a very good thing indeed, and with even more expectations placed upon the star-filled 2009 team, I would expect a seventh year of YES dominance.
While the Yankees have made three significant additions this winter, the wheeling and dealing might not be over yet. The Yanks still have a few areas they could choose to address from outside the organization. This means looking to the remaining free agents and to the trade pool. As fans we're quick to speculate on moves which would help the team. The team, however, has a different mode of thought.
One aspect I don't see many accounting for is the 40-man roster, which is currently full. This has a significant effect on how the Yankees will build out their 2009 team. Some fans might have wanted to see the Yanks take fliers on the guys the Red Sox picked up recently: Brad Penny, John Smoltz, Takashi Saito, Rocco Baldelli. However, the Yankees are ill equipped to handle such gambles. Each of the four signed a major league deal, meaning they require a 40-man roster spot.
Looking at the current 40-man, there doesn't seem to be many players the Yanks would consider moving. The only position player they could possibly DFA would be Cody Ransom. He'd likely pass through waivers and head back to the Yanks farm system. However, the Yanks would need to add either him or Angel Berroa to the 40-man prior to Opening Day, so that just pushes the problem on Future Brian Cashman.
On the pitching end, I suppose the Yanks could DFA Chase Wright, but he throws with his left arm so that's doubtful. The lesser arms — Anthony Claggett, Michal Dunn, Chris Garcia, Eric Hacker, Steven Jackson — were recently added to the roster. It's not like Cashman used up a spot just to DFA the player later. There just isn't much room for the team to maneuver right now.
Perhaps this is why the Yanks haven't stolen Juan Cruz. He makes more sense for them than for the teams which would have to surrender a first rounder. Yet the Yanks can't make a move because they don't have much if any 40-man flexibility. If they're going to sign another free agent, they'd probably have to swing a trade somewhere, perhaps a two-for-one that would free up a roster spot. Otherwise, there's not much the Yanks can really do.
By

While I wouldn't normally think much of the leak that a federal grand jury has been convened as the government decides whether or not to indict Roger Clemens for perjury, this case may have some ramifications for the 2009 Yankees. As ESPN's investigative reporter Mike Fish explains, Andy Pettitte could very well see himself dragged back into court to testify in front of the grand jury. While the Yanks and Pettitte are at a contractual impasse right now, this news will not be good for the Pettitte camp. · (31) ·
In one sense, it pains me to write about this. Who cares what the Yankees are doing with their personal lives, right? In another way, though, I'm very happy to report that Alex Rodriguez has finally figured out that he can do better than a 50 (and a half) year old pop star. His latest fling: Kate Hudson. I certainly approve, as she's a significant upgrade from Madonna. Plus, she used to be married to Chris Robinson of the Black Crowes, which is all sorts of awesome. Ben's reaction: "Dammit. I want to date Kate Hudson." Mike's reaction: "You know, I never thought that she was all that hot." I'm definitely siding with Ben on this one.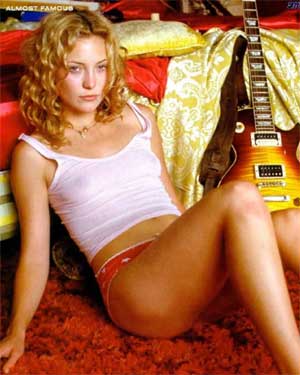 That's definitely her best movie role. For a nude, but covered, photo, go here.
Update by Mike (7:38pm): Go ahead and use this for the open thread tonight. The Knicks are in New Orleans, but otherwise all the local teams are off. Play nice.
We haven't really touched on the Cuban defector situation yet on RAB, so now is as good a time as any. As you might have heard, Yadel Marti and Yasser Gomez defected from Cuba a few weeks ago. You might remember Marti from the WBC if you payed attention in 2006. He pitched 12.2 scoreless innings and racked up a pair of saves. Gomez has compiled some gawdy stats in a Cuban National Series tournament. Both figure to garner a bit of attention once they're officially on the market.
As Steve at MLBTR noted yesterday, the duo will be open to all suitors. Of course, their price tags might make them prohibitive to some or most of the small market teams. Plus, they mentioned the Yankees, White Sox, and Red Sox specifically, so that might be indicative of where they think they'll land.
The last time the Yanks and the Sox were both in on a Cuban defector, we saw the term "Evil Empire" born. "The evil empire extends its tentacles even into Latin America," the disgruntled co-owner of the Sox said after the Yanks outbid his team for Jose Contreras. Unfortunately, it was an auction that in hindsight the Yanks would have preferred to lose. After pitching to a 3.30 ERA over 71 innings in 2003, he bombed in 2004, pitching to a 5.64 ERA in 95.2 innings while walking way, way, way too many hitters (42). The Yanks traded him straight up for Esteban Loaiza, who was even worse than Contreras — though he did fare well in his 8.1 playoff innings.
I don't know anything about these players other than what's been printed thus far, so I can't make a totally-informed call on whether the Yankees should consider pursuit. I guess it depends on the market. You don't want to give more than two years to either of these guys. They're said to be 29 (Marti) and 28 (Gomez), but who knows how old they actually are. Unless we're talking a Juan Miranda type deal here, my instinct would tell me to pass.
The Hall of Fame is going to get add a few members today, and as Maury Brown notes, MLB Network will carry the official announcement live (and exclusively) starting at 1:30pm. The only shoo-in on the ballot is Rickey Henderson, baseball's all-time leaders in runs scored, stolen bases, and third person references. Chris Jaffe over at THT did a great job of summing up the wonder of Rickey, I highly recommend it.
You can check out the rest of the ballot here. Chances are that Jim Rice will finally break through and make it too Cooperstown in his final year on the ballot, and at that point the HOF floodgates should open. Once Rice is in, don't you have to let Frank Howard, Fred McGriff, Albert Belle, Juan Gonzalez and Will Clark in? I mean, when the best thing you can say about a guy is "he was the most feared hitter of his era" (BBWAA code for "I have no evidence to support my claim"), does that make him Hall worthy? I'm pretty sure Mark McGwire scared the bejesus out of pitchers, so why hasn't he been let in? He hasn't been proven guilty of anything. Oh, and how does a guy go from receiving 29.8% of the vote in his first year on the ballot to 72.2% in his 14th year on ballot? How many games did he play in between ballots?
Eh, whatever. Sorry about the rant. Hopefully Bert Blyleven and Tim Raines break through and make it to their rightful place in the HOF. I'll update this post as Harold Reynolds & Co. make the announcements, supposedly they'll come around 2pm.
Update (2:01pm): Rickey Henderson and Jim Rice make it. That's it. Congrats to them both.
Update (2:05pm): Here's the voting:
Rickey, 94.8%
Rice, 76.4
Andre Dawson, 67.0
Bert Blyleven, 62.7
Lee Smith, 44.5
Jack Morris, 44.0
Tommy John, 31.7
Tim Raines, 22.6
Mrk McGwire, 21.9
Alan Trammell, 17.4
Dave Parker, 15.0
Donnie Baseball, 11.9
Dale Murphy, 11.5
Harold Baines, 5.9
By

Here's a fun little story that trickled into my Inbox via Google News last night: T-shirt sales for CC Sabathia are far exceeding the usual demand for player t-shirts. According to Crain's New York, local stores including Modell's and the Yankee Clubhouse stores have sold out Sabathia shirts three times over. I don't have a CC shirt yet. I think I'm going to wait for the Teixeira 25 ones to hit. · (49) ·