While the Yankees have made three significant additions this winter, the wheeling and dealing might not be over yet. The Yanks still have a few areas they could choose to address from outside the organization. This means looking to the remaining free agents and to the trade pool. As fans we're quick to speculate on moves which would help the team. The team, however, has a different mode of thought.
One aspect I don't see many accounting for is the 40-man roster, which is currently full. This has a significant effect on how the Yankees will build out their 2009 team. Some fans might have wanted to see the Yanks take fliers on the guys the Red Sox picked up recently: Brad Penny, John Smoltz, Takashi Saito, Rocco Baldelli. However, the Yankees are ill equipped to handle such gambles. Each of the four signed a major league deal, meaning they require a 40-man roster spot.
Looking at the current 40-man, there doesn't seem to be many players the Yanks would consider moving. The only position player they could possibly DFA would be Cody Ransom. He'd likely pass through waivers and head back to the Yanks farm system. However, the Yanks would need to add either him or Angel Berroa to the 40-man prior to Opening Day, so that just pushes the problem on Future Brian Cashman.
On the pitching end, I suppose the Yanks could DFA Chase Wright, but he throws with his left arm so that's doubtful. The lesser arms — Anthony Claggett, Michal Dunn, Chris Garcia, Eric Hacker, Steven Jackson — were recently added to the roster. It's not like Cashman used up a spot just to DFA the player later. There just isn't much room for the team to maneuver right now.
Perhaps this is why the Yanks haven't stolen Juan Cruz. He makes more sense for them than for the teams which would have to surrender a first rounder. Yet the Yanks can't make a move because they don't have much if any 40-man flexibility. If they're going to sign another free agent, they'd probably have to swing a trade somewhere, perhaps a two-for-one that would free up a roster spot. Otherwise, there's not much the Yanks can really do.
By

While I wouldn't normally think much of the leak that a federal grand jury has been convened as the government decides whether or not to indict Roger Clemens for perjury, this case may have some ramifications for the 2009 Yankees. As ESPN's investigative reporter Mike Fish explains, Andy Pettitte could very well see himself dragged back into court to testify in front of the grand jury. While the Yanks and Pettitte are at a contractual impasse right now, this news will not be good for the Pettitte camp. · (31) ·
In one sense, it pains me to write about this. Who cares what the Yankees are doing with their personal lives, right? In another way, though, I'm very happy to report that Alex Rodriguez has finally figured out that he can do better than a 50 (and a half) year old pop star. His latest fling: Kate Hudson. I certainly approve, as she's a significant upgrade from Madonna. Plus, she used to be married to Chris Robinson of the Black Crowes, which is all sorts of awesome. Ben's reaction: "Dammit. I want to date Kate Hudson." Mike's reaction: "You know, I never thought that she was all that hot." I'm definitely siding with Ben on this one.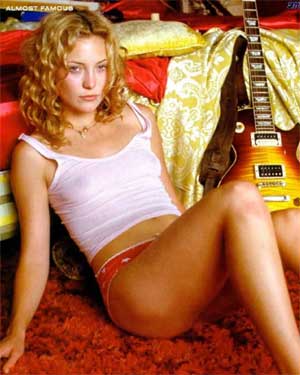 That's definitely her best movie role. For a nude, but covered, photo, go here.
Update by Mike (7:38pm): Go ahead and use this for the open thread tonight. The Knicks are in New Orleans, but otherwise all the local teams are off. Play nice.
We haven't really touched on the Cuban defector situation yet on RAB, so now is as good a time as any. As you might have heard, Yadel Marti and Yasser Gomez defected from Cuba a few weeks ago. You might remember Marti from the WBC if you payed attention in 2006. He pitched 12.2 scoreless innings and racked up a pair of saves. Gomez has compiled some gawdy stats in a Cuban National Series tournament. Both figure to garner a bit of attention once they're officially on the market.
As Steve at MLBTR noted yesterday, the duo will be open to all suitors. Of course, their price tags might make them prohibitive to some or most of the small market teams. Plus, they mentioned the Yankees, White Sox, and Red Sox specifically, so that might be indicative of where they think they'll land.
The last time the Yanks and the Sox were both in on a Cuban defector, we saw the term "Evil Empire" born. "The evil empire extends its tentacles even into Latin America," the disgruntled co-owner of the Sox said after the Yanks outbid his team for Jose Contreras. Unfortunately, it was an auction that in hindsight the Yanks would have preferred to lose. After pitching to a 3.30 ERA over 71 innings in 2003, he bombed in 2004, pitching to a 5.64 ERA in 95.2 innings while walking way, way, way too many hitters (42). The Yanks traded him straight up for Esteban Loaiza, who was even worse than Contreras — though he did fare well in his 8.1 playoff innings.
I don't know anything about these players other than what's been printed thus far, so I can't make a totally-informed call on whether the Yankees should consider pursuit. I guess it depends on the market. You don't want to give more than two years to either of these guys. They're said to be 29 (Marti) and 28 (Gomez), but who knows how old they actually are. Unless we're talking a Juan Miranda type deal here, my instinct would tell me to pass.
The Hall of Fame is going to get add a few members today, and as Maury Brown notes, MLB Network will carry the official announcement live (and exclusively) starting at 1:30pm. The only shoo-in on the ballot is Rickey Henderson, baseball's all-time leaders in runs scored, stolen bases, and third person references. Chris Jaffe over at THT did a great job of summing up the wonder of Rickey, I highly recommend it.
You can check out the rest of the ballot here. Chances are that Jim Rice will finally break through and make it too Cooperstown in his final year on the ballot, and at that point the HOF floodgates should open. Once Rice is in, don't you have to let Frank Howard, Fred McGriff, Albert Belle, Juan Gonzalez and Will Clark in? I mean, when the best thing you can say about a guy is "he was the most feared hitter of his era" (BBWAA code for "I have no evidence to support my claim"), does that make him Hall worthy? I'm pretty sure Mark McGwire scared the bejesus out of pitchers, so why hasn't he been let in? He hasn't been proven guilty of anything. Oh, and how does a guy go from receiving 29.8% of the vote in his first year on the ballot to 72.2% in his 14th year on ballot? How many games did he play in between ballots?
Eh, whatever. Sorry about the rant. Hopefully Bert Blyleven and Tim Raines break through and make it to their rightful place in the HOF. I'll update this post as Harold Reynolds & Co. make the announcements, supposedly they'll come around 2pm.
Update (2:01pm): Rickey Henderson and Jim Rice make it. That's it. Congrats to them both.
Update (2:05pm): Here's the voting:
Rickey, 94.8%
Rice, 76.4
Andre Dawson, 67.0
Bert Blyleven, 62.7
Lee Smith, 44.5
Jack Morris, 44.0
Tommy John, 31.7
Tim Raines, 22.6
Mrk McGwire, 21.9
Alan Trammell, 17.4
Dave Parker, 15.0
Donnie Baseball, 11.9
Dale Murphy, 11.5
Harold Baines, 5.9
By

Here's a fun little story that trickled into my Inbox via Google News last night: T-shirt sales for CC Sabathia are far exceeding the usual demand for player t-shirts. According to Crain's New York, local stores including Modell's and the Yankee Clubhouse stores have sold out Sabathia shirts three times over. I don't have a CC shirt yet. I think I'm going to wait for the Teixeira 25 ones to hit. · (49) ·
By

When the new Yankee Stadium Metro-North station opens in a few weeks, thousands of Yankee fans will eschew the pleasures of parking, traffic jams, gas prices and toll fares for the relative comfort of commuter rail cars. Recently, the MTA unveiled the pricing schemes for game-day service to and from the new station stop. While schedule information is not yet available, Second Ave. Sagas has the latest on the fares. Briefly, tickets will cost a dollar more than regular service to Grand Central. That's not too bad. · (28) ·
By most accounts, the Yankees could use a back-end starter who can eat innings in 2009. While they have CC Sabathia, A.J. Burnett and Ching-Ming Wang up front, having two of Joba Chamberlain, Phil Hughes, Al Aceves, Ian Kenned, Phil Coke, Chase Wright and any other youngster the Yanks trot out there fill up 70 starts while pitching the Yanks toward a playoff berth may be a tall order.
To that end, there's a certainly a reason to bring Andy Pettitte back into the fold this year, but that soap opera has seemingly reached a stalemate. Pettitte doesn't want to take a $6-million pay cut, and the Yanks don't want to sign a pitcher turning 37-year-old in June and coming off his worst season of his career to a lofty contract. I don't blame them.
In the meantime, the Yanks have alternatives. Derek Lowe remains unsigned. He, however, wants a few years and $15 million per before affixing his John Hancock to a contract. Ben Sheets is still unsigned as well, but teams have concerns about his health.
There is another pitcher out there, also 37 and coming off his worst season. As John Garica notes, Pedro Martinez could be an intriguing option for the Yanks. It's not as outlandish as it sounds.
Last season was not one of Pedro's finest. He was coming off of major arm surgery and got lit up. He threw 109 innings in the NL and gave up 127 hits, 19 of which were home runs. He walked 44 and struck out 87, his worst K/BB ratio since 1993. Over his final 40 innings of 2008, opponents hit .321/.379/.500 off of the former Cy Younger winner (while striking out 38 times). No matter how you slice or dice it, those are ugly numbers.
So Pedro is looking to rebound in 2008. Maybe he's the guy the Yankees need in the back end. He could be their John Smoltz, a low-risk, high-reward type of signing. Considering that the only Pedro rumors this off-season were either his own desire to return to New York and some quickly quashed Marlins rumors, I would think that the Yanks could swoop in and sign Pedro for a low base salary with incentives.
It might not be the answer to the innings gap, but the Yanks don't have much — other than money — to lose. Pedro could make some starts, and if he's healthy, he'll fill that 4/5 whole in the rotation. If not, the Yanks seem ready to rely on the kids anyway. And, hey, then maybe we could all go back to wearing these shirts again. Crazier things have happened.
If you keep up with the Yanks minor league system, you're probably up to date on the group of pitchers coming off elbow surgery. In case you're not, Lisa Winston has an update at the official site on Andrew Brackman, Humberto Sanchez, Mark Melancon, and J.B. Cox.
First up, Mark Newman talks up Brackman and Cox.
On Brackman:
"His velocity was between 94-97 [mph], so he had no problems and he's ready to go for Major League camp," said Mark Newman, the Yankees' senior vice president of baseball operations. "His stuff is outstanding, and he's getting a feel for his delivery and throwing strikes. But first and foremost, he was healthy and, at times, dominant."
…
"The benefits are the power and deception because the ball is released closer to the plate," Newman explained. "But the downside is you have long levers to manage, and it takes time. There aren't many of those guys in the environment to use as test cases, but most people believe that taller guys take a little longer to get their command."
I'm stoked to watch Brackman work through the season. He hasn't pitched a season nearly as long as that of High-A Tampa, which is where Mike thinks he'll start out. I'm guessing he'll throw something around 100 innings before shutting it down.
Bonus: The Yanks beat some long odds in drafting Brackman.
On Cox:
"He's fine," Newman said. "He's just been out for a year and got to the point in terms of his innings where we didn't want to overload him. We consider those guys 'rehabs' for a full year."
What I find strangest about Cox is that no team took him in the Rule 5 draft. The Padres took freaking Ian Nova. He's two years out of elbow surgery, so there aren't any excuses this year. Here's to a healthy 2008 for J. Brent.
Humberto Sanchez on himself:
"I feel pretty good, but honestly, I forgot what 100 percent feels like," he joked from Arizona, where he was enjoying a few hours off watching his beloved New York Giants. "I feel as good as I can going into Spring Training, and being out here has helped a lot. Along with the conditioning and fitness work, we've also been doing what we call 'prehab' to try to prevent injuries."
Humberto was pretty damn terrible in the AzFL. He issued 11 walks, gave up 21 hits, and allowed 16 earned runs in just 12 innings. Oh yeah, and just four strikeouts. He has plenty to prove this year. It looks like the Yanks have already moved him to the bullpen, but I think you have to give him this one last chance to head into the season as a starter.
On Melancon:
Winston provided no quotes on Mark Melancon, but she paid him a higher compliment. After rattling off his ridiculously awesome 2008 stats, she says this of the righty reliever:
But whether he starts the spring in New York or in Scranton/Wilkes-Barre, Melancon is probably the Yankees' most promising heir to the throne of Mariano Rivera, both thanks to his stuff and his mound makeup.
Damn. Most promising heir to Mo. Talk about setting expectations high. Not that she's wrong. Of all the relievers on the farm, Melancon is the most poised to make an impact. But the heir to Mo? Damn. Is that even possible to live up to?
By

As the Andy Pettitte stalemate continues, YanksBlog.com checks in with a damning quote from the lefty. In a Sept. 10 Times article, Pettitte had some interesting things to say about his then-impending free agency. "Obviously anyone else would say, 'I'll go wherever I want to,' because people want to try to get the most money," Pettitte said to Tyler Kepner. "But, I mean, I'm not going anywhere, you know what I'm saying? The Yankees know me enough, it's not like I'm going to hold out. I guess if I had spent all my money or whatever, it might be different. But it's not about that, really, anymore." Those words and his actions this winter speak for themselves. · (70) ·