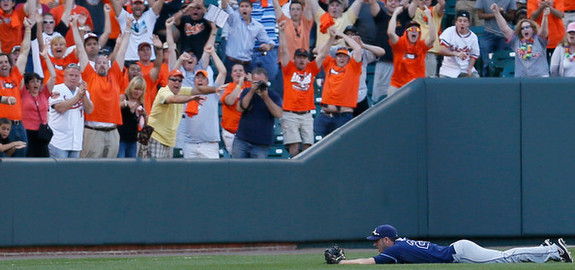 Just three more games and the Yankees are done, done with their primary competition for the AL East crown. They played their final games against the Orioles last weekend, and this weekend they'll wrap up the season series against the Rays. Every game is important these days, but Tampa is likely to come out with a major sense of urgency this series.
What Have They Done Lately?
Get swept by the Orioles, that's what they've done. The Rays needed to win two of three this week to really get back in the AL East race, but they instead come to the Bronx four games back of a) first place in the division, and b) the second wildcard spot. They're 77-66 with a +76 run differential on the season.
Offense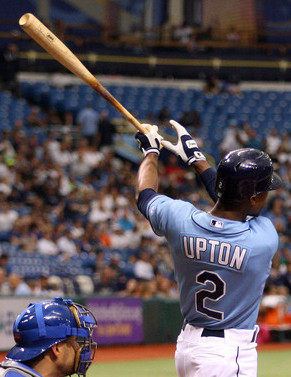 Tampa continues to be a slightly below average offense at 4.1 runs per game overall and 3.5 runs per game in their last 15 contests. Evan Longoria (131 wRC+) has been off the DL for a while but still gets regular reps at DH as he recovers from a bad hamstring injury. Jeff Keppinger (128 wRC+), Ben Zobrist (128 wRC+), and Matt Joyce (121 wRC+) provide plenty of support, though Joyce can be neutralized by left-handers. B.J. Upton (111 wRC+) has been scorching hot of late (six homers in his last nine games) and rounds out the offensive core.
The big name among the rest of the offense is Carlos Pena (91 wRC+), who is having a down year but will almost certainly hit a homer at some point this weekend. The Yankees always struggle to get him out. Desmond Jennings (106 wRC+), Sam Fuld (103 wRC+ in limited time), and Luke Scott (88 wRC+) all take regular at-bats, as does Ryan Roberts (77 wRC+). Roberts fouled a ball off his ankle yesterday and is day-to-day. If he can't go, expect to see Elliot Johnson (88 wRC+) take his spot on the infield. Ben Francisco (81 wRC+) provides some pop against lefties, the Joses — Lobaton (86 wRC+) and Molina (63 wRC+) — do the catching, and the crop of September call-ups includes speedy outfielder Rich Thompson, slick-fielding infielder Reid Brignac, corner guy Stephen Vogt, and catcher Chris Gimenez.
Pitching Matchups
Friday: LHP CC Sabathia vs. LHP David Price
Price, 27, will be pitching for the first time in 12 days tonight after missing his last start with a sore shoulder. He was performing like a legitimate Cy Young candidate prior to the injury, with a 2.54 ERA (3.20 FIP) and gaudy peripherals — 8.72 K/9 (24.3 K%), 2.69 BB/9 (7.5 BB%), and 51.7% grounders — in 27 starts and 180.2 innings. Price is all about the fastball, sitting in the mid-90s with the two- and four-seamer and right around 90 with the cutter. He just added that last pitch not too long ago and will backdoor it to righties all day long. An upper-80s slider, a mid-80s changeup, and an upper-70s curveball are his three scantily used offspeed pitches. The Yankees have seen plenty of Price both this year and in the past, the good and bad versions.

Saturday: RHP Ivan Nova vs. RHP Jamie Shields
The Yankees got their latest look at the 30-year-old Shields in St. Pete a week ago, when he held them to three runs in eight innings. He's pitched very well of late, allowing no more than three runs in any of his last eight starts and dragging his season ERA down to 3.71 (3.56 FIP). His strikeout (8.55 K/9 and 22.7 K%) and ground ball (52.3%) rates are career highs, the walk rate (2.35 BB/9 and 6.2 BB%) a career worst (but still really good). Shields is a six-pitch, backwards-pitching machine. He's in the low-90s with three fastballs (two-seamer, four-seamer, cutter) and backs them up with one of the best changeups in baseball. An upper-80s slider and an upper-70s curve round out his arsenal. Like Price, the Yankees have seen plenty of both the good and bad versions of Shields throughout the years. There's no mystery here.
Sunday: RHP Hiroki Kuroda vs. LHP Matt Moore
It's been a good but not overwhelmingly great season for the 23-year-old Moore, who owns a 3.68 ERA (3.87 FIP) in 28 starts and 166.1 innings. His strikeout rate is excellent (8.93 K/9 and 23.2 K%), but the walks (3.95 BB/9 and 10.3 BB%) and ground balls (37.8%) leave a lot to be desired. Moore throws easy mid-90s gas, both two- and four-seamers, and complements it with mid-80s sliders and changeups. I still don't understand how left-handed hitters have a .324 wOBA against him; he should be eating same-side hitters alive with his stuff. The Yankees hung six runs on Moore in 6.1 innings last week after he held them to three runs in seven innings earlier this summer.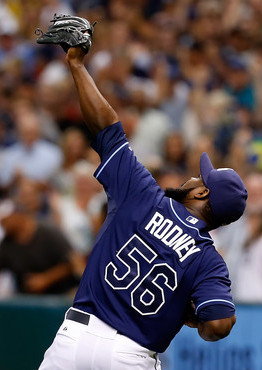 Bullpen Status
The Rays played 14 innings yesterday, running through their entire regular bullpen as well as September call-up Chris Archer (2.83 FIP). He threw 3.2 innings and 79 pitches in relief, so don't expect to see him at all this weekend. Super-closer Fernando Rodney (2.22 FIP) threw just one inning yesterday after having four days off, so I have to think he'll be available all three games this weekend given the circumstances. This is probably also four- and five-out save territory as well. The Rays really need these games.
Setup right-hander Joel Peralta (3.08 FIP) and setup left-hander Jake McGee (1.95 FIP) have both appeared in two straight games, ditto Kyle Farnsworth and Wade Davis (2.97 FIP for both). Second lefty J.P. Howell (4.58 FIP) and ground ball man Burke Badenhop (3.72 FIP) have only appeared in one straight game. Aside from Archer, the other call-ups are right-handers Brandon Gomes and Dane De La Rosa, plus left-hander Cesar Ramos. Joe Girardi's bullpen has been worked hard of late, so make sure you check out our Bullpen Workload page for the exact details. DRays Bay is the place to go for the latest and greatest on the Rays.
Ticket Info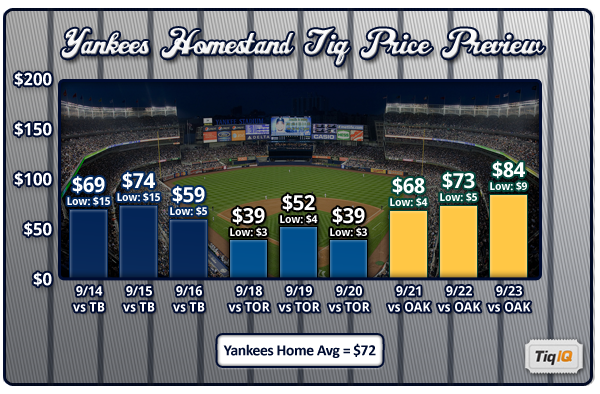 You can get up to 50% off tickets for the upcoming homestand by using this link. Just click, sign up if you haven't already, pick a section and save.