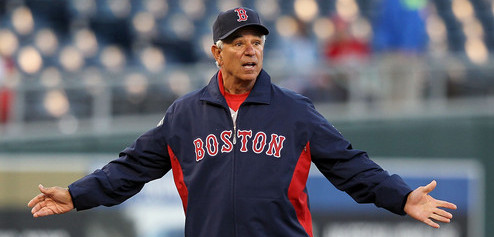 A mid-September series between the Yankees and Red Sox are supposed to be much more meaningful than this. Well, let me rephrase that. These games are obviously meaningful for the Yankees, but in terms of where they finish with respect to the Sox? Meaningless. Instead of the usual mid-September battle for AL East supremacy, we've got a midweek series between a first place team and a last place team.
What Have They Done Lately?
Boston is legit terrible right now. They just got swept by the Blue Jays at home and have won one (one!) of their last dozen games. That's hard to believe. Since the big trade, the Sox are 3-12. Since August 1st, they are 10-27. Since Opening Day, they're 63-78 with a -19 run differential. Boston is so bad that Brendan O'Toole of Over the Monster wrote about the last time they were this bad.
Offense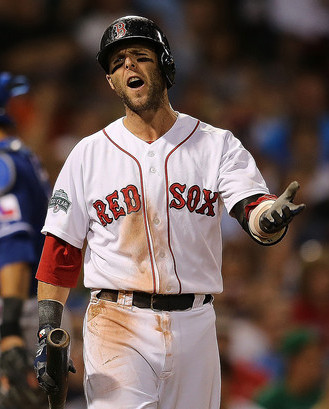 The Red Sox have averaged 4.7 runs per games with an almost perfectly league average team 99 wRC+ this year, but this isn't the same team they fielded most of the season. David Ortiz (166 wRC+) is likely out for the season — he'll miss at least this series — with an Achilles problem and he was their best hitter by no small margin. Adrian Gonzalez (114 wRC+) is now with the Dodgers and so is Carl Crawford (111 wRC+), who had a nice little run between DL stints. Will Middlebrooks (121 wRC+) is out with a wrist injury as well. That's a lot of early-season offseason they don't have anymore.
Among those still with the team, Cody Ross (125 wRC+) has been the best hitter all season. That said, I think we all agree that Dustin Pedroia (113 wRC+) is the guy we don't want to see at the plate in a big spot. Jacoby Ellsbury (82 wRC+) hasn't been able to build off last year's MVP runner-up campaign due in part to a shoulder injury. Jarrod Saltalamacchia (94 wRC+) has power and little else, and he's probably their third best hitter right now. James Loney (70 wRC+) has replaced Adrian at first base, and Scott Podsednik (94 wRC+) is playing everyday as well. Mike Aviles (74 wRC+) has seen his playing time cut a bit lately, and I think you'll be happy to hear that Pedro Ciriaco (100 wRC+) is hitting .128/.146/.128 in the team's last 13 games (48 plate appearances). Maybe the Yankees can actually get him out this week.
The lot of September call-ups is highlighted by Ryan Lavarnway (29 wRC+) and Daniel Nava (110 wRC+). Ryan Kalish is the spare outfielder, Guillermo Quiroz the third catcher, and Mauro Gomez and Ivan DeJesus Jr. the extra infielders. This certainly isn't the kind of offense we're used to see out of the Red Sox, who have averaged just 3.5 runs per game with a .253/.298/.366 batting line since the big trade with the Dodgers.
Pitching Matchups
Tuesday: RHP Hiroki Kuroda vs. LHP Jon Lester
It's a case of too little, too late for the Red Sox and Lester, who has pitched to a 3.70 ERA (3.49 FIP) in his last seven starts (48.2 IP). Overall, he owns a 4.99 ERA (4.09 FIP) with a career-low strikeout rate (7.46 K/9 and 19.4 K%) and a career-high homer rate (1.13 HR/9). His walk rate (2.83 BB/9 and 7.4 BB%) is among the best marks of his career, so at least he has that going for him. Lester is a three-fastball guy, sitting around 92 with the four-seamer and sinker, but a notch below that with the cutter. His curveball sits in the mid-70s, the changeup in the mid-80s. The Yankees have had both good and bad games against Lester both this year and in recent years. There's no mystery here.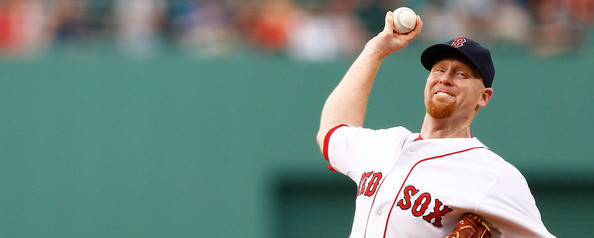 Wednesday: RHP David Phelps vs. RHP Aaron Cook
Cook's defiance of defense independent pitching metrics came to a screeching halt right around the All-Star break, as he's allowed 39 runs in his last nine starts (47 IP). His season performance sits at 5.17 ERA (5.01 FIP) in 14 starts, including stellar walk (1.76 BB/9 and 4.6 BB%) and ground ball (60.2%) rates. He doesn't strike anyone out though, I'm talking a 1.88 K/9 and 4.9 K%. That's the lowest strikeout rate in the last 50 years among pitchers who made at least 14 starts in a given season. That's kinda ridiculous. Cook uses his upper-80s sinker about 80% of the time, with the rest being upper-80s sliders and mid-80s curveballs. The Yankees hung six runs on the for Rockie in four innings earlier this year.
Thursday: RHP Phil Hughes vs.LHP Felix Doubront
A pitcher's first full season as a starter in the AL East tends to be up-and-down, and Doubront certainly started well before collapsing late. He's allowed at least four runs in each of his last five starts, and only twice completed five full innings of work during that time. Forty-five baserunners in his last 21.1 innings have his season ERA at 5.21 (4.59 FIP) despite an excellent strikeout rate (9.09 K/9 and 22.7 K%). The walk (3.88 BB/9 and 9.7 BB%), ground ball (42.7%), and homer (1.47 HR/9) percentages aren't anything to write home about. The 24-year-old southpaw uses both two- and four-seamers in the low-90s to set up his mid-70s curveball and mid-80s changeup. Doubront has made one good (one run in six innings) and one not-so-good (four runs in 6.1 innings) start against the Yankees this season. There's talk that Boston may shut him down given his workload, in which case Daisuke Matsuzaka would likely make this start instead. Nothing is final though.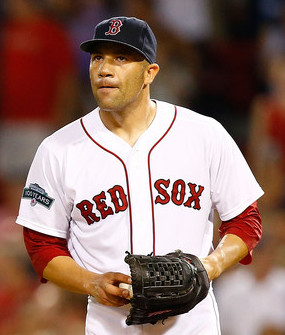 Bullpen Status
Both the Yankees and Red Sox had Monday off, so everyone's bullpen is fresh. It took a little longer than expected, but Andrew Bailey (4.41 FIP) has assumed closer duties after former Yankee Al Aceves (4.25 FIP) handled the ninth inning most of the season. Aceves is basically a mop-up man at this point, and there's some speculation that he could move into the rotation and take Doubront's spot during these final weeks. Given some shenanigans with manager Bobby Valentine, it's possible Ace's days in Boston are numbered.
Setup duties have fallen mostly on the shoulders of Vicente Padilla (3.77 FIP), who I'm sure is crushed that Mark Teixeira will miss the series. Andrew Miller (3.10 FIP) and deadline pickup Craig Breslow (3.37 FIP) are the two primary left-handers. Former Yankee Mark Melancon (5.24 FIP) joins Junichi Tazawa (2.20 FIP) and the broken Daniel Bard (6.19 FIP) as the right-handed middle relievers. Clayton Mortensen, Rich Hill, and former Yankee draft pick Chris Carpenter round out the rest of the bullpen. Check out our Bullpen Workload page for details on the Yankees' relievers and the aforementioned Over the Monster for the latest and greatest on the Sox.