Via ScottBoras.com, er, I mean, MLB Trade Rumors, we get some commentary from Hall of Fame journalist Peter Gammons. He spoke of Mark Teixeira, the Yankees' choice of A.J. Burnett over Derek Lowe, All-Star Catcher Jason Varitek, and the AL East. So let's hear what Gammo has to say.
First we'll start with Tex. Gammons doesn't add much to the story we've come to know over the past two weeks. He does say that the Red Sox were kind of blindsided, and that Boras kind of hemmed and hawed in order to get things going with the Yankees:
They didn't know it. They were waiting on the day that he signed . . . they thought that they were going to get him. They tried to close the deal on Monday night [Dec. 21], and Scott [Boras] said, 'Well, the Teixeiras are flying, and they haven't quite done this, and they haven't quite done that," and he kept putting it off an all along it was to just finish the language with the Yankees.
Shortly after this quote, Gammons goes on to note the "testiness between Alex Rodriguez and Mark Teixeira when they played in Texas together." He doesn't comment on what that could mean for the Yankees, but allow me. It won't matter. They'll be together in New York, with no-trade clauses, for the next eight years. They're professionals. They can handle it.
After saying that it might have taken $220 million for the Sox to actually nab Tex, Gammons goes on a little rant about the media, specifically as it exists on the Internet:
What happened this winter is that, as the internet has expanded to become the media power, the flow of information is quickly controlled by agents. A lot of general managers and those of us in the business kid about a couple of sites referred to as ScottBoras.com, and Scott will float things out there and throw it out there and people will report it, you know, 'The Brewers are jumping in on Derek Lowe.' They're not jumping in on Derek Lowe. I mean, please. 'The Red Sox are really hot for Derek Lowe at $16 [million] . . . ' No, they're not. But Scott floats this stuff out, and he's able to get people to report it.
Not only does it get reported, but it's then aggregated at MLB Trade Rumors and other similar sites. So the news does spread rather quickly.
Next topic: Derek Lowe. As Gammons tells it, he could have easily been a Yankee if not for the efforts of A.J. Burnett's agents:
[Lowe] could have gotten four-times-$15 million from the Yankees, but A.J. Burnett's agents stopped Scott Boras [who is Lowe's agent] and beat him to the Yankees. The Yankees wanted Lowe, but A.J. Burnett's agents did a better job.
At the time, considering the market was still pretty wide-open, I have a hard time believing that Derek Lowe would have taken a four-year, $60 million deal. Then again, since he's probably not going to get that now, maybe he would have. I don't know.
On the subject of Jason Varitek, Gammons, like most of us, can't believe he and Boras declined arbitration:
How Scott Boras looked him in the eye and said, 'By the way, I turned down $10 million [in arbitration],' is beyond me.
(snip)
I know the players' association was strongly advising agents not to take arbitration. They felt that teams were trying to control players for one year at a lesser amount than they'd have to pay down the line. But again, if you're Jon Garland or Ben Sheets or Orlando Cabrera or Jason Varitek, it cost you a lot of money.
Finally, on the AL East:
I picked the Red Sox second, just because we don't know about the health of David Ortiz and Mike Lowell, and I think Josh Beckett will be fine. You never know about J.D. Drew's health. And the Yankees, with the innings that [CC] Sabathia and [Chien-Ming] Wang can give them and all the offense they should have, they clearly have to be the favorites.
There's plenty to discuss here, so fire away.
By

James M. Odata at The Times-Union has whipped out his CPA calculator to figure out the Yanks' top five earners' tax liability. Based on the assumption that none of these guys consider New York State, for tax purposes, to be their primary residences and that the Yanks are in New York for 100 of the season's approximately 240 days, the state alone would make $3 million from Mark Teixeira, CC Sabathia, A.J. Burnett, Derek Jeter and A-Rod. If they all permanently resided here, the state could claim up to $7 million. The city would take some, and the Feds would want a large cut too. (Hat tip to Shysterball again. Craig does good work. Read him.) · (36) ·
Ryan Zink | RHP
Background
Zink grew up in the baseball … ahem … hotbed of Madison, WI, where he attended LaFollette High School. A standout for the Lancers, he was named to the All-City First Team and was an honorable mention for the All-Conference team as a sophomore, when he led the school to the City Championship. As a junior Zink repeated as a first team All-City player, adding All-Conference First Team and All-District Second Team honors to his resume. He was at his best when needed most, striking out eleven batters and allowing just three hits in a ten inning outing in the Regional Finals.
Score one for the little guy. After facing intense scrutiny over aggressive e-mails and shady land dealings, the City of New York will be giving up its luxury suite at the new Yankee Stadium for a cash payment. While this doesn't really solve the rampant problem of the tax-exempt bonds, it's a victory, albeit a small one, for good government groups.
Fernanda Santos has the story in The Times today:
After intense criticism, the Bloomberg administration has given up a perk it worked fervently to secure: a free luxury suite at the new Yankee Stadium.

The city will relinquish use of the 12-seat box in exchange for whatever revenue the Yankees generate by selling the seats, minus the cost of marketing them. Although neither the city nor the Yankees have publicly disclosed the market value of the suite, similar suites at the new stadium are being sold for as much as $600,000 a year…

Under the new arrangement with the city, the Yankees will be allowed to keep the parking spaces and use of the billboards, and the city will be guaranteed at least $100,000 for each baseball season, even if no one buys the suite. The deal was formalized last month in a letter from Mr. Pinsky to the Yankees president, Randy Levine, that was made public on Tuesday. A similar arrangement is being negotiated with the Mets, which also gave the city free use of a suite in its new ballpark, Citi Field.
While I think this is a fair deal, Assemblyman Richard Brodsky is a bit skeptical. "The taxpayers who are paying for the construction of Yankee Stadium cannot afford to buy tickets for the games, but the mayor was getting a luxury box, so he had to back off," he said to The Times. "But the reason he backed off is because next week, the city is going to give the Yankees more taxpayer money."
Next week, the city should just make the Yankees take taxed bonds. This whole thing would be over. Either way, King Mayor Bloomberg has discovered that if he doesn't play nice, he doesn't get his perks, and the city will give up a luxury box it probably could have gotten through more legitimate means. Such are the way of things.
So this Andy Pettitte article from Joel Sherman seems to be making the rounds, and again, I'm forced, against my will, to confront a Post article. Basically, Sherman's premise is that the Yanks are going to respond to Pettitte's supposedly rejection of their $10-million offer by — wait for it — lowering their offer.
Sherman writes:
Andy Pettitte's chances to return to the Yankees New York Yankees have dropped precipitously because in the aftermath of the Mark Teixeira signing the organization is now strongly inclined to lower the $10 million offer that the lefty already has been resistant to all offseason, the Post has learned.

Pettitte recently rejected the Yankees' latest $10 million overture, and now – barring a wave of sentimentality by the Yanks or significant change of strategy by either side – that dollar figure very likely will not be offered again. A reduced offer almost certainly would assure the end of the prideful Pettitte's second tour with the Yankees.

Multiple sources refused to divulge if the offer had been lowered already. But one executive briefed on the matter described both the chances of making a deal and the $10 million bid as on life support. Another executive said he did not believe that the $10 million offer was there to be taken any longer.
So in one paragraph, Serhman speculates — "the Post has learned" — that Pettitte's offer will be lowered. Two paragraphs later, no one on or off the record will confirm to him that this is indeed anything more than a move of his creation. One person says the deal probably won't happen; the other says the offer is off the table. No one at talks about lowering the offer.
Now, if the Yankees want Pettitte back, they won't lower the offer. They'll probably just keep it on the table while continuing to promote the idea that the Phils — Coke and Hughes — will be given shots at the rotation and that Ian Kennedy and Al Aceves will get long looks as well. They'll make Pettitte aware of the fact that he doesn't deserve and shouldn't be making $10 million and that the teams knows this and is prepared to move on.
Meanwhile, Yankee bloggers aren't that heartbroken over the Pettitte saga. Alex Belth thinks it would be "a nice luxury" but doesn't feel that the Yankees necessarily need Pettitte. Brian at In Mo We Trust takes Pettitte to task for thinking he is worth more than he really is. I still wouldn't be too shocked to see Pettitte back in pinstripes, but I won't be disappointed if he's not. I don't, however, for a second believe that the Yanks are going to insult the man by lowering their offer.
Not from me, though. Ken Rosenthal mentioned Xavier Nady and Nick Swisher in connection with the San Francisco Giants, so Grant at McCovey Chronicles checks to see if the clubs match up. He doesn't like the $22 million gamble on Nick Swisher rebounding, but does find Xavier Nady interesting. Giants GM Brian Sabean has said he will trade for only players who are under control beyond 2009, but Grant points out a possible loophole. What about Randy Winn?
I admit, when I first heard this I thought about it for a second. Winn is coming off two seasons of 105 OPS+ and has generally been above average for his career. He gets on at a decent clip and can hit for average. He could always have a down year, which is a risk, but the same could be said of Nady. He's got just one year left on his deal, so there would be no long-tem risk. His salary, $8.25 million, will be a couple million north of Nady's arbitration figure, so a one-for-one swap is feasible.
That's all secondary, though. The idea behind Grant's proposal is that Winn can play center, which fills a need (or want, however you think about it) for the Yankees. That's why I started to think about all those other things related to the proposal. Yet it is flawed at its very core. Randy Winn doesn't play a good center field, or at least so says his UZR. He hasn't posted a positive UZR since 2005, and has played a steadily decreasing number of games there since 2004. He's good in right field, but all things equal I'd rather have Xavier Nady.
So, while it makes a "ton of sense" to Grant, it makes little to me. There's no reason for the Yankees to trade Nady or Swisher at this point unless they're blown away with an offer. Every team could use the depth. It could come in handy just a few months from now. Then, with most of the free agents off the board, that depth could be even more valuable.
By

Barring a Mets deal, Bobby Abreu's days as New York resident are numbered. To that end, Abreu is looking to sell his two-bedroom apartment in One Beacon Court, and Luxist takes a tour of the property. Abreu is asking $7.9 million, but as will be the case when he finally signs with a new team, he won't get his asking price for the apartment either. No matter though; he'll turn a profit on his original $3.5-million investment. (Hat tip to Shysterball.) · (41) ·
By

This one comes from Ken Rosenthal. Angel Berroa is expected to compete with Cody Ransom for the utility infielder spot come Spring Training. The deal is contingent on Berroa admitting that Hideki Matsui should have won Rookie of the Year back in '03. · (50) ·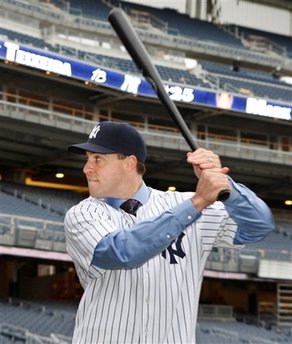 Now, that guy looks pretty good in pinstripes, eh? As the Yanks welcomed their newest addition today, let's catch up on some rumors.
Bobby Abreu is still looking for a three-year, $48-million offer, and I'm looking for a rainbow with a leprechaun and a pot of gold at the end of it. Neither of us are going to find what we're looking for, and Jerry Crasnick says that no one is really interested in Abreu.
Ken Rosenthal reports that Xavier Nady and Nick Swisher are "drawing significant interest." Joe will have more on this for the overnight tonight, but to sum up my thinking, the Yanks don't really need to trade anyone right now. Unless they are blown away by an offer, they are far better off holding Swisher and Nady than they are trading them right now.
In the same piece, Rosenthal drops in a tidbit about Brian Fuentes. Apparently, Fuentes' agent tried to pitch the closer to the Yanks as a possible set-up man and future heir to Mariano Rivera's throne. The Yanks weren't interested in paying Fuentes closer money and never made an offer. While some folks in the Mark Teixeira press conference liveblog believed that this news shows that the Yanks are nervous about the 8th inning, I completely disagree. They weren't keen on bringing in Fuentes, and it seems as though the closer's agent just wanted the Yankees in on the negotiations. Nothing to see there really.
Anyway, use this as your open thread for the night. Anything goes. Just play nice.
Update by Mike (7:04pm): The Yanks signed outfielder John Rodriguez to a minor league deal. The Bombers originally signed J-Rod as an international free agent back undrafted free agent out of an NY area high school back in '96 for $1,000. He has a 110 OPS+ in 332 big league at-bats, which came for the Cardinals back in '05 & '06.
By

The Cleveland Indians landed themselves a lemon today as they are the lucky winners of the Carl Pavano Sweepstakes. Mark Shapiro has signed the oft-injured 32-year-old to a one-year, $1.5-million deal with incentives. Pavano will be warmly remembered in New York for his grit and determination as he totaled his Porsche while on rehab made 26 starts over four years, earning per Yankee start the same $1.5 million he will make over the course of the entire 2009 season.

On another Pavano note, a few weeks ago, Ken Davidoff noted that it took the Yanks "10 minutes to realize what a fraud [Pavano] was" when he joined the team in 2005. That tidbit piqued my curiosity in December, and I hope one day we'll get the full story on Carl Pavano. He certainly took the Yanks for a $40-million ride over the last four seasons. · (44) ·