By

Baseball fans have voted Derek Jeter's impromptu speech to the New York following the final game at Yankee Stadium as their Moment of the Year. Out of over 12 million votes cast, Jeter's speech received 34.7 percent of them. For more on the voting and a video of the oration, check out MLB.com's coverage. · (13) ·
Dock Ellis, a pitcher famous for reportedly tossing a no-hitter while on LSD, passed away yesterday. He'll be remembered for his battles with drug addictions and subsequent anti-drug activism, but for a brief moment in time, he was a member of the Yankees.
In a way, Dock Ellis was an incidental and accidental piece of the Yankees' late-1970s success. He was on the Yanks for all of 1976 and 19.2 innings in 1977. Along the way, he was involved in two instrumental trades and had a season quite odd in the annals of baseball.
The 1976 season saw George Steinbrenner's passion for winning build. Following a third-place finish in 1975, he retooled the Yanks by bringing in Ellis, Willie Randolph and Ken Brett in exchange for Doc Medich. Ellis would win 17 games in 1976 but also managed to pull off the rare feat of walking more hitters than he struck out. His only World Series appearance that year was an ugly start in Game 3.
A few weeks into the 1977 season, Ellis, persona non grata around the Yanks due to his drug problems, was shipped off to the Athletics in exchange for Mike Torrez. Torrez would go onto win 14 games for the Yanks and two more in the World Series that year.
I never got to see Dock Ellis pitch. He was on the Yanks before I was born, and all I know of him come through stories. Jay Jaffe, however, saw and loved Ellis. Check out his take on the former Yankee and one-time troubled baseball soul.
By

Jason Giambi, soon to be 38, wants a three-year deal, but it sounds as though he'll soon get a two-year offer from the A's with an option. While Tampa has expressed some interest in Giambi as well, my bet is on a return to the Bay Area. He would DH for Oakland and slot in nicely behind Matt Holliday. While Jason once said he'd love to return to New York, the Yanks have so far expressed no interest in having Giambi return. · (15) ·
By

In one of his tersest reports of the Hot Stove League, FoxSports' Ken Rosenthal reports that Andy Pettitte will return to the Yanks for 2009. The two sides have to work out appropriate compensation for the aging lefty, but the return, according to Rosenthal's sources is "virtually inevitable." The Yanks also seem willing to wait for Pettitte because, as Jon Heyman notes, the Yanks are wary of Ben Sheets' medical reports. The former Brewer would apparently be the fallback choice if Pettitte doesn't return.

Bringing Andy back into the fold would leave the Yanks with a rotation of CC Sabathia, Chien-Ming Wang, A.J. Burnett, Pettitte and Joba Chamberlain. Al Aceves, Phil Hughes and Ian Kennedy would be waiting in the wings. That sounds like pitching depth to me. Now, if only the Yanks would do something about their offense too. · (48) ·
By

According to Jon Heyman, the Yankees and Scott Boras are talking about Mark Teixeira. It's hard to tell how we should take this report. It could be a ploy by Boras to get the Red Sox back to the table or the Yanks could genuinely be interested in the first baseman. For what it's worth, Mark Feinsand says that Manny remains the Yanks' target and that the team has probably not yet made an offer for Teixeira. · (96) ·
The AP, via ESPN, has some details about the new contracts signed by CC Sabathia and AJ Burnett. Let's do this bullet point style:
Sabathia's contract includes a $9M signing bonus paid in three equal installments over the next 8 months: one on December 31st, one on March 1st, and the last on July 31st.
His salary breakdown is simple:
2009: $14M
2010-2015: $23M each
Sabathia will be paid semimonthly over all twelve months of year; most players are paid semimonthly during the six-month regular season only. He'll earn $583,333 every two weeks in 2009.
He gets a suite on road trips, not uncommon for big name free agents. And, of course, he can opt out of the deal after the 2011 season.
Burnett's deal isn't front or backloaded, and apparently doesn't include a signing bonus. He'll get $16.5M per year for the next five years.
Both contracts include full no-trade clauses.
So Sabathia will have already been paid $9,499,998 before he throws a pitch in the 2009 season. Livin' the dream baby, livin' the dream.
This, my friends, is the current poll up on FOX Sports' MLB frontpage: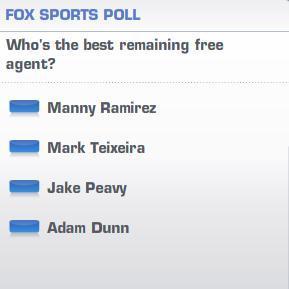 That's been up on their site for the past two days, and of the ~23,000 people who've voted, 11% feel Jake Peavy is the best remaining free agent. 2,530 of FOX Sports' readers are idiots. The three of us are so happy and proud that we're fortunate enough to have such smart readers. Seriously. You guys are the best.
Here's your open thread for the night. You've got the Knicks at home taking on the Bucks, and Anchorman on TBS at 9pm.
By

Bobby Abreu is almost 35 and with a career offensive line of .300/.400/.500. He's been one of the steadiest and best producing outfielders in the Majors for a while, but what should be his last big payday of his career came at a terrible time. The market is flooded with corner outfielders, and teams are wary of a player like Abreu who may have already started a steep decline. Despite his pedigree, as Jerry Crasnick explains, GMs across the game see Abreu as a piece of the puzzle rather than the center piece of a team, and the former Yankee is waiting for a market to emerge. · (62) ·
By all public accounts last night, it seemed as though the Sox had pulled out of the Mark Teixeira sweepstakes. After a night to sleep on it, Jon Heyman's "multiple baseball sources" say that's not true. Rather, the Red Sox have made their best offer to Teixeira; they won't go any higher; and the first baseman's future is in his own hands. This may just be a dance the two sides are playing to stall negotiations or it may portend a final outcome in which Teixeira and Scott Boras just follow the money. The Yankees are playing this one close to the vest.
Additional pontification by Joe.
The most interesting two paragraphs in the linked Madden article, I think, are these:
It was believed that the Red Sox's offer to Teixeira was for eight years at around $170 million and that Angels owner Arte Moreno topped out at $160 million over eight years in his offer.

With those figures floating around, it's not clear what "other offers" Henry was referring to. According to a source, Boras informed the Red Sox that if they were willing to go to $184 million over eight years, they could have Teixeira.
So, like Ben, I believe this is just another part of the dance. The $184 million over eight years represents a $23 million AAV, or exactly what CC Sabathia commanded. I think that, ultimately, the Red Sox would be willing to add Teixeira at this amount. They just don't want to jump into it now, when it is uncertain whether Teixeira has a better offer in hand than the rumored eight year, $170 million offer from the Sox.
Most interesting, of course, is the final line. "[I]f they were willing to go to $184 million over eight years, they could have Teixeira." Sounds like that's an opportunity to swoop in and nab Teixeira. Perhaps, then, the rumors of an insane offer from Washington are overblown (Feinsand's article mentions an eight-year, $120 million deal, which clearly wouldn't cut it). Perhaps the $170 million offer is, in fact, the best offer officially on the table, and Boras just wants to squeeze out as much as possible. The Red Sox see this, and are backing off for the moment, confident that their offer will remain the best.
It's tempting, at least to the fan, to think that all the Yankees would have to do is phone Boras and say "we'll give Teixeira eight years and $184 million." If it's that easy, I'm sure many of you are thinking, why don't the Yanks just do it? I'm not sure of their exact reasons. I'm sure it has plenty to do with the current payroll scheme, both for the 2009 team and for long term projection. It probably also takes into consideration the relative value of Teixeira — in that he's not worth the payout.
Clearly, I think the Yanks should do this. However, I realize that if they don't, they have their reasons, many of which I'm not privy to. It's easy for you and me to project decisions for the Yanks. We're passionate observers on the outside looking in. We want what's best for the team, but we don't have all the relevant information at hand.
Let me repeat: If I'm Brian Cashman, I'm spending the bulk of my Friday convincing Hal Steinbrenner to okay the funds to acquire Teixeira.