The game was all Rays from the beginning. Yanks hitters couldn't touch James Shields, and while Sabathia didn't pitch poorly his couple of mistakes were all the Rays needed. That hands the weekend series to the Rays and tips the season series in their favor. The two teams will have to settle this in September.
Biggest Pitch: Shield's changeup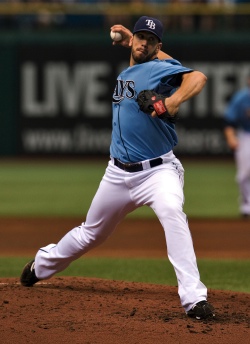 In our series preview it was tough to ignore the part about James Sheilds. It highlights just how good he's become. He had a few rough games early in the first half, but all pitchers go through rough patches. Yesterday he dominated, allowing just four hits and walking one through 7.1 innings. Eleven Yankees, including five straight from the third into the fifth, struck out. They had a couple of chances early on, moving a runner to third in the second and then again in the third. Neither situation worked out.
As expected, Shields attacked Yankees hitters with his changeup. He threw it 31 times out of 116, and got 10 swings and misses. The pitch not only generated a few strikeouts itself, but it also made his fastball tougher, as the Yanks swung and missed at four four-seamers and four cutters. It didn't look like there was much they could do with what Shields was feeding them.
Biggest Hits: Not that big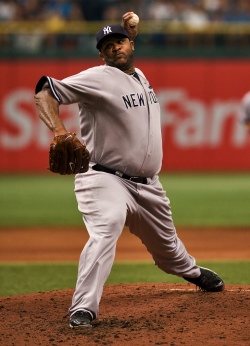 It's not that the Rays' big hits today weren't meaningful. It's that they weren't forcibly struck. Instead the Yanks got unlucky results on a few dinks and dunks. It ended up costing them. Not that they would have fared much better if they'd made those outs. Shields wasn't giving them anything this game.
After a 1-2-3 first Sabathia got ahead of Willy Aybar to start the second. The third pitch, a curveball, didn't look bad, as it ended up low and away. Aybar got the barrel on it, though, and sent it down the left field line where it bounced into the seats for a ground rule double. A comebacker and a fly out later it looked like the Yanks might strand him. But Kelly Shoppach inside outed an inside fastball just over Lance Berkman's head. That gave Aybar a chance to score the game's first run.
The Rays scored their other two runs in the second, and again they seemed preventable. Reid Brignac started things by grounding one towards the middle. Robbie Cano made a slick play, but didn't get enough on the throw. It bounced and Berkman couldn't make the scoop. I'm not the only person who wonders if Teixeira would have had that. That set up the Rays well for B.J. Upton's double, setting them up with runners on first and second with none out.
Sometimes you get the right result and still don't see a reward. Sabathia delivered a 2-2 fastball low and away to Carl Crawford, and he chopped it slowly towards short. The run was certainly going to score, but because of Crawford's speed he also reached safely. It also allowed the runner to advance, significant because he then scored on Evan Longoria's around the horn double play. Sabathia didn't give them anything after that, but they had all they'd need.
Miscelanny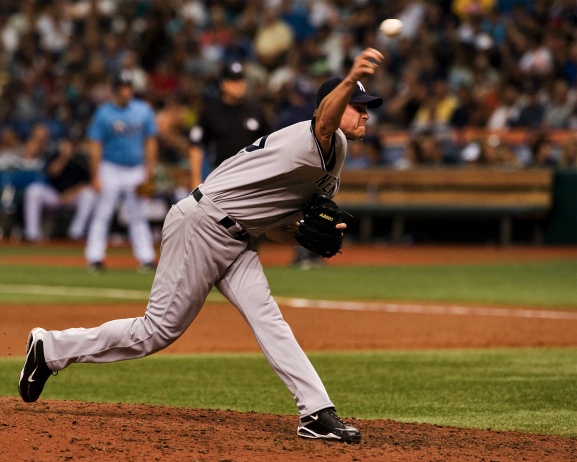 Good job by Kerry Wood, striking out three in his Yankees debut. Poor job of loading the bases and leaving it in Chad Gaudin's hands.
The Rays had baserunners in every inning except the second and the seventh.
No Yankee reached base to lead off an inning.
Not a great day in the field for Berkman. He wasn't missing routine plays, but he probably should have made one of the two, the catch over his head or the scoop from Cano. I'm not sure he would have made the play on Jason Bartlett even if he'd have fielded it cleanly.
It's going to take a while still to get used to him in a Yankees uniform.
Graph and chart
The highlights would be too depressing.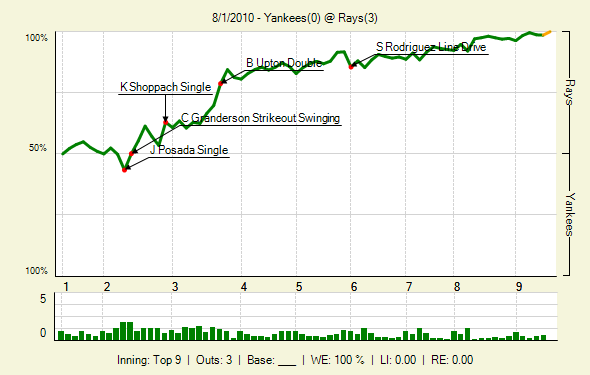 More at FanGraphs. Also, box score.
Up Next
The Yanks head home to face the Blue Jays. Brandon Morrow and A.J. Burnett take the mound.