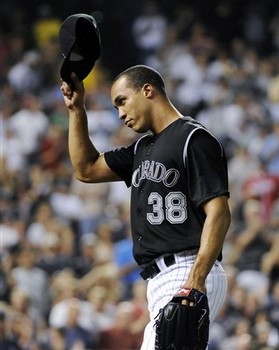 Yesterday's trade deadline came and went with no moves from the Yankees. Nothing, not a bench piece, not a spare bullpen arm, not an all-important lefty reliever, and certainly not a starting pitcher. They ended the day with the exact same squad as they woke up with. "I just feel like we're a lot deeper [compared to the last few years]," said Brian Cashman in yesterday's post-deadline press conference. "I'm willing, by the position I've taken in the last three weeks, to rely on that [rather] than go out and pay an enormous price on something that I'm not certain what it's going to provide."
That depth is something the Yankees didn't have a few years ago and comes from having a strong farm system. They didn't have to make a trade following injuries to Derek Jeter and Alex Rodriguez because Eduardo Nunez had played surprisingly well and Brandon Laird was a phone call away. Hector Noesi and scrap heaper Cory Wade shored up the bullpen after injuries to Rafael Soriano and Joba Chamberlain. The Yankees are currently employing a six-man rotation because of that depth, and Cashman mentioned Adam Warren by name, calling him "a legitimate starting choice for us right now." Other than Wade and the Brian Gordon experiment, the Yankees have plugged just about every hole from within this year.
But that depth only goes so far. The Yankees have been talking about improving their rotation since the offseason and they didn't do it before the trade deadline. The current pitching plan is basically just wing it, hope that Bartolo Colon doesn't tire down the stretch, hope that Freddy Garcia keeps generating ugly swings at an enormous rate, hope that Phil Hughes turns into the early-2010 version of himself, hope that Ivan Nova keeps it up, hope that the kids in the system make an immediate impact if called upon. That last part is the biggest question, because it's not often young players (especially pitchers) come up and are immediate difference makers, even the most talented of hurlers.
I didn't like the idea of giving up assets for the chronically injured Rich Harden or Erik Bedard, and I fully understand walking away from the Ubaldo Jimenez talks. I absolutely wanted him, said so many times in this space, but I don't think it's unreasonable to ask for a medical examination of a 27-year-old that has lost three miles an hour off his fastball when you'd have to give up multiple top prospects for him. The Indians obviously felt that way too, and for whatever reason Colorado granted their request. I like Doug Fister, but I don't love him and question how successful he'll be outside of Safeco Field and Seattle's defense. The starting pitching market just didn't develop, but it's not much of an excuse. Did the Yankees misread the market? Get over-confident in their ability to absorb payroll as a trade chip? Something else? All of the above? Who knows.
Now, of course we have to mention that the July 31st trade deadline is really just an artificial deadline. Teams can still make trades in August through waivers, and there will be plenty of players available this month. Wandy Rodriguez, for example. There was no urgency to trade for him yesterday because no team is claiming that guy and the $38M left on his contract off waivers. If Hiroki Kuroda has a change of heart and agrees to waive his no-trade clause, he'll be available as well. More teams will fall out of contention in the coming weeks (White Sox? Twins? Angels? Cardinals?) and some will certainly open up shop. The hunt for starting pitching didn't end yesterday, or at least I hope it didn't.
It's admirable that the Yankees stuck to their guns and refused to overpay for they felt was less than a sure thing, especially since the GM doesn't have a contract for next season, but the bottom line is that they needed to add to the rotation and didn't. I love prospects as much as the next guy, but I'm also not really a fan of throwing them to wolves down the stretch, especially starting pitchers. The offense is fine (especially with Alex Rodriguez due back), the bullpen is fine (Soriano's back, J.C. Romero is available at a moment's notice), and the Yankees have a sizable lead on a playoff spot (eight games in the loss column), but another Colon hamstring problem or Nova sore ankle or collapse by A.J. Burnett, and their starting staff is going to be in big trouble. Winging it with the rotation is a risky proposition for a team with World Series aspirations.