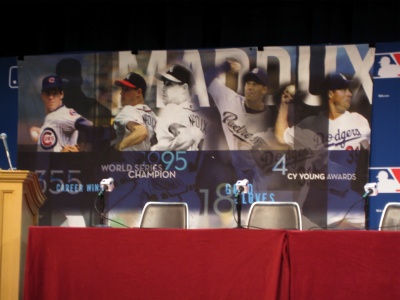 Click on the image for full size
Greg Maddux is in the house to officially announce his retirement. That's a pretty cool mural for him. If he says anything of note we"ll update the post. For now, the only thing of note is that a ton of GMs associated with Maddux — we saw Hendry, Schuerholtz, and Colletti strolling in with Mad Dog.
Update by Mike (11:30am): Here's Boras & Maddux: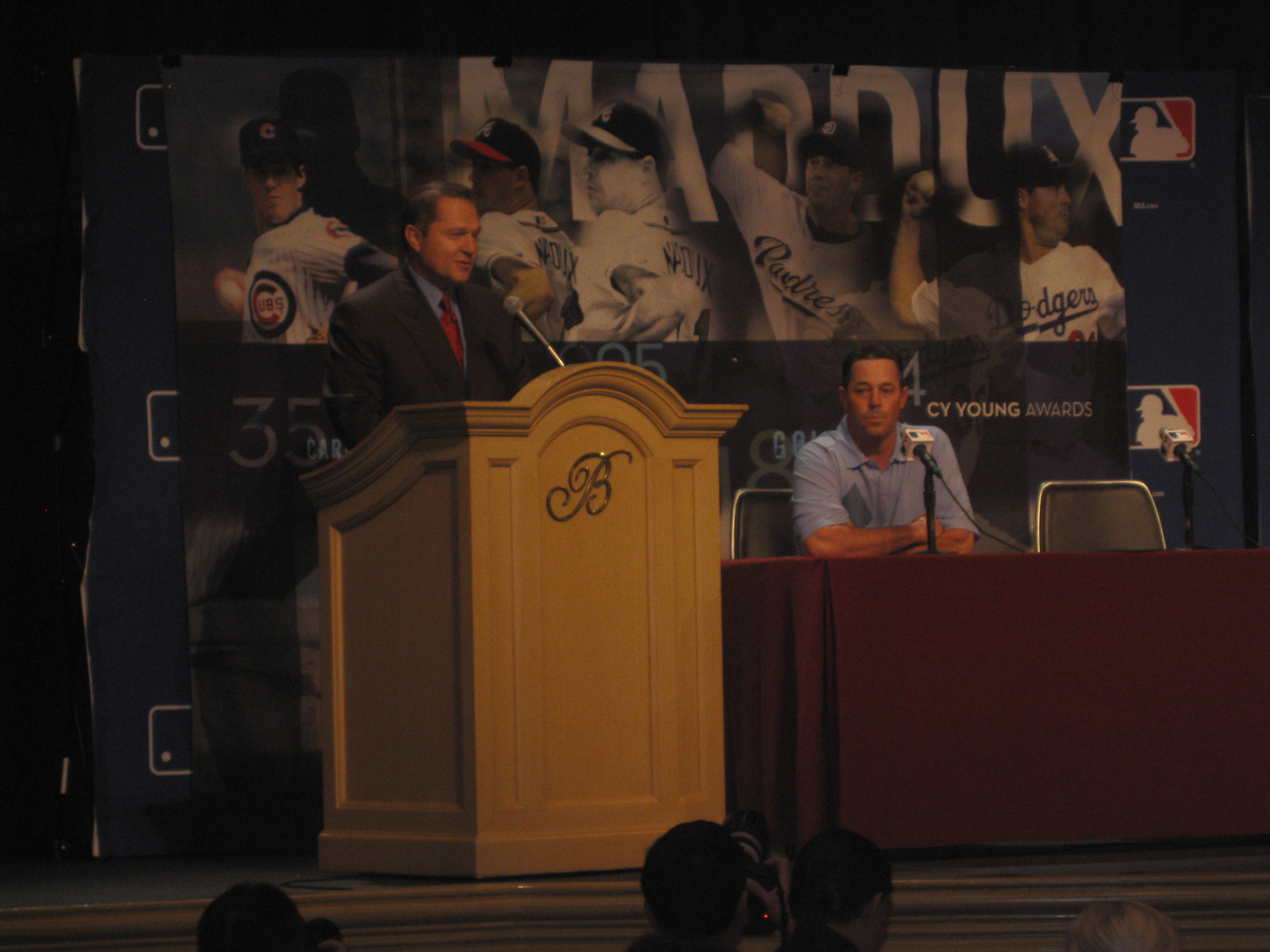 Like Moose, Maddux said he knew for "quite some time" that he'd be retiring.
Update by Joe (11:32 a.m.): Maddux says he's going to take a year off, see if he likes it or not, and then consider coming back as a coach. "I don't feel like I know a whole lot about anything, but I know a few things about baseball." He hasn't made any decisions, but considering his acumen for the game, we could certainly see him back as a coach soon enough.
Update by Mike (11:35am): Here's Maddux answering questions: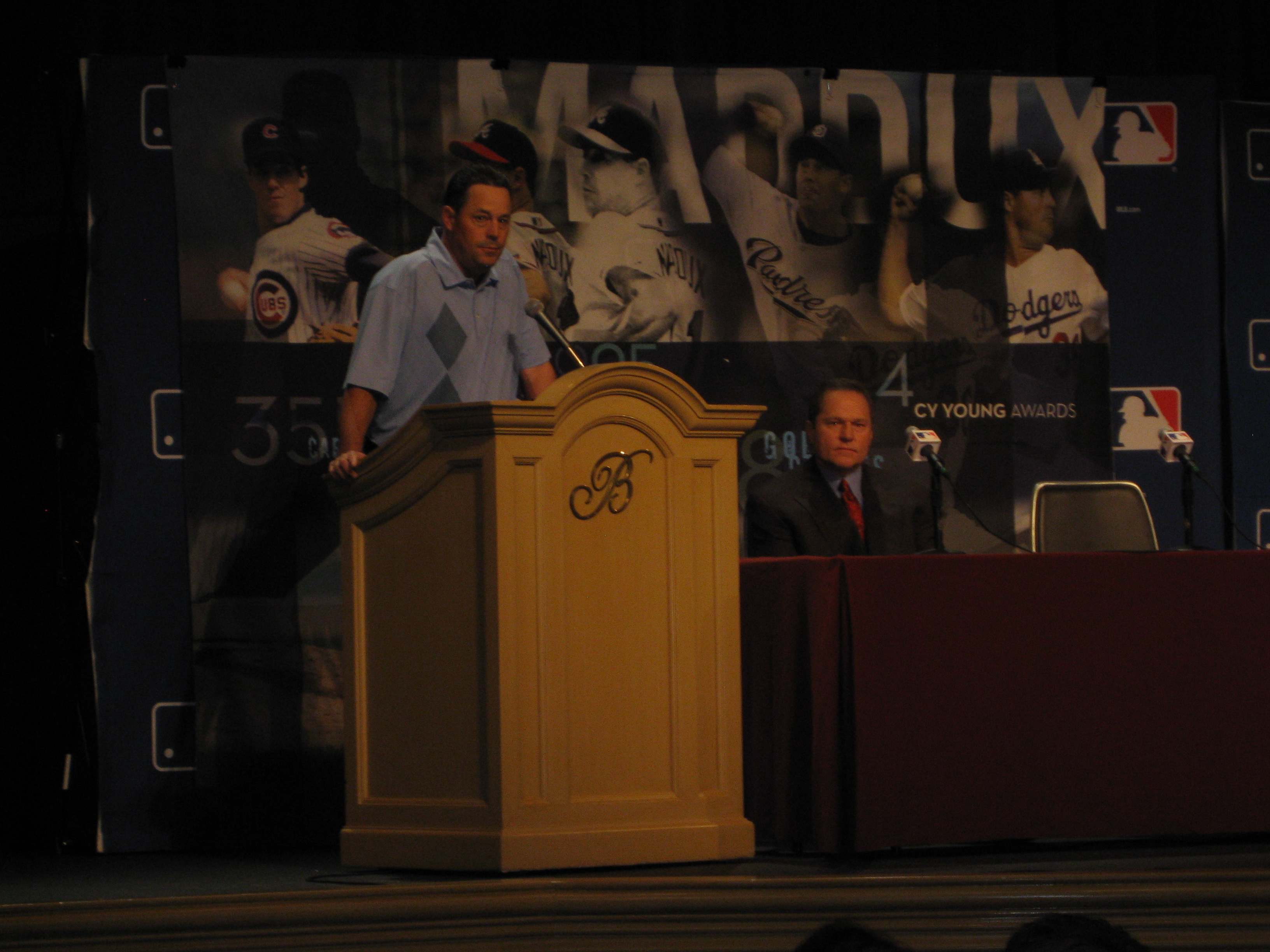 Bobby Cox is here too. Maddux is talking about the Mets-Braves rivalry now, he said he remembers "the smell" of Shea. He also noted how Chipper Jones annihilated the Mets. Good stuff.
Update by Mike (11:40am): When asked if there was ever one core piece of information he shared with all the young pitchers he mentored, Maddux said "not really," but he mentioned that "the best way to learn is to screw up and not do it again."
Update by Mike (11:55am): The press conference is over. Maddux gave the usual schtick, thanking everyone from his high school coaches to Leo Mazzone to his brother Mike, and everyone in between. Did you know he didn't start pitching until he was 15 yrs old? Crazy.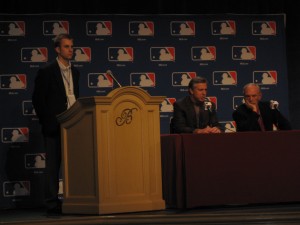 Here's the Tigers announcing the Gerald Laird deal. GM Dave Dombrowski is sitting on the left, manager Jim Leyland is looking very interested to his right. The guy standing is one of MLB's PR people, I missed his name. Dombrowski said they considered Jason Varitek, but lost interest once the Sawx offered arbitration.
The Maddux press conference starting in about 15, that should be great.
By

Nothing big, but (again) on Rosenthal's meetings blog, he makes a note on the Yankees and A.J. Burnett. Seems that the free agent talked to his former teammate Carl Pavano about pitching in the Big Apple. Surprisingly, Pavano didn't steer him away, though this sounds like more speculation than anything. · (38) ·
By

This came on us pretty quickly. No sooner than we posted the Robinson Cano Dodgers rumor the Hall of Fame Veterans' Committee press conference started. They didn't beat around the bush: no one got in. Ron Santo received the most votes again, but not enough to gain admittance. Joe Torre finished with just 29.7 percent, so he's got a long way to go. The Hall of Famers have yet to elect someone via the Veterans' Committee process. The next ballot will be held in 2010.

Update (10:14 a.m.): Joe Gordon, former Yankees second baseman, has been inducted with 83.3 percent of the ballot. How did he get in? This was a different process, covering only pre-World War II players. He won the MVP award in 1942. · (13) ·
We haven't seen much of the Yanks entourage this morning — just one guy standing in the back of the room right now. Why is that? According to Ken Rosenthal, they're talking to the Dodgers about Robinson Cano — and Melky Cabrera:
As the Dodgers try to resolve their infield, they are again talking to the Yankees about a trade for second baseman Robinson Cano. The teams have resumed their discussions about Cano at the winter meetings, according to one source.

The Dodgers also are interested in Yankees center fielder Melky Cabrera, and the Yankees likely would want outfielder Matt Kemp and pitching in return. The Dodgers' interest in Cabrera is a sign that they might not be confident of Andruw Jones making a strong return in 2009. The Dodgers also need to find a match for Juan Pierre, who has requested a trade.
The Veterans' Committee is starting their presser, so we're going to switch gears to that. Feel free to speculate here, though.
Update (1:05 p.m.): The rumor has been debunked by Colletti. Mike and I came back from lunch (the Bellagio buffet might be the best on the Vegas strip) and there was a pack of reporters surrounding him. So the mixed reports commence here at the Winter Meetings.
By

MLBTR links to a GAKIII rumor concerning the Brewers and Sabathia. Milwaukee may give CC an opt-out after three years in an effort to get the lefty to stay. I'm sure that will end well for the Brewers. · (30) ·
By

It's not even 8am here in Vegas, and we've already spotted Joe Girardi & Gene Monahan talking it up in the bowels of the Bellagio as we walked to the press room. We didn't go over to introduce ourselves, Girardi looked like he was ready to rumble. We also spotted Billy Beane chatting with someone important looking in one of the hallways. Cool stuff.

There's exactly six other people in the press room right now, so I guess most of the media is sleeping off their wild Sunday night. Joe and I don't expect to be breaking any big news or rumors while we're here, but we will pass along any info we manage to dig up. Right now we're just trying not to step on anyone's toes, and not look like fools. Check back often, we'll be here all week.

Update (8:15am): We went looking for coffee and almost had a Homer Simpson-George Harrison moment with Billy Beane "Oh my God! Where did you get that breakfast!" Buck Martinez is recording a radio show next door, and you have to walk right by him to get the free coffee and breakfast (which we eventually found). The media room is ever so slowly starting to fill out, and they're setting up for the HOF Press Conference, which starts at 10.

Update (8:40am): We have major breaking news from Vegas: Sweeny Murti is in the house. There's not a whole lot going on, most of the media guys are just catching up with each other after not having seen one another in a while, and other than Billy Beane (who went into the trainer's conference) there's not an exec (that I recognize) to be found. I'll pick up soon. · (35) ·
By

By the time the dust settled last night, only two players accepted their clubs' offers of arbitration. Of the players I thought might accept — Jason Varitek, Jon Garland and even Mark Grudzielanek — none accepted. So I have to wonder if the Yanks misread the market. Should they have offered arbitration to Bobby Abreu and Ivan Rodriguez? Of course, their decision would have impacted the Adam Dunn and Pat Burrell decisions as well, and it's really hard to play the "What If?" game here. Yet, I wonder who is making the bigger mistake: the second-tier players for not accepting arbitration or the risk- and cost-averse clubs who simply do not want these players around at any cost anymore? · (90) ·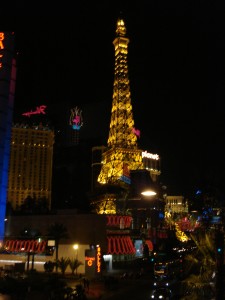 All hell breaks loose tomorrow, but for now here's one last Sunday night update. Joe and I grabbed a few drinks at various Bellagio bars, and recognized some faces as we walked the floor: Ken Rosenthal of Fox Sports (he makes Dustin Pedroia look like Gheorghe Muresan), plus Jayson Stark and Jerry Crasnick of ESPN (we're sure it was Crasnick this time). We also ran into PeteAbe, who was cool enough to stand around and talk to a bunch of lowly bloggers for a good 15-20 mins. I'm sure we passed by some other important people, but just didn't recognize them.
Word on the street is that Brian Cashman left for dinner with his homies while rockin' one of his four World Series rings, which he never wears. Could he have been flaunting it to CC during a meeting? Feel free to speculate. 'Til tomorrow …
Now that the non-law school students among us are gambling away our advertising revenue settling in to Sin City, let's set the stage.
Right now, we're not sure what's going to come of our heading to Vegas except wall-to-wall coverage of the Winter Meetings and a whole of standing around, according to this guy. Mike and Joe will be at Greg Maddux's retirement announcement tomorrow; they'll sit in on Brian Cashman's media moment; and they'll get the lay of the land.
To keep up to date with RAB during the week, we can offer you a few choice ways of staying in touch. First and foremost, keep checking back here. We'll have updates as soon as we can on site. For up-to-the-moment Twitter updates, you can follow RAB on the social networking service. Joe will be updating via Blackberry as he can. You should join us on Facebook too. We also have a RAB Yahoo! Groups page for rapid-fire e-mail updates, but we're not totally sure what's going on with that yet.
Anyway, that's that for staying in touch. Now, on to the good stuff: rumors, rumors rumors.