By

Derek Lowe is most likely New York-bound, according to numerous reports. Only this time, the other New York team gets to make a free agent splash as they sign another potential Red Sox target. While Ben Shipgel of The Times figured that Boston and the Mets would duke it out over Derek Lowe, the Boston.com staff reports that Lowe and the Mets are nearing a deal. Omar Minaya will net himself another starting pitcher for four years at around $14-$16 million a year. That's not a bad deal for a team sorely in need of starting pitching. · (42) ·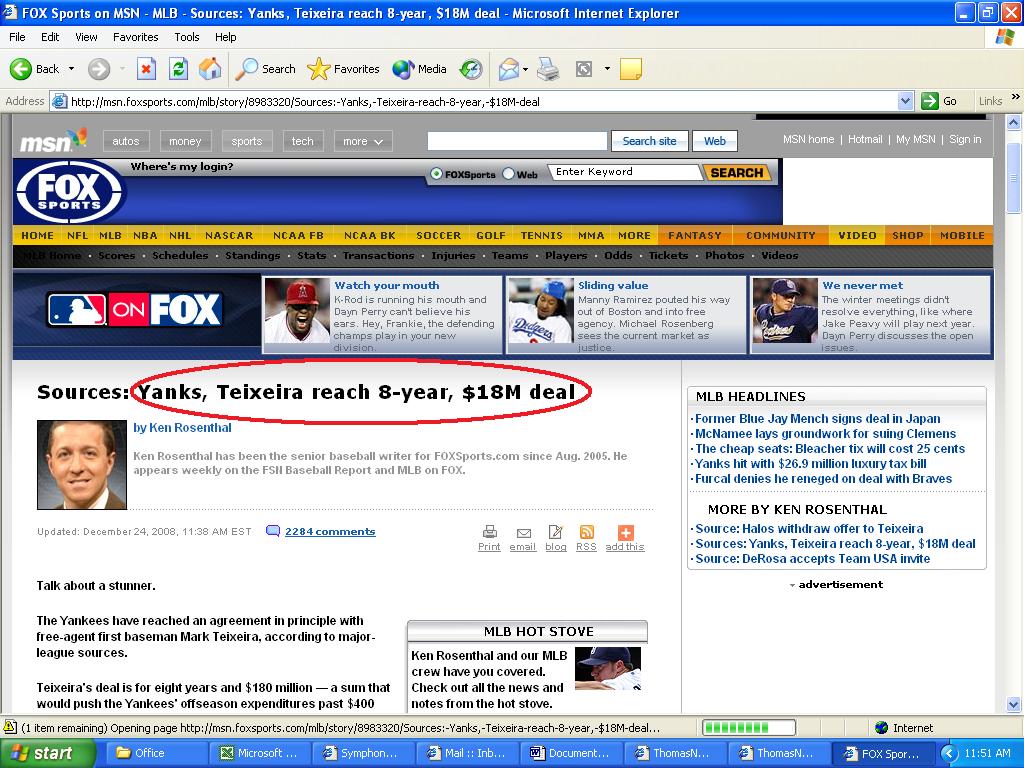 Perhaps this means they still have enough money left to pursue free agent pitcher Jake Peavy? (h/t to reader John Kilfeather for the screen cap)
Apparently, "you snooze, you lose" is as good a philosophy in the crazy world of baseball economics as it is in real life. Unfortunately for Andy Pettitte, he might be learning this lesson the hard way.
Peter Abraham, citing "several different people" who I'm assuming have more authority than, say, his parents or nephew, believes that the Yanks' signing of Mark Teixeira could lead to the end of Andy's days in the Bronx. He writes:
Pettitte has been sitting on a $10 million offer from the Yankees for a while now, believing he deserves a salary closer to the $16 million he made last season. But unless the Yankees are able to trade one of their extra hitters, there may be no room for Pettitte.

Signing Teixeira and fellow free agents Damaso Marte, A.J. Burnett and CC Sabathia will add roughly $65 million to the payroll in 2009. That's about $20 million less than the Yankees have coming off from 2008 and they would like to keep it that way…

Or maybe they'll just sign Pettitte and keep all the hitters. What's another $10 million at this point? But as of last night, the team seemed prepared to move on without the left-hander.
Abraham goes on to note that the Yanks may try to trade one of Johnny Damon (NTC), Hideki Matsui (NTC), Xavier Nady or Nick Swisher before bringing back Pettitte. I, however, just don't buy it.
For weeks, the Yankees have denied every impending signing. They were supposedly never in on the Teixeira negotiations, and for weeks, Abraham and the other Yankee beat writers have accepted the Yanks at their words only to be burned a few days later.
In my opinion, the situation with Pettitte is just the same. The Yankees probably do want Pettitte back, and as Anthony Rieber writes, he probably will be back in 2009. But they want Pettitte back on their $10-million terms, not Pettitte's $16-million dream. So if the Yanks' sources leak to the beat writers that maybe they don't really want Pettitte back anymore, Pettitte may be inclined to take the Yanks' last best offer. If he doesn't, then the team moves on with Phil Hughes, Al Aceves and Ian Kennedy. Worse things have happened.
When all is said and done, I'd put my money on Pettitte's returning to the Bronx for one last hurrah, but I don't think either side is in much of a hurry to wrap that deal up any time soon.
No, it doesn't.
But that doesn't stop Brewers' owner Mark Attanasio from thinking so:
"At the rate the Yankees are going, I'm not sure anyone can compete with them," Attanasio said in an e-mail. "Frankly, the sport might need a salary cap."
. . .
"They are on a completely different economic playing field," Attanasio said in a telephone interview. "I paid $220 million for my team; now they get three players for $420 million."
. . .
"At some point it gets to be absurd when a team has a $200 million payroll," he said, adding that the Brewers won't raise their $81 million payroll because of the recession.
That's coming from a guy who has roughly one-sixth of his payroll committed to Jeff Suppan.
What does a salary cap accomplish? It keeps the Yankees from gobbling up the best players (what would have been said if the Red Sox signed him?), and presumably levels the playing field. In reality though, all it does is transfer the money from the pockets of millionaire players to those of the billionaire owners. And I hate to be the one to break it to you, but the owners aren't going to use that money to build parks or fix potholes or restore your 401k.
Let's be real here: baseball needs the Yankees to be good. Baseball needs that villain, that big terrible team that fills the seats on the road because everyone loves to hate them. The Pirates sold out a total of four home games all of last season. One was Opening Day. Care to guess who was in town for the other three?
Sure the economy is rough right now, but these signings don't effect us as fans. Ticket prices are what they are because of demand, not because of the team payroll. For every person with a ticket in hand for a game at the New Stadium next year, there are three behind them waiting for tickets of their own. So the Yankees are trying to field a great team for all those dedicated fans who pay good money, what's so bad about that?
Revenue sharing has already brought parity to the game, and it's not that hard to see. There have been eight World Series this century featuring thirteen different teams. That's nearly half the league. Eighteen different teams have won their division in that span, and 23 different clubs have played a postseason game. The ones that haven't: the Blue Jays, Nats, Orioles, Pirates, Rangers, Reds, and Royals.
Baseball doesn't need a salary cap. It just needs to get rid of incompetent front offices.
By

A few hours after stealing a big fish away from Boston, the Yanks nabbed themselves a little fish too. MLB Trade Rumors points to a Joel Sherman report noting that the Yanks signed Kevin Cash to a Minor League deal worth around $700,000. Cash will play the role of Chad Moeller next season, serving as the AAA catcher and third-string Major League catcher in case Jorge Posada or Jose Molina goes down. Unlike Mark Teixeira, though, Kevin Cash isn't very good, and Boston won't really miss this one. · (33) ·
Right now, the Red Sox and, to a lesser extent, the Angels must be reeling. The Yankees just swooped in and captured the big offensive prize of 2008 a few weeks after signing two of the top pitchers out there as well.
But while baseball fans from across the country line up to boo the extravagant Yankees, the real loser in the Mark Teixeira hunt isn't one of the Yanks' fellow competitors. It is none other than Manuel Aristides Ramirez, a player just a few days ago who was rumored to be heading to the Yanks as early as today.
Over the weekend, it seemed as though the Red Sox would emerge with Mark Teixeira. They needed a bat to replace Manny and to back up David Ortiz in their lineup. While they have Kevin Youkilis and Mike Lowell, they were about to go all in to land Teixeira. Had the Red Sox landed Teixeira, the Yanks probably would have turned their attention to Manny as a response, and Manny and Scott Boras knew that.
In fact, according Dan Graziano, the Yankees were more than prepared to make Manny an offer. Had Teixeira left for the Red Sox, Manny would have quickly become a Yankee, according to Graziano's sources, and those sources were probably feeding Impacto Deportivo too when it seemed as though Teixeira was about to sign with the Red Sox.
Then, the unthinkable happened. The Red Sox got cold feet over a long-term, high-dollar deal, and the Yanks, long rumored to be on the periphery of the Teixeira negotiations, swooped in and landed themselves a $180-million Christmas present, Manny be damned. As they had hoped all along, Boras came calling at the last hour, and the Yankees blocked their rivals from landing a big bat and a Gold Glove first baseman, but they've also halted the Manny market.
Right now, things are at an impasse for Ramirez. The outfielder claims to be searching for a four- or three-year deal, but none have materialized in weeks. The Dodgers have withdrawn their two-year offer, and the Angels say they are unequivocally not interested. Even the Mets, in need of some help, say they aren't interested either. The only other team that makes sense — the Red Sox — separated less than amicably from Manny just five months ago. As hard as it is to believe, with the Yankees out of the picture, no team is currently bidding for the services of Manny Ramirez, a future Hall of Famer.
Of course, over the next few weeks, that will probably change. As evidenced by their $170-million Teixeira play, the Nationals clearly have money to spend, and Manny might help fill seats in D.C. The Dodgers say they're still interested and now have little competition. Manny will get some of his millions, but he won't get what he could have gotten from the Yankees. This time, only one of Scott Boras' clients will win.
Still, despite Tuesday's turn of events, the Manny-to-the-Yankees crowd just won't stop. In a piece published mere minutes before the Teixeira signing and hastily edited a few minutes later, Stephen A. Smith claimed that the Yankees need Manny. He stands by that stance. Meanwhile, Jesse Spector of The Daily News thinks the Yanks can add Manny and still cut payroll. But I'd say it's all over for Manny and the Yanks.
Brian Cashman and Hal Steinbrenner probably aren't completely through with their winter spending yet. Andy Pettitte is still out there, and the Yanks could choose to revisit the Mike Cameron talks next month. Manny, however, isn't in the cards, and while Ramirez once thought the road to the bank went through the Bronx, he emerged from Tuesday as the biggest loser so far.
Roxanne Geyer at WCBS Newsradio 880 sent along another batch of overheard shots of the new and old Yankee Stadiums. As you can see from Tom Kaminski's photos, the weather is a far cry from the dog days of summer.
From the photo above, you can get a clear idea of the new stadium's seating bowl. The new upper deck is a bit more recessed from the field than the more intimate one at the old stadium. We'll have to find out in April what it's like sitting up there. Meanwhile, someone has placed a Christmas tree on the pitchers mound. Clever, clever.
You know what the coolest part is? They actually have the pitching to go along with it this year.
Here's your open thread for the night. I'm sure you'll find something to talk about, but if not you can chat about the Rangers taking on the Caps at home. Oh, and make sure you check out the great stuff longtime RABer Dave is doing at his recently launched site, Blueseat Blogs.
Play nice.
So I spend my day having lunch with my parents, and I come home to this news. It's fairly shocking, but as my dad said, "I expected that." Mark Teixeira and the New York Yankees just made too much sense. He fills an obvious need right away, and even if the deal includes the ever-popular opt-out, the Yanks will get a few years of Teixeira's peak.
As details about the signing emerge, Dan Granziano runs them down. The deal — eight years and $180 million — will contain a no-trade clause, and we've just learned via Danny Knobler that it will not contain an opt-out clause.
What this Teixeira signing indicates though is that a new generation of Steinbrenners is willing to spend what it takes to win just like George. They've also managed to do so without trading any of their prized young arms. Here's what they have, as per Graziano:
Alex Rodriguez (2008-17): 10 years, $275 million
Derek Jeter (2001-10): 10 years, $189 million
Mark Teixeira (2009-2016): 8 years, $180 million
CC Sabathia (2009-2015): 7 years, $161 million
He writes further:
Those are also four of the five largest contracts in baseball history — the fifth being the 10-year, $252 million deal Rodriguez signed with the Rangers prior to 2001. Rodriguez was traded to the Yankees after the 2003 season and opted out of that deal to sign a larger one after the 2007 season.

Also, assuming the deal goes through, the Yankees will have signed six major free agents since the end of the 2007 season (when George Steinbrenner's sons took control of the team) for a total of just under $800 million:

Alex Rodriguez: 10 years, $275 million
Mark Teixeira: 8 years, $180 million
CC Sabathia: 7 years, $161 million
A.J. Burnett: 5 years, $82.5 million
Jorge Posada: 4 years, $52.4 million
Mariano Rivera: 3 years, $45 million
The Yankees are playing with house money. They've bought the pieces they need to supplement the prospects they're developing. We'll find out starting in April how it all works. Right now, the Yanks are rich, and they're not afraid to spend, spend, spend.
As first reported by Jon Heyman and confirmed by Buster Olney, the Yankees are finalizing a deal with first baseman Mark Teixeira on an eight year deal worth $180 million. The deal reportedly includes a full no-trade clause. There is no word on a possible opt-out.
This comes in on the heels of a confusing morning in which many sources thought Teixeira would sign with Boston today. Some questionable sources even said that the two parties had an agreement in principle. That doesn't appear to have been true, though.