Mike's about to start his Rule V live-blog, but let's sum up some Yankee rumors. The mill never stops around here.
According to conflicting reports, the Yankees and Brewers have either agreed or are very close to agreeing on a trade that would send Melky Cabrera to the Brewers and Mike Cameron and his $10 million contract to the Yanks. Bill Hall may or may not be involved. More in a minute.
Update By Joe (10:32 a.m. EST): Dan Graziano says that the Yankees could include a pitching prospect, though it won't be Ian Kennedy. The Haudricourt piece says that both teams are willing to explore Bill Hall, whom we do not like. The Brewers aren't just going to give him away, though, and I don't think he's worth surrendering anything of value. If you want another utility guy, sign Nick Punto.
Joel Sherman says that the pitching prospect will depend on how much of Cameron's $10 million salary Milwaukee is willing to absorb.
Unless something major is breaking, odds are good that the three of us are sleeping right now. It's about 6:30 a.m. in Vegas, and while I woke up Joe with a 5:30 a.m. Vegas time text about Sabathia, I promised I wouldn't do that today unless the sky happens to fall.
As we gear up for the last day of Winter Meetings and Mike's upcoming Rule V draft live-blog, I wanted to play a little what if game based on an Anthony McCarron tidbit. In the few hours between K-Rod's signing and the CC Sabathia news, the New York newspapers quickly filled up with glowing articles about Francisco Rodriguez. As part of the Daily News' wall-to-wall coverage, McCarron unveiled a K-Rod timeline featuring this juicy tidbit:
September 24, 1998: Rodriguez, only 16 years old, signs with the Angels as an amateur free agent. The Angels beat out several other teams, including the Yankees, with a $900,000 offer. Yanks were reportedly ready to go higher than that, but Rodriguez believes Angels when they tell him he'd have a quicker path to the majors.
Now, I haven't really been able to confirm this 11-year-old piece of news. 1998, the year the Yanks won 125 games and dominated the Padres in the World Series, was a year before time. We had no blogs; we barely had the Internet. No one paid attention to signings of 16-year-olds out of Venezuela. Jesus Montero would have been just a blip on the radar of the Yankee Universe a decade ago.
But it does pose an interesting "what if." What if the Yanks had been the ones to sign K-Rod? What they offered him more money, as McCarron said they did, and he bit? It's safe to say that the last six years would look much different.
In 2002, in the ALDS, K-Rod, then 20, had thrown just 5.2 innings at the Major League level, but because of a quirk in the rules concerning injuries, the Angels were able to add him to the Major League roster. He took the playoffs by storm. He earned the win in two of the Angels' victories against the Yankees, and Anaheim would go on to capture a ring. All told, K-Rod earned the W in five of the Angels' 11 playoff wins that year. It's not a stretch to say that the 99-win 2002 Yankees would have suffered a far different fate had K-Rod been in their system.
Beyond that, it's too tempting to play even more dangerous "what if" games. What if K-Rod and not Tom Gordon had faced David Ortiz in 2004? I'll let you turn that one over in your mind, knowing that the Red Sox have beaten K-Rod the closer a few times. K-Rod the premiere set-up man would be an entirely different beast.
Of course, baseball is filled with these what if's, and as Rodriguez finally comes to New York, it's interesting and dangerous to imagine what could have been had he chosen the Yanks' money over the Angels' promise.
It was an exciting day in Yankeeland, as the team acquired their #1 target of the off-season, one Casten Charles Sabathia. We talk about the deal, how the Yanks got to it, and of course the opt-out.
With CC on board, this leads us to talk about what's next. We've heard multiple reports of the Yankees offering A.J. Burnett multiple years. We heard five years and $80 million, but now Ken Rosenthal has it at five years and $91 million. It's tough to like this development. It appears, though, Rosenthal has retracted the report.
We also talk about Derek Lowe, Ben Sheets, and even Jon Garland. It all comes to a head with a tribute to Chien-Ming Wang.
Oh, and we have a poll:
Who would you rather the Yankees sign if they are going to add a bat?
You can check out all of our Winter Meeting 2008 posts here. You can also check out our Twitter feed, where we give some shorter, less meaningful updates.
Onto the podcast. It is available in a number of formats. You can download it here by right clicking on that link and selecting Save As. If you want to play it in your browser, just left click the link. You can also subscribe to the podcast feed, which will send it to you every Thursday. You can also subscribe in iTunes. Finally, we have the embedded audio player below.
Audio clip: Adobe Flash Player (version 9 or above) is required to play this audio clip. Download the latest version here. You also need to have JavaScript enabled in your browser.
We appreciate any feedback. You can leave it in the comments or email either of us.
Podcast: Play in new window | Download (50.2MB)
Before Mike and Joe unleash the last Vegas RAB podcast on the world, let's wrap up some late-night rumors:
A few minutes ago, Ken Rosenthal was reporting that the Yanks were ready to offer five years and an absurd $91 million to A.J. Burnett, but he has since retracted that rumor. Instead, Rosenthal reports in his 11:25 p.m. update that the Yanks will sign one of A.J. Burnett or Derek Lowe and one of Andy Pettitte or Ben Sheets. The current outstanding offer to Burnett is five years and $80 million as far as we know.

From a personnel perspective, I'd go with Burnett and Sheets. From a contract perspective, I'd probably rather take Lowe's four years and Sheets' two or three. I think if the Yanks have their druthers, Pettitte is the odd man out.

On the Pettitte front, the Los Angeles Times reports that despite numerous potential suitors, Andy Pettitte will probably retire if the Yanks don't resign him for 2009.
Dan Graziano, out of a job in January, notes that the Manny Ramirez talk is intensifying. Some factions with the Front Office want the Yanks to go after Manny. I like this move too. They won't need to commit too many years to Manny, and he makes everyone else in the lineup better. This should probably still be considered a long shot, however. The Dodgers remain heavily involved with Manny.
So far, we've seen a lot of takes on the apparent three-year opt-out the Yanks are going to include in CC Sabathia's rather large contract. While some people like it and others don't, I think Ken Davidoff's take earlier this afternoon is the most pragmatic. He writes:
As long as CC is healthy in three years, he'll be gone, you've got to figure. By that point, Barry Zito will have just two years remaining on his seven-year, $126-million deal with the Giants, so San Francisco should be more open to bringing him aboard.

At least with the opt-out, the whole thing is a little more honest. The Yankees and Sabathia are going to use each other – the Yankees because their homegrown guys aren't ready yet, and Sabathia because the Giants aren't ready yet for him. It's a marriage of convenience.
If CC, at age 31, opts out of a guaranteed $92 million because he thinks he can land more, well then fine. As more than a few writers have noted, if he opts out, it's because he has pitched well enough to land another big contract just as he's entering his declining years. If the Giants or Dodgers want to pay him for that, then okay. If he doesn't opt out because loves New York, then okay. And if he doesn't opt out because he's hurt, then not so okay.
Right now, it's a marriage of convenience. By the time this becomes an issue after the 2011 season, we'll know what we have in Joba Chamberlain, Phil Hughes, Andrew Brackman, Dellin Betances and a whole host of young arms. Only then will we know if the Yanks gambled properly, but my guess is that they did.
By

I don't much like it, but that's what Heyman says and that's what ESPN says. Five years is a lot for a pitcher who will be 32 on Opening Day and has a history of injury. But the Yanks have money and needs. I'd rather see Sheets fill that high-potential, oft-injured slot, and at least with Ben, the Yanks would gain some roster flexibility that a five-year deal for A.J. does not afford them. A decision on this one may come sooner rather than later from Burnett. · (149) ·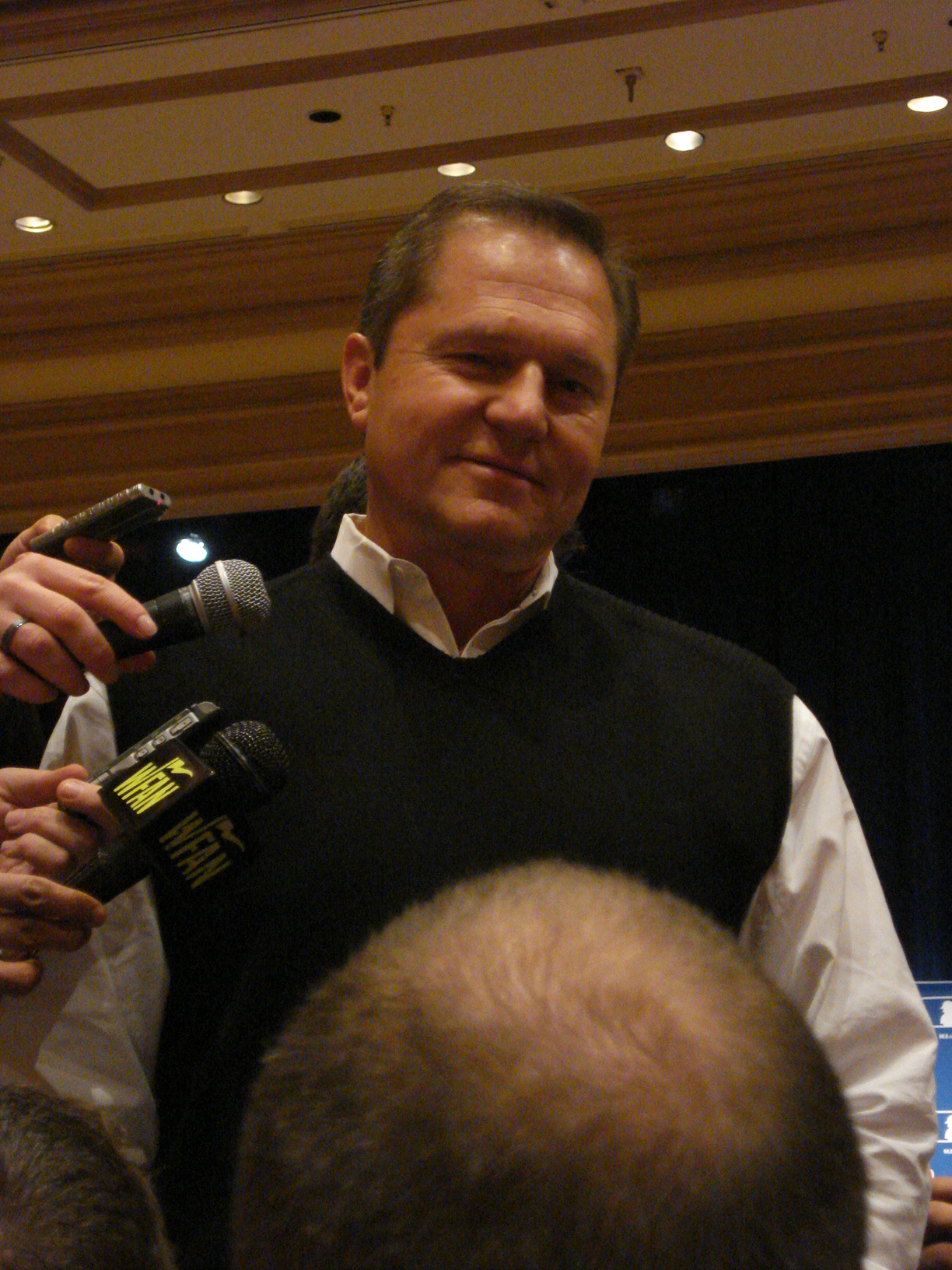 So Joe and were just sitting around here in the press room, surfin' the net and the such, when Scott Boras walks by followed by an army of reporters. I'm not kidding, there were about 40 or 50 people following him. He marched to the front of the room, stepped up on the little camera stage and launched into an impromptu press conference. Out of nowhere the guy storms into the room and commands everyone attention; it was pretty impressive.
Here's the notable stuff he said:
When asked about how many teams have expressed interest in Manny Ramirez, he estimated that "nine or ten teams can use a three-four bat," which wasn't the question.
Boras feels the Sabathia deal "creates a path" for the remaining pitchers on the market, specifically citing Derek Lowe. He said Lowe's received a ton of interest, ditto Oliver Perez, the "26 yr old lefty who's pitched in big games the last few years."
When asked if Jacoby Ellsbury would be open a Pedroia-esque long-term deal, Scott didn't answer the question, instead noting that if it gets to that point his job "will be easier because it's mid-January."
He called the market for Felipe Lopez very good, noting that teams recognized his versatility, "his ability to start at second or play the outfield." Lopez has played 17 games in the outfield in his eight year career.
Joe Crede's recovery from his back injury is going well, he's going to start "skills drills" in January. Boras also called Crede an All-Star 3B, which made me laugh until I released that he was selected as a reserve this year. The guy hit .252-.323-.463 in the first half; how much do you think Boras paid Tito to take him?
When asked if anyone other than the Sox have made an offer to Varitek, he went off into a ramble about how he wouldn't get into the number of teams that have inquired.
He believes Eric Gagne will get a closer's job somewhere. Good luck with that.
Mark Teixeira was the hot topic, so he gets his own little section:
He mentioned that he has received several concrete offers for Tex's services and is currently in the counteroffer phase. It was the exact same question that he had ducked about Manny.
When asked if the Nats losing 102 games would turn Tex off from signing with them, he specifically mentioned Pudge signing the Tigers the year after they lost 116 games as an example of players doing it before. He also noted that it would be nice to play for a team with the first overall pick in the draft, but he didn't mention Steven Strasburg (his client).
Boras doesn't expect the Sabathia contract to eliminate the Yanks from the running for Tex, indicating that the Yanks have historically shown the desire to improve the team by any means necessary.
He mentioned all of Tex's skills (hits for high avg, gets on base, hits for power, Gold Glove defense) and noting that the only comparable player on the market next year was Matt Holliday, and that Prince Fielder won't hit free agency until after 2011. He's already laying the groundwork for the future.
Someone also asked Boras if there was any conflict of interest since he was representing so many high profile players. He said no of course, and mentioned that he has a 15 person staff here. It was pretty cool, you can tell he loved the attention.
I've been thinking about this topic a lot since landing in Vegas. Most everyone in the media room is a journalist. They for the most part work for large media corporations and are paid to deliver information to fans. This is done through a veil of objectivity. I say veil because everyone has their biases, and there's no down-the-middle objective view of most topics. (For more on that, you can read this guy's archives.)
River Ave. Blues, on the other hand, is written by fans, for fans. We don't hide our biases; for the most part, they're right up front. This extends beyond our team bias into our biases regarding individual players, coaches, front office executives, analytical methods, and in-game strategies. When we say something, you know where we're coming from. Or at least that's our hope. If you're looking for neutral sports coverage, this is not the place for you.
The question I can't seem to answer is, what does a neutral POV bring to the table? My best guess is that we get more accurate information if the report comes from a dispassionate observer. Otherwise, this line of thinking goes, we're subject to a fan's biases, and therefore won't be getting the real story. We'll be getting the story as spun by someone emotionally attached to the situation. As I said above, though, even a supposedly neutral bystander has his or her own biases. They're just not as up front, as they have to feign objectivity.
As you can tell, I prefer fan coverage. Otherwise, I wouldn't be doing this. While it's nice to have someone gathering facts, I don't think that necessarily has to come from an "objective" party. I think passionate fans can make the distinction between when it's appropriate to act professionally and when it's appropriate to express your fandom. Problem is, the old guard doesn't believe that, so they tend not to hire the likes of Ben, Mike, and me. Yet I think we're perfectly capable of handling ourselves in a press environment while retaining our die-hard ties to the Yankees.
I thought of all this last night while the Sabathia situation unfolded. I lamented to Mike that there was zero chance of us walking into the press room on Wednesday morning and high fiving the New York press corps. I thought that would have been cool. Woo hoo! We got our guy. Now let's go find Cashman and see what's next.
Before I wrap up, I just want to add that this is not a slight on the crew that covers the Yankees. I enjoy reading them, and have enjoyed their company, however brief, during the Winter Meetings. I also understand that not all of them are necessarily Yankees fans.
So I'm not saying that everyone who covers a team should be a fanatic. I do think, however, that the notion of an objective reporter is outdated. We're all passionate fans. Don't you enjoy reading the commentary of and engaging in conversations with other die-hards? I don't think you'd be here if you didn't.
While I'd love to hear everyone's thoughts on this topic, this is also the open thread for the evening. So have at it.
We've harped on many themes throughout the annals of RAB, but perhaps none more consistently than patience. It's easy to get caught up in the heat of the moment and let your emotions guide you to a thought. What's easy, though, isn't always right. Just because we prefer instant gratification doesn't mean it's the best result.
Patience, in this instance, has won the day. It started last off-season with the Santana non-deal. The Yankees exercised patience in two ways there. First, they decided to hold onto Phil Hughes, knowing he would not be nearly as good as Santana in 2008, and probably wouldn't surpass him, even in the best case scenario, until Santana's entered his decline. Yet they recognized Hughes as young, cheap, controllable talent. Holding onto him not only gave them a good young pitcher, but meant they could allocate resources elsewhere.
They also exercised patience in waiting for a comparable option for a better price. WIth CC Sabathia headed for free agency, and with little to no shot of the Indians locking him, the Yanks knew that they could get him while sacrificing just a first round pick. There were no guarantees there, of course, but the Yankees apparently deemed it a worthy gamble. If you're going to disagree with their strategy, I think that's the issue.
Finally, the Yankees were patient with CC during this slow opening to the off-season. People started to panic when he didn't immediately respond to the Yanks' offer. As time dragged on, the speculation started to ramp up. CC wants to play on the West Coast. He'll take a discount to play for the Giants. Many New York media personalities screamed that the team should forget him, that he's playing them for fools. Yet the Yankees exercised patience.
Now they still have Hughes, Kennedy, and the other guys they'd have given up for Santana. They have a comparable pitcher in Sabathia. The contract might seem a bit longer, and there is that debatable opt-out clause, but I think you'll see similar outputs from the southpaws in 2009. At least, the Yankees are banking on it.
I hope this means that Yankees fans will now exercise some patience when thinking about and pontificating on baseball issues. Thinks don't happen with a snap of the fingers. They take time to develop. This applies to trades, free agency signings, and prospect development. In other words, don't write Ian Kennedy off because he pitched poorly in 2008 (as an example). He just might need a bit more time to fully bake.
In the end, this is just a really long way of saying: "WHY THE FUCK IS THIS BURRITO TAKING SO LONG TO COOK IN THIS MICROWAVE?!?!?!?!?!?!?!?!" Once it's done, it might be the greatest microwaved burrito you've ever eaten.