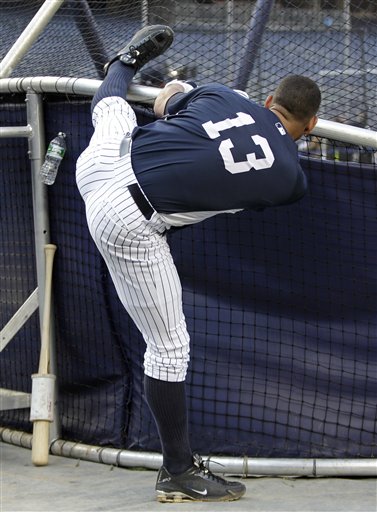 CC Sabathia put a nice stop to the Yankees' mini-slump yesterday, dominating the Red Sox for eight innings and handing the ball off to Mariano Rivera himself. A.J. Burnett was supposed to start tonight's game, but back spasms but him on the shelf and Dustin Moseley will instead give it a go. He'll be on regular rest because of Thursday's off day, ditto Phil Hughes when he starts tomorrow.
As for who is playing, the big name is Alex Rodriguez. He came through batting practice feeling good following yesterday's incident involving a line drive, Lance Berkman, and Joe Buck being annoying, so he's back in the lineup batting cleanup and playing third base. With all due to respect to the fantastic job Ramiro Pena did yesterday, it's great to have Alex back.
Hopefully Moseley has some of that "didn't know he was starting until an hour before first pitch" magic that we so often hear about. I'll settle for lots of ground balls, six innings, and no more than four runs. Here's the rest of the crew…
Jeter, SS
Swisher, RF
Teixeira, 1B
A-Rod, 3B
Cano, 2B
Posada, C
Berkman, DH
Granderson, CF
Gardner, LF
And on the bump, it's Mr. Moseley.
Tonight's game starts a little after 8pm ET and can be seen everywhere as part of ESPN's Sunday Night Baseball. The last time the Yankees played on ESPN on a Sunday Night, things turned out pretty well. Let's hope for more of the same. Enjoy y'all.