By

Joe Posnanski chimes in with his view of the outgoing Yankee owner. He offers up a though-provoking take on George Steinbrenner's quest for celebrity and the successes, failures and dominant storylines of his three-and-a-half decade run in New York. · (7) ·
By

As we all know, the injury to Jorge Posada was one of the major factors in the Yanks' sub-par 2008 showing. None of the various replacements could close to Posada's offensive production, and partially as a result, the Yanks scored nearly 200 fewer runs this year than they did last. To that end, Cliff Corcoran over at the Banter analyzed the Yankee catching prospects for 2009. The organization is stocked at the position and seem to realize that Posada won't be around forever. · (21) ·
Updated 10:43 a.m.: Before this week, we all assumed that Andy Pettitte would come back to New York or retire. Last week's news that Andy and Joe Torre were talking L.A. upset that balance.
Today, in the Paper That Must Not Be Named, Dodgers GM Ned Colletti confirmed on the record that the team has "some" interest in the 36-year-old pitcher. This leaves the Yankees in something of a bind as they have a big decision to make after the weekend.
Monday, you see, is MLB's arbitration deadline. By the end of the day, the Yanks must decide whether or not to offer arbitration to Andy Pettitte. This is a rather complicated decision, and it could play itself out in a variety of scenarios.
The easiest option — and perhaps the most beneficial to the Yanks — would be to offer arbitration to Andy Pettitte and hope that he heads to Los Angeles. As Mike noted earlier this week, the Yanks would land the 17th slot in the draft and a supplemental pick as well. But because the Dodgers would be giving up a fairly coveted spot, they may not be so keen to sign Pettitte if the Yanks offer arbitration.
Meanwhile, this decision could easily backfire on the Yanks. If they offer arbitration and Pettitte accepts and he doesn't sign with the Dodgers and he wants to play for only one more year, Pettitte could actually take the Yanks to arbitration. While he, as a veteran free agent, wouldn't be guaranteed at least 80 percent of his 2008 salary of $16 million, players nearly never receive a lower salary in arbitration. So even if he were to lose, he would still get a payday well above what he could probably receive from the Dodgers or Yankees right now.
Of course, those are two extremes. Pettitte could accept arbitration and renegotiate with the Yankees. If the Yankees don't offer arbitration, they can still renegotiate with Andy Pettitte, but if he were to sign with Los Angeles, the team would receive no compensatory picks.
This is the decision with which Brian Cashman and the Yankees brain trust must grapple this weekend. They have to decide if they want Pettitte, if they feel Pettitte might actually go to the Dodgers and if the arbitration decision wouldn't come back to haunt them. It ain't easy being a GM.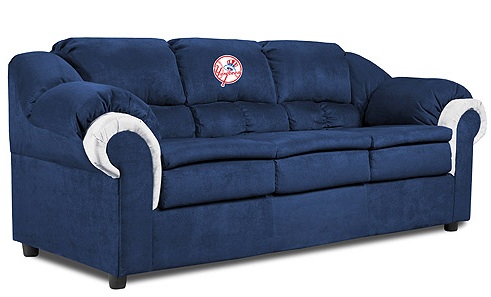 I could really use a new couch.
Ah, Black Friday. Nothing beats waking up early and wading through a crowded store stuffed with insanely cut-throat bargain-seekers. Luckily, in this wired day and age, we have the Internet for all of our shopping needs, and nothing beats MLB.com's shop for things you don't need and never knew existed.
So in the spirit of Black Friday, let's take a whimsical look at some of the — for lack of a better word — stuff that you can buy decked out in Yankee memorabilia.
Continue reading here for pictures, pithy commentary and more.
By

To raise or not to raise? That is the question, and it's one on which Ken Davidoff can't quite get a handle. As MLBTR notes, yesterday, Davidoff's sources said the Yanks would not raise their offer to CC Sabathia. Today, Davidoff reports that the Yankees would go higher if the Angels ever get around to making a bid. Meanwhile, unless something drastic happens, it seems as though CC will remain unsigned through the weekend. Alas. · (43) ·
We Yankees' fans are a lucky bunch. The team has experienced so much success over the last decade and a half that we have so much to be thankful for. There's this. And this. And this guy. And those guys. I could go on and on (Joe already did). There's no doubt we've been spoiled by our beloved Bombers, but today is the one day a year we should take a step back and say "thanks" for all the joy they've brought us.
It's easy to forget that it's just a game, but Thanksgiving is one of the rare days that the intensity of the hot stove will simmer down. Don't expect much, if any baseball news today; players, agents and execs will be sitting around with friends and family and great food just like everyone else.
The only hot stove on your mind today should be the one in the kitchen, but if you have some time to kill before the bird's ready, use this as your open thread. You know the routine by now – anything goes here, just keep it civil.
Happy Thanksgiving. May Mo watch over your travels.
By

As part of our guest stint at On the Yankees beat filling in for Kat O'Brien while she's on vacation, Joe took at a look at the things for which Yankee fans have to be thankful. Among the Yanks we're thankful for are our owners, our GM and the underappreciated A-Rod. On a personal note, we're also thankful for the nearly five million fans who have stopped by River Ave. Blues in our 21-month history. It wouldn't be the same without all of you. · (23) ·
The Angels sure are being a bit of a thorn in everyone's side. They may or may not be moving on Mark Teixeira. They may or may not be moving on CC Sabathia. While everyone else wants for a domino, any domino, to fall in this excruciatingly slow free agent season, the Angels are gumming up the works.
Now along comes word that perhaps the Angels aren't too serious about CC Sabathia after all. Mark Feinsand serves as the outlet for a few unnamed Yankee sources and their intriguing speculation:
The Angels reportedly are readying themselves to jump into the CC Sabathia sweepstakes, but the Yankees met the news with relative indifference, still believing their offer ultimately will be the biggest and best…

One Yankees official didn't seem too concerned with the news of the Angels' supposed interest in Sabathia, which the Bombers believe is designed primarily to speed things up with Teixeira and his agent, Scott Boras.

"It sounds like they're trying to get a message to Teixeira," the official said. "That's the guy they really want."
The Angels have publicly said that Teixeira is their top priority, and the team probably needs him in the long-term more than they need CC Sabathia. So they bluff. They take the money they would have spent on Teixeira and toss it at Sabathia. At the same time, the Angels can drive up Sabathia's price for the Yanks. My, how the wheel turns.
Could this bluff work? Sure. And if it doesn't, then perhaps the Angels insert themselves into the Sabathia talks or go after Manny Ramirez. They need offense after all. In New York, we just sit and wait.
It's Thanksgiving eve, and things are slow around baseball. To that end, this is your open thread for the next few hours. If something happens, we'll have the news, but otherwise, enjoy the time with your family. Remember: Baseball news has a funny way of unfolding over Thanksgiving weekend.
By

Pitching for Mayaguez in the Puerto Rican Winter League, Ian Kennedy posted his strongest outing since early July last night. He struck out four in 7 innings, allowing just three hits and zero walks against the team with the second highest OPS in the league. Jon Albaladejo picked up the save by getting four outs without incident.

Winter ball stats don't mean much, but it's good to see Kennedy put together a strong outing and continue to build upon a solid minor league effort in 2008. I don't think I've ever seen fans be as down on a prospect as they are on IPK, but forty bad innings does not a career make. · (118) ·
In the comments to my post yesterday afternoon about the new stadium, Bill R. noted that the new stadium comes with some trash. It seems that folks have already been sitting in the seats and eating. In the grand tradition of baseball stadiums, they left their lunch trash under the seats. Hopefully, someone will clean that up before the Cubs come to town for a few exhibition games in April.
Take a look: