By

Just kidding. Your Managers of the Year are Joe Maddon and Lou Piniella. Considering how utterly poor a job Piniella did with the Cubs in October, I'm amused by this award. Perhaps Major League Baseball should consider handing out the hardware earlier in the fall. It's not like the Hot Stove League is wanting for news. Anyway, it looks like the voters managed to pick only managers this time around as well with Dale Sveum, whose team went 7-5 in the 12 games he managed, pulling down a third-place vote. · (35) ·
By

Via Shysterball (you should read Craig if you're not already), we learn that Al Leiter will no longer be in the YES booth. He's been hired to work at the MLB Network as a studio analyst. He'll work alongside former Padres commentator Matt Vasgersian and former ESPN analyst Harold Reynolds. I thought Leiter was one of the better guys on the commentary team. If this means more David Cone, I'm okay with it. If it means more John Flaherty, well, that wouldn't be a good thing.

Update by Ben 1:38 p.m.: According to an article in this morning's Times, Leiter will actually be splitting broadcast duties between YES and the new MLB Network. We're not quite ready to wave him good bye yet. · (30) ·
It might not be a full-blown, tear it down and rebuild the whole thing kind of firesale, but it's obvious the Florida Marlins are again moving higher priced players for younger, cheaper alternatives. While in previous years they moved megastars like Josh Beckett & Miguel Cabrera before they cashed in during free agency, this year they dealt Mike Jacobs, Josh Willingham & Scott Olsen before they received raises in arbitration, a somewhat disturbing development.
After Monday night's move that sent the Marlins' longest tenured hitter & pitcher north to DC, speculation mounted that the team's remaining arbitration eligible players – namely Dan Uggla, Kevin Gregg and Jeremy Hermida – could be the next to go. Gregg is readily available and could be had by any team offering a decent return, but GM Larry Beinfest responded to the speculation surrounding Uggla & Hermida by saying that he's prepared to go into 2009 with them in the lineup. Even so, I imagine he'd entertain offers for both players, and that's where the Bombers come in.
The Yanks are desperate to get younger and more athletic, and Hermida offers both those attributes while bringing strong upside. Still just 24, he has over 1,270 big league at-bats under his belt, hitting .267-.342-.436 (103 OPS+) in the process. He's flashed some of the potential that made him the 11th overall pick in 2002, hitting .350-.407-.574 during the final two months of 2007 (singlehandedly saving my fantasy team) before going .309-.351-.488 in the first month of 2008. Hermida was rumored to be heading to Pittsburgh during the Manny Ramirez Trade Deadline Saga, indicating that other clubs still like his potential.
Rated the fourth best prospect in the game by Baseball America prior to the 2006 season, Hermida made history by becoming only the second player (and first in 107 years) to hit a grand slam in his first big league plate appearance. Armed with a sweet lefthanded swing and military style plate disipline (he placed 12nd in the league last year with 4.11 P/PA), getting out of cavernous Dolphins Stadium (where he's hit .248-.320-.404 in his career) and into lefty-friendly Yankee Stadium (he's a career .284-.363-.467 hitter on the road) might just be the jump start he needs.
With just nine games of centerfield experience to his credit (all coming in the first half of 2006), Hermida wouldn't be option for the Yanks at that spot. Despite this limitation, he still offers some flexibility because he can hold his own against lefties, play both outfield corners, and still has options left, meaning he could be sent to the minors as needed. And as far as that report by an anonymous scout saying he has "no passion for the game," I'll just defer to ex-Marlins' manager Joe Girardi, and assume Cash will talk to him before attempting to acquire Hermida.
I'm not going to throw out trade ideas, because I have no idea what Florida is looking for. Keep in mind that while the Marlins' last few trades were made for essentially pennies on the dollar, Jacobs is a limited player entering his age 28 season, Willingham has a bad back and is entering his age 30 season, and Olsen has a reputation as a punk. Their rotation is pretty much set with Ricky Nolasco, Josh Johnson, Anibal Sanchez, Chris Volstad & Andrew Miller, and they have plenty of backup in Rick VandenHurk, Ryan Tucker, Dan Meyer, Eulogio DeLaCruz and Burke Badenhop, so Ian Kennedy might not entice them. Melky Cabrera's trade value is nil, and the Yanks have no other young position players to offer up.
Signing big name free agents is fun, but they almost always fail to deliver, and frankly it's the easy way out. Be bold and take a chance on a guy who still has something to prove rather than playing through the nose for a player who's already played his best baseball for someone else. It's not often you get a chance to buy-low on a player with Hermida's talent and upside, and much like Nick Swisher, I hope the tires are at least kicked on this one.
By

Via Tim, we learn that the Yankees have signed reliever Damaso Marte to a three year deal worth $12 million. The story comes from Impacto Deportivo, a Spanish-language site. I believe they also broke the Luis Castillo signing last year. We'll monitor this for further confirmation. If true, it seems like a decent deal for the Yanks. At least we won't have to hear pundits scream in the Spring about the Yankees bringing in a lefty reliever just for the sake of it.

Update: It's official. · (75) ·
Maybe Joba should have attended this: a scared straight program for MLB draft picks and rookies. The article only mentions Brewers rooks going in for the program, though I guess (and hope) that all 30 teams will educate their players in such a manner.
It's a neat idea. They toured a jail so that the players could get a feel for the inmate life. It kind of reminds me of a video they made us watch in high school.
It's been all over the baseball wires this week: The San Diego Padres have pulled their offer for closer Trevor Hoffman, and by all appearances he won't be back with the team in 2009. This is not going over well with San Diegoans (San Diegans). They've known Trevor since 1993, when he came over in a trade which sent Gary Sheffield to Florida. Since then he's racked up 554 saves, more than anyone in major league history. To San Diegans, he is Mo.
We had a scare, albeit slight, last winter when Marino Rivera's contract expired. Most of us were certain he'd re-sign, so we never really entertained the notion of life without Mo. I can't imagine how the San Diegans feel right now, knowing that they won't hear Hells Bells before the ninth inning in 2009.
This makes me think ahead to Derek Jeter's contract, which expires after the 2010 season. You'd like to think Jeter and the Yanks will make swift work of it, banging out an amicable contract without any media hassle. At this point, why think anything else? But just for a second, ponder what it would be like if the Yankees muffed negotiations with Derek Jeter, and he wound up playing elsewhere in 2011. Can you even?
Back to the present, while it's unfathomable to some of us that Derek Jeter would ever leave New York, that's just the nature of the game now. We love to see players stick with one team their whole careers, but that's not how things work any more. Players want to maximize their earnings while they're still able. Teams don't want to overpay for talent, as most work within a budget. The result is the player looking for a team which can afford to pay (or overpay) for his services. It can happen to anyone, even Derek Jeter. Though I still have to say, it's not likely.
Hey, Jeter's scheduled to make $21 million in 2010. If the Yankees bring him back, they'll certainly not pay him $21 million a season, meaning he's going to have to take a pay cut. Things could get messy when they start exchanging actual figures. So think about that. It's probably how San Diegans feel right now.
The time is slowly passing, but now we're just 48 hours or so away from when free agents are free to start negiotiating with new teams, the real meat & potatoes of the Hot Stove League. It makes you feel like a kid on December 22nd, oh so close yet so far away from Christmas.
The Hot Stove wasn't so hot today, with the only actual player news involving Cy Lincecum & Salomon Torres' retirement. Yeah, the Cubs reportedly offered $50M to Ryan Dempster, K-Rod's agent made a radio appearance, and Matt Holliday's dad made it be known he'd like to see his son in the Bronx, but that's just a bunch of bark with no bite. Just like Hank.
Use this thread to talk hot stove or whatever else is on your mind tonight. The Knicks are in San Antonio, and #14 Ball State is taking on Ben Roethlisberger's alma mater out in Oxford. Other than that, you have some early season college basketball games to check out. Good thing House is on.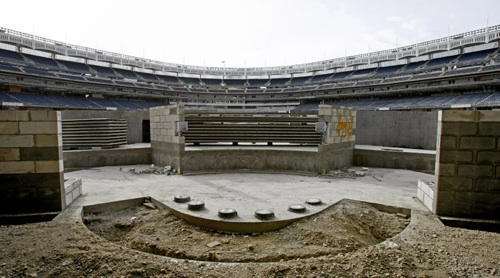 The future home of Monument Park. (All images courtesy of the New York Yankees.)
Nothing quite drives home the point that, in five months, the Yankees will be in a new stadium quite like the scenes of history moving across the street the Yankees have sent out over the last few days. Above is the future home of Monument Park beyond center field in the new stadium. After the jump are scenes from the crews packing up the retired number display. It is an odd sight indeed.
By

When we heard about the Rookie of the Year award results yesterday, we also found out that three writers voted for the Reds' Edinson Volquez despite his ineligibility. He had 80 innings of ML ball heading into 2008, thus disqualifying him as a rookie. I could make some sweeping generalization about how this exemplifies the state of mainstream baseball coverage, but I'd like to keep the criticism focused on the guilty party. Thankfully, Keith Law outs the guilty parties.

To Jeremy Cothran of the Newark Star Ledger, John Klima of the Los Angeles Daily News, and Jay Paris of the North County Times (San Diego), please inform us why you should continue to serve as a baseball writer. After all — and this applies especially to Cothran, who graduated college just three years ago — there are plenty of people who want your job, and would actually bother to do the requisite research. · (30) ·
We've heard from Brian Cashman that center field is not a priority this off-season. The Yanks have three immediate options in Johnny Damon, Brett Gardner, and Melky Cabrera, though question marks certainly surround each. With Austin Jackson waiting in the wings as the team's number one prospect, they likely don't want to make a long-term commitment. Basically, there are enough options in the short and long term that the team doesn't necessarily need to make a move.
That's not the only factor, though. As MLB.com's Jim Molony points out, the center field market isn't exactly inspiring. He notes the heads of the class are Ken Griffey and Milton Bradley, neither of whom plays center field in an ideal environment. Griffey's range doesn't permit his play there, and Bradley is too fragile to trot out every day. You can add Rocco Baldelli to this group, though he faces fragility issues as well.
This doesn't bode well for the rest of the class, which includes Jim Edmonds, Willie Bloomquist, Mark Kotsay, Corey Patterson, and Scott Podsednik. Yuck. Apparently, Molony thinks that Jay Payton can play center and that the Mets would shop Endy Chavez, who is signed for just north of $2 million for 2009. None of these should even be in consideration.
So the Yankees might be planning to make Brett Gardner their Opening Day center fielder not out of want, but out of necessity. Let's hope he can handle it.