By

Whetting our appetites for more Hot Stove rumors is the latest from Jon Heyman. He reports that the Yanks are in on the Mark Teixeira sweepstakes, but the team does not feel it will outbid Boston, Anaheim or the DC-Baltimore duo. They could, of course, very well surprise everyone, but the more I think about committing eight or nine years to Teixeira, the more hesitant I become. Heyman, meanwhile, notes that if Teixeira signs elsewhere, the Yanks will almost definitely go in on Manny Ramirez. A bat will be added to the Bronx lineup yet. · (296) ·
Over the past week, as the Yankees doled out the dollars for A.J. Burnett and CC Sabathia, many pundits noted that despite these behemoth contracts, the Yankees are actually shedding payroll. Because the contracts for Jason Giambi, Bobby Abreu, Andy Pettitte, Carl Pavano, Mike Mussina, and Kyle Farnsworth/Ivan Rodriguez have expired, that means the Yankees have around $80 million to spend if they keep their payroll consistent with 2008. Since the average annual values of the Sabathia ($23 million) and Burnett ($16.5 million) contracts add up to just $39.5 million, many folks presume that the Yankees could conceivably spend another $40.5 million on their 2009 payroll and still not break the $209 million mark of 2008.
This is fuzzy math. It's nice to think this way. It gives us the impression that the Yankees can dole out enormous contracts and still have a payroll below the $200 million mark. That, however, is not the reality of the situation. This does not take into account arbitration raises, which are due to Chien-Ming Wang, Xavier Nady, and Brian Bruney. It also ignores raises in a player's salary. For instance, Alex Rodriguez will make $5 million more in 2009 than he did in 2008. Robinson Cano gets a $3 million raise. They've added Swisher. They've added Damaso Marte's salary. All that adds up, too.
Thankfully, I've saved a spreadsheet which documents the salary of each Yankees player. This completely debunks the meme that the Yankees have plenty of money left for the 2009 payroll.
2009 Payroll
| Player | Sal. |
| --- | --- |
| A-Rod | $32 |
| Sabathia | $14* |
| Teixeira | $20** |
| Jeter | $20 |
| Burnett | $16.5 |
| Mo | $15 |
| Jorge | $13.1 |
| Damon | $13 |
| Matsui | $13 |
| Swisher | $5.3 |
| Wang | $5 |
| Marte | $3.75 |
| Nady | $6.55 |
| Cano | $6 |
| Molina | $1 |
| Bruney | $1.25 |
| Melky | $1.4 |
| Pettitte | $5.5 |
| Total | $192.35 |

*AAV of contract
** Arbitration estimate
I'll keep this up to date as we start to see actual salary numbers for the reserve-clause players and the arbitration guys. As Mike has noted before, the team also has to pay the entire 40-man roster a certain salary, though that might just be a five-figure amount.
In any case, when you consider things like Andrew Brackman's and Kei Igawa's contracts, plus buyouts for Pavano and Giambi, the payroll is up around the $190 million mark. If the Yankees spent that $40.5 million that so many claim they have, the payroll would clearly shatter even the team's own record.
Please, going forward, do not base an argument on the money coming off the books. That's just not a good way of calculating how much money the Yankees have. Other commitments change that value. As you can see from the table above, the Yankees signing another bat means raising the payroll, once again, over $200 million. Not that I'm opposed to that. Not at all. In fact, it will only rile up the Yankee haters, and I sustain myself on their ire. In fact, if the Yankees do win it all, I will bask in the misery of others as they shout at the top of their lungs that the Yankees bought another championship.
Now that we have the payroll issue straight, do you think that affects the Yankees willingness to spend on a bat? Or do you think they'll break the bank in a time when other teams are pinching pennies?
By

MLB Trade Rumors notes that the Padres are no longer shopping Jake Peavy. According to the team CEO, Jake Peavy will be with the team on Opening Day. All of the Yankee fans who think our team should leap at the chance to acquire Peavy for nothing can come up with new and better trade proposals for other pitchers that aren't going to be dealt this winter. Of course, this all could change in a moment's notice, and Sandy Alderson may be bluffing to get other teams back to the table. I'm inclined to believe, however, that the Peavy talks are really and truly dead. He will remain a Padre, for now. · (63) ·
When Joe Gordon earned his spot in the Hall of Fame last week, the reception was rather underwhelming. The Yanks issued a perfunctory three-sentence congratulatory press release, and the reaction from the fan base was a deafening silence.
Joe Gordon seemingly is a man last to baseball history. Despite garnering contemporaneous praise from many in baseball and winning an MVP the same year Joe D Ted Williams won the Triple Crown, his accomplishments are lost on the vast majority of Yankee fans. He doesn't have a plaque in Monument Park. His number isn't retired. He's just not part of that Mystique and Aura surrounding the storied Yankee history.
On the surface, Joe Gordon seems like a rather unlikely candidate for the Hall of Fame too. He played for only 11 seasons, surrendering his age 29 and 30 seasons to World War II, and his career accomplishments aren't that impressive. He didn't hit any major offensive milestones and ended his career with a .268/.357/.466 line and a 120 OPS+. Should this open the Hall of Fame floodgates to a whole bunch of people who were good but not great over the course of their careers? It's certainly a question we've debated around here over the last few weeks.
I still think, however, that the answer is no, and there's a reason why. At the time of his retirement, Joe Gordon was probably the top offensive second baseman of all time. Since 1950, he has been overshadowed by plenty of others, but as The Times noted last week, Gordon's success as a second base was largely unparalleled at the time. He won an MVP award. He earned himself nine trips to the All Star Game and had five World Series rings. By the time he retired, Gordon held the mark for most home runs by a second baseman and considered to be the better fielding half of the double-play combo he formed with Phil Rizzuto.
Gordon's Yankee tale ended after the 1946 season. After a sub-par post-War campaign, the Yanks shipped him off to Cleveland, and the trade worked out for both teams. In return for Gordon, the Yanks landed themselves Allie Reynolds. Reynolds, a name not lost to history, would go 7-2 over six winning World Series for the Yanks. That is one deal that certainly worked out.
In the end, Gordon is a deserving member of the Hall of Fame. He was the best his position for the better part of 13 years, and it seems as though his time had long since passed. I wonder how many other deserving players have been lost to baseball history.
Perhaps Brian Cashman listened to Joe this morning. As per Tyler Kepner, the Yankees appear to be putting the potential Mike Cameron trade on hold for "baseball reasons."
Kepner reports:
In talking to some people involved today, I get the feeling the Yankees are backing away from a potential Melky Cabrera-for-Mike Cameron trade with the Milwaukee Brewers, at least for now. There's a deal the teams could make, and while I'm not sure of the particulars, at this point the Yankees' main question is baseball-related, not financial.

We know they do not value Cameron at $10 million, which is why they wanted the Brewers to include some money — or take on Kei Igawa — to make the deal happen. Now that a fair deal seems to be in place, the question is whether it makes baseball sense…

Cameron turns 36 next month. Teams that win tend to have players in their primes, not in decline. In Game 4 of the World Series this season, neither lineup included any player born before 1975. The Yankees have four starters already in Johnny Damon, Hideki Matsui, Derek Jeter and Jorge Posada.
There's really no reason for the Yanks to acquire Cameron right now. They have bigger fish to fry, and while most reporters seem skeptical that the Yanks are going to be heavily involved with Mark Teixeira or Manny Ramirez, they're not competing with anyone for Cameron. They can, in other words, afford to wait.
In the end, if Cameron doesn't end up as the Yanks' $10 million center fielder next season, no one will be too disappointed. While he brings a known quantity to the table and represents an upgrade over Melky Cabrera or Brett Gardner, he's not necessarily worth it right now. As Ed Price put it, give it a few weeks, and we'll see where Cameron is then.
When the list of nontenders came out last Friday, the name most fans flocked too was Ty Wigginton, and rightfully so. The ex-Met had a career year last year, putting up a 128 OPS+ and clubbing 23 homers as the team's regular third baseman until taking over leftfield for the injured Carlos Lee in August. With the Yanks in need of a utility man to replace, or at least compliment Cody Ransom, Wigginton would be an ideal fit. The problem is that he'd be hella expensive (he made $4.35M and has no reason to take a pay cut) and would likely opt for a full-time gig elsewhere (hellooooooo Twins) instead of sitting on the bench of the Yanks. So while most focused on Wiggington, another name grabbed my attention: ex-Marlins' righty Joe Nelson.
You might be saying who, and that's perfectly fine. Nelson didn't reach the big leagues until age 26 (in 2001), when he made a 2 IP cameo from the Braves. Three years late he threw 2.2 IP for the Red Sox. Two years after that, at age 31, Nelson finally stuck in the big leagues with the Royals, finishing the 2006 season as their closer when Ambi Burgos was demoted to Triple-A. Unfortunately for Nelson, he torn his labrum late in the year, was designated for assignment, and missed all of 2007.
The Marlins grabbed him off the scrap heap, and he used his top-notch changeup to take over TEH 8Th INNiNg!11!one!! role for them after joining the team in May. His stats: 54 IP, 42 H, 60 K, 1.19 WHIP, 2.00 ERA. He showed no platoon split (.619 OPSA vs RHB, .612 vs LHB), pitched better away from the pitcher friendly confines of Dolphins Stadium (2.60 ERA at home, 1.37 on the road), and generated swings-and-missed on 27.6% of the pitches that hitters offered at (Tim Lincecum was at 25.9%). The Marlins did not tender him a contract because they didn't want to pay him the $800,000 he was asking for, so now he's shopping his services on the free agent market.
I wouldn't have taken the time to write this post if I didn't think Nelson would be a solid addition to the Yanks pen. While it was a strength for them last year, the natural volatility of relievers means back-up plans are needed. Plus it would be nice to have another veteran guy back there; you can't run Mo, Marte and five kids out there every night. If he's down for a minor league deal (12-14 teams have already been on him) with an invite to Spring Training, why not?
Use this as your open thread for tonight. Talk Joe Nelson, Browns-Iggles, Knicks-Suns, whatever. Just keep it civil.
This came up in a thread earlier today, but like the good commenters you are most of you kept with the thread topic rather than responding. Now let's have a go at it. SI's Jon Heyman reports that Andy Pettitte's agents claim that he has an offer in hand for three years and $36 million. Upon first glance, this screams "leverage play." Pettitte has made it clear that he wants to pitch for the Yankees or retire, and the Yankees have not budged from their $10 million offer. Andy doesn't want to take a pay cut, so the two sides are at an apparent impasse.
Can anyone think of a team willing to add that kind of payroll? I've heard the Rangers, but word was they'd have to free up money to sign Ben Sheets, who would come at a similar average annual value. Others say the Dodgers. I've even heard someone suggest the Mets.
Here's what I think, and I expect all of you to add your two cents in the comments. 1) If Andy did get this offer, I encourage him to take it. He won't find anywhere near that deal elsewhere. 2) This is a bogus rumor.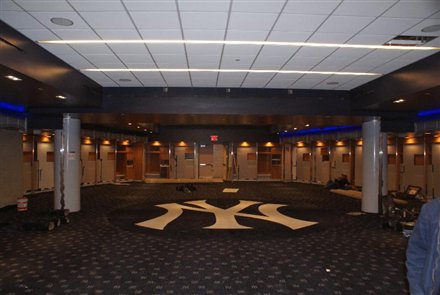 A tipster sent us some images from inside the new stadium, and I figured I'd share them with the RAB universe. Everything — including the clubhouse, above — is looking pretty nice. Click through for more.
You know, I never really got into fancy statistical analysis until recently. Don't get me wrong, I understood the importance of OBP and detested RBI and pitcher's wins as means of evaluating players, but stats like VORP, EqA, wOBP, WARP1, 2 and 3 never did much for me. But once I took the time I understand what goes into each stat and what exactly they represent, it became clear that fancy acronyms had a place in the game.
Projections however, well they're still not exactly my cup of tea. Using numbers to examine what a player has done in the past is one thing, but using them to essentially predict the future is another. It's an educated guess really, but an educated guess that can't account for factors such as weather, injury, a sick child, etc. The crew at Baseball Prospectus does one hell of a job with their PECOTA projections, but in the end it's all just a guess, a guess that shouldn't be used for anything but fun.
While we wait for the Yanks to open their season with two new faces in their rotation, we can check out what sabermetric mastermind Bill James expects out of these players. Provided at the indispensable Fangraphs, James' projections are a fun way for us fans to gaze into the future, to guess at what might become. The good stuff starts after the jump (don't read anything into the order, it's just alphabetical).
For the better part of the last few months, I've been pushing Manny as a potential piece for the Yanks' lineup. The problem, of course, with Manny is his fielding. He has become a liability in the field almost to the point where an AL team that signs him would do so as a DH, and the Yankees already have a DH in the oft-injured Hideki Matsui.
Yesterday, in the comments to my brief piece on payroll, I got into a debate with long-time RAB fan Dan about Matsui and Manny. I believed that Manny would such a force that the Yanks should sign him now and worry about Matsui later. But Dan disagreed, and in a well-reasoned piece on The Poor Man's Analyst, Dan offers up his take:
Let's aggressively project Manny for 40 runs above average next season. He then gets a positional adjustment of -15 for playing DH instead of the outfield. [We don't need to compare him (or Matsui) to replacement because we're not figuring total value, which would be versus a replacement player, we're just comparing the two of them in similar playing time. If you really want to, add 16 or 17 runs to the total to approximate a replacement level comparison in slightly limited playing time (~140 games)]. So that's 25 runs above average for Manny. Doing the same thing for Matsui now…. his 2007 had him as 20 runs above average in 143 games, so that's 5 runs above average for Hideki.

So for 2009, Manny is projected to be 20 runs above what Matsui would provide. That's probably what people expected, I know I didn't think the gap wold be any smaller. But Manny is reportedly demanding a 3-year deal in the neighborhood of $65-70 million. Are those 20 runs worth the $11 million per win (over Matsui) that they would cost? Is any win worth $11 million?

I can't tell you the answer, that's for the Steinbrenners to decide. For those people who say it's worth it, I'm going to spend a little time thinking of other ways the Yankees can get those two wins over what Matsui provides for less money. Anyone care to make any suggestions for finding those missing 20 runs?
That's a compelling case against Manny with some not-so-outlandish statistical assumptions to back it up. Perhaps Mark Teixeira would be the better target after all.
Of course, there is a real problem though with Dan's assumption about Matsui's health. He's played 140 games just once over the last three seasons. In 2006, he missed time due to a bad wrist break, but in 2007, even while playing 142 games, he suffered knee problems. His 2008 was cut short due to his balky knees, and while he was playing, his power was significantly off his 2007 mark.
My belief that Manny could fill a need comes about because I don't think we can pencil Matsui in for 140 games of 2007 level production. He's going to be 35 and playing on two surgically-repaired knees. To me, that's a recipe for disaster, and if he goes down, the options to replace him are dire indeed if Nick Swisher is ensconced at first base.
Maybe Teixeira is a better fit because he's younger and plays a position the Yanks need to fill. With Teixeira, Swisher becomes one of the outfielders who could replace Matsui if Hideki gets injured. With Manny, Swisher stays at first, and Manny flat-out replaces Matsui to start the season. Dan believes Manny is an expensive and unnecessary luxury, but I come out somewhere in the middle. Teixeira is choice number one, but Manny could work as well.