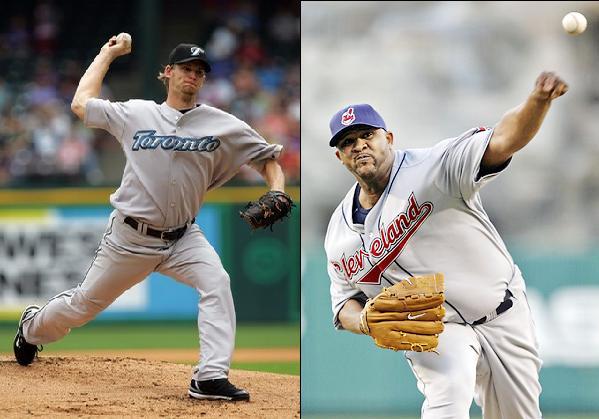 So today's the day: the Yanks will be introducing their two new prize pitchers at a 1pm press conference at the Old Yankee Stadium. Supposedly you can watch it on YES, but their TV schedule doesn't agree. You will, however, be able to follow along on MLB.TV or ESPN/ESPNEWS. If you can't get near a TV (stupid work), then follow along here, I'll be liveblogging the whole schabang.
Now that the signings are official, I've updated the 2009 Draft Order Tracker. The Yanks surrender their first rounder to the Brewers and their second rounder to the Jays. Remember, they can't lose the comp picks for Gerrit Cole and Scott Bittle, so their top pick is #29 overall, followed by #76 overall. There's no possibility of that changing; that's when they'll pick come June no matter who else they sign. As it stands right now, the Brewers have three of the top 36 picks with the potential to add two more if Ben Sheets signs elsewhere.
So stick around for the next … I dunno, half-hour to an hour and follow along as CC Sabathia and AJ Burnett are thrown to the media wolves welcomed to New York.
By

Check it out. Matthew Walker, the designer/webmaster of CC's site – and Nick Swisher's too – sent along a note mentioning that the CC's redesigned site has launched. So yeah, I think it's safe to say he's a Yank. Make sure you stop by! · (49) ·
By

According to Kat O'Brien, the Mike Cameron trade talks are "officially" dead. I say "officially" in quotes because a trade such as this one is never dead. However, the Yanks seem to have taken Joe's plea to heart and aren't rushing things when they don't have to. I wouldn't be surprised to see this deal consummated before Spring Training, but the free agent market has to shake down first. There's a long way to go on that front. · (36) ·
By

We'll pay this one lip service because there's not a ton moving in baseball right now. We know that talks to send Jake Peavy to the Braves and to the Cubs have broken down, possibly beyond repair with the Braves. Peavy's agent, Barry Axelrod, has said that while his client prefers the National League, he would consider moving to the Yankees, Angels, or Red Sox in the AL, but that's it. So it comes as no surprise that we hear, via MLBTR, that Boston has "some" interest in Peavy. Of course they do. Just like they had some interest in CC Sabathia and A.J. Burnett. Check out this line, though, by Nick Cafardo at the end of the article:

"But if there's a Teixeira splash, the Red Sox might not have the money to entertain it."

Laughable. If the Red Sox wanted both Teixeira and Peavy, they could afford them. No question.

(By the way, don't forget to submit your questions for the podcast.) · (41) ·
By

Ben is taking his last final today, so you're stuck with Joe and I again for today's edition of our podcast/radio show. If you have any questions you want us to answer, send them in via email (our addresses are on the left sidebar) and we'll get to them on the show. Emailed questions get priority, but we'll go through the comments here if we have time.

We're going to start recording a bit later than usual today because I'm going to liveblog the CC/AJ press conference at 1pm (don't miss it), so this thing should be up on the site for you to listen too around 3-3:30pm. · (10) ·
It's hard to under-exaggerate just how bad the Yankee catchers were last season. In 608 plate appearances, the various folks who tried to fill in for an injured Jorge Posada hit an anemic .230 with a .290 OBP and a .335 slugging percentage. Even the most stats-phobic among us know that this is a terrible, terrible offensive line.
Overall, these Yankee catchers were the most anemic group in the AL. Their overall OPS+ was 75, worse than Boston and their All Star Catcher Jason Varitek. In fact, this votex of inoffensive offense could have single-handedly cost the Yankees a playoff spot as it was just a year ago that Jorge Posada turned in a 154 OPS+.
It is, then, with cautious optimism that I share the latest on Jorge. He is already throwing at 60 feet and feels he will be good to go once Spring Training rolls around.
Now lately, as we talked about the Yanks adding either Mark Teixeira or Manny Ramirez as their big bat, we haven't really looked at Posada. But if the Yanks eschew Tex or ManRam, Posada's return to the lineup might just be enough to give them that offensive edge they need in 2009.
It's highly improbable that Posada will hit at his 2007 levels. He's going to be playing his age 37 season in 2009, and 2007 was a career year for him. But would it be unreasonable to expect a 124 OPS+ season in line with his career averages? Could Posada turn in a .277/.380/.477? While we don't know how his power will respond to his surgically repaired shoulder, there's no reason to expect a steep decline for Jorge.
In 2007, Posada was responsible for 117 runs created. In 2008, Yankee catchers combined for just over 50 runs created. That swing of nearly 70 would have probably landed the Yanks into the playoff picture last year. Maybe as we talk about Teixeira and Manny, we're just overlooking Posada. Putting Jorge back into the lineup should be a huge boost for the 2009 Yankees, and we shouldn't forget that this winter.
He's looking rather svelte, no? (h/t Brooklyn Ed)
Paul Lukas is one obsessive compulsive dude. The man who slaves over Page 2's Uni-Watch is back this week with a Sabathia sized edition of "who's the fattest Yankee ever?" Well, at least that's what it boils down to. Is it CC? The Babe? Boomer? Find out for yourself.
(Oh yeah. We're totally stretched for Open Thread content these days. H/t to tommiesmithjohncarlos a/k/a Ridiculous Upside)
Once you're done checking out the Uni-Watch, use this as your open thread for the evening. There's really no local sports to talk about, the Knickerbockers are off and the Rangers have a late start out on the west coast. Uh … go Orange I guess. Don't forget to guard those sneaky half court shots.
Joba news: His DUI arraignment was pushed back to January 26th. It was supposed to be today, and the delay won't affect anything as far as being ready for ST.
By

As baseball sits in a holding pattern waiting for the Mark Teixeira chip to fall, I have a question that we can ponder. How exactly does Mark Teixeira fill a need for either the Orioles or Nationals? While he is an elite offensive player, he's not a Big Name like Barry Bonds. He won't fill seats in the pathetically empty Nationals ballpark or Camden Yards. Considering the deep-rooted organizational and systematic problems those two teams face, the last thing they need to do is tie up their payrolls with an eight- or ten-year investment in a first baseman.

At this stage, the ideal landing spots for Teixeira are Anaheim, Boston and the Bronx. The Yanks seem to be playing this one close while the Angels and Red Sox are publicly all in. He may very well wind up on the Nationals and Orioles, but then Mark Teixeira would just toil in relative obscurity for a team heading nowhere fast. · (98) ·
Brett Marshall | RHP
Background
Marshall grew up in the Houston suburb of Baytown, where he attended Sterling High School, one-time home of Clyde Drexler and fellow Yanks' farmhand Brett Smith. He didn't pop up on the prospect scene until his raw arm strength grabbed the attention of scouts during his junior year, when he was unanimously voted to the All-District First Team. He was then named the All-Houston Area Player of the Year as a senior thanks to his 10-2 record and 2.27 ERA. Marshall lost his final start for the Rangers in the Region III-5A semifinals when he hit a batter to force in the winning run with his pitch count at 146.
Marshall had originally committed to San Jacinto Junior College (Andy Pettitte's alma mater), but after seeing his draft prospect status increase exponentially his senior year he switched his commitment to Death to Pitchers University Rice to gain negotiating leverage. The Yanks made Marshall their first pick on Day Two of the 2008 Draft, selecting him 200th overall with their sixth round pick. He is the highest drafted player in Sterling history. Marshall signed for an $850,000 bonus just about a week before the signing deadline, roughly $725,000 over slot.