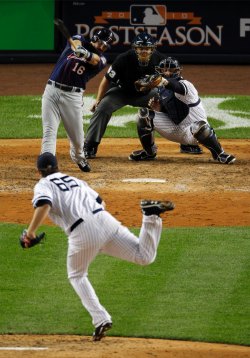 There are always two ways to frame a baseball argument. Since a run scored is also a run surrendered, we can frame it as the offense succeeding or the defense failing. Bias usually determines how we view it; if the Yankees go 2 for 15 with RISP, we normally assign the offense blame rather than crediting the opponent's pitchers. In the ALDS it wasn't the Yankees failing with runners in scoring position. It was the Twins. However it unfolded, the Yankees pitchers put on their best performances with runners on base (with one notable exception), while the Twins just couldn't bring home their runners.
In the series' three games the Twins had 29 hits and walks, but managed to score just seven of them. More than half of those runs came in the first game. Yet even when the Twins did score four runs on 13 base runners, they still failed when they had chances to tack on. They went 0 for 7 with runners in scoring position. The Yankees, on the other hand, made the most of their chances. They had 12 base runners and brought six around to score, which included going 3 for 11 with runners in scoring position. That's not stellar, but it's far better than they were performing in September.
In Game 2 the Twins were short on chances thanks to some excellent work by Andy Pettitte. They put just seven men on base all game, and had two of them erased by double plays. That left them just three at-bats with runners in scoring position; they failed each time. In Game 3 they had a few more chances, with nine base runners, and they actually had eight at-bats with runners in scoring position. But they succeeded just twice, one of which didn't even plate a run. They ended up leaving seven stranded on base.
For the series the Twins went just 2 for 18 with runners in scoring position — and again, one of those hits didn't even bring in a run. That's a stark change from the regular season, where the Twins' .285 average with RISP led the American League . The Yankees' pitching staff ranked near the middle of the pack with runners in scoring position, allowing a .261 batting average against. On offense the Yankees ranked seventh in the AL with runners in scoring position, .258, but went 9 for 25 (.360) in the series. This is just another example of why situational stats aren't predictive, especially when applied to a short series.
What's also odd about the Twins' numbers with runners in scoring position is that they didn't have more of them. Six times in the series they had a decent runner on base (Span, Hudson, Repko) with second base open. In none of those situations did they attempt to steal. Instead they once sacrificed and twice grounded into a double play. In an additional six instances they had a non-stealing runner (Mauer, Thome, Young) in that situation. Jorge Posada's arm is a known problem, but Gardenhire and the Twins chose not to exploit it. Doing so would have given them more chances with runners in scoring position. Going 1 for 9 instead of 0 for 7 in Game 1 would have made a huge difference.
Were the Yankees pitchers clutch? Did the Twins choke? You can spin the narrative either way, but I'd lean towards the Twins failing. They had the best average in the league with RISP during the season, but couldn't deliver when it counted. They also weren't aggressive when on base, which cost them a few RISP opportunities. Other issue helped bury them — it's tough to win when your Games 2 and 3 starters combine for 9.1 innings and nine runs — but failure with RISP was a big part of it.