By

There's a reason why Gary Sheffield has been on 7 teams in his borderline Hall of Fame career. This is it. Just shut the fuck up already Sheff, no one's listening, and no one gives a shit about what you have to say. · (2) ·
It's tough to find past evidence to support my Abreu claim, because he has been so damn consistent over his career. His OPB has always been good, and his batting average doesn't fluctuate too much — except when he's hitting like .350 and is coming back to earth. This may be a more recent development. Supporting that are a few instances in the past few years.
April 13, 2005
Pitcher faced: Dontrelle Willis
Went 8 for his next 41 (.195) with 10 walks and 0 extra base hits.
September 17, 2005
Pitcher faced: Dontrelle Willis
Went 6 for the rest of the season (45 at bats, .133 BA) with 9 walks and two doubles.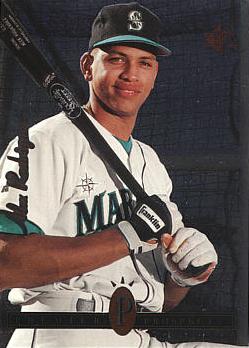 Greetings, RAB faithful, from San Francisco. I'm on vacation for the next week so I'll be posting less frequently than usual. But Joe and Mike will have the same great content they always have.
I wanted to chime in briefly on this A-Rod flurry of news. Since the All Star Break, we've heard a report say the Yanks were willing to negotiate with A-Rod now; a report saying that Scott Boras, A-Rod's agent, expects the future Hall of Famer to be earning $30 million annually real soon; and a report today saying that the Yanks won't bid against other teams for A-Rod's services.
The three of us have been notably silent on these developments over the last few days for the simple fact that they are not really newsworthy. The Yanks' initial stance was overblown according to subsequent reports. No team would ever engage in intense A-Rod style contract negotiations while attempting to overcome a sloppy start and 10-game deficit. And the Yanks wouldn't negotiate with A-Rod during the season while ignoring Mariano Rivera's and Jorge Posada's current contract situations.
Today's news is another meaningless piece of unsourced journalism. The Daily News, in an effort to one-up the Post, found some anonymous source in the Yankee organization who said the team won't bid for A-Rod's services. Who knows if it's true? To speculate on that would be pointless, but as MLBTradeRumors notes, if A-Rod opts out, that's probably going to be the end of his run in pinstripes.
What we do know is that Scott Boras will use all of his leverage — an opt-out clause (you can think Tom Hicks for that one), A-Rod's 31 HR and 87 RBI in 86 games — to secure a mega-deal for his biggest client. It could be an extension; it could be a whole new contract. But something will happen. That's it. That's the story. None of the rest of this carries any weight at all.
Now back to our march to the playoffs…
You know, watching the team play last night almost made me forget about the dismal first half. Okay, maybe not so much, but it was still a damn good effort on the part of the Yanks. It's against the lowly Devil Rays, but the Yanks have to beat up on these teams to have a shot. The Yanks need at least three out of four in this series if we're going to take them seriously. Now we're back at .500, and looking to get back over the hump tonight.
What's encouraging is seeing that everyone in the lineup got a hit — except Cano. And for the most part, they beat up on one of the surprisingly good starters for Tampa Bay. James Shields surrendered three home runs — all in the same inning — and three doubles, accounting for 2/3 of his total hits allowed. That, my friends, is how the Yankees are supposed to win ball games.
One of the craziest box scores of the year right here. The GCL Cardinals were getting no-hit into the 15th inning (!) then walk-off with a 1-0 win in the 17th inning. Insane.
Oh, and this comes straight from the horse's mouth:
Some people have expressed concern over the fact that I have just three home runs this season. I don't worry too much about it. What matters is that I'm hitting the ball. The power will come as long as I continue to have confidence in myself.
Amen. 
Triple-A Scranton (9-6 win over Louisville)
Brett Gardner: 0 for 3, 2 R, 2 BB, 1 K, 1 SBÂ - solid showing in his AAA debut
Justin Christian: 3 for 5, 1 3B, 3 RBI, 1 K, 1 SBÂ - 21 hits in his last 11 games
Shelley Duncan: 2 for 5, 2 R, 2 HR, 2 RBI, 1 K – why not call him up to give the Yanks a little thump off the bench?
Angel Chavez: 2 for 4, 1 R, 1 2B, 1 BB
Eric Duncan: 0 for 4, 1 BB – BA down to .223
Andy Cannizaro & Raul Chavez: both 1 for 4, 1 R – Cannizaro walked, Chavez drove in 2 and picked a runner off first
Chase Wright: 6 IP, 6 H, 4 R, 4 ER, 2 BB, 2 K – the good: he outpitched this guy…the bad: he gave up this guy's first career AAA homer 
Sean Henn: 1.1 IP, 3 H, 2Â R, 2 ER, 1 BB, 1 K
Chris Britton: Â 0.2 IP, zeroes across the board
Jim Brower: 1 IP, 1 H, 0 R, 0 ER, 0 BB, 3 K – in other news, Kyle Farnsworth allowed 2 more baserunners
This is little more than speculation, so let's view it as just that.
There was an article in today's San Francisco Chronicle that talked about the possibility of the A's moving Mike Piazza in the coming weeks. This comes just days after speculation that the A's were prepared to trade first baseman Dan Johnson.
Naturally, the Yankees have been connected to both names. Piazza would have no use beyond DH, as he still cannot throw a ball with his bum shoulder. That's actually the reason he's being shopped — with Jack Cust at DH, a full outfield, and Johnson at first, there's simply no room for Piazza. He'd be a big bat off the bench, but Billy Beane didn't shell out $8.5 million for a pinch hitter.
Johnson can play first base capably, and is hitting .260/.369/.455 in 235 at bats since returning from the DL. His lowly marks of .234 /.323 /.381 from last year are largely attributed to double vision, which was corrected with surgery this off-season.
I present to you the probable pitching matchups for Double-A Trenton's 4-game set with Double-A New Hampshire this weekend:
Thursday: Ian Patrick Kennedy vs Ricky Romero (1.72 WHIP, 4.11 ERA)
Friday: Phil Hughes vs Ismael Ramirez (1.80 WHIP, 5.54 ERA)
Saturday: Joba Chamberlain vs Eric Fowler (1.63 WHIP, 6.00 ERA)
Sunday: Alan Horne vs Kyle Yates (1.53 WHIP, 5.04 ERA)
So um . . . yeah . . . should be an interesting series . . .
(FYI: you can watch Saturday's game online for free via CN8)
By

I've said before that I'm opposed to doing a mid-season report card on this site. So we found a way around this: it's not on this site, and Ben did it. Anyway, you can check out Ben's grades over at Sports Projections. · (2) ·
Triple-A Scranton is off for the All-Star break. The International League squad beat their Pacific Coast League counterparts 7-5.
Shelley Duncan: 0 for 2, 1 BB, 2 K – started at DH and batted 6th…pinch hit for in the 8th by a former Yankee top draft pick…
Jim Brower: 0.1 IP, 0 H, 0 R, 0 ER, 0 BB, 0 K – got the last out of the 6th
Double-A Trenton is off for the All-Star break. The AS game was cancelled after less than 2 and a half innings because of a ridiculously thick fog. All three Yankee farmhands who made the trip got into the game before they called it off.
Jeff Marquez: 1 IP, 1 H, 0 R, 0 ER, 0 BB, 0 K, 1 WP, 2-1 GB/FB – started the game…8 of 14 pitches were strikes
Alan Horne: 1 IP, 0 H, 0 R, 0 ER, 0 BB, 2 K – pitched the second…10 of 12 pitches were strikes…
Matt Carson: 0 for 0, 1 HBP – started in left field and batted ninth…when he got hit by the pitch, they played this over the stadium PA system…classic
From the Worldwide Leader:
The Yankees have changed their traditional stance and are now willing to negotiate during the season with their star third baseman on a contract extension, MLB sources told ESPN The Magazine's Buster Olney.

The key sticking point for the Yankees in the prospective negotiations is that Rodriguez agree not to opt out of his current contract after this season and agree to add any extension to the current contract, which expires after the 2010 season.
So lemme get this straight . . . A-Rod gets in-season contract talks, but these two guys don't? Wow, how times have changed in Da Bronx.
The guess here is that he ends up inking a monster extension, like a 6-yr/$200M kind of monster.
Update by Ben: I wanted to make a few points here. I doubt the Yanks have said nothing about this to Rivera or Posada. Those two will re-sign with the Yanks too.
As for A-Rod, I'm thinking more along the lines of five years at $150 million or six years at $180 mil. Now, while I know many people expect A-Rod to head west, the truth is that the Angels and Giants just can't afford that kind of deal. $30 million would be a whopping one-third of the Giants total payroll or slightly less than 30 percent of the Angels' total payroll. I just don't see that happening.
My guess, as like Mike, is that A-Rod negotiates with the Yanks, stays and wins one or two rings in the Bronx as Hughes and Chamberlain join a rotation with Wang. A new ballpark will see the Yanks' finances improve even more, and they can afford this move.