If you take a look at the Yankees roster and then read through all the rumors that have surfaced this off-season, you might come to realize that nearly no position is set in stone. They'll seek a new first baseman; Robinson Cano could be traded; the outfield is anything but set; Jorge Posada might not be able to handle the rigors of catching. While the entire roster won't be made over in the off-season, a number of things could change.
Except third base and shortstop, of course. Sure, the Yanks could move A-Rod to first base, but I think there's a better chance you see Derek Jeter make that move. Which is to say, slim to none. The left side of the infield is the only sure thing the Yanks have on the offensive/defensive side of things. It would make sense for them to build around Jeter and A-Rod, since they're the ones not going anywhere.
With Jeter, you have a shortstop with limited range defensively, and a guy who can consistently hit for average and take his share of bases on balls offensively. He's a perfect fit in the two-hole, and can hit leadoff if you need him to.
With A-Rod, you have a true superstar, a guy who can hit for power, average, and take walks with the best of them. He's the consummate cleanup hitter, though there's no harm putting him in the three hold, allowing him to set the table. He plays average defense, as Dave Pinto notes in his Probabilistic Model of Range, which is fine for a guy who puts up gawdy offensive numbers.
On the whole, the left side of the Yankees infield is well above average offensively, but below average defensively. So how do you build a team based on this? It's clearly not an easy question to answer. Plenty of factors go into team building, even if you don't have a solid foundation like Jeter and A-Rod.
We can, though, look at what Jeter and A-Rod don't have and look to add those parts.
Speed. Neither man is slow. Jeter seems to have lost a step as far as stealing second goes, but that's no huge loss. Alex is one of the better baserunners in the game, and he can swipe second when need be. However, the Yanks could use a burner out there — so long, of course, as he's able to do his job and get on base. Willy Taveras might be fast, but he can't utilize that speed to the fullest because he's not on base often enough (though if you combined his OBP from 2007 with his steals from 2008, you have a real threat). Brett Gardner is the hopeful answer here.
Slick glovework. If the left side of the infield is below average, the team would do well to field a quality right side. Robinson Cano has an excellent glove, though we've seen mental lapses take away some of his luster. Mark Teixeira is one of the better glovemen at first base in the league. He and Cano could comprise an above average right side. It won't make up for the left side, but it will make it more bearable.
Pitch selectivity. Jeter and A-Rod aren't guys who swing at everything, but they're not the most selective hitters in the league. A-Rod saw 3.88 pitches per plate appearance in 08, and Jeter saw 3.72. Those are fine numbers, but the Yanks were led by Bobby Abreu (4.29), Jason Giambi (ditto), and Johnny Damon (4.10). Two of those guys likely won't be back next year. The Yanks need one or two players who can take a ton of pitches and work their way on base via the walk. Abreu actually isn't the worst in this regard, as he has decent speed on the basepaths.
This isn't a complete list by any means, just a few things I thought of off the top of my head. What else do Jeter and A-Rod lack which the team should be looking for this off-season?
By

While free agents are in for some rather large paydays this year, Front Office folks aren't as lucky. Over the weekend, the Diamondbacks announced they would be laying off 31 Front Office employees for a cost savings of about nine percent. While news like this will probably become de rigeur over the next few months, it's also fairly mind-boggling that a team as consistently mediocre as the Diamondbacks had the largest Front Office staff of any Major League team. · (10) ·
This week figures to start out slow. We got our fill of rumors from the GM meetings. Free agents hit the open market on Friday, so until then we play the waiting game.
Aw, the waiting game sucks. Let's play Hungry Hungry Hippos!
There are a couple of things we can keep our eye on over the course of the week to pass the time. A few of them are even Yankee related.
Do the Yankees want Andy Pettitte back? He's made it clear he wants to pitch, and will take a one-year deal. The Yankees, though, haven't acted on it. It seems they're not high the veteran lefty; John Perrotto even thinks Pettitte will pitch in Houston or retire. I still think they'll come to an agreement, but the longer this lasts the less I'll feel that way.
Jake Peavy could get dealt, though he probably won't. Not that the Yankees are really in on this anyway. The Braves and the Cubs seem to be at the forefront.
The Matt Holliday rumors have cooled down, as he has one fewer suitor than he did yesterday. The Cardinals have called talks dead. A year away from free agency, he doesn't make a ton of sense for the Yanks right now.
Mark Teixeira. Will the Angels make an offer while other teams cannot? Will it be a take it or leave it? That's not as interesting, though, as the prospect of the Nationals offering him ten years at $200 million. Bold prediction: It would be A-Rod and Texas all over again. Which means we'll have him in 2012.
While the Jets were busy mauling the Rams, baseball seems to take a backseat during Sundays in November. Later this week, the free agent signing frenzy should kick off, and teams and players are looking to wrap up negotiations fairly quickly.
To that end, John Perrotto, one of Baseball Prospectus' writers, chimed in with his off-season predictions. While the article is for BP subscribers only, I can summarize his predictions as they relate to a lot of the players we've been analyzing lately.
CC Sabathia — Yankees. He sees a bidding war of sorts but writes, "The Yankees will throw so much money at Sabathia that he won't be able to say no."
Manny Ramirez — Four years and $100 million from the Dodgers. That's a good signing for an AL team that can stash ManRam and his bad glove at DH. For the Dodgers, this signing will completely hamstring them.
Mark Teixeira — Ten years and $200 million from the Washington Nationals. Perrotto thinks the DC-area native wouldn't be able to turn down that deal. If Teixeira cares at all about playing on a franchise with a better future, he won't land in DC.
Mike Mussina — Retirement or the Yankees. That's not really going out on a limb.
Andy Pettitte — Pettitte filed for free agency today, and while the AP thinks that means something, it's simply a formality. The Yanks don't seem overly enthused with bringing back Pettitte, and Perrotto thinks he'll head to Houston.
Bobby Abreu — The Yankees. Perrotto thinks Bob will return to the Bronx. Depending on years/dollars, I'm not against this move. He's better than Xavier Nady.
Jason Giambi — Oakland. Clearly.
Jason Varitek — My personal favorite is the two-year, $20-million deal Perrotto predicts the Sox will give Jason. I really hope this happens. It would be great to see the Red Sox flush money down the toilet just because this guy is the supposed "heart and soul" of the team. It's either that or watching them trade Clay Buchholz to the Rangers for one of Texas' better catching prospects. Either way, it seems like a win-win for the Yanks, no?
Those are the highlights. Feel free to discuss this or anything else (such as the Giants-Eagles game that starts at 8:15 p.m.). This thread will take you through to Joe's overnight unless something unexpectedly important happens.
By

The Brewers have tabbed Willie Randolph to be Ken Macha's bench coach. This isn't a bad gig for Randolph, who hoped to land a managerial spot somewhere this winter. One day, hopefully, Willie can come back to the Yanks. I know he didn't leave the Mets with the kindest of reviews, but I think he'd make a good manager in the Bronx. · (10) ·
Tom Kackley sent us an e-mail this afternoon:
I've been a clubhouse manager in the minor leagues for 20 years, the last four employed by the Yankees. For many years I worked for the Canton/Akron AA affiliate of the Indians. About a week before opening day in 1997, my wife's sister was murdered by her husband in the most senseless, tragic act of domestic violence. For a long time it was all I could do to deal with the ramifications of this tragedy, and to do my best to raise my late sister-in-law's son.

Two years ago Phil Hughes was the most prominent player on my team in Trenton. I've never been much for collecting autographs, but toward the end of that season I figured I could ask Phil to sign a couple of balls for me that I'd auction off for the local domestic violence shelter. Phil was happy to oblidge, but about ten minutes later he came back to me saying, "Tonto, the balls are only going to bring about $50 each, but I've got some other stuff that would be pretty good."

By game time that night he had loaded up my desk with game used hats, gloves, spikes, photos…all signed. I raised a little over $2600 which at Phil's request we split between the shelter and a local Trenton youth baseball group.

Last year I collected what I could throughout the season and did the auction on Ebay, raising a little over $5000 for the shelter, much of it on some great stuff Joba signed for me.
Kacley is again auctioning off items to raise money for local shelters. Check out the auction page on eBay. He has memorabilia from Austin Jackson, J.B. Cox, Mark Melancon and Chase Wright, among others. Over the next few days, he'll be listing items from Joba, Tino Martinez and Mr. October himself, Reggie Jackson.
This is a great opportunity to support an important cause while picking up some one-of-a-kind Yankee memorabilia. Check it out.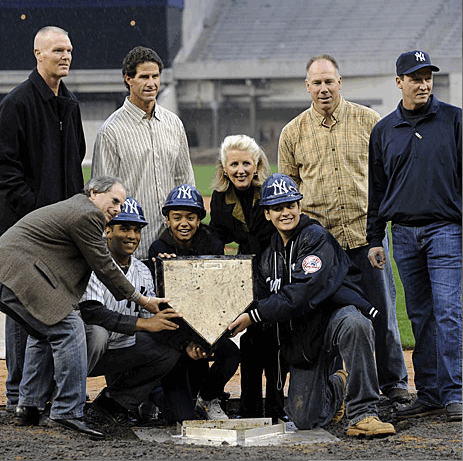 Yesterday, this motley crew of late-1990s Yankees gathered to move some dirt and home plate from one stadium to the other. In town for the Joe Torre Safe at Home Foundation dinner honoring the 1998 team, Jeff Nelson, Scott Brosius, Paul O'Neill and David Cone were among the Yankee luminaries who took part in this ceremony.
The weather, as MLB.com's Anthony DiComo wrote, wasn't the most cooperative, and the ceremony turned into one involving more mud than dirt. But in the end, everyone seemed to offer up praise for the new stadium.
Check out MLB.com's photogallery of the event here.
Via Steve, who apparently gets his print edition of the magazine a full week before I do:
Austin Jackson,OF
Andrew Brackman, RHP
Dellin Betances, RHP
Zach McAllister, RHP
Al Aceves, RHP
Phil Coke, LHP
Mark Melancon, RHP
Bradley Suttle, 3B
Aceves and Coke? Really?
Sure both guys are big league ready, but they're low ceiling, back-end starter types. Melancon has a much higher ceiling, and he's just as big league ready as those two guys. Plus he's about three years younger. Eh, whatever.
No qualms with the rest of the list, although I would have squeezed Jeremy Bleich into the 9 or 10 spot.
Update (1:40pm): Phil Hughes is pitching for Peoria in a few hours. You can find the eventual Gameday link here.
Just a heads up, Baseball America will be posting their Yanks' top 10 prospects list this Monday. I had stuff to do yesterday, so the regular Friday chat will be held Monday afternoon.
AzFL Peoria (13-4 loss to the other Peoria) season ends on Nov. 20th
Kevin Russo: 2 for 4, 1 CS – extends the hit streak to 16 games … that's pretty impressive, it can't be easy to maintain a hit streak like that when you're not playing every day & hitting in a different spot in the order while playing a different position when you do play
Austin Jackson: 1 for 4, 1 R, 1 K – just 3 for his last 29 (.103)
Juan Miranda: 0 for 4, 4 K – wear that Golden Sombrero with pride, amigo
HWB Waikiki (2-0 win over Honolulu)
Damon Sublett: 0 for 3, 1 K
Jeremy Bleich: 5 IP, 4 H, 0 R, 0 ER, 0 BB, 9 K, 3-4 GB/FB – 51 of 65 pitches were strikes (78.5% !!!) … first action since Oct. 24th, so it looks like elbow surgery will have to wait another day … he's rockin' a 28-1 K/BB ratio in his last 24.2 IP (4 starts)
PRWL Mayaguez (8-2 win over Santurce)
Ian Kennedy: 4 IP, 0 H, 0 R, 0 ER, 3 BB, 5 K, 1 HB, 1-5 GB/FB – it's a ~50 game season, so he should be able to get about 45-50 innings in, which would put him at ~165 IP on the year, meaning he's good for close to 200 innings next season
Thursday's Games
AzFL Peoria (7-0 win over Surprise)
Austin Jackson: 0 for 4, 1 R, 1 BB, 1 K
Juan Miranda: 1 for 4, 1 R, 1 HR, 2 RBI, 1 BB, 1 K – had been in an 0 for 14 slump coming into this game
Jeff Marquez: 5 IP, 5 H, 0 R, 0 ER, 0 BB, 3 K, 8-2 GB/FB – 44 of 69 pitches were strikes (63.8%) … picked a runner off second … he really needed a good outing just for his confidence, he'd allowed 20 baserunners & 8 ER in his previous 10 IP (4 appearances)
HWB Waikiki had a scheduled off day.
By

It looks like the Yanks forgot to pay the rent. According to a rather boring and technical audit — aren't they all like that? — by New York City Comptroller William Thompson (available here as a PDF), the Yankees misreported some attendance, revenue sharing and cable numbers. As a result, the team owes the city $11 million in Yankee Stadium back rent. The Yanks do not dispute these findings — which include some lofty numbers on concession sales — and have submitted $7 million to the city. The rest the team will fork over in March. It looks like in the midst of a financial crisis, New York City is going to crack down on delinquent bills. · (11) ·