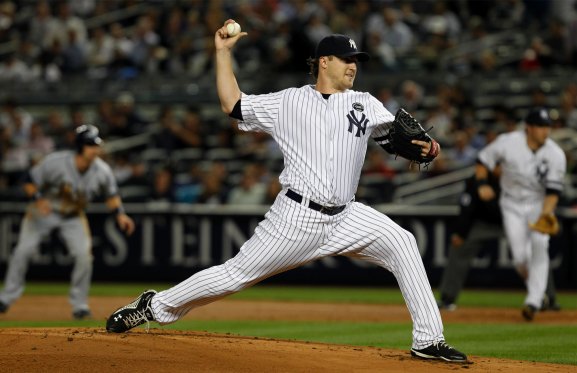 As mentioned in the first two installments of the series, the Twins' lineup has two different looks. One puts Delmon Young in the cleanup spot. That's against lefties, which the Twins saw in the first two games. The other moves Kubel into the more prominent spot. That's the case tonight, as the Yankees throw righty Phil Hughes against the Twins.
Both the lefty Denard Span and the switch-hitting Orlando Hudson will remain at the top of the lineup. Span actually has a reverse split for his career and the 2010 season. Against righties this season he managed just a .322 OBP and .301 wOBA. His strikeout rate is low at 10.6 percent, so Hughes will probably use the cutter to help prevent solid contact. Hudson hits righties a bit better than lefties, but he hasn't hit well at all away from Target Field. He and Span give the Twins a largely powerless top of the order.
While Joe Mauer's season might not have lived up to the standard he set in 2009, he still approaches those numbers when facing right-handed pitching. Against them he has a .416 wOBA, including a .171 ISO. He has also hit for more power away from Target field, a .185 ISO. It was a key in the first two games, but an even bigger key in this one will be keeping Hudson and Span off base. Mauer can do some serious damage, and that's sometimes unavoidable.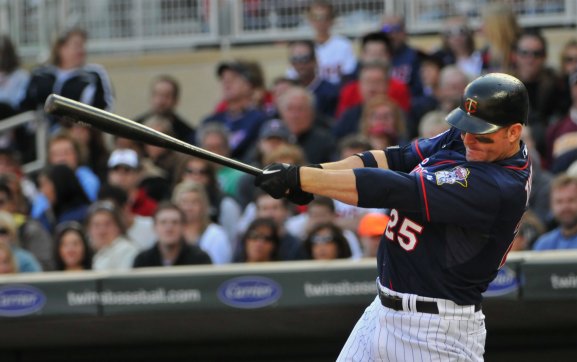 The Twins' major weapon against righties this season has been Country Strong Jim Thome, who has an unbelievable .477 wOBA in 246 PA when facing opposite-handed pitchers. I figured he'd bat behind Mauer, but it appears as though Ron Gardenhire favors Jason Kubel in these situations. I'm not sure why, though. While Kubel has been much better against righties (.341 wOBA) than lefties (.297 wOBA) this season, he's simply not as good as Thome. In either case, the Twins will have three viable left-handed hitters in the 3, 4, and probably 6 spots. Chances are Gardenhire won't string together his three best lefty bats, as to prevent a Boone Logan attack.
While the Twins will have a few lefty weapons, they'll also have mostly ineffective right-handed hitters towards the bottom of the order. Figure on Young batting fifth to break up the lefties. He's not horrible against same-handed pitching, a .338 wOBA, but he's not nearly as effective. He can still cause problems with his power, which is a weak point for Hughes, so he won't be a non-factor by any means. Cuddyer, however, might be. His .308 wOBA against righties and .318 wOBA away from Target Field give him basically the opposite split as Mauer.
At the bottom of the order the Twins feature two more righties. Danny Valencia killed lefties in his rookie campaign, but struggled against righties. He did have a bit of pop, but managed to hit just .280 with a .303 OBP. I can see Hughes blowing some fastballs by him. Hardy actually has a reverse split this season and has hit righties far better than lefties. Then again, we're dealing with small samples, since Hardy missed much of the season. In his career he has a .313 OBP and .312 wOBA against righties, though as with Valencia he has a little pop.
Given the breakdown of this lineup, I think it's critical for Hughes to work his changeup tonight. He might be able to get by with his two fastballs and the curveball against the lesser hitters, but against Mauer, Kubel, and Thome in particular he's probably going to need the changeup. He's had problems with giving up homers at home and to lefties, so the situation in general doesn't bode well for him. Changing things up, even if it means using a pitch with which he's not completely comfortable, might be the best plan of attack. He continues to feed those Twins lefties fastballs I fear they might put more than a couple over the fence.