By

Considering baseball's checkered past with gambling the current and long-standing outright ban on players and managers placing money on their teams, it is not without some irony that the Winter Meetings are currently taking Vegas by storm. As part of the wall-to-wall media coverage of the meetings, Jack Curry took some time out to figure out how Vegas sets the odds, and his story on it is illuminating. Right now, the Red Sox and Cubs are at 5-to-1 to make the Series next year while the Yanks sit at 6-to-1, but as Curry writes, the odds can change overnight. It all it takes is the signing of one free agent. · (1) ·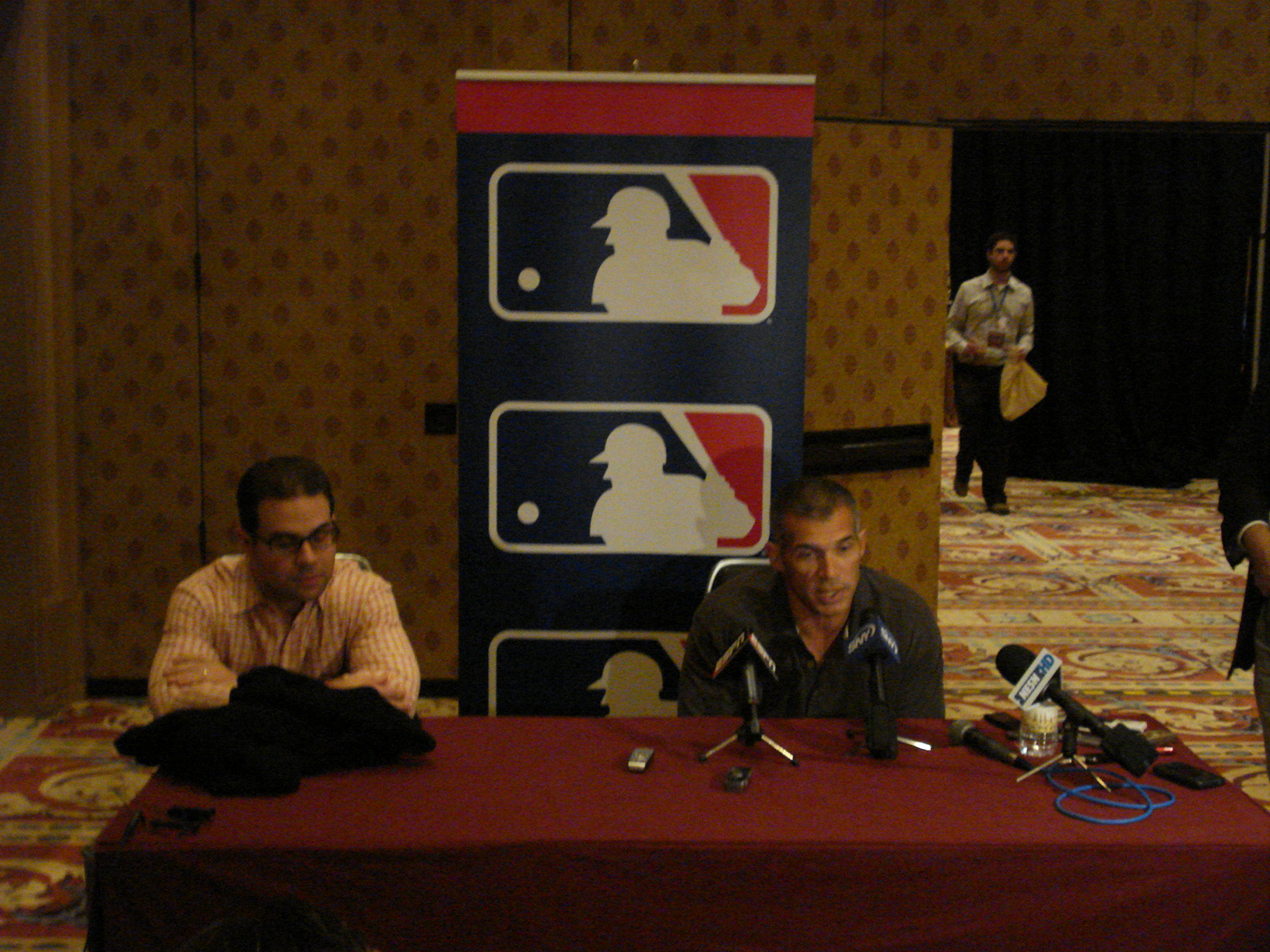 Girardi and Media Relations guru Jason Zillo
Pictures by Mike, commentary by Joe
As with most managerial interviews, we didn't learn a whole ton by listening to Girardi. He did seem loose, though, and took the time to elaborate on all answers. Judging from just this interview, I have a hard time believing he's not good with the media. Joe's a friendly guy by all appearances, and I hope he takes this into the season with him. Perhaps the media will be a bit easier on him this time around.
Here are some tidbits we picked up:
He was very impressed with Ben Sheets after meeting him yesterday. I suppose he'd have to be, considering the Yankees plan to offer him between $26 and $30 million.
On CC, he says that the lefty is still trying to figure out the whole situation. Girardi then went on to talk about his own transition to New York after the 1995 season, noting that while he wasn't getting nearly the money or years offered to Sabathia, he could understand what the free agent is going through.
On Andy Pettitte, he said that both parties are interested in bringing him back. But: "There's a process that has to take place." Emphasis mine. It seems that line is bandied about frequently regarding Pettitte. Now that we know the team's offer is $10 million, it seems that "process" means "convincing him to take a paycut."
On the coaching staff: They won't take long to mesh. He noted that Mick Kelleher has been around Spring Training for a few years, and everyone's familiar with him. Other than that, the staff remains basically the same, save for a few minor moves.
On Hideki Matsui: Girardi sees him as a fourth outfielder as well as DH. I wonder if that changes as they get further into workouts. Clearly, Hideki is more valuable as a full-time DH if that means he can stay healthy. It's a huge risk if they play him in the outfield with any regularity.
Update by Mike (5:00pm): Forgot to mention this, but Girardi said that Posada's rehab was going fine. He's throwing from 60 feet and is on schedule.
As campaign season rounded out and Barack Obama became President-elect of the United States, many in the media commented that he ran a "perfect campaign." They played everything even-handedly, took advantage of every opportunity they saw, and never lost their cool. Once this whole CC Sabathia fiasco is in the books we'll probably marvel at how perfectly he and his agent, Greg Genske, played the market perfectly.
They were dead-on from the start. The Yankees came out guns blazing with their record offer. Genske and Sabathia, however, were mum. They let the media do their work. The result were stories about the lefty's preference to pitch on the West Coast and even his — totally unconfirmed — lack of desire to live in New York. The longer we waited, the crazier the stories got. Even better, people were actually believing it.
I'm guessing that CC and Genske knew from the start that they wouldn't address the offer until the Winter Meetings. There was nothing that would behoove them to do so. They already had a record offer on hand. They knew it wasn't going away, so waiting was the best way to play this. They had little to gain by jumping on the first offer, no matter how large.
So they waited for the offers to roll in. But they didn't. Even as the media suggested that Sabathia would take less money to play out West, we heard nothing about offers from the Giants, Dodgers, or Giants. This part, I'm guessing, the Team CC did not anticipate. Yet, they knew that even if they got no further offers, they still had the one from the Yankees.
Now the Winter Meetings have rolled around, and Team CC is ready to get serious. What's the first thing they do? Request a meeting with the team with the highest bid. Then what did they do? Take meetings with anyone willing to talk. Then they skipped town, leaving behind only an air of mystery and a reported weekend meeting in San Francisco.
We've heard about CC's meetings, and we're getting word on some additional offers — the Angels and the Red Sox have placed their bids, according to Peter Gammons. Yet he has a very telling quote after mentioning these offers: "Nothing," says a source close to Sabathia, "is different than it was a week ago."
Of course nothing's different. That's because Genske and Sabathia have played this off-season perfectly.
Update by Mike (6:15pm EDT): Ken Davidoff with the quote of the day: "Sabathia didn't reject the Yankees' offer. Good Lord. How could someone report that?"
Update by Mike (5:41pm EDT): Rosenthal shot it down as well.
Update by Mike (5:30pm EDT): The crew on Baseball Tonight has shot down this rumor, citing a Yanks' official.
Update 5:17 p.m.: For what it's worth, Baggarly has updated his blog post to reflect his info that the Brewers may now be the frontrunner. A few reports have the Yanks ready to go hard after A.J. Burnett and Derek Lowe as well, but that doesn't mean Sabathia is completely out. Either this is building to a head or it's a Vegas-inspired Red Herring.
==
Because everyone's already talking about, here you go: Andrew Baggarly reports on the Mercury News Extra Baggs blog reports that CC Sabathia has declined the Yankees' offer. He writes:
It's been confirmed to me that the Giants had discussions with CC Sabathia's camp last night, and they expect to have face-to-face meetings with the left-hander in San Francisco after the winter meetings.

It sure must've have been a productive discussion, because word is that Sabathia has declined the Yankees' six-year, $140 million offer. (I must stress that's unconfirmed, but talk is spreading fast. If true, look for the Yanks to get hyper-aggressive on A.J. Burnett.)
Let me say this: Beware unconfirmed rumors. They are unconfirmed, obviously.
Second, it makes no sense — none — for Sabathia to reject the Yanks' offer. He loses all bargaining position in doing so, and the Giants, Angels or Brewers would have no reason to come close to the Yanks' generous offer. Even if he has no intention of signing with the Yanks, he is far better served to keep the Yanks' offer alive.
I don't buy this one, but there you go.
As Joe noted a short while ago, no one knows much of anything in Las Vegas. For Exhibit A, let's take a look at yet another Jake Peavy rumor.
According to a tidbit in the Chicago Sun-Times, Jake Peavy wants to be a Cub, but seems to expect to land with the Yanks if the Cubs deal falls through. So, over the last few months, we've heard various rumors saying that the Yanks are in and out of the Peavy deal, that Peavy doesn't want to leave the NL or the NL West or doesn't mind coming to New York, that he will or won't be traded to the Cubs or the Braves.
Basically, this is a prime example of no one knowing anything. No one knows anything about Peavy. No one really knows anything about CC Sabathia's state of mind, the Angels' intentions with Mark Teixeira, or what's going on in Manny's head. So when you start reading reports about what players want or don't want, take them with a rather large grain of salt.
Hat tip to Will in Chicago for e-mailing this one in.
By

Ken Rosenthal says the rumored Ramon Hernandez for Ryan Freel deal has been agreed to, and is pending MLB approval because of the money changing hands. We'll update with more as we get it. The Matt Wieters Era begins. · (20) ·
By

The terms: 3 years, $37M. That sounds like three guaranteed years at an AAV of $13M per with a $1M buyout on an option for a fourth year. K-Rod is supposedly going to take a physical tomorrow, which should seal the deal. Jerry Manual has a scheduled press conference at 4pm Vegas time today, so we'll dig up more then.

Update (12:48pm): Joe just saw Minaya in the hallway talking to Gammons and other media types with a big grin on his face.

Update (12:55pm): I just huddled around Minaya with the other NY media guys … he emphasized that the deal is not official but he feels "better about where it is today then yesterday." · (15) ·
By

According to Ken Rosenthal's 12:50 p.m. update (scroll down at the link), the Giants plan to meet with CC Sabathia and his agent this weekend in San Francisco. In other words, the Yankees will not be leaving Las Vegas with CC in tow. This story is going to drag on for a few more weeks, and impatient fans are just going to have hold their horses for a little while longer. · (82) ·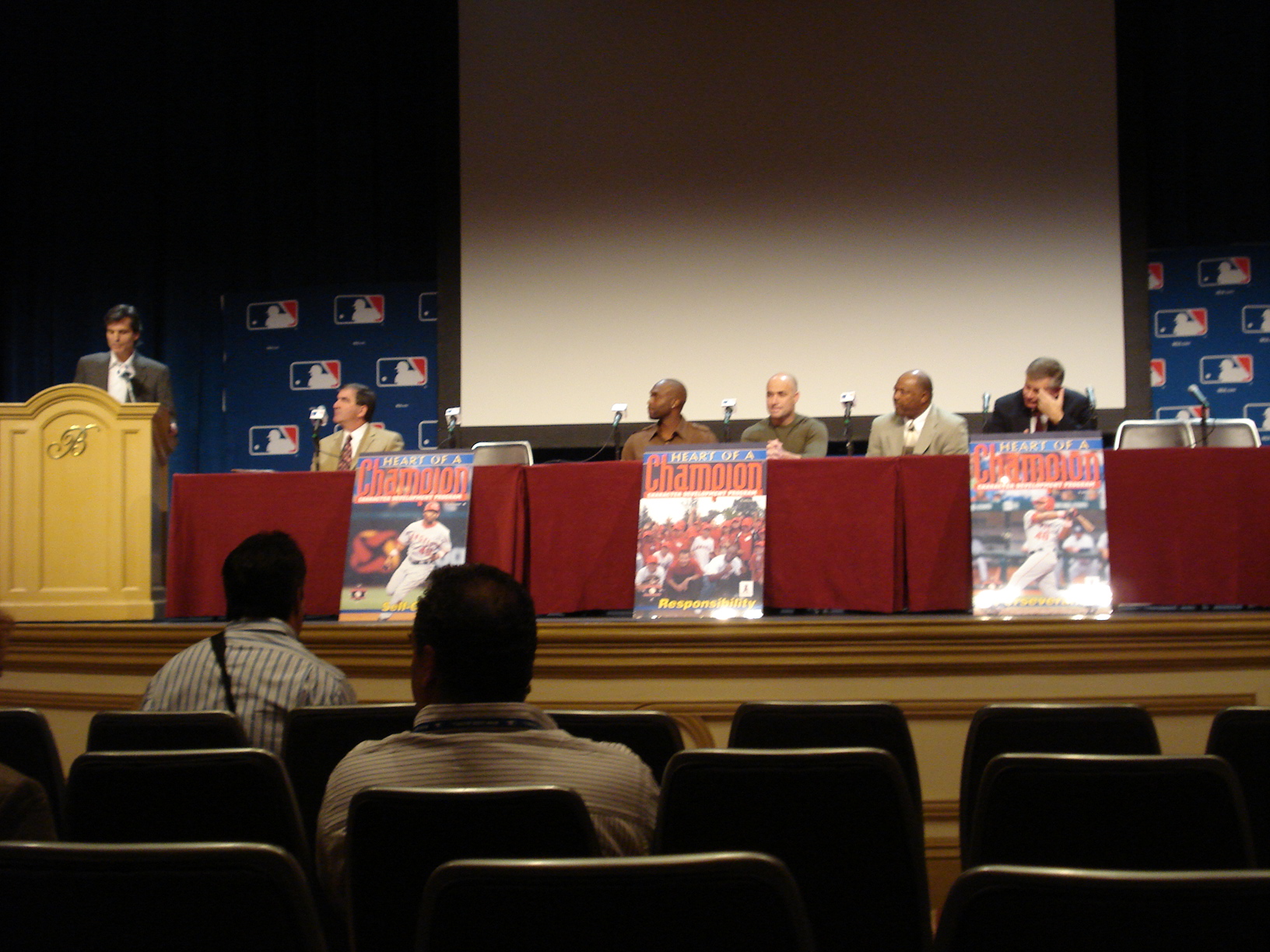 Here's a shot of the press conference for the newly founded Torii Hunter Project; Torii's foundation provides scholarships and all sorts of educational support for children. You probably recognize the two guys in the middle: Hunter and tennis legend Andre Agassi. Agassi's school in Las Vegas is one of three partners with Torii on this project. The gentleman to the far right is the representative of another partner school in Orange County, while a representative from the third partner school in Hunter's hometown of Pine Bluff, Arkansas wasn't available because school is in session.
Torii spoke, and he seems like a genuinely great and caring guy. His bling nearly blinded me though.
The Brewers are set to announce that they've resigned incumbent third baseman and ex-Yankee Mike Lamb, which likely puts Bill Hall out on the trade market. Ken Rosenthal and Ed Price noted that the Yanks have interest in  CC Sabathia's close friend (8:44pm post), who would presumably take the role of primary utility man and righty pinch hitter. And I don't get it.
First off, CC Sabathia's decision to sign or not sign the Yanks will not be based on Bill Hall's presence, so don't even worry about that. Secondly, what exactly makes Bill Hall so desirable? Usually when I dig deeper on a player (like Nick Swisher or David DeJesus) I can find some information that the player is undervalued and a viable buy-low candidate, but that's not the case with Hall.
First off, Hall's contract is ugly. He's owed $6.8M in 2009, $8.4M in 2010, then a $9.25M option or $500,000 buyout kicks in for 2010. That's a lot of cheddar for a bench guy. Secondly, his production has declined for three straight seasons as he entered his prime years. Hall had a monster year in 2006 that landed him that fat contract and Joe a fantasy baseball title (.369 wOBP, 35 HR, 44.3 VORP), but he then dropped down to a .317 wOBP & 6.7 VORP in 2007, and bottomed out with a .297 wOBP & -5.1 VORP this past year. Inconsistent playing time and at-bats off the bench will not sharpen up his production, and he's already made it known that he doesn't like being a part-time player.
Hall's biggest asset is that he's extremely versatile; he's spent significant time at short, third, and in centerfield over the last few seasons, and has also seen action at second. However he's below average at best at each of those spots, with career RZR's of .838 in center, .723 at third, and .804 at short. That's not just bad, that's horrific. Citing Hall's versatility as a plus is the same as saying Jon Garland is an innings eater, it just means he can suck at more spots.
Granted, Hall would come dirt cheap because of his contract (if the Yanks take on all of that money, they could get him for like, a C-minus prospect) and maybe there's some bouceback potential because of the change of scenery, but there's nothing to suggest that. His BABIP has been steady and reasonable, his line drive rate is consistent, and his plate discipline numbers don't show any significant spikes. There's just nothing to suggest that his three year decline was a fluke.
Pass on Bill Hall, I'm sure Cody Ransom could approximate his production for 1/17th of the cost. If you want a player on the Brewers and one of CC's buddy, go for Mike Cameron. It makes so much more sense.
* * *
Just a quick aside: I overheard a Milwaukee writer talking to two other writers not far away from us, he said he's looking forward to the Yanks signing both CC and Sheets because "then the Brewers would get the Yanks' two first round picks." Heh.
Update (1:00pm): I just overheard the guy say he confirmed with Baseball America that the Yanks' can't lose the Gerrit Cole pick. That only took two-plus hours.