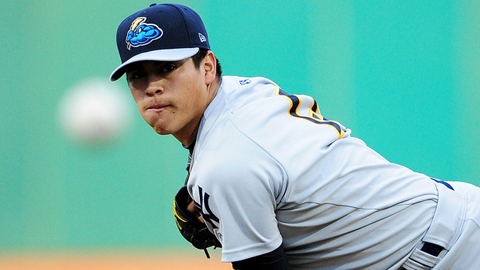 It's been almost a week since we were able to watch a real live baseball game (on television or in real life), but it feels more like a year. Evenings without baseball simply suck. Thankfully, the Arizona Fall League Rising Starts Game is on MLB Network tonight, and if that's not good enough, Yankee farmhand Manny Banuelos is starting the game for the East team. Austin Romine and Brandon Laird will also suit up.
All three were recently ranked as one of the ten best prospects in the farm system by Baseball America, with Banuelos placing as the second best pitcher. Their subscriber only scouting report says that he "has surprising velocity for a little lefthander, sitting at 90-94 mph with his fastball and touching 95. He has excellent fastball control, even with his improved velocity, and projects to have true big league command. His changeup and curveball can be plus pitches, though they often aren't working at the same time. His changeup is more consistent and has better action, with late fade and sink at its best." ManBan's probably only going to thrown an inning, maybe two, but it should still be fun to watch.
The game starts at 9pm ET, and as I said it can be seen on MLBN. Use this thread to talk about it, or whatever you want. There's a zillion college football games on, plus the Islanders and Nets are also in action. Enjoy.