By

Via Chad Jennings, the Yanks have added LHP Mike Dunn and RHPs Chris Garcia, Steven Jackson & Anthony Claggett to the 40-man roster to protect them from the Rule 5 draft. Notable players not protected include LHP Zack Kroenke, IF Ramiro Pena, and RHPs JB Cox & Alan Horne. Shows what I know, I thought Cox & Horne were shoo-ins to be protected. The Depth Chart has been updated. · (73) ·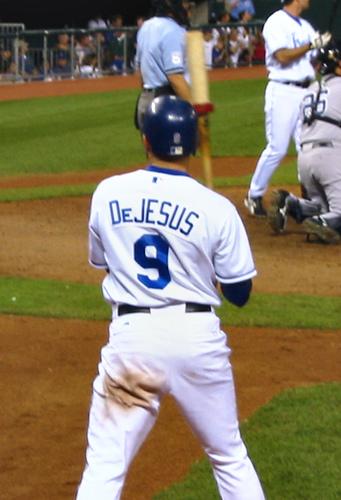 Yesterday the Royals swung a deal for Coco Crisp, landing the man who was once traded for Chuck Finley in exchange for ex-Yankees' prospect Ramon Ramirez. The deal gives the Boys in Royal Blue five players capable of playing the outfield everyday, meaning there's excess to use as trade fodder. We've already heard rumblings about the Cubs being interested in Moneyballer Mark Teahen, although there has been no further movement on that front.
Having maintained interest in Mike Cameron, it doesn't appear that the Yanks' braintrust is content with Melky Cabrera and Brett Gardner duking it out for the centerfield gig in Spring Training. That's where David DeJesus comes in. The Brooklynite and Rutgers alum is one of KC's most marketable pieces, and luckily for Dayton Moore is centerfield market is bone dry.
DeJesus offers plenty at the plate, consistently producing on-base percentages in the .350-.370 range despite minimal lineup protection. He also has a nice amount of pop, slugging at least .445 in three of his four full seasons. His line drive rate is nearly 25%, and last year he saw 3.86 pitches per plate appearances, good for tenth among AL outfielders.
If you're down with clutchiness you'll be down with DeJesus. The dude hit .419-.484-.562 with RISP this year, while his 2.63 WPA was 11th in league. His Clutch tied for third in the league at 1.14. Weak hacks at balls off the plate to strike out with runners on base is enough to annoy anyone, but DeJesus has incredible bat control that allows him to make contact on 89.5% of the swings he takes (good for 6th in the league), keeping his strikeouts down.
DeJesus' defensive reputation took a bit of a hit last year when he slid over to leftfield in deference of Joey Gathright, but rumors of his defensive demise have been greatly exaggerated. Check it out:
Revised Zone Rating
Innings per Out of Zone play
2007
2008
2007
2008
Melky Cabrera
.910
.938
32.5
16.5
Coco Crisp
.909
.927
21.0
20.6
David DeJesus
.910
.938
29.4
9.0
If you're unfamiliar with RZR and OOZ, they measure the percentage of balls hit into a player's zone that are converted into outs, and the number of outs made on balls out the player's of the zone, respectively. All the stats in the table are for the CF position only, and because Melky & DeJesus bounced around outfield spots, I presented OOZ in terms of innings played at the position.
Essentially what this data tells us is that DeJesus runs down balls hit into zone just as well as Melky & Coco, and that he also makes a fair number of tough plays on balls out of his zone. He's never going to be confused for Carlos Beltran out there, but he's fully capable of playing the position on an every day basis. Of course the Yanks always have the option of sliding him over to left late in game, allowing Johnny Damon to get a little break while Melky/Gardner shore up the outfield defense.
So here comes the part none of us can answer, what would it take to get him? He comes dirt cheap, as he's owed just $3.6M in 2009 and $4.7M in 2010 before a $6M club option (or $0.5M buyout) comes into play. Picking up DeJesus would allow the Yanks to remain patient with Austin Jackson, and also gives them some depth for when Xavier Nady, Johnny Damon and Hideki Matsui hit the free agent market next year.
It's not a buy low situation like Nick Swisher, but it's a chance at a guy who could be available because of a numbers crunch. If the price is right, say a young pitcher like Ian Kennedy plus a reliever to replace Ramirez/Leo Nunez, then you almost have to pull the trigger. He brings much needed youth and athleticism, and is a perfect two year stopgap for Jackson and replacement leadoff hitter for Damon if he leaves after '09.
Plus, just think of how much fun Michael Kay will have mentioning that DeJesus is a local kid living out his dream every time he comes to bat.
Or: Wins are a really stupid metric for evaluating anything
This post comes from RAB commenter tommiesmithjohncarlos.
I was thinking about this again this morning, so I did some quick research on Baseball-Reference.com. Enjoy the following narrative, brought to you by The Committee to Induct Michael Cole Mussina into the Hall of Fame.
#1: June 22, 1992
Mike pitches 8.0 innings, giving up 5 hits, 1 walk, and 2 runs, strikes out 7, and is replaced after the 8th with a 4-2 lead. In the top of the 9th, Orioles reliever Mike Flanagan gives up a single to Mel Hall and is then pulled for Orioles closer Gregg Olson, who gives up a game tying home run to the first batter he faces, Roberto Kelly. In the bottom of the 9th, the Yankees bullpen gives up a run and the Orioles win, 5-4. Moose gets the ND.
#2: August 15, 1992
Mike pitches 7.2 innings, giving up 9 hits, 3 walks, and 3 runs, strikes out 5, and is pulled during the 8th with a 4-3 lead. In the bottom of the 9th, Orioles closer Gregg Olson gives up a single, a walk, a bunt groundout, a single, and a sac fly and the Royals win 5-4. Moose gets the ND.
#3: August 17, 1995
Mike pitches 8.0 innings, giving up 6 hits, no walks, and 2 runs, both unearned (on a dropped flyball by Bobby Bonilla in the second inning that would have been out #3), strikes out 8, and is replaced after the 8th with the game tied at 2. In the top of the 10th, Orioles reliever Jesse Orosco gives up a leadoff homer to Gary Gaetti in his second inning of work and the Royals go on to win, 3-2. Moose gets the ND.
Mike pitches 8.0 innings, giving up 4 hits, 2 walks, and 1 run, strikes out 9, and is replaced after the 8th with a 2-1 lead. In the bottom of the 9th, Orioles closer Armando Benitez gives up a one-out home run to Ed Sprague to tie the ballgame. In the top of the 10th, Roberto Alomar hits a home run of his own to retake the lead and the Orioles go on to win, 3-2. Moose gets the ND.
#5: July 7, 2001
Mike pitches 7.0 innings, giving up 6 hits, 1 walk, and no runs, strikes out 10, and is replaced after the 7th with the game still a scoreless tie. After two more scoreless innings from Jay Witasick, in the top of the 10th, Yankees reliever Mariano Rivera has one of his rare implosions and gives up a walk sandwiched around 4 line-drive singles, all with two outs, to score 3 runs and the Mets go on to win, 3-0. Moose gets the ND.
#6: July 17, 2001
Mike pitches 7.0 innings, giving up 8 hits, 3 walks, and 1 run, strikes out 3, and is lifted for a pinch hitter in the top of the 8th with the game tied at 1. Much later, in the top of the 12th with the game still knotted at 1, Phillies reliever Wayne Gomes gives singles to Jeter and Tino and a homer to Jorge and the Yankees go on to win, 4-1. Moose gets the ND.
#7: August 12, 2001
Mike pitches 8.0 innings, giving up 2 hits, no walks, and 2 runs, strikes out 9, and is replaced after the 8th with the game tied at 2. In the bottom of the 9th, Yankees reliever Mike Stanton walks Johnny Damon and, one batter later, gives up a two-run homer to Jason Giambi. The A's win, 4-2. Moose gets the ND.
Mike pitches 7.0 innings, giving up 5 hits, 2 walks, and 1 unearned run (on a first inning error by centerfielder Raul Mondesi), strikes out 8, and is replaced after the 7th with a 2-1 lead. In the bottom of the 8th, Yankees reliever Steve Karsay gives up a game-tying homer to the first batter he faces, Randy Winn. Two innings later, Yankees reliever Sterling Hitchcock gives up a single, a double, an intentional walk, and then a single and the Devil Rays win it, 3-2. Moose gets the ND.
Had Moose had a slightly better collection of relievers (or fewer defensively challenged outfielders) over the years, and had the 2001 Yankees not been utterly shut down by Mets "ace" Kevin Appier in that 7/7/01 game, etc., Moose could have won these 8 contests, since he pitched damn well in all of them. What's the significance of these eight games, you ask? Well, if we use our magical time machine to alter these games and give Moose the victories instead of the no-decisions, not only would Mike's career record now be 278-153, he'd now have SIX, COUNT 'EM, SIX twenty-win seasons:
1992: 20-5
1995: 20-9
1996: 20-11
2001: 20-11
2002: 20-10
2008: 20-9
…which means none of us would be having this conversation about "Is Moose a Hall of Famer"? Bill Plaschke, Jon Heyman, Jay Mariotti, Wallace Matthews, George King III, Joel Sherman, and even Mike Lupica himself would be singing Moose's praises from the mountaintops and viciously excoriating anyone who dared question the credentials of an absolute stud ace who won 20 games an unbelievable six times.
(And don't forget that Moose went 16-5 during the strike-shortened 1994 season, where he was robbed of probably 10-12 potential starts. Do your own math on that one.)
So please, people. Seriously. We can't allow media idiots to keep Mike Mussina out of the Hall of Fame because of a few bad games from Gregg Olson, Armando Benitez, Bobby Bonilla, Raul Mondesi, Steve Karsay, Mike Stanton and one good game from Kevin Appier. That's insanity.
I think RAB Radio Show sounds a lot better than River Ave. Blues Podcast, don't you? Cool, because that's what we're going with. Mike and I have plenty to talk about this week, including the Swisher deal, which was announced shortly after last week's show. Then we have CC, of course, the Rule 5 draft, some Q&A, and a farewell to Moose.
Regarding Swisher and CC, there isn't much left that hasn't been said. I know a few people are pissed off that this decreases the chances that the Yankees go after both CC and Teixeira, but I don't see it that way. Swisher gives them insurance. He's a flexible player, and the Yankees can continue as planned with free agency without getting roped into a huge bidding war for Tex.
The biggest item for the day is the Rule 5 draft. Not the event itself — that will come on the last day of the Winter Meetings. Today, however, is the last day to make adjustments to your 40-man roster to protect eligible players. The Yanks don't have many position players worth protecting. Possibly Ramiro Pena, but even he's no lock. Plenty of pitchers, though: Chris Garcia, Alan Horne, J.B. Cox, Zach Kroenke, Mike Dunn, Anthony Claggett, Stephen Jackson. A lesser team might snag one of those guys, figuring it can't hurt to sock them away in the bullpen. The Yanks have four spots, plus they could DFA a few guys. Who do they keep?
We had some neat questions in our Q&A. We'd really like to beef up this portion, possibly with real call-ins. Any suggestions?
Finally, we bid farewell to Mike Mussina. It's been great having Mike on our team for the past eight years. May his quest for the HOF move quicker than his quest for 20 wins — or worse, his quest for a World Series or Cy Young.
The podcast is available in a number of formats. You can download it here by right clicking on that link and selecting Save As. If you want to play it in your browser, just left click the link. You can also subscribe to the podcast feed, which will send it to you every Thursday. You can also subscribe in iTunes. Finally, we have the embedded audio player below.
Audio clip: Adobe Flash Player (version 9 or above) is required to play this audio clip. Download the latest version here. You also need to have JavaScript enabled in your browser.
We appreciate any feedback. You can leave it in the comments or email either of us.
Podcast: Play in new window | Download (52.1MB)
By

Remember when Dwight D. Eisenhower ran for president, and "I like Ike" was the campaign slogan du jour? Well, me neither, but the Yanks seem to like Mike. According to the ever-popular Dan Graziano, the Yanks will attempt to reel in Mike Cameron from the Brewers to fill a perceived center field void. The Brewers recently picked up Cameron's $10 million option, and the center fielder — much like Nick Swisher — is one of CC Sabathia's close friends. Still, an outfield of Xavier Nady, Mike Cameron and Johnny Damon doesn't scream success to me. · (80) ·
By

Mike and I (and Ben, once he's done with finals) are trying to make this podcast/radio thing a regular occurrence. To spice things up, we're asking you guys to submit questions that we can discuss during the show. So shoot them in an email to Mike or me, or both. Our addresses are in the left sidebar. This thing should go live a little after two. · (11) ·
Eh … eh … you see what I did there? I had to get one last jab in.
Phils' prospect Jason Donald won the 2008 Stenson Award, Kevin Russo was one of the six finalists.
AzFL Peoria (5-0 win over Scottsdale) Peoria has one more game left in the season and they're 4.0 GB of a playoff spot, so they're basically done
Kevin Russo: 1 for 4, 1 R, 1 HR, 2 RBI, 1 BB, 2 K
Phil Hughes: 5 IP, 2 H, 0 R, 0 ER, 0 BB, 10 K, 1 WP, 1 HB, 3-2 GB/FB – 53 of 76 pitches were strikes (69.7%) … wraps up his fall league season with 21 H, 13 BB, 38 K in 30 IP with a 3.00 ERA & .198 avg against … finishes up his year at 112.2 IP … time to just go home, chill out and get ready for next year
The Hawaii Winter Baseball season is over, Waikiki took home the league title.
Tuesday's Games
AzFL Peoria (10-4 loss to Mesa)
Austin Jackson: 1 for 5, 1 RBI, 1 K
Juan Miranda: 1 for 4, 1 K
Kevin Russo: 2 for 4, 1 2B, 1 RBI
PRWL Mayaguez (4-3 loss to Caguas in 10 innings)
Ian Kennedy: 5 IP, 2 H, 2 R, 2 ER, 5 BB, 2 K, 1 WP, 5-7 GB/FB – too bad these box scores don't have strike & pitch counts
Monday's Games
AzFL Peoria (13-6 loss to Mesa)
Kevin Russo: 1 for 5, 1 R, 1 K
Austin Jackson: 0 for 3, 1 R, 1 BB, 1 K - just his 6th walk with the Javelinas … his walk rate is down from 9.72% in the regular season to 5.36% in the fall league
Juan Miranda: 2 for 5, 2 R, 2 HR, 5 RBI, 1 K – he's got a 1.174 OPS vs RHP & .679 vs LHP
Humberto Sanchez: 2 IP, 1 H, 0 R, 0 ER, 1 BB, 1 K, 1-4 GB/FB – 15 of 21 pitches were strikes (71.4%) … I'd love to see some of these kind of outings from him in the Bronx this year
With the Arizona Fall League season ready to wrap up, DotF is just about ready to shut down for the winter. Every Sunday I'll post an update for the Caribbean leagues, and I'll throw something up midweek if IPK throws a no-hitter or something, but that's it. Thanks for the all the comments, see y'all in April.
Who isn't involved in the CC Sabathia trade talks? Based upon numerous reports, we know the Yankees and the Brewers have outstanding offers, and we know Yankee fans are getting restless. But that's just silly. Anyway, we'll get there in a second.
As Wednesday progressed, two new teams supposedly entered the mix. In the early afternoon, Dan Graziano noted an impending offer out of San Francisco.
(An aside: Would the Giants really commit nearly over $40 million a season — or more than half of their 2008 payroll — to two pitchers? I realize the team has few contractual commitments past next year, but if they land CC for $23 million a season, they'd be paying Sabathia, Zito and Aaron Rowand a combined $55-$60 million a year. For a team of limited financial means, that combination won't bring in pennants.)
But the real news came just a few minutes ago when two Newsday reporters unveiled a not-so-shocking report: CC Sabathia will not be deciding upon anything until after Thanksgiving. While Sabathia is content to wait, these offers on which Graziano speculated aren't quite as sure a bet, according to Ken Davidoff and Anthony Rieber:
The Yankees are content to let CC Sabathia take his time on his big decision, and Sabathia will do just that. As first reported by ESPN's Peter Gammons, Sabathia doesn't intend to decide on his next team until after the Thanksgiving weekend.

But for Sabathia, who is well known to prefer both the West Coast and the National League, alternatives to the Yankees' six-year offer (for about $140 million) don't appear to be materializing.

Although the Dodgers have some interest in Sabathia, they are not optimistic they can put together a package large enough to land the lefthander, a person familiar with their thinking said. The Dodgers "can't afford him," the person said.
It's the same old story with the non-New York potentials. The Brewers can't afford him; the Giants shouldn't afford him; the Dodgers want Manny and can't afford both. Why then is Sabathia sitting on a six-year, $140-million offer? Simple; he's just being a good businessman.
Why would a player with the potential to become the richest pitcher in baseball make a decision with no leverage? Why shouldn't Sabathia wait to see if a West Coast team plays its cards just right to make the Yankees up their offer to $150 million or tack on a seventh season? It doesn't make sense to sign right away, and both the Yankees and Carsten Charles know that. New York's offer isn't going anywhere and neither is CC quite yet.
Doug Melvin, the Brewers' GM, who probably wants Sabathia, knows that patience right now is the name of the game. In a Milwaukee Journal Sentinel article focusing around the Giants, Melvin waxes philosophical on the CC situation. Sabathia and his agent will solicit counter-offers once all of the primary offers are in. That's just the way business works.
So we wait. Some of us wait more impatiently than others, but it's all just part of one big negotiation. In fact, we're not the only ones waiting. Every other big-name free agent pitcher is waiting for CC to sign too. He and the team that signs him set the market, and everyone knows it.
The Yanks have done their part, and now the rest of the league will do its part as well. Be it ten days, two weeks or a month, we'll find out before Spring Training which team lands Sabathia. Everything in between is just the Hot Stove League turned up high.
By

According to Sports Illustrated's Jon Heyman, the Yankees will offer arbitration to Bobby Abreu, which is basically the team's way of saying good bye to the right fielder. Abreu, as Heyman notes, stands to make about $16 million through arbitration but should see three-year offers from at least the Cubs and the Mets. The Yanks don't seem keen on bringing back Bobby for more than a year or two.

If Abreu leaves, the Yanks will get some draft picks, but the team will also sport an outfield of Xavier Nady, Johnny Damon and some combination of Brett Gardner and Melky Cabrera as things stand now. While Opening Day is still a few months out and there are many moves to be made, that outfield doesn't fill me with much offensive confidence. · (54) ·