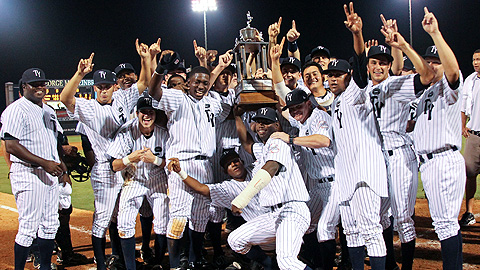 The 2010 season was a banner year for the Yankees' farm system, featuring many breakouts and steps forward and very few major injuries, regressions and the like. It really was the best case scenario, and it leaves them with a system generally regarded as one of the deeper ones in the game. They boast high-ceiling talent both on the mound and at the plate, and plenty of depth in the form of back-end starters and average everyday players or bench pieces, which come in handy on the trade market and for filling holes at the Major League level.
The Triple-A Scranton Yankees continued their reign atop the International League's North Division, winning their fifth consecutive division title. Double-A Trenton won their second straight division title and fourth in five years, but High-A Tampa outdid them both, winning their second consecutive division title and repeating as Florida State League champions. Yankee farmhands took home MVP honors at both the Double-A and High-A levels. With an overall record of 371-318, the six domestic affiliates finished with the third best combined winning percentage (.538) in the minors, trailing only the Cardinals (.569) and Cubs (.542).
As I say every year, ranking prospects is all about trying to find a balance between performance, projection, and probability. Talent and great stats are wonderful, but context is important: how old is the player, what level was he in, what's the home park like, etc. There are certainly times that the player's upside is so great that you can't ignore it, no matter how far down the ladder they are. Remember, a lot of  these guys are very interchangeable. I don't think there's much of a difference between this year's #2 and #5 prospects, or the #8 and #16 prospects. When guys are that close, it comes down to personal preference.
Here are my lists from 2007, 2008, 2009, and 2010. Happy fifth anniversary, I can't believe it's been this long already.  The listed ages are as of Opening Day, give or take a day or two. Fun starts after the jump.