By

Via Tim, we learn that the Yankees have signed reliever Damaso Marte to a three year deal worth $12 million. The story comes from Impacto Deportivo, a Spanish-language site. I believe they also broke the Luis Castillo signing last year. We'll monitor this for further confirmation. If true, it seems like a decent deal for the Yanks. At least we won't have to hear pundits scream in the Spring about the Yankees bringing in a lefty reliever just for the sake of it.

Update: It's official. · (75) ·
Maybe Joba should have attended this: a scared straight program for MLB draft picks and rookies. The article only mentions Brewers rooks going in for the program, though I guess (and hope) that all 30 teams will educate their players in such a manner.
It's a neat idea. They toured a jail so that the players could get a feel for the inmate life. It kind of reminds me of a video they made us watch in high school.
It's been all over the baseball wires this week: The San Diego Padres have pulled their offer for closer Trevor Hoffman, and by all appearances he won't be back with the team in 2009. This is not going over well with San Diegoans (San Diegans). They've known Trevor since 1993, when he came over in a trade which sent Gary Sheffield to Florida. Since then he's racked up 554 saves, more than anyone in major league history. To San Diegans, he is Mo.
We had a scare, albeit slight, last winter when Marino Rivera's contract expired. Most of us were certain he'd re-sign, so we never really entertained the notion of life without Mo. I can't imagine how the San Diegans feel right now, knowing that they won't hear Hells Bells before the ninth inning in 2009.
This makes me think ahead to Derek Jeter's contract, which expires after the 2010 season. You'd like to think Jeter and the Yanks will make swift work of it, banging out an amicable contract without any media hassle. At this point, why think anything else? But just for a second, ponder what it would be like if the Yankees muffed negotiations with Derek Jeter, and he wound up playing elsewhere in 2011. Can you even?
Back to the present, while it's unfathomable to some of us that Derek Jeter would ever leave New York, that's just the nature of the game now. We love to see players stick with one team their whole careers, but that's not how things work any more. Players want to maximize their earnings while they're still able. Teams don't want to overpay for talent, as most work within a budget. The result is the player looking for a team which can afford to pay (or overpay) for his services. It can happen to anyone, even Derek Jeter. Though I still have to say, it's not likely.
Hey, Jeter's scheduled to make $21 million in 2010. If the Yankees bring him back, they'll certainly not pay him $21 million a season, meaning he's going to have to take a pay cut. Things could get messy when they start exchanging actual figures. So think about that. It's probably how San Diegans feel right now.
The time is slowly passing, but now we're just 48 hours or so away from when free agents are free to start negiotiating with new teams, the real meat & potatoes of the Hot Stove League. It makes you feel like a kid on December 22nd, oh so close yet so far away from Christmas.
The Hot Stove wasn't so hot today, with the only actual player news involving Cy Lincecum & Salomon Torres' retirement. Yeah, the Cubs reportedly offered $50M to Ryan Dempster, K-Rod's agent made a radio appearance, and Matt Holliday's dad made it be known he'd like to see his son in the Bronx, but that's just a bunch of bark with no bite. Just like Hank.
Use this thread to talk hot stove or whatever else is on your mind tonight. The Knicks are in San Antonio, and #14 Ball State is taking on Ben Roethlisberger's alma mater out in Oxford. Other than that, you have some early season college basketball games to check out. Good thing House is on.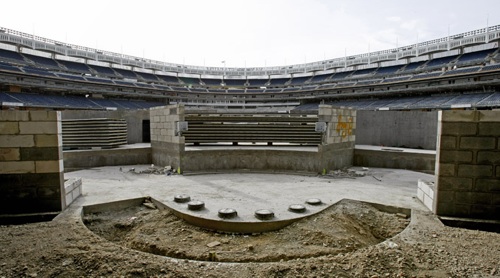 The future home of Monument Park. (All images courtesy of the New York Yankees.)
Nothing quite drives home the point that, in five months, the Yankees will be in a new stadium quite like the scenes of history moving across the street the Yankees have sent out over the last few days. Above is the future home of Monument Park beyond center field in the new stadium. After the jump are scenes from the crews packing up the retired number display. It is an odd sight indeed.
By

When we heard about the Rookie of the Year award results yesterday, we also found out that three writers voted for the Reds' Edinson Volquez despite his ineligibility. He had 80 innings of ML ball heading into 2008, thus disqualifying him as a rookie. I could make some sweeping generalization about how this exemplifies the state of mainstream baseball coverage, but I'd like to keep the criticism focused on the guilty party. Thankfully, Keith Law outs the guilty parties.

To Jeremy Cothran of the Newark Star Ledger, John Klima of the Los Angeles Daily News, and Jay Paris of the North County Times (San Diego), please inform us why you should continue to serve as a baseball writer. After all — and this applies especially to Cothran, who graduated college just three years ago — there are plenty of people who want your job, and would actually bother to do the requisite research. · (30) ·
We've heard from Brian Cashman that center field is not a priority this off-season. The Yanks have three immediate options in Johnny Damon, Brett Gardner, and Melky Cabrera, though question marks certainly surround each. With Austin Jackson waiting in the wings as the team's number one prospect, they likely don't want to make a long-term commitment. Basically, there are enough options in the short and long term that the team doesn't necessarily need to make a move.
That's not the only factor, though. As MLB.com's Jim Molony points out, the center field market isn't exactly inspiring. He notes the heads of the class are Ken Griffey and Milton Bradley, neither of whom plays center field in an ideal environment. Griffey's range doesn't permit his play there, and Bradley is too fragile to trot out every day. You can add Rocco Baldelli to this group, though he faces fragility issues as well.
This doesn't bode well for the rest of the class, which includes Jim Edmonds, Willie Bloomquist, Mark Kotsay, Corey Patterson, and Scott Podsednik. Yuck. Apparently, Molony thinks that Jay Payton can play center and that the Mets would shop Endy Chavez, who is signed for just north of $2 million for 2009. None of these should even be in consideration.
So the Yankees might be planning to make Brett Gardner their Opening Day center fielder not out of want, but out of necessity. Let's hope he can handle it.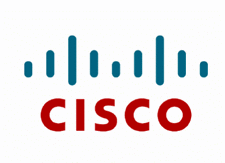 The Yankees and Cisco have announced the details of their impending partnership. The new stadium will now be chock full o' technology goodies including:
Yankees Fan Amenities: For all Yankees fans who don't want to miss a moment of on-field action, Cisco will provide the live game broadcast on HD video monitors displayed throughout the stadium, including concession areas, the Great Hall, the Yankees Museum and other in-stadium restaurant and bar locations. Along with the live game broadcast, monitors will be capable of simultaneously providing up-to-date sports scores, Yankees trivia, news and weather from a single viewing screen. At the conclusions of games, these monitors will allow the Yankees the ability to direct patrons to the nearest exits and provide up-to-the-moment traffic information. In the event of an emergency, all stadium monitors can be immediately and uniformly mobilized to display evacuation instructions. On non-game days, these same monitors can be used to display customized content and information for special events such as conferences, weddings and other group activities.

Premium Luxury Fan: Premium luxury suites will be outfitted with touch- screen Internet Protocol (IP) phones that will allow fans to order concessions and Yankees merchandise for delivery to the suite.

Fans of the Future: Cisco and the New York Yankees have also kept an eye toward the future to ensure that the stadium remains state-of-the-art for years to come. For example, the new stadium is equipped to support future fan use of mobile devices for ordering concessions from their seat, viewing instant replays or chatting in real time with friends inside and outside the stadium. In addition, the stadium has the capability to allow fans to communicate with players before or after the game using interactive video-based technology.
According to another report, the Yanks are paying Cisco between $15 and $16 million to wire the stadium and install approximately 1100 monitors through the new ballpark. Basically, the Yanks are serving as the test run for the StadiumVision technology Cisco would love to install everywhere.
And in the end, isn't this what the new ballpark is all about? It's supposed to be a showcase of modern stadium technology and a money-making machine for the Yanks. The suites will be equipped with touch-screen concessions ordering capabilities, and technology will pervade a baseball game. Call me a traditionalist, but when I'm at the stadium, I like the game to unfold in front of me. While we'll probably be able update RAB from the stadium, I'll save the blogging for home. Now get off my lawn while you're at it too.
I'll start by noting that this means little, if anything, to the Yankees Hot Stove pursuits. It's just an interesting article by RAB-fave Tyler Kepner about Matt Holliday's father Tom, pitching coach at North Carolina State University. When he heard his son would likely be traded this off-season, he hoped it would be to an eastern team. Specifically, the New York Yankees.
"If someone would have called me today and said Matt had gotten traded to the Yankees, I'd have been hunting for a place to celebrate."
Since it's unlikely the A's will sign Holliday once he reaches free agency after the 2009 season, there's a chance Tom could realize his dream. It's not that great a chance, though. Matt will be 30 for the 2010 season and employs Scott Boras as an agent. This does not bode well for his prospects. Boras will fill a binder full of stretched truths and try to eke out every last penny for his client.
The Yanks will be losing two outfielders/DHs next winter in Johnny Damon and Hideki Matsui. Will they spend a portion of that money, $26 million combined, on Holliday? It's a possibility, certainly, especially with Xavier Nady hitting free agency for the first time. The Yanks could therefore be in the market for a corner outfielder. Will they pony up the dough and the years to land Holliday? I suppose we'll find out in a year.
On an interesting note, Tom Holliday was pitching coach at the University of Texas in 2004 when they were the College World Series runners up. He coached Huston Street that year, who is said to be headed to Colorado in the deal.
By

Later this morning, the Yankees and technology giant Cisco will announce a partnership involving the new Yankee Stadium. While we'll have more on this announcement after the 11 a.m. press conference, the MLB.com Ballparks of the Future tie-in with Cicso provides a glimpse at what this announcement might feature: electronic sales kiosks, wireless broadband access, video-on-demand. I'm sure some of this will be on display when the new ballpark opens in April. · (6) ·