It's a rather quiet day around baseball. The GMs are home; the awards come next week; and the rumors have slowed down. Of interest to Yankee fans are two MLBTR posts.
The first notes that the Brewers expect a counteroffer from CC Sabathia, but this counteroffer won't come until after other teams can enter the bidding. This leaves the Yanks in a bit of a precarious position. If Sabathia goes back to the Brewers with a counterproposal, it basically means that he's interested in staying in Milwaukee. The Yanks would have to overwhelm him with an offer to draw him to New York, and that means the team would be bidding against itself. Is it worth it? (My answer: Probably.)
The other post is a simple rundown of Yankee rumors. In a nutshell, it seems that since today is a day that ends in Y, The Post has yet another self-generated Robinson Cano rumor; nobody wants Kei Igawa; the Yanks could bring back both Mike Mussina and Andy Pettitte; and Mark Teixeira can probably handle the pressure of playing in New York. What a relief.
Unless anything major breaks, the three of us will be out enjoying our Friday evenings. Feel free to use this as a general open thread on the Hot Stove, Stephon Marbury or Justin Tuck's ridiculous fine. In fact, if someone can convincingly explain to me how this hit managed to generate a $7500 levy, I'll buy 'em a beer.
Baseball America put out the list of this year's minor league free agents, 561 in all. The Yanks:
RHP: Oneli Perez (AAA), Scott Strickland (AAA), Jose Valdez (AA), Victor Zambrano (AAA)
LHP: Eric Milton (AAA), Edgar Soto (Hi A)
C: Ben Blumenthal (Lo A), Jason Brown (AAA), Chris Stewart (AAA)
1B: Ben Broussard (AAA), Josh Kreuzer (Hi A)
2B: Bernie Castro (AAA), Nick Green (AAA)
3B: Carlos Mendoza (AA)
SS: Chris Basak (AAA)
OF: Matt Carson (AAA), Edwar Gonzalez (AA), , C.J. Henry (Hi A)
No big losses, all filler types. Eric Hacker & Wilkins DeLaRosa would also have become free agents, but the Yanks added them to the 40-man roster to prevent that. Of course the fun part of this list is digging for sleepers, so here we go: 1B Scott Thorman (ATL), RHP Lee Gronkiewicz (BOS), LHP Carmen Pignatiello (CHC), RHP Zach McClellan (COL), RHP Yorman Bazardo (DET), SS Sergio Santos (MIN), 3B Mike Cervenak (PHI), CF Chris Duffy (PIT), RHP Kevin Cameron (SD), LHP Erick Threets (SF), and 3B Joel Guzman (TB). Couple of upside guys that might figure it out, and a ton of bullpen arms. Can't have too many of those.

There's also a couple interesting ex-Yanks' prospects that I would mind seeing back in the organization, namely OF John-Ford Griffin (LAD), LHP Danny Borrell (OAK), LHP Matt Smith (PHI), and the immortal LHP Sean Henn (SD). Ah memories.
The Organizational Depth Chart has been updated.
While yesterday we recognized that the Yanks were still interested in Mike Cameron, today a trade with the Brewers seems less likely. Ken Davidoff and Kat O'Brien do not believe the Yanks will acquire the center fielder.
The Yankees have held talks with the Brewers about acquiring centerfielder Mike Cameron, but as the general managers' meetings wrapped up Thursday in Dana Point, Calif., they were not optimistic about landing him…

Talks with the Brewers about Cameron began before this week's meetings, although word leaked out only the past couple of days. Yankees centerfielder Melky Cabrera and righthanded pitcher Ian Kennedy have been discussed, although a source said the Yankees are not inclined to include Kennedy in such a trade.
I'm fairly amused that the Brewers are interested in Melky Cabrera and Ian Kennedy considering how many RAB commenters seem to believe that Melky and Kennedy can basically land us whatever we want. On the surface, I'm definitely not opposed to trading these two players and in tandem. However, I agree with the Yankees; I'm not inclined to include Kennedy in a deal for 36 year old with a career OBP of .340 due to make $10 million next year.
The Yanks don't really need a center fielder next year. They're happy to go into the season with some combination of Johnny Damon, Melky and Brett Gardner unless a good deal comes along. I'd rather see the Yanks use their resources — Kennedy, Melky, etc. — to acquire a first baseman of some pitching, and if that means missing out on Cameron, well, then I'm fine with it.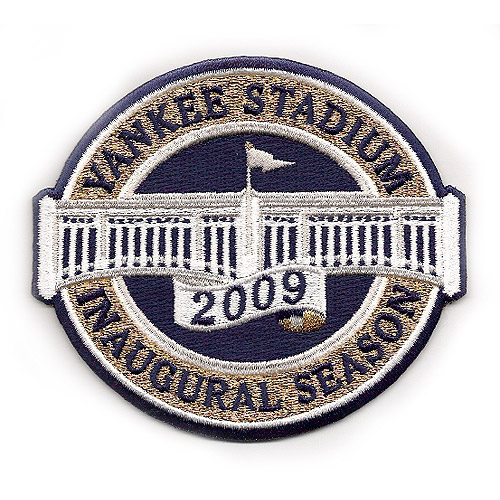 That, folks, is the latest marketing ploy/commemorative logo that will soon decorate Yankee gear the world over. For the second year in a row, the Yanks will be able to offer up special merchandise decked out in stadium regalia.
This past year, the Yanks made a killing by selling items with the All Star logo and Yankee Stadium patch. Right now, memorabilia-obsessed nuts — such as, um, me — can buy hats, t-shirts and key chains with this latest design. See? This stuff is already on sale just in time for the holidays. You have to admire the marketing geniuses who came up with this commemorative patch craze. MLB has certainly exploited it through the World Series, Opening Day, the All Star Game and just about everything else.
Meanwhile, it's certainly grating to see the new stadium referred to as Yankee Stadium here. Maybe one day, I'll get used to that.
By

It's a quiet night in Yankee-land. The GMs are heading home, and the dealing won't come down for a few more days. But for playoff-watchers, the General Managers are close to making a significant change. They want to do away with coin-flip tiebreaker scenarios. Right now, MLB determines home-field advantage for potential tiebreaker games based on a series of coin flips. The GMs would rather see the advantage awarded to the teams with the best records in head-to-head competition. Either way, it's all kind of arbitrary, but this seems more fair than a bunch of coin tosses. · (15) ·
Ask, and you shall recieve.
This week's GM meetings were pretty tame, a whole lotta rumors but very little activity. In fact, the most significant move of the week was the Yanks' signing of Sergio Mitre. Lots of talk and little action is typical of baseball's offseason, when seemingly innocent quotes from an executive get turned into monster three-team trades involving All-Stars and top prospects by fans and media alike.
The Winter Meetings in December will be much more exciting, but until then we're left to just ponder thoughts and fabricate obsurd roster moves. You know the names out there: Peavy, Holliday, Sabathia, Burnett, Teixiera, so on and so forth. Talk about all the hot stove goodness here, and play nice.
By

Mike Mussina won the entirely symbolic Gold Glove Award for whichever players the BBWAA managers and coaches think might be among the best fielders. With his soft hands and cat-like reflexes, Moose has now grabbed seven Gold Gloves. This will probably be the only off-season award a member of the Yanks land although you could make a case for A-Rod for MVP, as shocking as that may sound to some of the A-Rod haters. (Gold Glove Winners) · (57) ·
By

This first came up early this week, but didn't become official until today. The Yankees have declined the option for Damaso Marte. As has been mentioned, there's a chance they could bring him back on a new deal, rather than paying him $6 million for 2009. The team will likely offer him arbitration, meaning that if he signs elsewhere the Yankees can collect a first round pick and a compensation pick. However, his Elias ranking isn't towards the top of the free agents — 79.288 — so if a team signs two Type A free agents, it's likely we could get their second rounder. We'd also get a second rounder if he signed with a bottom 15 team.

Hopefully Brian Cashman makes a statement regarding this decision (or a savvy reporter asks him). Was it that they'll seek compensation picks, or that they'd just like to have him longer and for less money? · (55) ·
Jeremy Bleich hasn't pitched since October 24th, not sure what that's about. Maybe he had that inevitable elbow operation.
AzFL Peoria (11-4 loss to Surprise)
Kevin Russo: 1 for 4, 1 2B, 2 RBI, 1 K – hitting streak is up to 15 games
Humberto Sanchez: 1 IP, zeroes, 1 WP, 1 HB, 2-1 GB/FB – only 6 of 11 pitches were strikes (54.5%)
HWB Waikiki (11-1 loss to North Shore)
Austin Romine: 1 for 4, 1 RBI, 1 BB, 1 K – just 5 for his last 29 (.172) … too many Mai Tai's I guess…
Andrew Brackman: 3.1 IP, 3 H, 7 R, 7 ER, 7 BB, 6 K, 2 WP, 1-2 GB/FB - just 41 of 84 pitches were strikes (48.8%) … damn, he's a bust this week … it's a good thing winter ball stats aren't meaningful
Tuesday's Games
AzFL Peoria (9-3 loss to Scottsdale)
Austin Jackson: 0 for 4, 2 K
Kevin Russo: 1 for 3, 1 R, 1 HR, 1 RBI, 1 BB, 1 K – if nothing else, at least he'll be going into 2009 with a ton of confidence
Kevin Whelan: 1.2 IP, 1 H, 1 R, 0 ER, 1 BB, 4 K, 0-1 GB/FB – 19 of 34 pitches were strikes (55.9%)
HWB Waikiki (8-6 win over North Shore)
Damon Sublett & Austin Romine: both 1 for 4, 1 R, 1 2B, 1 RBI
Monday's Games
AzFL Peoria (5-3 loss to Surprise)
Kevin Russo: 2 for 5, 1 R, 1 RBI, 1 E (fielding)
Austin Jackson: 1 for 4, 1 K, 1 SB
Phil Hughes: 5 IP, 1 H, 0 R, 0 ER, 0 BB, 8 K, 0-7 GB/FB – 41 of 59 pitches were strikes (69.5%) … phew, he's not a bust this week … it's a good thing winter ball stats are so meaningful
HWB Waikiki had a scheduled off day.
Sunday's Games
AzFL Peoria had a scheduled off day.
HWB Waikiki beat West Oahu 6-5, but no Yanks' farmhands played in the game.
By

This one's coming a bit late, but that's because we have so many other damn rumors to share. Plus, we like the idea of Nick Swisher much more. Anyway, Anthony DiComo, writing for MLB.com's Hot Stove Blog, reports that the Yankees have contacted the Brewers regarding a trade for Mike Cameron which would center around Melky Cabrera. I'm not sure who else would be involved in the trade. Despite Cameron's disproportional $10 million salary, I have a hard time believing Doug Melvin would trade him for Melky Cabrera straight up. While Cameron would be a short-term upgrade in center, it's difficult to evaluate this proposal without knowing the other players involved. · (89) ·