By

Via PeteAbe, Andy Pettitte told a Houston TV station that he wants to pitch next year. I'm certain the Yanks want him back, and all they have to do is hammer out the details. Looks like we'll be seeing Dandy Andy in the New Stadium next year. · (52) ·
Just a couple of notes to take you into the Election Night proceedings:
The Yankees have declined the $13 million option for Carl Pavano and the $22 million option for Jason Giambi, according to Mark Feinsand. There's a chance, albeit slim, that the Yankees could look to retain one or both, but on more team-friendly terms. They'll pay Pavano $1.95 million to buy him out, Giambi $5 million.
The team did not, however, announce anything regarding Damaso Marte's $6 million option for 2009. While it has been speculated that they will decline it, indications are that the team is looking to sign him to a different deal, one that likely spans multiple years. Worst case, they offer him arbitration and net a couple of draft picks.
According to Ken Davidoff, the Yankees have had "very preliminary" discussions with the agents for CC Sabathia. This is no big deal of course, certainly no bigger than A.J. Burnett opting out of his contract. The Yanks are expected to make an offer exceeding the contract of Johan Santana (six years, $137.5 million with a $25 million club option for 2014).
By

This is nothing more than a formality, but now it's official. According to Ken Rosenthal, A.J. Burnett has opted out of the two remaining years on his contract with the Toronto Blue Jays. The right hander, who will be 32 just after the new year, is foregoing $24 million to seek further riches. We can expect to hear plenty about the Yankees interest in Burnett, as we already have this hot-stove season. · (65) ·
It appears our long wait for a new third base coach may be coming to a close. Jon Heyman, reporting from the GM meetings, notes that Mick Kelleher could be the favorite to land the job. Here's what he says about the candidate:
Cano's struggles have led the Yankees to consider hiring as a major-league coach infield instructor Mick Kelleher, who's emerged as the leading candidate to replace fired third base coach Bobby Meacham. Kelleher, who has received high marks for his coaching in the minors, has the distinction of playing 11 seasons in the big leagues without ever hitting a home run.

The Yankees are still weighing how to utilize their coaches, and one possibility would be to make Kelleher the first base coach and move Tony Pena to third base. Kelleher is seen as a "Larry Bowa type."
This should make Yankees fans happy. Everyone wants Larry Bowa back because they believe he's the remedy for Cano. So what if we just brought in his evil twin? They're both about the same height, are within two years of each other, and were mostly powerless (Bowa just had 15 more home runs in his career than Kelleher in 7,901 more trips to the plate).
It's a well-known ploy among teams and agents: make sure you float the notion that the Yankees are involved. The idea is that this will cause other teams to pony up more money, lest they lose out to the financial juggernauts of the East. Strategically this works better for free agents, but surely teams like to keep the Yankees involved when they're talking trade. This winter, we're seeing this logic employed by the Padres, in the Jake Peavy proceedings, and we're starting to see it from the Rockies in their quest to deal Matt Holliday.
For today's edition, we point to Troy E. Renck of the Denver Post. He opens the article talking about Brian Fuentes, a reported target of our crosstown rivals. In the bottom third, he talks about the potential trades of Garrett Atkins and Matt Holliday. He brings up an interesting point, though given the language he uses, it seems that this might be little more than a pipe dream:
There's a growing likelihood that Matt Holliday will be traded at some point, given that the Rockies have conceded they won't be able to sign him long-term. When surveying executives about a possible landing spot, the Yankees continue to pop up. One scenario floated: Yankees trade Hideki Matsui to Seattle and land Holliday with a package focusing on starter Phil Hughes.
Of course, trading Matsui doesn't necessarily open up an outfield spot for Holliday. Brian Cashman has stated that the plan is to have Johnny Damon leading off and starting in left. Matsui, after surgeries on each of his knees in the past year, isn't expected to play much, if at all, in the outfield. Judging by what we saw of him this year, that's probably for the better.
The move would allow Damon to DH more frequently. He hit .320/.407/.437 as a DH in 2008 over 119 plate appearances. He was far worse in 2007 as a hitter only — .229/.316/.328 — though early season injuries and general lack of conditioning forced him into that role. He stepped up his production considerably later on that year after retaining his health. He could also play center field some games, perhaps enabling Brett Gardner to sit against lefties.
Renck misses the biggest obstacle in this scenario: Who do the Yanks get back from Seattle? It couldn't be much. We're talking about a guy who will turn 35 during the season, who can't play the outfield, and who is scheduled to make $13 million in the final year of his contract. Even with salary relief coming from the Yankees, the proposition isn't so attractive for the Ms. Why would they give up a young, controllable player — surely what the Yankees would seek in exchange — for such a player?
Hideki might be headed into the twilight of his career, but he can still be an effective player. If his surgically repaired knees can stand the rigors of DHing, he can provide more value to the Yankees offense than any player they could get in return. Because he's essentially a one-year rental, teams won't be apt to give up much value.
And then don't get me started on trading Hughes for Holliday.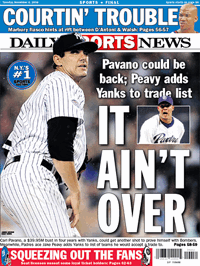 It's always amusing when the back page of the Daily News doesn't match up with the article it's over-hyping. Today's tabloid exploitation comes to us courtesy of Carl Pavano.
According to Mark Feinsand, some source feels that Brian Cashman may be interested in Carl Pavano. To the back page editors, this is an opportunity to splash Pavano all over the back pages with some unknown intent. But had these editors actually bothered to read the article, they would have come across a few key passages from Feinsand:
"I'm not ruling anything out," Cashman said. "We have needs, so we'll have to go to the marketplace, be it through free agency or through trades, to fill those needs."

…

Bringing back Pavano certainly won't be the big move the Yankees are looking to make this winter, but rather one that could help fill in the back end of the rotation.
That's really what this is all about. Hardly different from the Sergio Mitre deal, the Yankees would bring back Pavano for one year at a very low base price with some incentives. If it doesn't work out early, they can cut their losses. If it looks like Pavano might be half-useful, the Yanks could either keep him or trade him to a team in need of pitching. There are only about 29 other clubs that fit that bill.
For his part, Pavano is supposedly interested in returning to the Yanks in an effort to live down his bad reputation. "At the end of the day, his first choice would be to come back to New York," Tom O'Connell, Pavano's agent, said to Feinsand. "He feels he has some unfinished business."
As long as the Yanks aren't going to consider Pavano one of their first five starters, I certainly wouldn't be opposed to tossing another arm in the mix come March. One thing is for sure; it would give the Daily News something to overhype every five days and these people something to ignorantly rail against too.
By

It takes quite the rumor or article for us to link to the dreaded New York tabloids. So you know that when we direct you to the Daily News, it's for good reason. Reader Larry (whom you might remember from this guest post) sends in an article about Baseball Prospectus's Nate Silver. It's a nice look at the guy behind PECOTA projections, as well as the mastermind of FiveThirtyEight.com, a popular electoral projection site which gets a million visitors a day. Give it a read. It's well worth the look at his theory of projection. · (11) ·
By

We avoid politics like the plague here at the River Ave., but the three of us would be remiss if we didn't urge you to take five measly minutes out of your life today to go and cast your vote for the next ruler of the free world. Countless Americans have given their life defending this right, so the least you can do to thank them is head to the polls. If you live in one of the boroughs and don't know where your polling place is, you can find it here.

I don't care who you vote for, just go and do it. (Comments are closed, I don't want this thread to turn into Mo knows what.) · (0) ·
Baseball fans love pitching cliches. Good pitching beats good hitting. You can never have enough pitching. Pitching wins championships. Yet in the Bronx over the past few years, we haven't seen a top-flight pitching staff. We've seen a number of good pitchers for sure: Chien-Ming Wang, Andy Pettitte, Mike Mussina, Randy Johnson if you consider a guy with a 5.00 ERA a good pitcher. When looked at as a staff, though, none of the recent teams has been too impressive. Gone are the days of Cone, Clemens, Pettitte, El Duque, Wells, and other top arms pitching together.
It appears the top priority of the Cashman administration is to remedy this issue. Over the past few years the Yankees have restocked their farm system with arms from the draft, to many of whom they paid over slot money to lure away from college. We're just starting to see the beginning with Kennedy and Hughes. There are plenty more to come, and while most of them will not pan out, the Yanks are betting that a few will. A few just might be enough.
The team is also looking to take advantage of a free agent market with a few top arms in its ranks. CC Sabathia obviously tops the list, followed by other talented arms such as Ben Sheets, A.J. Burnett, Derek Lowe, and even Jake Peavy (whose agent said would approve a trade to the Yankees, though that could very well be just a marketing ploy). Using their financial advantage they could sign two of these pitchers, who would then combine with Chien-Ming Wang and Joba Chamberlain to form the bulk of the team's rotation. That would be in the team's best interest for 2009.
Going forward, though, I hope the Yankees are looking to more than just adding free agent arms and drafting high-celing pitchers. There's certainly a process involved in developing pitchers, and it might be just as important as selecting the right arms. The Yankees have Nardi Contreras on staff as their pitching guru. While he's highly regarded by most critics, I don't have the base of knowledge to evaluate or compare him to peers. We can only hope he is, in fact, the right man for the job.
Just ask the Texas Rangers about process. They brought in Nolan Ryan, who has vowed to change the team's approach to their minor league pitchers. They even went so far as to sign Mike Maddux to an enormous deal to be their pitching coach. For the team that finished last in the AL in ERA this year, such a move might be considered a necessity.
The Yankees weren't nearly as bad as the Rangers in terms of pitching, but they certainly have a ways to go. WIth pitching-heavy teams like the Red Sox, Rays, Blue Jays, Twins, and Angels in the AL, the Yanks could have some even tougher competition ahead. While I certainly agree that we should pursue top starting pitching when it is available, I also think the Yanks need to make sure they're properly developing their own arms.