Almost all of the attention before tonight's Game Three has been paid to Cliff Lee, and rightfully so. The guy is arguably the best pitcher in baseball and has impeccable postseason credentials, so he's earned it all of the recognition and then some. But Lee is just one guy, one of 25 Rangers the Yankees will have to beat tonight, and as we've already seen they're a very capable club.
Lee isn't the Yanks' only problem tonight, but he is the biggest. Here's some of the stuff the Yanks really need to tighten up…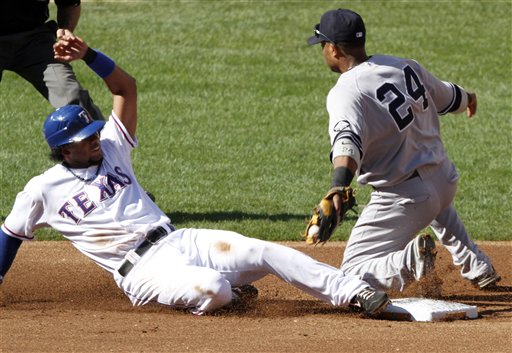 Elvis Andrus
The leadoff guy is the one that sets it all up for everyone else in the lineup, and so far Andrus has done a bang up job doing exactly that. He's reached base five times in the two games, and in fact he's reached base to lead off both games and come around to score each time. The Yanks simply can't allow a singles hitter (.036 ISO this year … .036!!!) like Andrus to keep beating them like this.
Bottom Of The Order
Before the series I wrote that the bottom of Texas' lineup was a bit of a soft spot that the Yanks could potentially take advantage of, but of course the 7-8-9 hitters have killed them. The mash-up crew has featured Jeff Francoeur, David Murphy, Matt Treanor, Bengie Molina, Julio Borbon, Mitch Moreland, and Jorge Cantu, and they've combined to go 7-for-22 (.318) with a pair of walks in the two games, complicating things with the lineup about to turn over.
Seriously, get these guys out. They hit .261/.316/.409 in 1,680 plate appearances as a group this year, and even that is inflated by Murphy's strong season. This cast of characters should not be making life this difficult for the Yankees at the bottom of the order.
Keeping Josh Hamilton Down
This is one of the few things the Yankee pitching staff has been doing right so far. Hamilton, the likely American League MVP, came back from rib issues late in the year and did next to nothing in ALDS (two singles, two walks, six strikeouts), but of course he hit a three-run homer in an 0-2 count in his first plate appearance of the ALCS. The Yanks have taken him right out of the equation since then however, and have done so by simply refusing to pitch to him. Hamilton's hitless since the homer but has walked five times, twice intentionally, and hasn't come around to score once.
Six of his ten plate appearances in the series have come against righthanders, partly due to CC Sabathia's early exit in Game One, but he figures to see plenty of southpaws from here on out. That's good news, because he was merely very good against lefties this season (.346 wOBA) compared to otherworldly against righties (.490 (!!!) wOBA). Hamilton's the one guy in the lineup you don't want to beat you, and so far they've done a good job of that. It's everyone else that's giving them trouble.
* * *
Chances are Cliff Lee will give the Yanks hell tonight. It's what he does, and it's basically unavoidable. The Yanks can't fall into the trap of focusing solely on him though, because the other 24 guys on the Rangers' roster have shown that they will take advantage if given the opportunity to hurt you. Andy Pettitte and the bullpen have to do their parts on the mound, and that's the one aspect of the game Lee won't be able to control.