The American League's best offense returned last night. The Yanks knocked out nine hits, including two home runs, and put 15 men on base in a 6-2 victory over the Tigers. CC Sabathia did his part, holding the Tigers to just five hits in seven innings, striking out nine along the way. It added up to the Yanks' first victory since Saturday.
Biggest Hit: Swisher brings it back
Last night's game started in a way you never want to see while at home. Austin Jackson took the first pitch of the game, a fastball that caught most of the plate, over the wall in left for a quick run. Had Vazquez or Burnett been on the mound it might have elicited a groan or two, but this was CC Sabathia. Sure enough he finished the first in relatively easy fashion.
With a lead already in hand Justin Verlander took the mound, but it was soon clear that he didn't bring his best stuff along for the road trip. Brett Gardner started things with an opposite-field single. Derek Jeter followed him with a walk. Robinson Cano eventually loaded the bases with a walk, which set up Nick Swisher to be the hero. He came through with a sharply hit grounder through the infield, scoring both Garder and Jeter and giving the Yanks the lead.
After the last couple of games it was nice to see the Yanks get the offense going early. Yet it wasn't all good. The Yanks also had the biggest downer of the evening just a few batters later.
Biggest Bummer: Thames kills the rally
The Yanks had the lead, but they also had Justin Verlander on the ropes. After Swisher's two-RBI single Verlander walked Jorge Posada in seven pitches, driving his pitch count up to 33 with the bases loaded and one out in the first. Normally this would have brought up Lance Berkman, but because he's out with an ankle injury Marcus Thames got the day at DH against the righty. The at-bat did not go so well.
Verlander had already walked three in the inning and was generally having problems finding the strike zone. His first pitch to Thames was way up high for an easy ball one. His next pitch was still high, but even at 96 it looked hittable. But Thames couldn't center the ball. He bounced it back to Verlander, who threw home to get the lead runner. Catcher Gerald Laird then fired to first to get Thames and erase the threat.
That was the second time in their previous two innings that the Yankees had faced a wild pitcher, loaded the bases, and then ultimately let him off the hook before putting up a crooked number. Both situations ended in double plays. The difference, of course, is that the second instance came in the first, giving the Yanks time to come back and score more. To everyone's delight they not only scored six runs, but they spread them over four innings.
CC laughs at your threat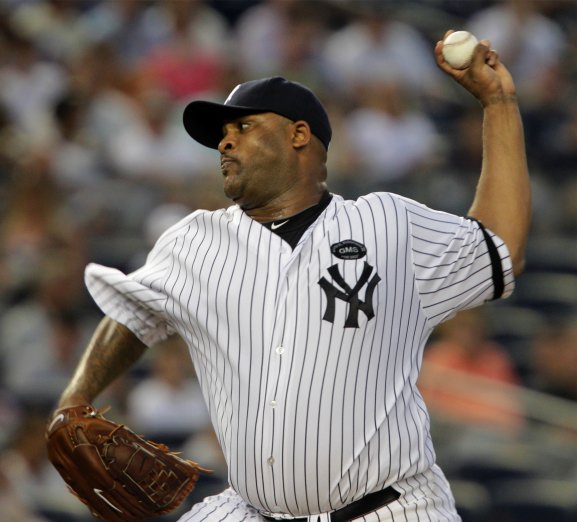 CC Sabathia's night was far from perfect. He threw 115 pitches through seven innings, mainly because he fell behind a number of hitters. That led to three walks, which is again uncharacteristic of CC. But he made up for it by striking out nine guys and keeping six of 16 balls in play on the ground.
The highest leverage situation he faced came in the fourth, when the Yankees led 3-1. Ryan Raburn had just drawn a walk, putting runners on the corners with two outs. That created a 1.99 LI situation for Brandon Inge. Sabathia apparently had a plan, throwing him a changeup and then two straight fastballs low and inside. All three missed the zone. Up 3-0 Inge was taking, and Sabathia slung a fastball over the outside edge for a strike. Inge took again 3-1, this one a changeup high in the zone.
With count 3-2 CC went back to his fastball, again with the target low and away. It looked like he missed inside a bit, but Inge took a weak hack and missed. The Tigers didn't really threaten for the rest of the evening.
Miscelanny
It's all in the swing: Curtis Granderson went 1 for 3 with a walk. He is now 8 for 22 (.364) with three walks (.440 OBP), two homers and two doubles (.727 SLG) since the supposed changes to his swing. He has struck out three times in that span (13.6%).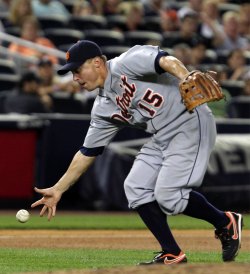 With his 2 for 3, one-walk night Brett Gardner is now 8 for his last 19 (.421) with four walks (.480 OBP) and three doubles (.579). There were no reported changes to his swing.
Cano's homer was his first since July 31.
Jorge Posada, on his 39th birthday, set a career high with his third stolen base of the season. His first of the season came on August 7.
After Marcus Thames had his bloop infield single, the YES camera crew cut to the Yankees dugout and showed Mark Teixeira and Derek Jeter yukking it up. It's almost as if winning puts them in a better mood.
Graph and box
The line goes up. The Yankees win.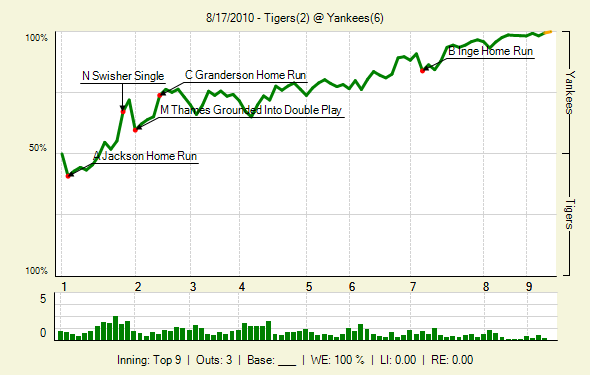 More at FanGraphs. I wish we had an easy way to embed the box score.
Up Next
Jeremy Bonder man and Dustin Moseley are set for tomorrow at 7. Lineups. First pitch. Baseball.